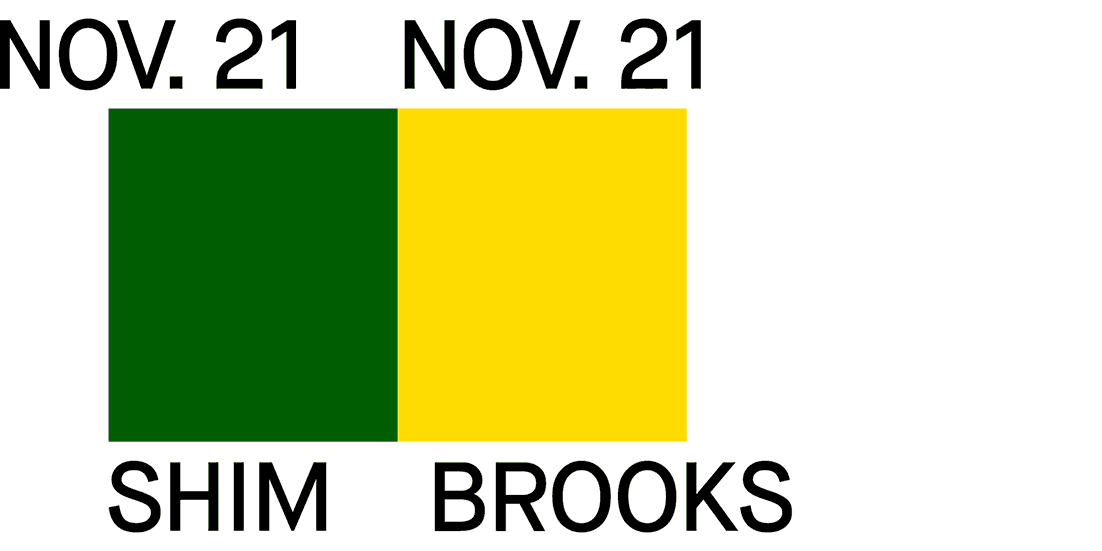 Alison Brooks, London and Brigitte Shim, Toronto
Wed, Nov 21/18 – 6:30pm to 8:00pm
Main Hall, 1 Spadina Crescent
Registration is required for this event. Reserve your ticket on the registration page.
Doors will open at 6pm. Ticket holders must arrive by 6:20pm (with their printed or mobile ticket) to claim their seats. There will be a rush line for those without tickets. Any unclaimed seats will be released to the rush line at 6:20pm.
 
This event is part of the Home and Away lecture series at the Daniels Faculty.
::::::::::::::::::::::::
Alison and Brigitte will discuss, from the perspectives of both London and Toronto, the critical role of housing in framing our collective urban experience, and at the same time, the intimate spaces of dwelling. They will explore the ways in which housing architecture negotiates the relationship between the individual and the collective.
Within this theme Alison will discuss 'ReCasting', her practice's installation at the 2018 Venice Architecture Biennale. ReCasting simulates the freespaces embedded in ABA's housing architecture as four inhabitable 'totems': Threshold, Inhabited Edge, Passage, and Roofspace. 
Alison Brooks, Principal and Creative Director of Alison Brooks Architects, is one of the leading architects of her generation. She has developed an international reputation for a multi-award winning body of work since founding the practice in 1996. Born in Ontario, Canada in 1962, she moved to London in 1988 after graduating with a BES and BArch from the University of Waterloo.
Alison Brooks' architectural approach emerges from broad cultural research, with each project expressing a specific response to place, community and landscape.  This has produced a portfolio of projects of distinct identity encompassing urban design, housing, education and buildings for the arts. Her work has attracted international acclaim for its conceptual rigour, sculptural quality and ingenious detailing, exemplified by the spectacular new Cohen Quadrangle for Exeter College, Oxford.
Alison has become a public voice for the profession advocating the role of housing as civic building, the resurgence of building craft and the use of timber in architecture. In 2017 Alison was appointed as a Royal Designer for Industry by the RSA and selected as Mayors Design Advocate for London. She was honoured with the 2017 AJ 100 Contribution to the Profession Award giving the keynote speech to the UK's 100 largest practices. 
Named in 2012 by Debrett's as one of 'Britain's 500 Most Influential', Alison Brooks is the only British architect to have won all three of the UK's most prestigious awards for architecture: the RIBA Stirling Prize, Manser Medal and Stephen Lawrence Prize.  She was awarded 2013 Woman Architect of the Year by the Architect's Journal in recognition of her work in housing, regeneration and education. In 2012 Alison Brooks and her team were awarded Architect of the Year and Housing Architect of the Year.
Alison Brooks is a CABE / Design Council National Design Review Panel Chair and Trustee of Open-City. She was a member of The Farrell Review of Architecture and the Built Environment and the RIBA Awards group from 2010-15, where she was juror for the 2011 Stirling Prize and 2010 Lubetkin Prize. Brooks is currently External Examiner at the Architectural Association where she taught a Diploma Unit from 2008-2010. Alison lectures internationally on architecture and urban design.  In  2016 she received an Honorary Doctorate of Engineering from University of Waterloo, Canada.
To mark 21 years since the founding of Alison Brooks Architects she published 'Ideals then Ideas'; an overview of the practice's work within conceptual, formal and material themes that have emerged over the past two decades.
Brigitte Shim is a Professor at the John H. Daniels Faculty of Architecture, Landscape, and Design at the University of Toronto and  a principal at Shim-Sutcliffe Architects. She has been teaching at the Daniels Faculty since 1988, and has overseen core design studios, advanced design studios, thesis studios, and courses in the history and theory of landscape architecture. Born in Kingston, Jamaica, Shim graduated from the University of Waterloo with degrees in Environmental Studies and Architecture.
Shim, along with her partner A. Howard Sutcliffe, formed the architectural design practice Shim-Sutcliffe Architects in 1994. Their critical design practice reflects their shared interest in and passion for the integration and interrelated scales of architecture, landscape, and interior and industrial design. To date, Shim and Sutcliffe have received fourteen Governor General's Medals and Awards for architecture as well as an American Institute of Architects National Honor Award, among many other professional accolades. Their built work includes projects for non-profit groups as well as public and private clients. Brigitte Shim has lectured on Shim-Sutcliffe's built work and participated in invited international symposia around the world. Shim-Sutcliffe's built work has been published in respected architectural publications around the world. Shim-Sutcliffe – The Passage of Time is part of the Documents in Canadian Architecture series published by Dalhousie Architectural Press.