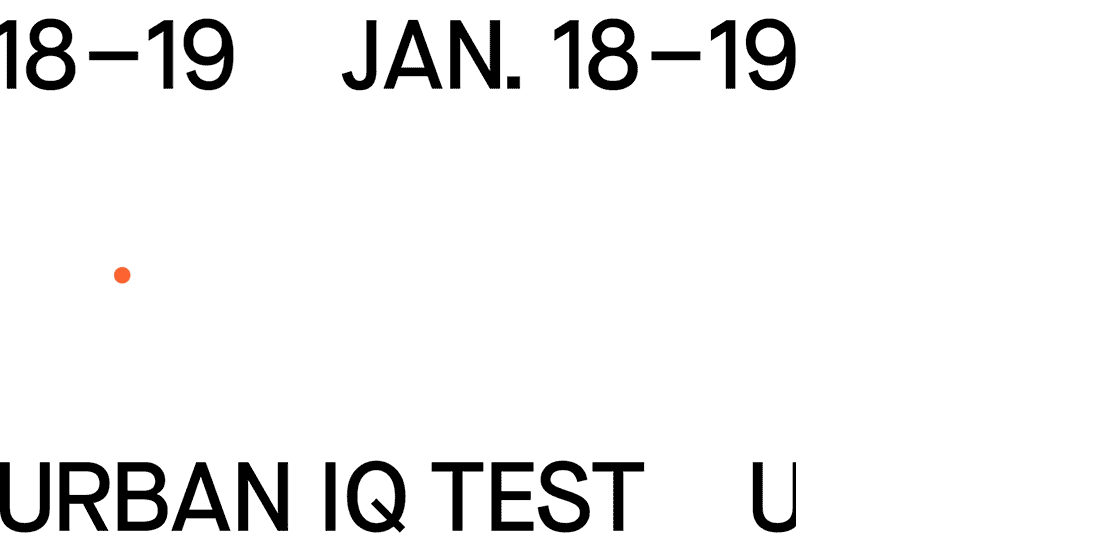 Urban IQ Test
Fri, Jan 18/19 – 6:30pm to Sat, Jan 19/19 – 4:30pm
Main Hall, 1 Spadina Crescent
Registration will be required for this event. Reserve your ticket on the registration page.
 
This event is part of the Home and Away lecture series at the Daniels Faculty.
Supported by:
::::::::::::::::::::::::::::
KEYNOTE EVENT (SEPARATE REGISTRATION)
Friday, January 18, 6:30 – 8:00 pm
Orit Halpern, Concordia University
Jesse LeCavalier, Daniels
Jesse Shapins, Sidewalk Labs
Michael Sorkin, Michael Sorkin Studio, City College, NYC
–moderator, Richard Sommer, Daniels
The concept of the smart city has become ubiquitous in contemporary agendas related to urban planning, governance, and design, and within technological industries wishing to plan, build, and manage cities on a global scale. Yet despite its widespread use, the concept remains fuzzy in definition, changing depending on the disciplinary, ideological, and geopolitical context in which it is being used. In both the theories and emerging practices that are propelling the development of a smart urbanism, there is an unresolved tension between the newer, faster, digital, data-driven, "soft" economies and technologies transforming communication and social life, and the more established, and slower, hardware that characterizes the construction of the built environment. Against this background, and with a specific focus on the implications of "intelligent" technologies for architecture and urban design, Urban IQ Test will take a deep dive into some of the contemporary rhetorics, histories and politics of the smart city phenomenon. 
::::::::::::::::::::::::::::
URBAN IQ TEST SYMPOSIUM
Saturday, January 19, 9:30 am – 4:30 pm
9:30 am |  Introduction
Dean Richard Sommer, Daniels
9:45 am -11:15 am | Panel One
RHETORICS AND METRICS OF URBAN INTELLIGENCE: CASE STUDIES
Marshall Brown, Princeton, Director CAUI
David Benjamin, Columbia, The Living
Helen Ng, Global Cities Institute
Michael Piper, Daniels
Sarah Williams, MIT, Director, Civic Data Design Lab
-moderator, Jesse LeCavalier, Daniels
The programs and projects that occur at the intersection between architecture and smart technologies are diffuse and diverse in genre, scale, and sophistication. This panel will present a series of snapshots of contemporary case studies that will help establish a context and material basis for the more historical and politically oriented discussions that will follow. 
11:30 am -1:00 pm | Panel Two
PREHISTORIES OF THE SMART CITY
Sara Stevens, UBC
David Smiley, Columbia
Orit Halpern, Concordia
–moderator, John Harwood, Daniels
This panel will explore varied histories of the smart city. Perhaps because the smart city is positioned as inextricably tied to digital technology and data collection protocols less than a generation old, and is the manifestation of a planning and commercial ethos that is future-focused, missing from current debates are the varied historical phenomena and discourses which have shaped our understanding of what constitutes "smart." Definitions change depending on the disciplinary, ideological, commercial, and geopolitical contexts in which the term is used. Prefacing "intelligent," "digital," "green," "sustainable," or "smarter" to "city" legitimizes particular actions and actors in the changing global landscape. Such terms indicate the often-ambiguous meanings and goals of the smart city movement, and this panel offers a window into the ways different historical trajectories reveal other motives, concerns, and assumptions about what the so-called Smart City might accomplish.
1:00 pm - 2:00 pm | Break
2:00 pm - 3:30 pm | Panel Three
INTELLIGENCES OF THE MULTITUDE: THE POLITICS OF SMART URBANISM
Shannon Mattern, The New School
Anthony Acciavatti, Yale & Columbia
Gökçe Günel, University of Arizona
–moderator, Michael Sorkin, Michael Sorkin Studio, City College, NYC
This panel will explore the politics of the smart city concept and movement. The smart city is typically presented as a highly integrated hardware and software platform of technological tools meant to facilitate faster, more responsive and efficient forms of urban communication, provision of human services, and resource management, i.e., a universally adaptable, politically-neutral solution with the potential to improve quality-of-life across all social sectors in an increasingly urbanizing globe. Yet there is a different historical evolution, and in the political structures and economies of production that govern the "hardware" of the city — constructed landscapes and resources, including water, energy, transit infrastructure, buildings (and the logistics of delivering them) — and the "software" of the city — social policies/engagement/inclusion, commerce, education, health services, etc. Not only do the rates of innovation in, and integration of smart technology differ across "hard" and "soft" realms, but there are radical differences in the way individuals and groups might gain access to a smarter city within "hard" and "soft" aspects of the world's regions, nations, and cities. The political agency of citizens and citizenry in conceptualizing and harnessing the benefits of the smart city, and correspondingly, who builds, controls and profits from it, raises the thorny question of whose lives the smart city promises to improve, and in what ways.
3:30 pm - pm 4:30 | Closing Remarks
::::::::::::::::::::::::::::
Speaker Biographies
Anthony Acciavatti is a historian, cartographer and architect. He is the author of the award winning book, Ganges Water Machine: Designing New India's Ancient River, the first environmental and urban history of the world's most densely populated river basin. Currently at work on a book on connections between science and design in Asia and the Americas, Acciavatti teaches at Yale and Columbia universities.  Read more.
David Benjamin is a Principal of the architecture firm The Living and an Assistant Professor at Columbia University Graduate School of Architecture, Planning and Preservation. Winners of this year's MoMA PS1 competition with their project Hy-Fi, The Living brings new technologies to life in the built environment, through its integration of design innovation and sustainability within the public realm. Read more.
Marshall Brown is an Associate Professor of Architecture and Director of Princeton's Center for Architecture, Urbanism, and Infrastructure. He is also a licensed architect and principal of Marshall Brown Projects where he creates visions for the future of urban environments through the creative integration of architecture, infrastructure, and landscape. Among other accomplishments, Brown is a Graham Foundation grantee, a MacDowell Fellow, and was selected for the U.S. Pavilion at the 2016 Venice Architecture Biennale. Read more.
 
Gökçe Günel is Assistant Professor in the School of Middle Eastern and North African Studies at the University of Arizona. Her first book Spaceship in the Desert: Energy, Climate Change and Urban Design in Abu Dhabi (Duke University Press, 2019), focuses on the construction of renewable energy and clean technology infrastructures in the United Arab Emirates, more specifically concentrating on the Masdar City project. She finished her PhD in Anthropology at Cornell University in 2012. Following her doctoral work, she was a Cultures of Energy Mellon-Sawyer Postdoctoral Fellow at Rice University and an ACLS New Faculty Fellow and Lecturer at Columbia University. Her articles have been published in Public Culture, Anthropological Quarterly, Engineering Studies, The Yearbook of Comparative Literature, Avery Review, Limn and PoLAR, among others. Read more.
Dr. Orit Halpern is an Associate Professor in the Department of Sociology and Anthropology at Concordia University and a Strategic Hire in Interactive Design and Theory. Her work bridges the histories of science, computing, and cybernetics with design and art practice. She is also the director of the Speculative Life Research Cluster, a laboratory situated at the intersection of the environmental sciences, architecture and design, and computational media. You can find out more at: www.orithalpern.net | www.speculativelife.com | www.planetaryfutures.net.
John Harwood is an architectural historian working on the intersections between architecture, design, science, technology, and business.  He is the author of The Interface: IBM and the Transformation of Corporate Design, 1945-1976 (University of Minnesota Press, 2011), which received the 2014 Alice Davis Hitchcock Award from the Society of Architectural Historians as "the most distinguished work of scholarship in the history of architecture published by a North American scholar." Read more.
Jesse LeCavalier (LECAVALIER R+D) uses research, writing, and design to explore the architectural and urban implications of contemporary logistics. His book The Rule of Logistics: Walmart and the Architecture of Fulfillment (University of Minnesota Press, 2018), examines the activities of the international retailer to tell a larger story about the ways the logistics industry has developed at different scales and through the emergence of particular technologies. Read more.
Shannon Mattern, Professor of Media Studies at The New School, writes and teaches courses about archives, libraries, and other media spaces; media infrastructures; spatial epistemologies; and mediated sensation and exhibition. She is the author of The New Downtown Library: Designing with Communities; Deep Mapping the Media City; and Code and Clay, Data and Dirt, and she contributes a regular long-form column about urban data and mediated infrastructures to Places Journal. You can find her at wordsinspace.net.
Helen Ng is International Secretary for ISO TC268 working group on city indicators that published the first ever international standard on city indicators ISO 37120 - Indicators for Sustainable Cities. Helen's work with the Global Cities Institute at the University of Toronto's John H. Daniels Faculty of Architecture, Landscape, and Design is focused on working with cities to build standardized data for comparative analysis and learning, enabling cities to use data to identify urban issues, facilitate dialogues with citizens and work with partners to provide holistic solutions. 
Michael Piper is an architect; urban designer; Assistant Professor at the University of Toronto's John H. Daniels Faculty of Architecture, Landscape, and Design; and principal at dub studios. His design research focuses on the relationship between urban design and urban planning, with particular attention to the suburbs. Read more.
Jesse Shapins has been a leading designer and entrepreneur at the intersection of media, technology and community-based placemaking for over a decade. Currently, Jesse is Director of Public Realm & 307 at Sidewalk Labs, where he leads vision, strategy, design and prototyping for the future of public space. In 2004, before smartphones, Jesse invented Yellow Arrow, one of the first platforms to globally connect physical locations, digital media, and communities. Before joining Sidewalk, Jesse was Director of Product at BuzzFeed — named by Fast Company as the most innovative company in 2016 — where he worked closely with journalists, entertainers and tech teams to push the boundaries of content and technology. Read more.
Michael Sorkin is the principal and founder of Michael Sorkin Studio. His practice and work spans design, criticism and pedagogy. In 2005, Sorkin founded Terreform, and is currently its president. He is editor-in-chief of its imprint, UR (Urban Research), which was launched in 2015. He is on the board of several civic and professional organizations such as Urban Design Forum (Vice President) and the Architectural League of New York (Director). He is also a member of the International Committee of Architectural Critics. Read more.
David J. Smiley is an architect and an architectural and urban historian, and his research and teaching focuses on the intersections of architectural practice, urban design and modernization. He has written about a variety of urban and suburban issues, examining large-scale urban interventions, pedestrianization, the re-use of shopping malls and the single-family house and multi-family housing. His book, Pedestrian Modern: Architecture and Shopping, 1925-1956 (University of Minnesota Press, 2013), is a study of the ways architects interpreted shopping centers as Modernist architectural and urban projects rather than, or alongside, their role as sites of consumption. His current research examines the spatial, technical and programmatic management of populations as demonstrated in the "New Town" of the mid-20th century and the "Smart City" of the early 21st century. He is the Assistant Director of the Urban Design Program at Columbia University's Graduate School of Architecture, Planning and Preservation. Read more.
Richard Sommer is an architect and urbanist with over twenty years of experience as a practitioner, educator, and theorist, and is currently the Dean of the Daniels Faculty of Architecture, Landscape, and Design at the University of Toronto, Canada. His design practice, research, and writing take the complex physical geography, culture, technology, politics, and historiography of the contemporary city as a starting point for creating a synthetic, cosmopolitan architecture. Read more.
Sara Stevens is an architectural and urban historian. She is an Assistant Professor of architectural and urban design history and Chair of Urban Design in the School of Architecture and Landscape Architecture at the University of British Columbia in Vancouver. Her research focuses on real estate developers of the twentieth century, exploring the cultural economy of architectural practice, finance, and expertise in Canada and the United States. Her book, Developing Expertise: Architecture and Real Estate in Metropolitan America (Yale University Press, 2016), studies real estate development in twentieth century American cities, and how developers, investors, and architects worked together to remake suburbs and downtowns. Read more.