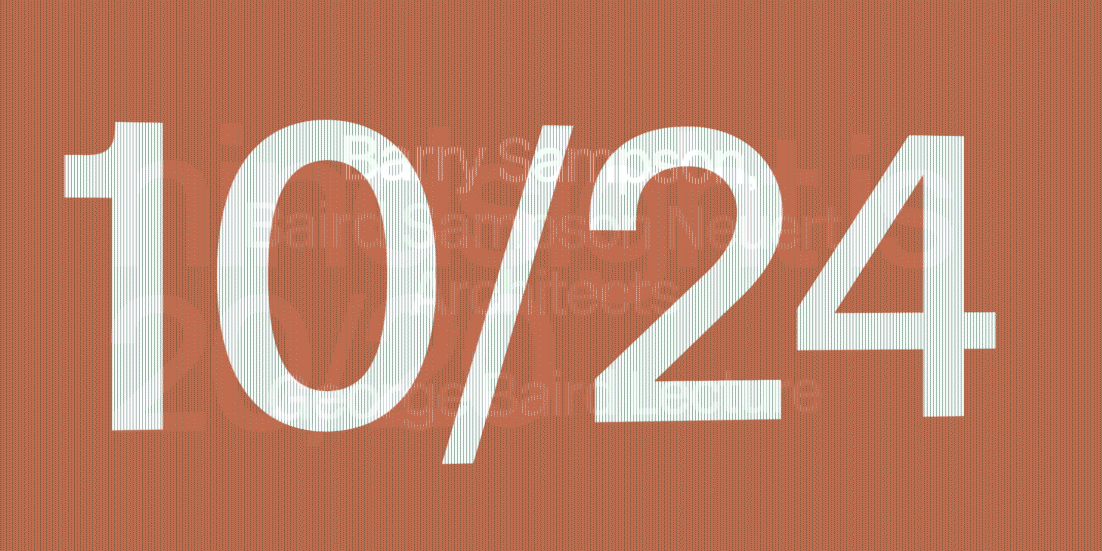 Barry Sampson, Baird Sampson Neuert Architects, George Baird Lecture
Thu, Oct 24/19 – 6:30pm to 8:00pm
Main Hall, 1 Spadina Crescent
George Baird Lecture
Registration is required for this event. Reserve your ticket on the registration page.
Doors will open at 6pm. Ticket holders must arrive by 6:20pm (with their printed or mobile ticket) to claim their seats. There will be a rush line for those without tickets. Any unclaimed seats will be released to the rush line at 6:20pm.
 
This event is part of the 'Hindsight is 20/20' public programming series at the Daniels Faculty.
Questions of Practice: George Baird Architect to Baird Sampson Neuert Architects
The lecture will briefly explore five questions that highlight the work of the architectural firm founded by George Baird in the late 60's. Renamed Baird Sampson Architects when Barry Sampson became a partner in 1981 and Baird Sampson Neuert architects, when Jon Neuert became a principal in 1998, the firm has been in continuous practice for half a century. Each question encapsulates concerns pertinent to the evolution of the firm's interests and challenges over the decades.
Barry Sampson is a Professor Emeritus at the University of Toronto and a principal in the firm Baird Sampson Neuert Architects, where he has directed numerous architecture, public space, and competition design projects, many of which have received awards for excellence. Firm accomplishments include: three Governor General's awards, an American Institute of Architect's Honour Award, a Royal Architectural Institute of Canada Innovation Award, and over forty architectural design, urban design, and technical design awards. As a result of its record of achievement and contribution to education, BSN received the RAIC Firm Award in 2007. More recently Barry was awarded the CMHC Excellence in Education Award for outstanding educational contribution to sustainable practices.