Kin & Company co-founder Joseph Vidich, "Surface Transformer"
Wed, Feb 5/20 – 12:30pm to 1:30pm
Main Hall, 1 Spadina Crescent
Kin & Company's Joseph Vidich joins the Daniels Faculty's Midday Talks to speak about his firm's research into folded metal, heat tempering, and the perfect patina. His perspective is grounded in a deep knowledge of metalworking, which Kin & Company uses to highlight the capabilities and push the limits of the often overlooked material. Joseph will present recent work highlighting the deformation of simple sheets of metal to create kinetic and expressive objects. He'll also discuss a body of research into oxidation and patinas as a distinct surface treatment.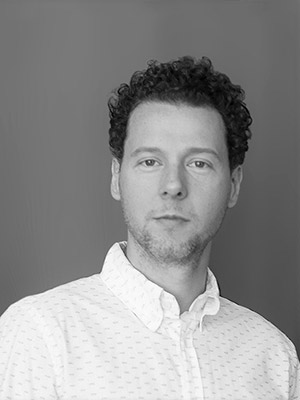 Joseph Vidich is a designer and educator based in New York City. He is a partner and founder of Kin & Company, LLC, a furniture and interior design practice in Brooklyn, NY. Joseph is currently a visiting assistant professor at the Graduate School of Architecture and Urban Design at Pratt Institute, where he teaches an advanced course in architectural detailing, digital fabrication, and material research. Joseph is also an adjunct lecturer at the City University of New York, College of Architectural Technology, where he teaches advanced architectural design studios, as well as introductory and advanced digital fabrication seminars. Joseph was named to Sight Unseen's 2017 American Design Hotlist and was recently awarded the Maison & Objet's Rising Talent Award for furniture design.