CANCELLED: Kara-Lis Coverdale, "e-"
Sat, Mar 21/20 – 8:00pm to 11:00pm
Architecture and Design Gallery, 1 Spadina Crescent
NOTE: This event has been cancelled.
This event is part of the New Circadia (Adventures in Mental Spelunking) exhibition at the Daniels Faculty.
Kara-Lis Coverdale's e- is a digital sound performance with representations of thermal temperature fluctuation, frequential conservation, harmonic ratio splitting, and hyperdecimalized time.
With an opening performance by Robin Hatch.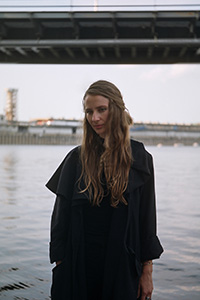 Kara-Lis Coverdale works in both acoustic and electronic media to create works that transcend reality. Driven by a patient devotion to sonic afterlife, memory, and material curiosity, her world-building work occupies new planes built upon a borderless understanding of electronic music rooted in the interlocking pathways of musical systems and languages. She has been called a unique navigator of the digital frontier with an ease and emotive sensitivity "we cannot yet comprehend" (Fader) and heralded as "one of the most exciting composers in North America" (The Guardian). Her most recent recorded release, Grafts (Boomkat, 2017), explores the impermanence of identity signature to exhibit a highly idiosyncratic approach to ratio-based microtonality and overtone, grief, love, and the passing of time. Coverdale's recordings are architecturally considered and often understated, but her dynamic live shows can be unpredictable, chaotic, eerie, dynamic, and confrontational. Coverdale has presented original performances, commissions, collaborations, and installations at venues all over the world, including the Barbican, the Theatre du Chatelet, the AGO, MAC Montreal, the Filharmonia Krakowska, Theatro Circo, Kraftwerk, and the Elbphilharmonie.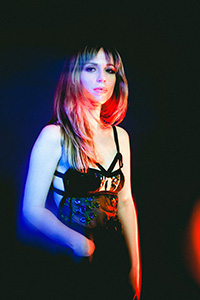 Robin Hatch is a neo-classical composer from Toronto. The Guardian described her 2019 synthesizer album, Hatch, as "an icily beautiful and occasionally terrifying piece of proggy electronica, recorded live in a single take on assorted antique analogue synthesisers and a microtonal keyboard." She is interested in instrumental composition as a storytelling medium, and the forced narrative of the linear experience of performance.
Exhibition support is provided through the Lorne M. Gertner Fund.
Robin Hatch portrait by Mat Dunlap.