CANCELLED: Kay Turner: "Persephone's Return/ Persephone's Revenge"
Wed, Apr 1/20 to Thu, Apr 2/20
Architecture and Design Gallery, 1 Spadina Crescent
NOTE: This event has been cancelled.
This event is part of the New Circadia (Adventures in Mental Spelunking) exhibition at the Daniels Faculty.
"Persephone's Return/Persephone's Revenge" unstitches the famous Greek mother-daughter myth from its patriarchal legacy, giving it a #MeToo interpretation for the 21st century. With New York-based artist and folklorist Kay Turner, descend into the underworld for a two-part, two-night story and ritual performance with audience participation.
On April 1, from 6:30 to 8:30 p.m., Turner will lead a workshop and discussion. On April 2, from 6:30 to 9:30 p.m., she'll stage an interactive performance during which audience members will descend into "the underworld" (the Daniels Faculty's Architecture and Design Gallery) for in-person encounters with characters from her revamped Persephone myth.
Online pre-registration is required to attend this event.
Participating artists:
Moe Angelos
Simla Civelek
Yael Dobkin
Elizabeth Fraser
Ella Gant
Elizabeth Insogna
Tracy Tidgwell
Joy Xiang
Jamie Zarowitz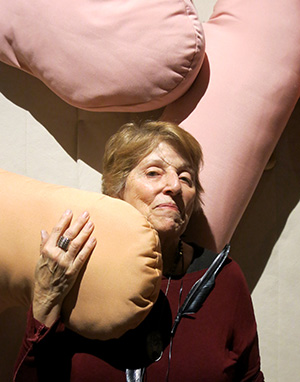 Kay Turner, an artist and folklorist, has been making feminist, lesbian, and queer performance and music works of various kinds for over 40 years. Her current performance and writing project, ongoing since 2012, is called What a Witch. It looks at maligning, misogynistic interpretations of the witch and performs reversals of their negative misapprehensions.
Turner holds a PhD in folklore from the University of Texas at Austin. She is the past president (2015-2018) of the American Folklore Society. Since 2002 she has been an adjunct professor in Performance Studies at NYU, where she teaches courses on gender and queer theory, temporality, ghosts and their ontologies, fairy tale performance, and oral narrative theory.
Turner's books include Beautiful Necessity: The Art and Meaning of Women's Altars (New York and London: Thames and Hudson); Baby Precious Always Shines: Love Notes Between Gertrude Stein and Alice B. Toklas (New York: St. Martin's Press); and Transgressive Tales: Queering the Grimms (with Pauline Greenhill; Wayne State University Press). Turner's current book project, What a Witch, is a companion to her performance project of the same title. In advance of this book's publication, she has published several essays in leading scholarly journals, including the Journal of American Folklore and Marvels and Tales: Journal of Fairy Tale Studies.
Exhibition support is provided through the Lorne M. Gertner Fund.
Illustration by Ella Gant. Portrait of Turner by Zhenya Merkulova.