Clarence Lacy
Wed, Nov 25/20 – 7:00pm to 8:00pm
MLA 2013
Project Director - Landscape Architecture
Rios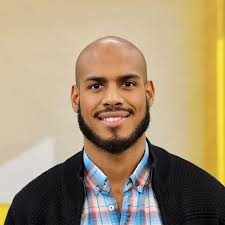 Clarence Lacy graduated from UofT's MLA program in 2013, after having completed a thesis entitled "This Thesis is Not About the Gardiner," which envisioned a cityscape focused around leisure and very few cars. Our very own Francesco Martire was his thesis advisor! Seven years later, Clarence works as a landscape architectural designer at RIOS, an L.A.-based multi-disciplinary firm focused on creating rich, comprehensive solutions for a variety of design challenges. He will be joining us virtually on November 25th to talk about the steps he has taken since school, and how these have shaped where he is today.
About the What's Next Speaker Series
AVSSU, GALDSU and FGSA are excited to bring to you What's Next, an alumni speaker series. Speakers will be presenting their work and career paths since graduating from the different programs at Daniels. 
You will hear about the various industries and areas of work, skills you can transfer from university to the workplace, networking and more!
The lecture will start with a short presentation by the guest, followed by a moderated discussion with student(s), and ending with an open Q&A with the audience.
For the fall of 2020, we have an exciting line-up of speakers from the PhD in Forestry, MVS, MLA, and M.Arch, so be sure to mark the dates in your calendars. If you are unable to attend, please send in any questions you may have, and we will be sure to ask them for you. The talks will be recorded and can be found on Youtube. If you are a student and are interested in moderating a discussion, please reach out to your respective student union representative (see below).
AVSSU - Randa Omar
GALDSU - Juliette Cook
FGSA - Nicole Tratnik
What's Next Graphic Credit: Randa Omar