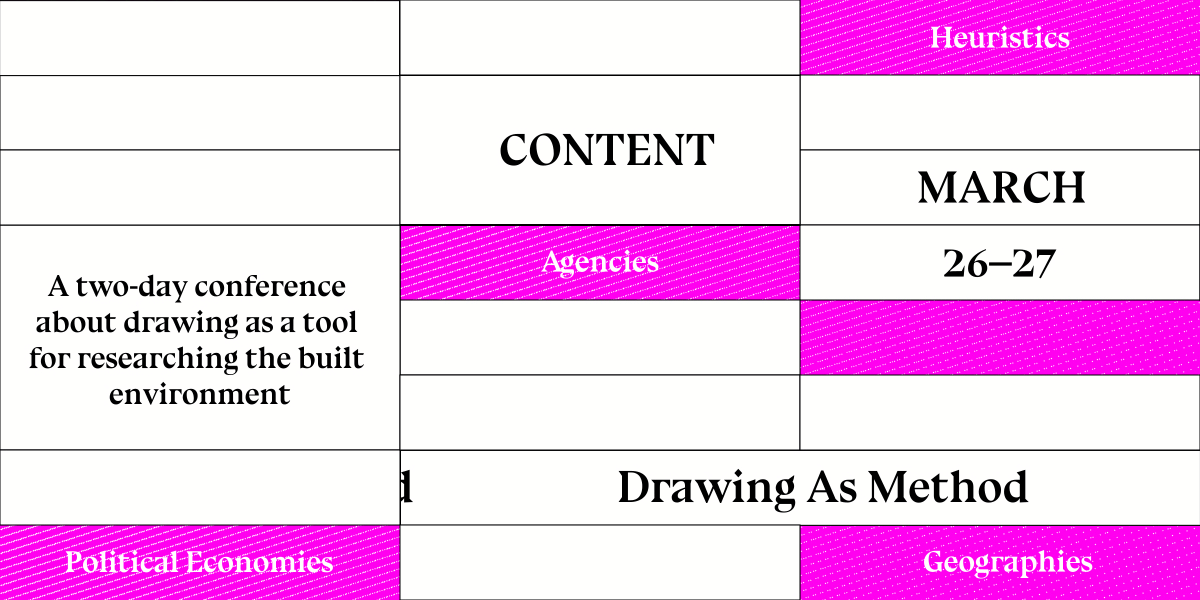 Graphic Content: Drawing as Method
Fri, Mar 26/21 – 12:00pm to Sat, Mar 27/21 – 2:00pm
Zoom (links below)
Graphic Content: Drawing as Method is a two-day on-line conference open to the public that will bring together a group of scholars whose research applies techniques of representation native to design disciplines to contemporary topics in the built environment. The conference posits that, taken together, such use of representational, analytical, and synthetic techniques is constitutive of a research method in its own right. If questions around research methods concern the structuring of inquiry in pursuit of new knowledge, then it follows that an expanded methodological repertoire can create opportunities for increased knowledge production. Treatments of research methods in architecture tend to confine drawing to merely a technique of visualizing data. Graphic Content will argue otherwise and assembles a group of cutting edge scholars whose work makes a powerful case that a research approach that employs graphic production offers more effective ways to communicate findings, suggests restructured forms of agency, and can illuminate unanticipated pathways for research.
The conference will be clustered around four topics:
POLITICAL ECONOMIES 
Friday, March 26 (Zoom)
12:00-14:00 Eastern Time
Graphic representation has the capacity to visualize large and hidden processes (e.g. global supply chains). This makes otherwise obscured processes visible and subject to critique and action.
Deane Simpson, KADK Royal Danish Academy of Fine Art
Charlotte Malterre-Barthes, Harvard University Graduate School of Design
Respondent: Jesse LeCavalier, Daniels Faculty, University of Toronto
AGENCIES 
Friday, March 26 (Zoom)
15:00-17:00 Eastern Time
As the process of visualization evolves, technology necessarily plays a role in shaping it. This topic will consider the ways that drawing is changing (e.g. with the advent of automation, AI ,etc.) and the new research tools that might emerge.
Luke Pearson + Sandra Youkhana, You + Pea / University College London
Nerea Calvillo, University of Warwick
Respondent: Rory Hyde, University of Melbourne
HEURISTICS 
Saturday, March 27 (Zoom)
9:30-11:30 Eastern Time
In both research and design processes one can arrive at an unexpected place but trace steps back to the origin. As a tool for fostering creativity, drawing allows a problem to be seen from a different angle and often suggests insights otherwise unavailable.
Ivonne Santoyo-Orozco, Bard College
Jingru (Cyan) Cheng, Royal College of Art 
Respondent: Marina Otero, Design Academy Eindhoven
GEOGRAPHIES 
Saturday, March 27 (Zoom)
12:00-14:00 Eastern Time
Drawing can synthesize both qualitative and quantitative details and as a result can place multiple variables into simultaneous relationships leading to insight and discovery. Such representations can help understand the many ways that the details of the built environment influence the way it is used or support specific agendas at the exclusion of others
Nishat Awan, Delft University of Technology
Ghazal Jafari, University of Virginia
Respondent: Janette Kim, California College of Art