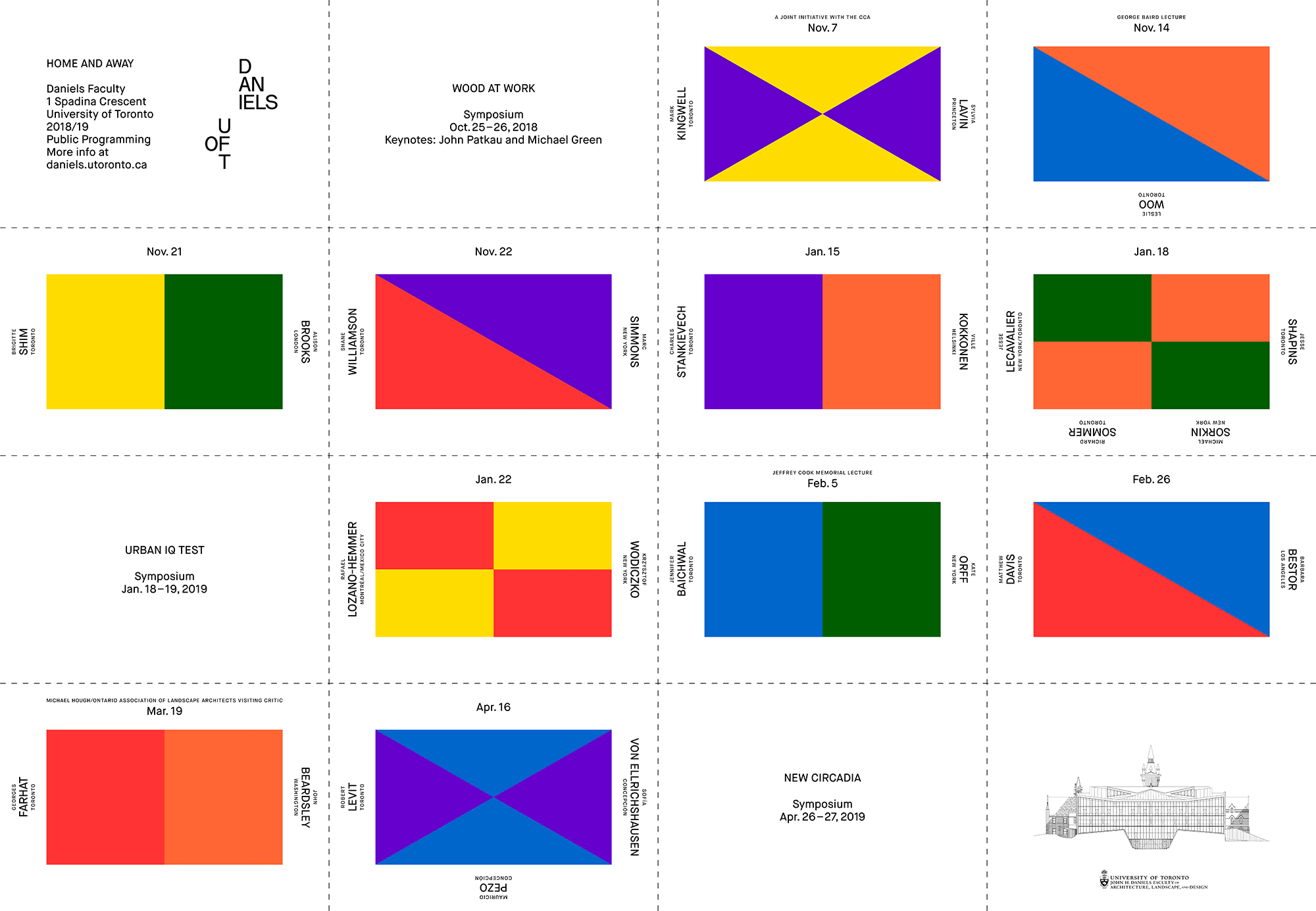 10.22.18

– Announcing the Daniels Faculty's 2018/2019 lecture series: Home and Away
The John H. Daniels Faculty of Architecture, Landscape, and Design is pleased to announce its 2018/2019 public lecture series: Home and Away.
The Faculty's stunning 400-seat multichromatic Main Hall in the heart of the Daniels Building is now open. To inaugurate our first full year of public programming in this space, we are bringing together talent and ideas from near and far for a series of discussions and debates on design issues of global importance.
Engaging broad, timely topics — including the Anthropocene, smart cities, the political functions of art and architecture, and new equations of technology and craft — this year's speaker series connects the wealth of expertise within the Daniels Faculty community with an international, multidisciplinary network of designers, scholars, artists, and curators. As depicted in the Faculty's lecture series poster, each set of Home and Away speakers are represented by different "game flags," highlighting the Faculty's role as an arena for debate and the exchange of ideas on how architecture, landscape, art, and urbanism can effect meaningful change in society today.
Featured speakers include Toronto filmmaker and MacArthur fellow, Jennifer Baichwal and landscape architect Kate Orff (who will be presenting the Jeffrey Cook Memorial Lecture); Daniels Faculty Professor Brigitte Shim and London-based architect Alison Brooks; artists Rafael Lozano-Hemmer and Krzysztof Wodiczko; and Mauricio Pezo and Sofía von Ellrichshausen of the Chile-based art and architecture studio Pezo Von Ellrichshausen.
New faculty member, Associate Professor Jesse LeCavalier will join Dean Richard Sommer, Director of the Public Realm for Sidewalk Labs Jesse Shapins, renowned critic Michael Sorkin, and others in a debate about meaning, implications, and rhetoric surrounding the "smart city" movement — a keynote panel that's part of the two-day symposium: URBAN IQ TEST.
The Daniels Faculty continues its collaboration with the Canadian Centre for Architecture (CCA) with a joint presentation of University of Toronto philosophy Professor Mark Kingwell and Princeton University history and theory of architecture Professor Sylvia Lavin, exploring themes raised by the CCA Exhibition: Architecture Itself and Other Postmodernist Myths. We will also be co-presenting a public film screening of the Islands and Villages documentary series, which explores the transformation of architecture in rural Japan. Introduced by CCA c/o Tokyo Curator Kayoko Ota, the documentaries feature Atelier Bow-Wow, Kazuyo Sejima, Toyo Ito, dot architects, and Hajime Ishikawa.
This year's George Baird Lecture features Chief Planning and Development Officer at Metrolinx Leslie Woo. Associate Professor Georges Farhat and author of Earthworks and Beyond John Beardsley will present the Michael Hough / Ontario Association of Landscape Architects Visiting Critic lecture.
The Daniels Faculty's Home and Away lecture series is free and open to all students, faculty, alumni, and members of the public. Online registration for each event is required.
Details for all public lectures can also be found on the Daniels Faculty's website.
If you are an alumni of the Daniels Faculty and would like to receive a copy of the 2018/2019 events poster, please contact John Cowling at john.cowling@daniels.utoronto.ca.
HOME AND AWAY
2018/19 Daniels Faculty Events
1 Spadina Crescent
daniels.utoronto.ca
Oct. 25-26, 2018
WOOD AT WORK 2018
Symposium
Keynotes
Oct. 25: Michael Green, Vancouver
Oct. 26: John Patkau, Vancouver
Nov. 7, 2018
Mark Kingwell, Toronto
Sylvia Lavin, Princeton
A joint initiative with the CCA
Nov. 9, 2018
Film screening: Islands and Villages
With CCA c/o Tokyo Curator Kayoko Ota
A joint initiative with the CCA
Nov. 14, 2018
Leslie Woo, Toronto
George Baird Lecture
Nov. 21, 2018
Brigitte Shim, Toronto
Alison Brooks, London
Nov. 22, 2018
Shane Williamson, Toronto
Marc Simmons, New York
Jan. 15, 2019
Charles Stankievech, Toronto
Ville Kokkonen, Helsinki
Jan. 18-19, 2019
URBAN IQ TEST
Symposium
Keynote: Jan. 18, 2019
Jesse LeCavalier, Toronto / New York
Richard Sommer, Toronto
Jesse Shapins, Toronto
Michael Sorkin, New York
Jan. 22, 2019
Rafael Lozano-Hemmer, Montreal/Mexico City
Krzysztof Wodiczko, New York
Feb. 5, 2019
Jennifer Baichwal, Toronto
Kate Orff, New York
Jeffrey Cook Memorial Lecture
Feb. 26, 2019
Matthew Davis, Toronto
Barbara Bestor, Los Angeles
Mar. 19, 2019
Georges Farhat, Toronto
John Beardsley, Washington
Michael Hough / Ontario Association of Landscape Architects Visiting Critic
Apr. 16, 2019
Robert Levit, Toronto
Mauricio Pezo and Sofía von Ellrichshausen, Concepción
Apr. 26-27, 2019
NEW CIRCADIA
Symposium