05.21.20

– Robert Wright named interim dean of the Daniels Faculty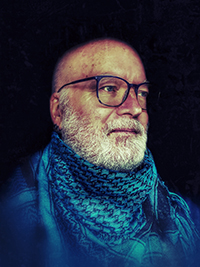 On April 27, the University of Toronto's provost, Cheryl Regehr, announced the appointment of Robert Wright as interim dean of the John H. Daniels Faculty of Architecture, Landscape, and Design. Wright's term will commence on July 1, 2020. He will succeed Richard M. Sommer, who has been dean of the Faculty since 2009.
Wright's appointment will give the Faculty time to resume its search for a permanent dean — a process that has been temporarily suspended as a result of the COVID-19 pandemic.
Wright, began teaching at the Daniels Faculty in 1986. He has since held a number of different academic and administrative positions, both within and beyond the school. He was an associate dean of research for the Faculty between 2010 and 2014, and director of the Faculty's Master of Landscape Architecture program between 2011 and 2014. He was also, for four years, from 1999 to 2004, director of the University of Toronto's Knowledge Media Design Institute, an interdisciplinary group that tackles research and design projects related to media and technology. As director of the Daniels Faculty's Centre for Landscape Research, a role he assumed in 2014, Wright has worked at the intersection of landscape architecture and technology to imagine new ways of using computation in urban and ecological design.
In 2017, Wright accepted an appointment as dean of the Faculty of Forestry — a position he held until 2019, when that faculty was incorporated into the Daniels Faculty. He will continue this work in his new role and looks forwarding to building new opportunities to leverage the diversity and depth that the Faculty has now achieved for all the programs.
The notion of professional practice — in addition to research and teaching — is at the core of Wright's pedagogical philosophy. (He has maintained an award-winning private landscape architecture practice throughout his time in academia.) He favours an interdisciplinary approach, informed by his varied background in ecology, landscape architecture, forestry, and design. "The most important thing you can do as a faculty member or a student of the Daniels Faculty is to leave the building," Wright says. "The University of Toronto has so many resources and so many smart people. There's so much learning to be done here."
At the top of Wright's to-do list, when he assumes leadership of the Daniels Faculty in July, will be readying the school for what will almost certainly be one of the most unusual academic years in its history: the year of COVID-19. He will focus on keeping our students, faculty and staff safe while we go through a phased return.
"We have been coordinating with U of T's many resources that are dedicated to maintaining our high level of academic excellence while ensuring student safety and providing an outstanding student experience during this time. At Daniels, we have already been transitioning to hybrid models of learning including online platforms. Our community is resourceful and resilient adapting these new modes of teaching to our studio culture and even producing PPE for our frontline workers. I will commit my energy to supporting those who are already leading the charge. We will continue to be a leader in educating new designers, artists and foresters who will have to take on these emerging new design challenges."