09.17.21

– Daniels students win three awards at the 2021 Toronto Urban Design Awards
Three Daniels Faculty student projects have won Toronto Urban Design Awards (TUDA), the biennial program announced.  
Each winner was revealed in a virtual ceremony earlier this week: Power and Place was the recipient of an Award of Excellence. Elsewhere, Embodied Energy: Living Lab and XS Spaces: A New Laneway Urbanism earned Awards of Merit. All won awards in the student category. 
Held by the City of Toronto, the TUDA program recognizes architects, landscape architects, artists, city builders and students who help improve the livability of their cities. This year, the TUDA received 170 submissions across nine categories, with the student category inviting theoretical or studio projects.  
Here's a closer look at the three ambitious student projects that won TUDA recognition. 
Power and Place 
Developed by third-year M. Arch students Erik Roberson, Yoyo Tang and Zak Jacobi, the Award of Excellence-winning Power and Place proposes a design intervention for Princess Gardens — located in Toronto's west end — that includes affordable housing, energy infrastructure and new community spaces.  
Initially completed as part of the Integrated Urbanism Studio — which, for fall 2020, challenged students to reimagine Toronto's postwar neighbourhoods through the lens of the Green New Deal — the plan challenges the inequities built into an area populated with detached, single-family homes. Daniels professor Mason White was the team's studio instructor, along with fellow studio coordinators Fadi Masoud and Michael Piper.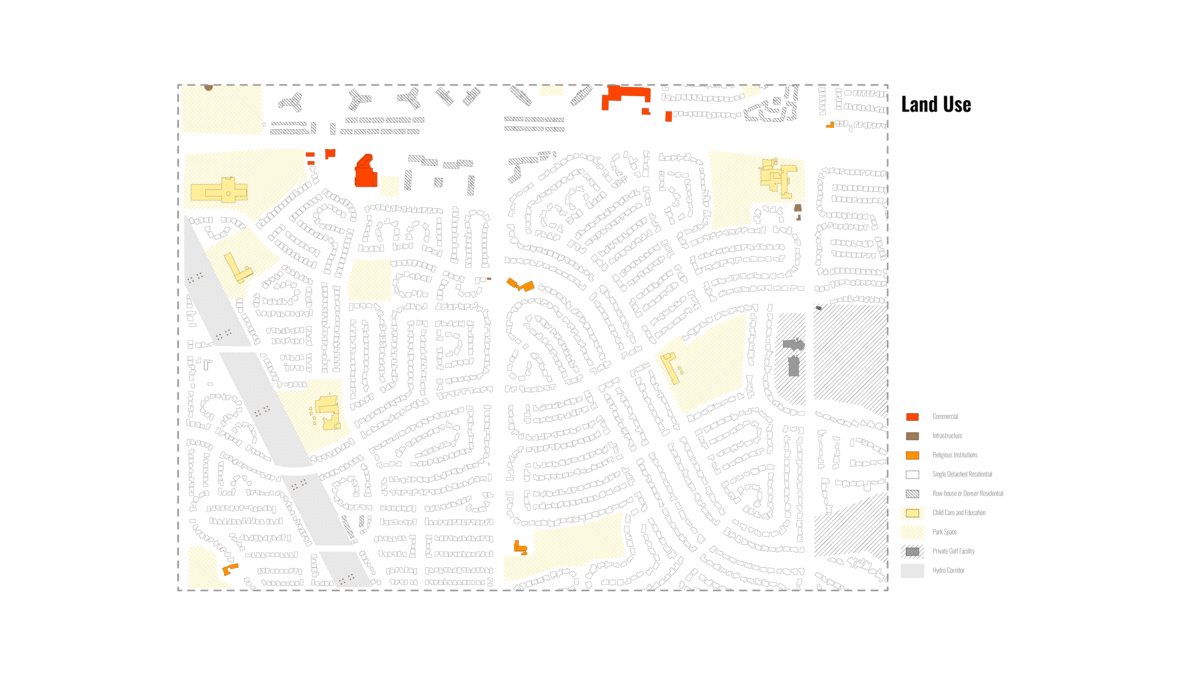 Developed around the site of a future Eglinton Crosstown Light Rail Transit (LRT) station, the project proposes the addition of mixed-use, mid-rise development the reimagination of a present hydro corridor. Along Eglinton Avenue, where the LRT station will reside, Power and Place proposes the replacement of parking lots of car- and bike-sharing facilities, with buildings that will provide space for housing, offices and local retailers. Along Kipling Avenue — another major thoroughfare — mixed-use developments will step back the Princess Gardens' interior, integrating with the existing low-rise subdivisions. 
The reimagined hydro corridor, along the Princess Gardens' western edge, will add solar panels, wind turbines and kites that harness high-altitude wind energy to the Etobicoke Spine. With renewable energy, community space and mixed-use development, the project aims to make the suburbs more equitable — and explores the possibility hidden in Toronto's residential neighbourhoods. 
Embodied Energy: Living Lab 
Agata Mrozowski and Madison Appleby's Embodied Energy: Living Lab earned a TUDA Award of Merit for its reimagination of Willcocks Street on U of T's St. George campus. Along with proposing a pedestrian-centred redesign, Embodied Energy aims to increase the area's permeability — which will take pressure off existing city infrastructure — while adding learning spaces focused on urban ecology. The project was completed as part of Landscape Design Studio 2, led by Associate Professor Liat Margolis and Assistant Professor Elise Shelley. 
First, the project considered Willcocks' current state. While walking the stretch, Mrozowski and Appleby noticed three things: first, boulders line the street in an attempt to direct pedestrian and car flow. Secondly, they noticed vegetation pushing its way through paving patterns. And finally, the influence of Modernist architecture was notable in the area's usage of concrete laid along vertical plains. 
Reconstituting the site's existing materials — ashpalt, concrete and clay, after all, all have natural origins, histories and life cycles — Embodied Energy imagines the site with five programmatic zones. Grass seams, with species common in alvar prairies, are proposed; canopy and understory layers expand from existing tree locations; rock gardens include excavated deposits of piled concrete; boulders are employed as landmarks and gathering spaces; and finally, experimental drifts are the site's living lab, where students and passersby can note how species change over time. 
The reconstitution of existing materials was key to Embodied Energy. It's an approach that, in the project's description, aims to honour objects as keepers of memory — a perspective understood by many Indigenous worldviews. "By honouring the spirit and life-cycle of these materials, and centering land-based learning pedagogies, our project also responds to the Truth and Reconciliation Calls to Action for more Indigenous spaces on campus," write Appleby and Mrozowski. 
XS Spaces: A New Laneway Urbanism for Toronto 
The city's laneways are often hidden in plain sight, but they needn't be. As part of an undergraduate thesis project — with Jeannie Kim, an associate professor, as its instructor — Declan Roberts developed XS Spaces: A New Laneway Urbanism for Toronto, a project that aims to reclaims these spaces for city-dwellers. And, as the project's title suggests, it imagines laneways not as excess spaces, but as untapped urban resources. 
In their current state, laneways are "functionally obsolete, devoid of ownership and surrendered to the car," per the project's description. The thesis project activates these spaces by turning them into decentralized, hyper-local and DIY spaces — and by framing them not simply as interstitial areas, but as connective tissue for the city. Roberts imagines a new street typology for the laneway, and one that is geared towards the pedestrian — not the vehicle. 
In examining the renderings produced for XS Spaces, the transformation is vivid. First, housing lines the newly pedestrianized laneways, and with them, come rooftop patios, colourful clotheslines and gathering spaces carved from cantilevered buildings. Between the houses, recreational and gathering spaces abound, with benches, planters, greenhouses, community gardens and even a volleyball net. In renderings, the project's DIY proclivities are especially evident: note, for instance, a film screening projected against the side of a home. 
XS Spaces imagines that these redesigned laneways can address the housing crisis, sustainability, urban circulation and public-space access. Hidden no more.