Nene Brode
Manager, External Relations & Outreach
nene.brode@daniels.utoronto.ca
T 416-946-0727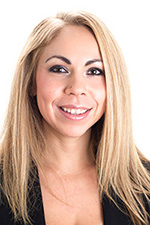 Nene Brode is the Manager, External Relations and Outreach rejoining the Dean's Office in September 2018. She was previously at Daniels from 2008-2012 in the roles of Communication Officer, Executive Assistant to the Dean and Special Projects Officer, which included managing the last cycle of accreditations for our professional programs in Architecture and Landscape Architecture.
Nene left UofT to go to Ryerson University in 2012, where she worked as both an administrator and pursued her graduate studies in Communications & Culture.  During her tenure at Ryerson, Nene worked at the Department of Architectural Science, the Office of the Provost Research and Innovation and Graduate Studies at the Dean's Office in the Faculty of Engineering and Architectural Science. In 2016, she founded the V4Lab, a summer youth STEAM program after establishing the architectural science day camp. From working on the development of the Digital Media Experience Lab, to creating the V4Lab youth camp program showcasing work at the Ontario Science Centre, Nene has been a connector and collaborator fostering community engagement. Her outreach efforts earned her the Julia Hanigsberg Make Your Mark Staff Award for Community Engagement this year.
At Daniels, Nene will be using all of these experiences in her new role as Manager, External Relations and Outreach. The Faculty's expanded size and facilities require that we organize and coordinate a whole range of external relationships. We have the opportunity to better connect all the great work our faculty and students are doing with outside entities, engage new constituencies with the Faculty and develop more community and industry-based partnerships.