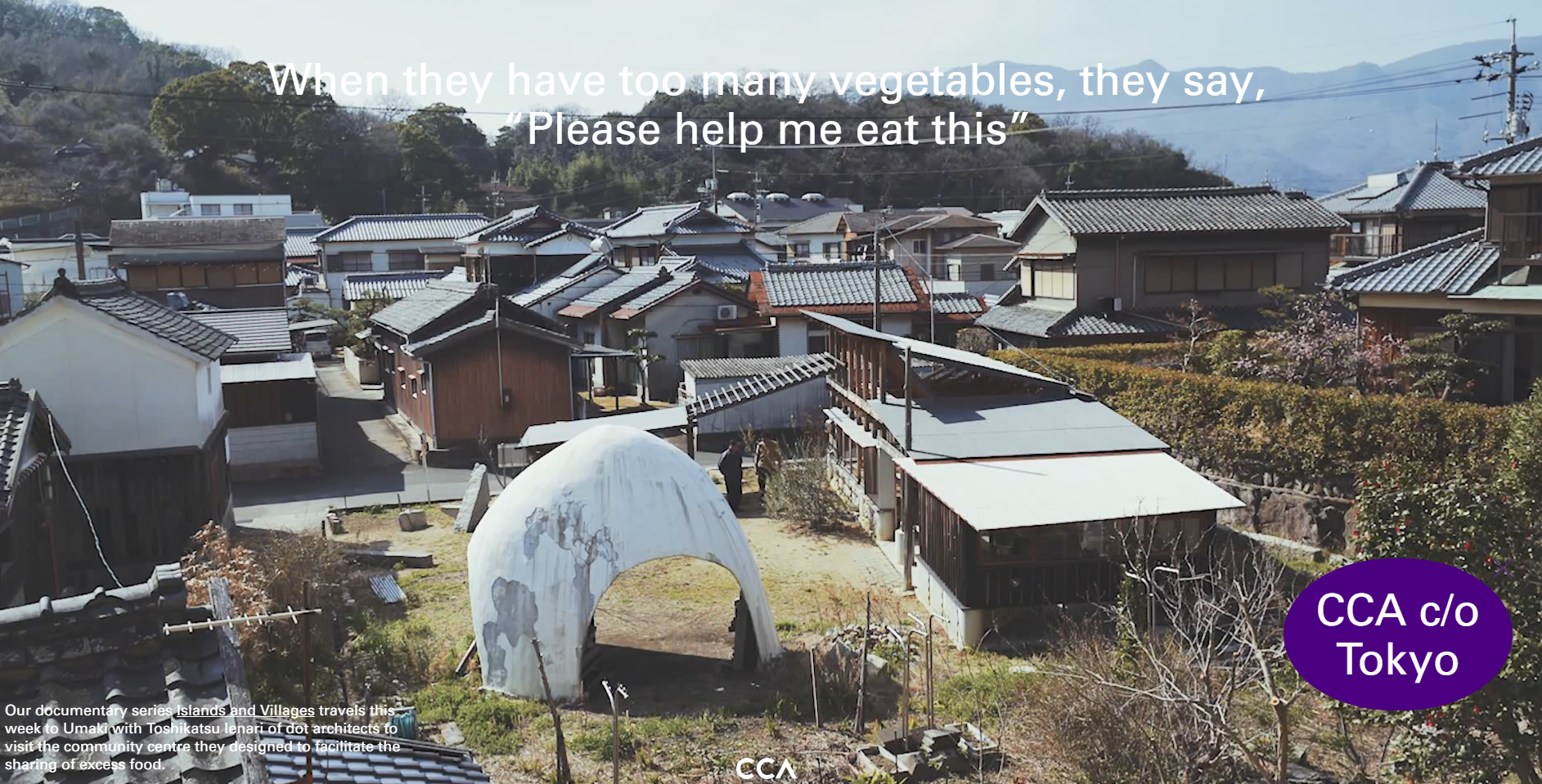 Film + talk: Islands and Villages
-
Main Hall, 1 Spadina Crescent
Registration is required for this event. Reserve your ticket on the registration page.
Doors will open at 6pm. Ticket holders must arrive by 6:20pm (with their printed or mobile ticket) to claim their seats. There will be a rush line for those without tickets. Any unclaimed seats will be released to the rush line at 6:20pm.

This event is part of the Home and Away lecture series at the Daniels Faculty.
:::::::::::::::::::::::
The Canadian Centre for Architecture (CCA) and the Daniels Faculty present a public screening of the Islands and Villages documentary film series on Friday, November 9 from 6:30 to 8:30pm in the Main Hall of the Daniels Faculty (1 Spadina Crescent). Introduced by CCA c/o Tokyo Curator Kayoko Ota, the films explore the transformation of architecture in rural Japan, featuring Atelier Bow-Wow, Kazuyo Sejima, Toyo Ito, dot architects, and Hajime Ishikawa.
 
The event will begin with a Curator's Talk by CCA c/o Tokyo Curator Kayoko Ota, followed by the film screening and concluding with a Q&A with Kayoka Ota and Mauricio Quiros Pacheco, Assistant Professor at our Daniels faculty and former Researcher for the Office of the Director and Chief Curator at the Canadian Centre for Architecture (CCA). Also present from the CCA will be Director Mirko Zardini and Chief Curator Giovanna Borasi.
 
CCA c/o is a series of temporary initiatives that are locally anchored, moving from city to city worldwide. They can feature independent curators, architects, journalists, photographers, and editors — or other interesting figures encountered along the way. Over the course of 2018 and 2019, the CCA is working with Kayoko Ota, an architectural curator and editor based in Tokyo and commissioner of the Japanese pavilion at the 2014 Venice Biennale, to develop research and facilitate public engagement with their projects in Tokyo.
 
To launch c/o Tokyo, the CCA commissioned a multi-part documentary on the posturban phenomenon in Japan. Traveling to small villages and tiny islands far from Tokyo, Ota explores how, in place of the conventional system of commissioning, a new kind of exchange is emerging between architects and rural communities. The documentary premiered within a larger online editorial project, What About the Provinces, focused on nonurban cities, providing the perspective of another culture to an ongoing CCA investigation.
 
______
 

About Kayoko Ota
Tokyo-based architectural curator and editor Kayoko Ota is a founding partner of PLAT, a platform for enhancing architectural thinking in socially engaged cultural and educational projects. From 1987 to 1996 she co-directed Workshop for Architecture and Urbanism, organizing a variety of cultural and educational programs, publishing Telescope magazine, and hosting summer schools with the AA School of Architecture in Tokyo. She was also vice editor and editorial board member of Domus magazine in Milan from 2004 to 2007. After ten years at AMO, the creative think-tank arm of OMA in Rotterdam, she returned to Tokyo to curate the Japanese pavilion in the 2014 Venice Biennale for Architecture as commissioner. Ota is the curator of CCA c/o Tokyo through 2019.
 


About Mauricio Quiros Pacheco
Mauricio Quirós Pacheco is an Assistant Professor at the John H. Daniels Faculty of Architecture, Landscape, and Design. He was Researcher for the Office of the Director at the Canadian Centre for Architecture (CCA) from 2010 until 2014 and has practiced in America and Europe in offices including Stanley Saitowitz Office and the Renzo Piano Building Workshop. Read his full biography here.