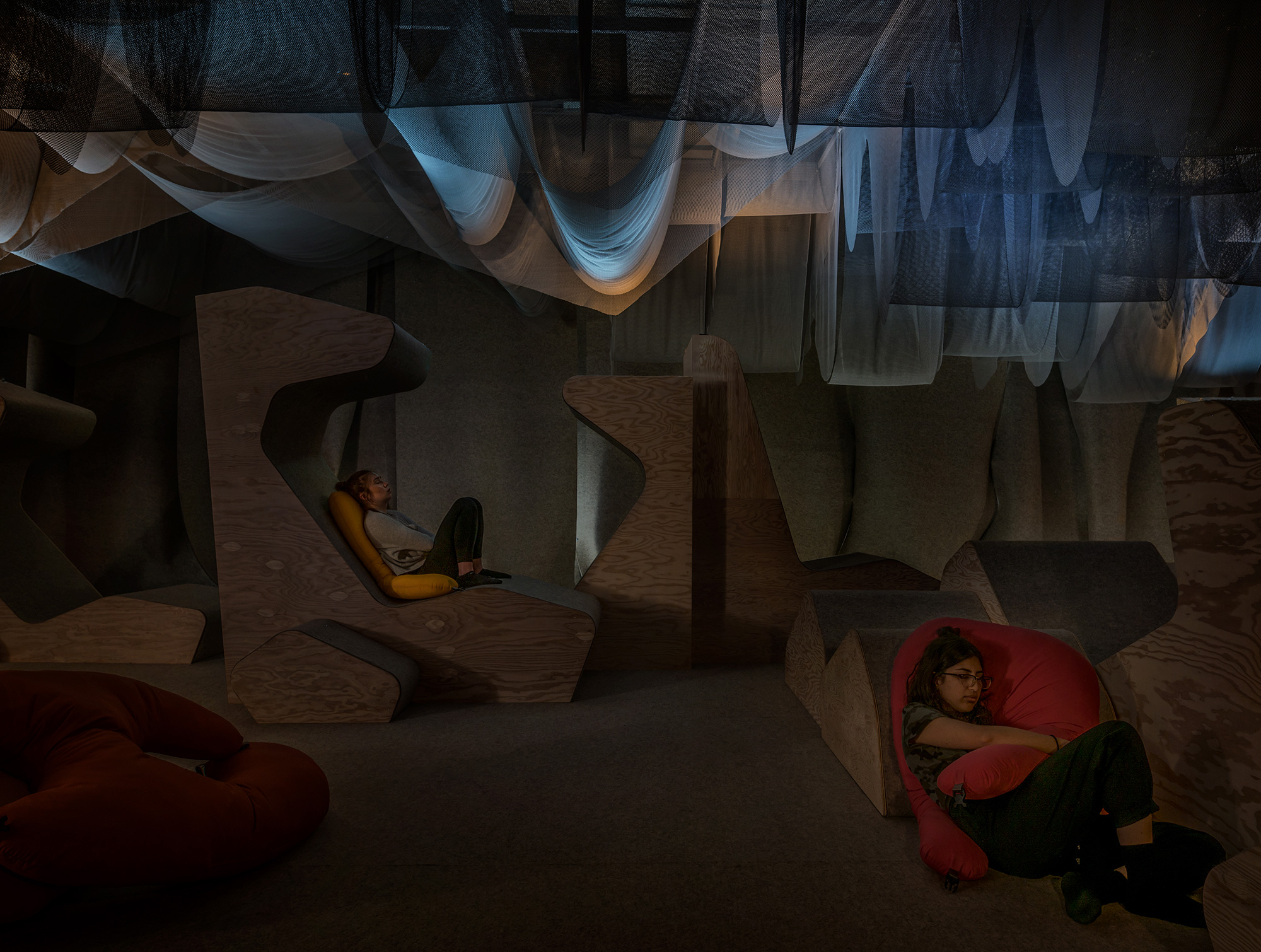 NEW CIRCADIA (Adventures in Mental Spelunking)
-
Design and Architecture Gallery, 1 Spadina Crescent
Gallery hours: Tuesday to Saturday, 11 a.m. to 7 p.m.
New Circadia will be closed on the following days:
March 11 (until 12 p.m.)
March 12 (from 5 p.m. onward)
March 13 (from 1 p.m. onward)
April 1
New Circadia (adventures in mental spelunking) inaugurates the new Architecture and Design Gallery at the Daniels Faculty by transforming it into a cave-like atmosphere — a soft utopia.
Curated by Professor Richard Sommer and New York-based designers Pillow Culture, the immersive installation prompts participants to ask: Have our tech-infused lives caused us to forget the benefits and pleasures of losing ourselves in states of repose and reverie? What would happen if we disconnected from standard time and external stimuli within a dream-like space specifically designed for relaxation, reflection, and repose?
This immersive installation was inspired by Dr. Nathaniel Kleitman's 1938 Mammoth Cave experiment (the first instance of a scientific research laboratory for studying natural human cycles of sleep and wakefulness). New Circadia will engage the city, our students, and the entire University of Toronto community in a variety of experiences — including happenings, multidisciplinary performances, dialogues, film screenings, and nocturnes — to probe and conjure notions of geological, mythical, mechanical, and biological time.
Exhibition support is provided through the Lorne M. Gertner Fund.
How it works
The interactive installation is made up of three zones. Beginning at the east entrance of the Daniels Building, visitors enter a subterranean space through a Transitory Zone or "mouth of the cave," illuminated with Axis Coelux technology, which recreates the look and feel of a blue sky. Here, visitors store their belongings and choose from a variety of body wearables or "spelunking gear."
Then, moving though a felt envelope, participants enter the main cave space, an uncanny Dark Zone, with a large yet soft rock-like lounge-scape, animated with responsive sound and light. Oneiroi, a curtained-off area on the upper tier of the cave, invites visitors to anonymously record their dreams and listen to those recorded by others.
Throughout the installation, visitors are invited to make use of the cave's soft infrastructure, including its felted floors and walls, to engage in self-directed rest and meditation.
Children must be supervised at all times.
Going Underground
To go underground is to suspend a sense of time, to exit the everyday world, and to evade authority. To descend into a cave is to return to a lithic past enhanced by mythical, cultural, and historical associations with underworlds, oracles, magic, ritual, sanctuary, and seclusion. New Circadia offers a paradisiacal retreat in the pursuit of circadian reverie.
Why New Circadia?
Is it time to put architecture to sleep? The biology that undergirds our well-being presumes being at rest during at least one-third of our lives. Nevertheless, the mechanization of life has evolved to an extent that we can be "plugged-in" at all hours. A central feature of this pursuit of an optimized state of productivity is a reciprocity between architecture and technology. The late-19th-century standardization of time that came with railroads and telegraphs; the 20th-century appearance of tall, electrified cities; and the 21st-century primacy of the World Wide Web, which has enabled the spread of a globalized gig economy that crosses time zones — all are part of this temporal "architecture" of modernity.
 
Because architecture today is inextricably bound up in the urbanization of the planet, it needs to pay as much attention to the marking of time as it historically has to the manipulation of space. And yet, the very culture of architecture has been built upon a fascination with adopting mindsets and accelerating technologies that facilitate long work hours and sleeplessness. How can architects counter the over-mechanization of everyday life?
And how can architects convey the idea that idling — whether by sleeping, dreaming, napping, or meditating — is not lost, unproductive time, but rather an essential state of mind and body? By creating a dreamlike space where individuals and collectives can incubate states of rest, reflection, and reverie, New Circadia will test how architecture and landscapes can play a role in nurturing a greater interior life.
New Circadia in the press
The Globe and Mail - "At the University of Toronto's New Circadia exhibition, architects imagine a world with room to rest"
CBC Spark - "Walden, revisited"
Toronto Life - "Inside New Circadia, a nap-friendly felt cave at U of T"
Archinect - "A 'soft utopia' takes shape in University of Toronto's experimental gallery"
The Spaces - "The University of Toronto's new gallery lets you do a 'digital detox' on your lunch break"
About Oneroi
Oneiroi (from Greek mythology: the gods and personification of dreams in physical form) is a participatory project by architect and Assistant Professor Petros Babasikas and artist Chrissou Voulgari. Oneiroi (pronounced own-ner-ree) invites visitors to anonymously record their dreams — and listen to those recorded by others — in curtained-off stations located in the upper tier of the cave. Audio and text of the recorded dreams will be made accessible and mapped by subject in an online atlas, creating a network of the unconscious that offers a surreal break from reality. Together, the audio-visual environments (Stations), narratives (Logs), and cartography (Atlas) make private stories public, giving our dreams locus and agency.
About the Architecture and Design Gallery
The Architecture and Design Gallery at 1 Spadina is dedicated to showcasing and advocating for the important ways that design shapes our cities, landscapes, and daily lives. Its unique exhibitions and installations will explore and promote experimental and prescient forms of contemporary architecture and urbanism — in all their artistic, scientific, and cultural dimensions. Located on a landmark site in Toronto, at the nexus of one of the world's leading research universities and a thriving downtown creative sector, this flexible 7,500-square-foot facility — the only one of its kind in Toronto — will harness a rich network of local and international collaborators. The Gallery will also draw on the talents of the Daniels Faculty and U of T's remarkable community of scholars, urbanists, and design professionals to test ideas, provoke needed debate, and foster a deeper understanding of the role that design plays in imagining and building a better world.
Capital support of the Architecture and Design Gallery has been provided by the Estate of James Drewry Stewart.
This project has been made possible in part by the Government of Canada.
Ce projet a été rendu possible en partie grâce au gouvernement du Canada.
About Pillow Culture
Pillow Culture — designers Natalie Fizer and Emily Stevenson — explores current material technologies to prototype and develop pillows, and pillow-like constructs that contribute to human comfort, beauty, and well-being. Working in collaboration with designers, scientists, and engineers, their mission is to increase an awareness of the history and culture of the pillow, and broaden attitudes towards the place of pillows in our lives. Projects include: a set of giant upholstered boulders, a 20-foot dayglow pink inflatable, an elaborate sex cushion for the post-menopausal woman, and a soft public bench for the City of Boston. They are currently involved in a radical rethinking of the sleep aid.
New Circadia (adventures in mental spelunking)
Curators / Creative Directors
Richard Sommer, Daniels Faculty
Natalie Fizer, Pillow Culture
Emily Stevenson, Pillow Culture
Laura Miller, Daniels Exhibition Director
Contributing Artists
Sound: Mitchell Akiyama, Daniels Faculty
Oneiroi: Petros Babasikas, Daniels Faculty; Chrissou Voulgari, Toronto
Designers
Lighting: Conor Sampson, CSDesign, Montreal
Graphic Design and Wayfinding: Glen Cummings MTWTF, NYC
Design and Fabrication Team
Anton Skorishchenko- Lead Fabricator / Installation Manager, Daniels
Sutton Murray- Lead Designer, Pillow Culture
Robert Lee- Lead Installation Fabricator, Daniels
Zainab Al-Rawi- Exhibition Research and Design, Daniels
Daniels Staff Leads
Bohden Tymchuk, Supervisor; Workshops, Facilities, and Special Projects
Nene Brode, Manager, External Relations and Outreach
Sarah Whitehouse, Facilities Coordinator
Special Thanks
Lighting supplied by Axis featuring CoeLux sky technologies
Photographs by Bob Gundu.