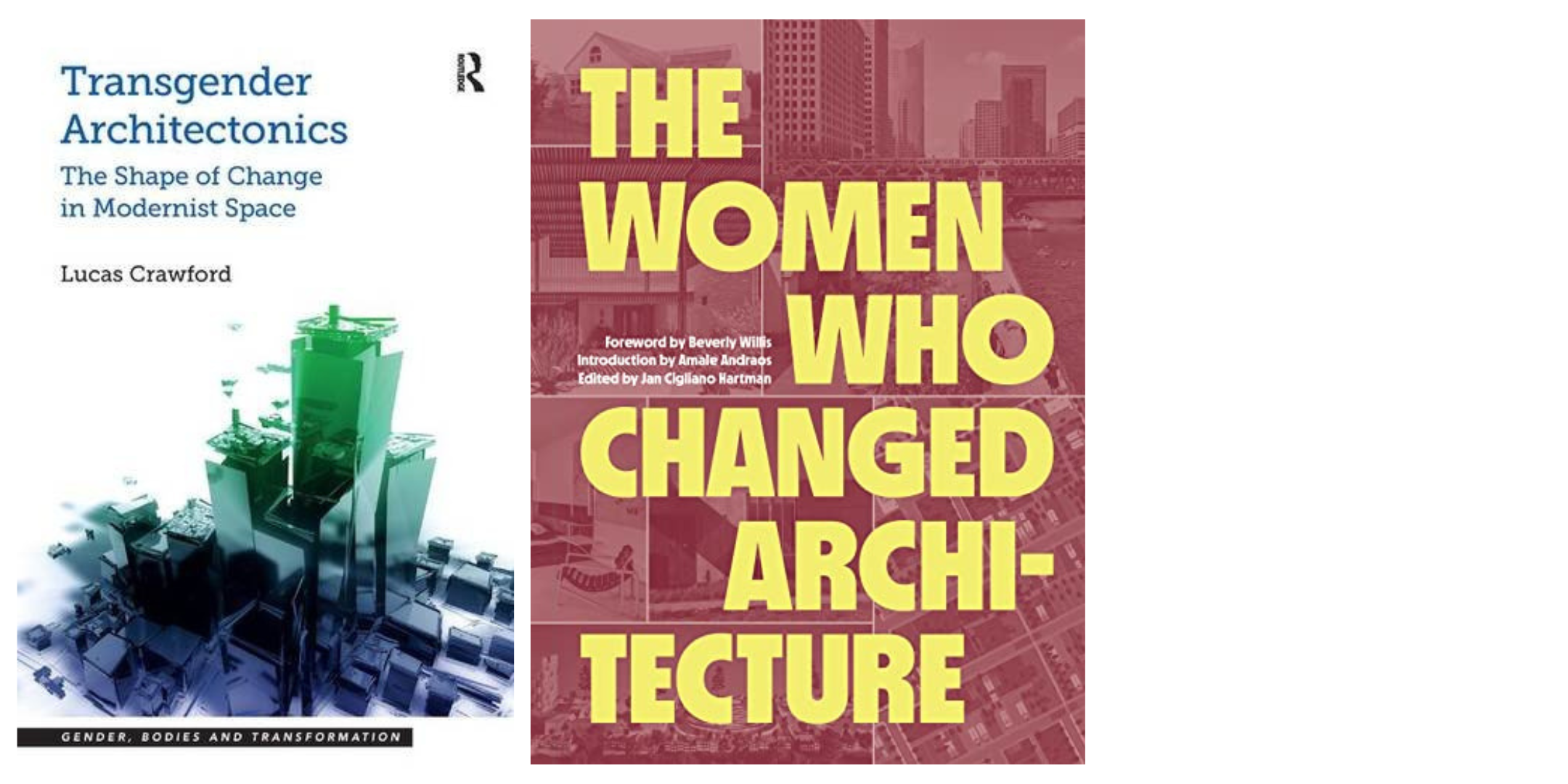 Community for Belonging Reading Group: International Women's Month and Transgender Identities
-
Eberhard Zeidler Library, Daniels Building
Register to attend
Join us on Tuesday, March 28 at 7 p.m. for the second Community for Belonging book reading group meeting in the Eberhard Zeidler Library. During the meeting, which is open only to faculty, staff, students and alumni from the Daniels Faculty and U of T communities, we will discuss two titles selected under the theme International Women's Month and Transgender Identities, are Lucas Crawford's Transgender Architectonics: The Shape of Change in Modernist Space (2020) and Jan Cigliano Hartman's The Women Who Changed Architecture (2022).
Those who have signed up for the meeting will be asked to come prepared to discuss at least one of the two texts proposed for that meeting. Feel free to contact Cathryn Copper, Head Librarian at the Eberhard Zeidler Library for any questions or concerns.
Participants will be given a hard copy of the designated book(s) in advance, with digital versions provided if the hard copies run out. You must pick up a copy of your book from the Eberhard Zeidler library on the following days:
March 1 between 9:00 a.m. and 9:00 p.m.
March 2 between 9:00 a.m. and 9:00 p.m.
March 3 between 9:00 a.m. and 7:00 p.m.
March 6 between 9:00 a.m. and 9:00 p.m.
March 7 between 9:00 a.m. and 9:00 p.m.
March 8 between 9:00 a.m. and 7:00 p.m.
At each meeting, participants will be asked to discuss one of the two books designated for the meeting. Discussion of each text may include reflection on the following questions:
How does the text influence/expand your understanding of community?
Has the text challenged a belief or understanding that you had about identity, equity and belonging?
Would you recommend the text to a peer?
Would you recommend the text to someone outside of the university?
After reading the text, what is one action item you can take forward into the world to create more equitable or inclusive environments?
The Community for Belonging reading-group project, which is being supported by Manulife and TD Insurance, will culminate on International Human Rights Day in December, reflecting its goals of building community, raising awareness of human rights, and celebrating identity. The University of Toronto has long-standing affinity relationships with Manulife and TD Insurance. These partnerships allow the University to provide beneficial, value-added financial and insurance products to alumni and students. See all affinity products.
Please refer any questions to:
Jewel Amoah
Assistant Dean, Equity, Diversity and Inclusion
jewel.amoah@daniels.utoronto.ca
Cathryn Copper
Head Librarian
cathryn.copper@daniels.utoronto.ca.