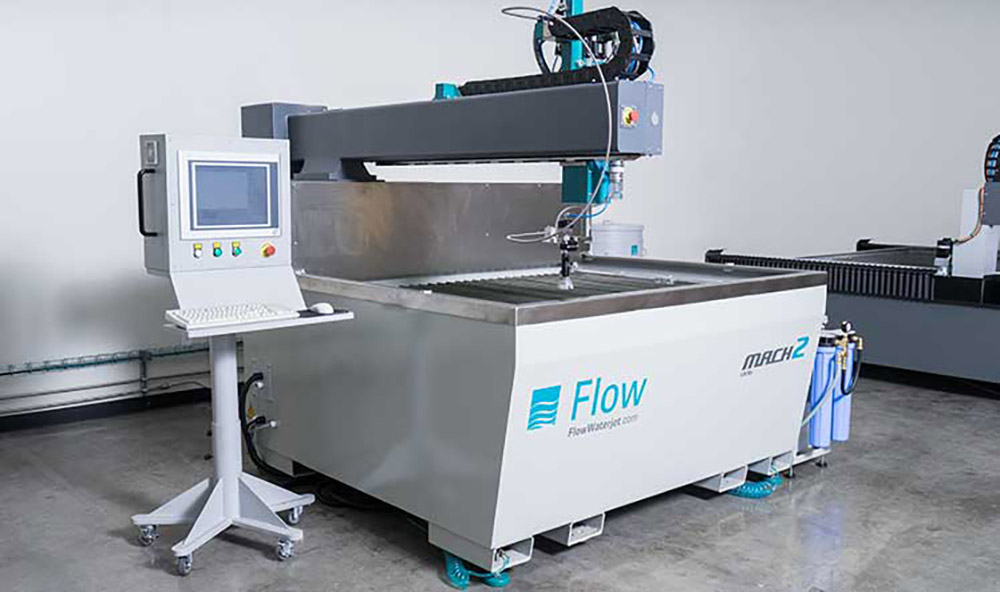 Flow Mach 2b
The Flow Mach2b is a three-axis waterjet cutter. The jet can cut metals, plastics, and most other materials, excluding tempered glass. The system runs a high pressure water stream mixed with a silica abrasive to cut through the chosen material type and thickness.
The Mach2b has bed dimensions of 48 inches by 48 inches. All files must be in imperial for waterjet cutting.
Software
The software for the waterjet cutter is only available at the waterjet cutter computer in the metal shop. DXF files are imported to FlowPath for profile curve pathing. Once complete, the FlowPath file is imported to FlowCut to run the finalized cutting paths.
Submittal process
To submit a file, you must export your 2D profiles to DXF format. Make sure the profile outlines to cut are on the c plane in Rhinoceros or AutoCAD and export to DXF. For your format, choose "default" in AutoCAD and "2007 natural lines" in Rhinoceros.
All materials must be procured prior to cutting. Speak with the materials supply shop for metal or larger acrylic sheets to be cut.
Cost
The waterjet is $0.50 per pound of aggregate used.
This is calculated in FlowCut once a file has been set up.
Submission form
Click here for the submission form
Email the submission form to: CNCmilling@daniels.utoronto.ca