NEW CIRCADIA at the InSomnolence Exhibition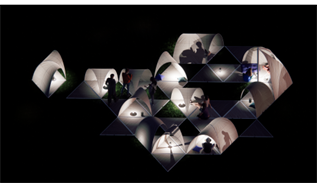 Daniels Independent Study Opportunity - Workshop
ARC399H1F / ARC3039HF LEC0101 Summer 2023 (for credit – open to both undergraduate and graduate students)
Led by Daniels Professor Richard Sommer and Pillow Culture, in collaboration with Bangkok-based artist Henry Tan and Taipei-based artist/playwright Ding Yun Huang (Sociability of Sleep artists-in-residence), this course will engage Daniels students in the conceptualization and creation of a dream-inducing interior in the InSomnolence exhibition. The workshop will build on previous New Circadia experiments, and will focus on creating an infrastructure for Tan and Huang's performance-based work, which draws on concepts of synthetic biology, brain stimulation and artificial intelligence. Part of the course/workshop process will involve students co-creating and participating in the programs and rituals that Sommer/Pillow Culture, Tan and Huang will develop the workshop for the exhibition. Participants will also design, fabricate and install the work in Montreal.
For New Circadia, see: https://www.cbc.ca/player/play/1654093891654/
For Henry Tan and Ding Yun Huang's work, see: https://www.henryandpartners.com https://talkingdrums.tw/programme/huang-ding-yun-henry-tan-sweet-potato-in-the-air/
About the In Somnolence Exhibition, Agora, Montreal
In Somnolence is a group exhibition growing out of The Sociability of Sleep – an interdisciplinary NFRF-funded research- creation project exploring the epistemologies and equities of sleep, pursued by a team made up of film and media scholars architects, artists, and researchers in psychiatry, psychology, and medicine.
Toronto Dates: June 12 - 16, 2023
Travel Dates: June 19 - 23, 2023
(end of first summer session)
–Schedule:
week one in Toronto with one field trip,
week two in Montreal installing and beta-testing.
–Lodging will be provided in Montreal during the second week of the workshop, during the installation process and to allow for participation in the opening events.
Application deadline: Monday, April 17, 2023
For more information, and to apply, send an e-mail with a brief note stating you interest, and any other materials you wish to share (PDF's of previous work welcome but NOT required) to Professor Richard Sommer at rsommer@daniels.utoronto.ca