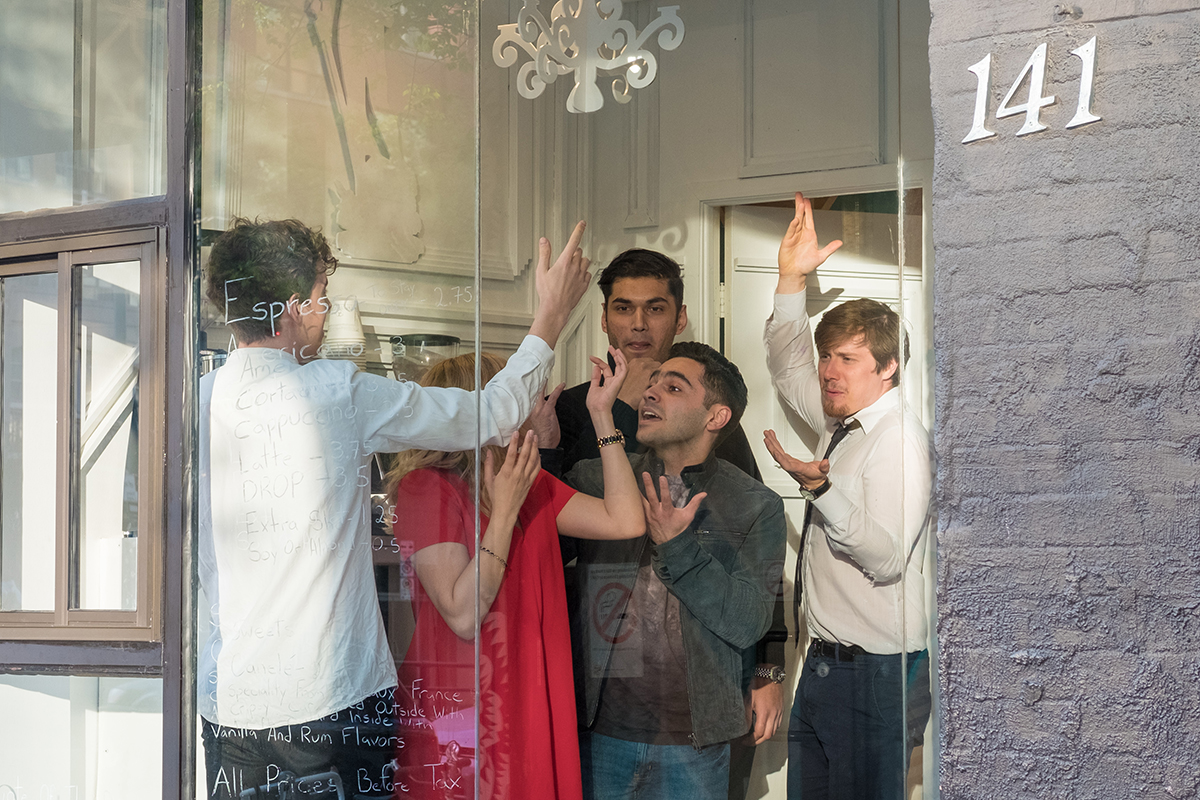 12.07.18 - MaW Studio designs The Coffee Lab in Toronto
A group of undergraduate students and recent graduates from the Daniels Faculty working under the name MaW Studio (@StudioMaW) have designed their first built project: The Coffee Lab.
Situated inside a two-square-meter former window display forming part of 141 Spadina Avenue in Toronto, the tiny café serves customers through a window that opens up to the sidewalk. Vestiges of a former Mama's Pizza sign provide a lit arrow pointing to the Lab.
The coffee shop could be the smallest in the world — its owner, Joshua Campos, is currently seeking certification from Guinness. According to Christopher Hume in the Toronto Star, the new café is "an excellent example of how even the tiniest spaces can be used creatively in a city like Toronto." The project has also been profiled in NOW.
The Coffee Lab project is MaW Studio's first commission. "The project exploits and augments the dissociation between container (window display), sign (Mamma's Pizza sign), and program (coffee shop), by producing a design that breaks the café itself down into smaller and more complex dislocations," writes the collective.
On the north wall, a classicized ornamentation begins at counter height and folds onto the ceiling. At times it resembles a standardized molding, while at others it morphs into a forced perspective. On the exterior wall, the logo of the coffee shop — a golden baroque frame — transcends its print format to become a three-dimensional object.
 
Originated in response to The Coffee Lab project, its first commission, MaW Studio's collaborative practice is interested in methods of dislocation. Differing from the stylistic trend of architectural Postmodernism that emerged in the last century — while still inescapably rooted in a Postmodern condition — the Studio's aim is to activate the often dormant political capabilities of surfaces and spaces through a constructed out-of-placeness. MaW Studio's conceptual  toolbox borrows from gestalt psychology, phenomenology, film theory, and Mannerism.
PROJECT: The Coffee Lab
LOCATION: 141 Spadina Avenue, Toronto, Canada
YEAR: 2018
CONCEPT/DESIGN: Sebastian Lopez Cardozo
VISUALIZATION: Neil Xavier Vas
PROJECT MANAGER: Daniel Lewycky
DESIGN/FABRICATION/INSTALLATION:
Adriana Sadun
Kian Hosseinnia
Neil Xavier Vas
Sebastian Lopez Cardozo
CLIENT: Joshua Campos, o/a "The Coffee Lab"
About MaW Studio:
Adriana Sadun completed her undergraduate studies at the University of Toronto with a double major in architecture design and visual studies. Currently, she is a Master of Landscape Architecture candidate at the Daniels Faculty. Adriana worked as a Digital Manager for SHIFT Magazine, the undergraduate publication at U of T architecture and online blog for the Daniels Faculty. She has also participated in different design projects and competitions, including Deconstruct, the winning proposal for the TEDxUofT Installation Design Competition for the 2018 conference that took place at the St. Lawrence Centre for the Performing Arts in Toronto. Adriana's interest focuses on reconfiguring our understanding of art and architecture through the exchange of a broad spectrum of disciplines, from visual arts and photography to digital fabrication and urban studies.
Daniel Lewycky is a Toronto-based designer whose interests lie in the intersections between architectural processes and at points of dimensional translation. When not designing, building or running clientside relations for MaW, he can be found playing venues as the frontman for the local baqnd Dorval, editing ARTIFIZI, producing ARTIFIZI Video, and making a mean stovetop Latté.
Kian Hosseinnia is a fourth year undergraduate student studying architecture and philosophy at the University of Toronto. Along with his studies, Kian has collaborated with a number of students and professionals on a number of built and research projects. The built projects include Float, an outdoor interactive project built in the summer of 2015 with Situate | Design | Build at 401 Richmond, Toronto; and Aperture, the winning proposal for the building of a temporary parklet for Café Mosaic in Edmonton, Alberta in the summer of 2017. Kian has also participated in the research for Professor Stephen Verderber's book Innovations in Behavioral Health Architecture. Kian's own research intersts lie at the intersection fo philosophical argumentation and architecture theory, where he is currently researching and writing about contemporary philosophy and architecture with Professor Matthew Allen.
Neil Xavier Vas is a young designer and visualization artists from Toronto, earning a Bachelor's degree in Architecture from the University of Toronto in 2017. Neil has taken the helm of architectural knowledge and pursued it throughout various educational and professional outlets. One of his many achievements was to co-author a competition entry, "House for Bowie," which received an honourable metion from and was displayed at the Ion Mincu University of Architecture and Urbanism in Bucharest, Romania. Neil now practices as an architectural designer through various outlets, honing a passional specialty in architectural visualization. He is set to continue his education in architecture at the University of Toronto in the fall of 2018 and seeks to be an architect, in time.
Sebastián López Cardozo is the founder and editor-in-chief of ARTIFIZI (@artifizi),  editor at Dialogos Journal for Social Justice, and a research assistant for Mary Louise Lobsinger. His editorial work has taken him to the offices of Greg Lynn, Andrew Kovacs, and Bureau Spectacular, in Los Angeles, where he conducted his first interviews for the publication. He is currently working on the re-launch of his digital publication, and is collaboratind with Johannesburg scholar Sumayya Vally for the release of ARTIFIZI's very first print issue, to be release on January 5th. Most recently, he worked for Partisans Architecture, where he became involved in an exhibition in collaboration with Storefront for Art and Architecture and EDIT.