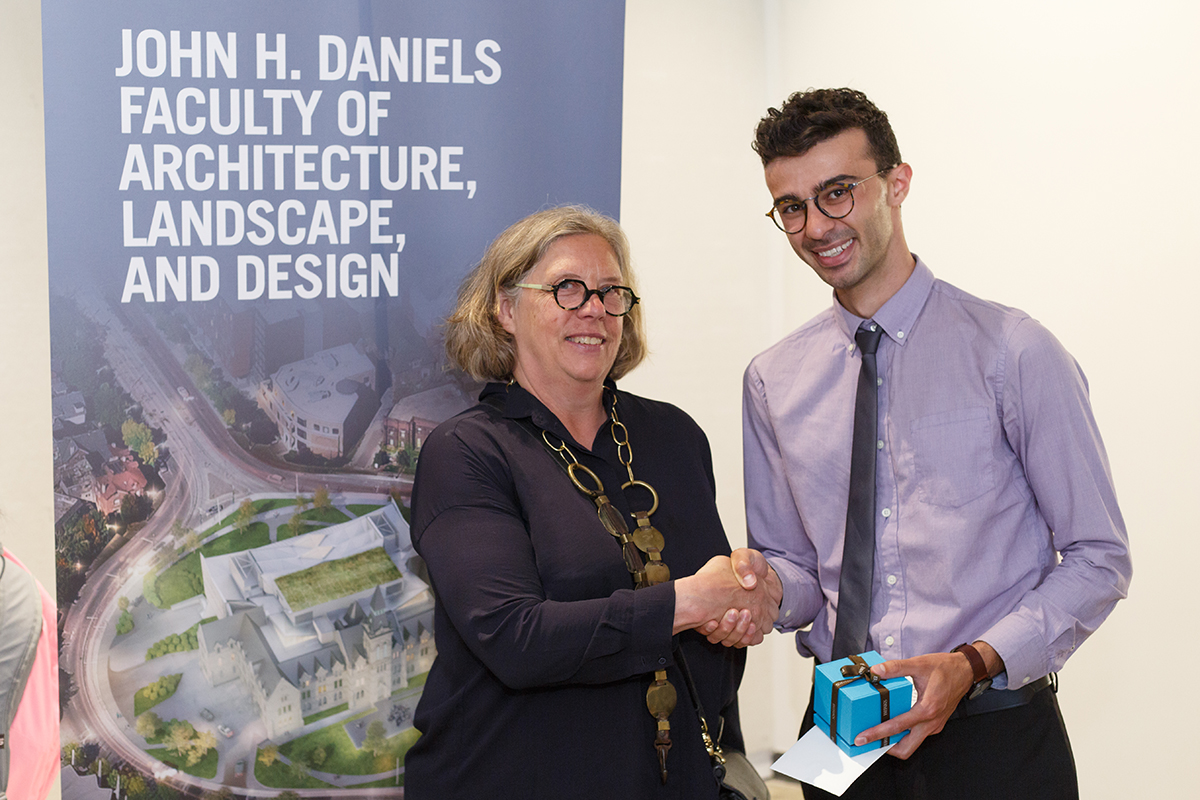 28.06.18 - Congratulations to students who received graduating awards June 14 — and thank you to our donors and friends who supported them!
On June 14, the Daniels Faculty held a reception to celebrate students graduating from our Honours Bachelor of Arts, Architectural Studies; Honours Bachelor of Arts, Visual Studies; Master of Architecture; Master of Landscape Architecture; Master of Urban Design; and Master of Visual Studies programs.
During the reception, a number of students were bestowed with awards, established through the generous support of Daniels Faculty donors and friends. Pictured at the top of this page is Kinan Hewitt, who received the OAA Architectural Guild Medal, with OAA Senior Vice President & Tresurer, Kathleen Kurtin.
Providing recognition and financial support to our students is essential to sustaining the high reputation and scholarship that the our Faculty enjoys, and we are deeply grateful to everyone who has made this possible.
Below is a list of the awards that were presented — and the names of those who received them. Congratulations to all!
Undergraduate
Academic Merit Award
Chen Yu Huang / Tian Wei Li / Aaron Chung-Lon Lo / Elif Ayse Ozcelik / Robert Kenneth Raynor / Artin Sahakian / Rachel Jeanne Schloss / Taylor James Urbshott / Yujie Wang / Chenglin Zhu / Clara Ziada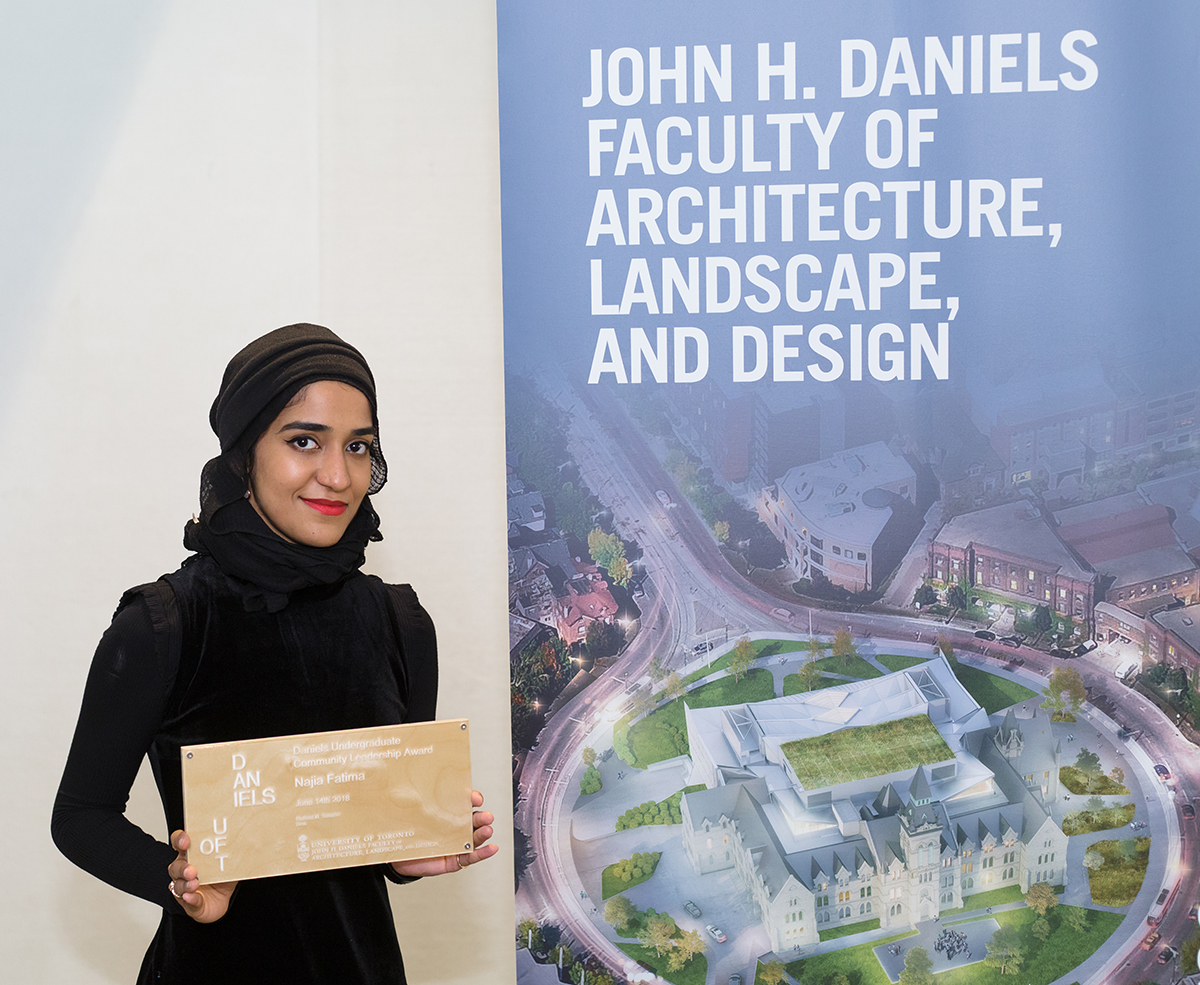 Daniels Undergraduate Community Leadership Award
Najia Fatima (pictured above) / Robert Kenneth Raynor / Ece Ulusoy
Daniels Undergraduate Critical Practices Award
Laura Tibi
Daniels Undergraduate Design Award
Tian Wei Li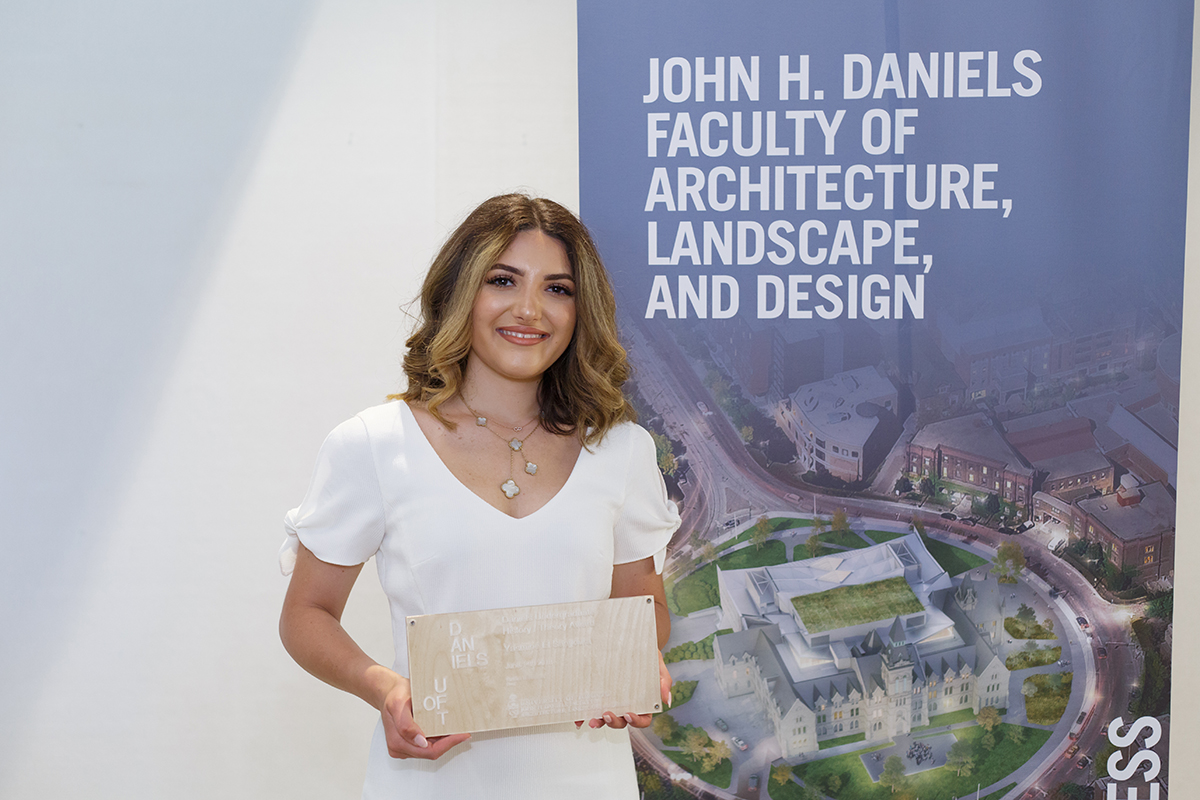 Daniels Undergraduate History and Theory Award
Yasmine El Sanyoura (pictured above)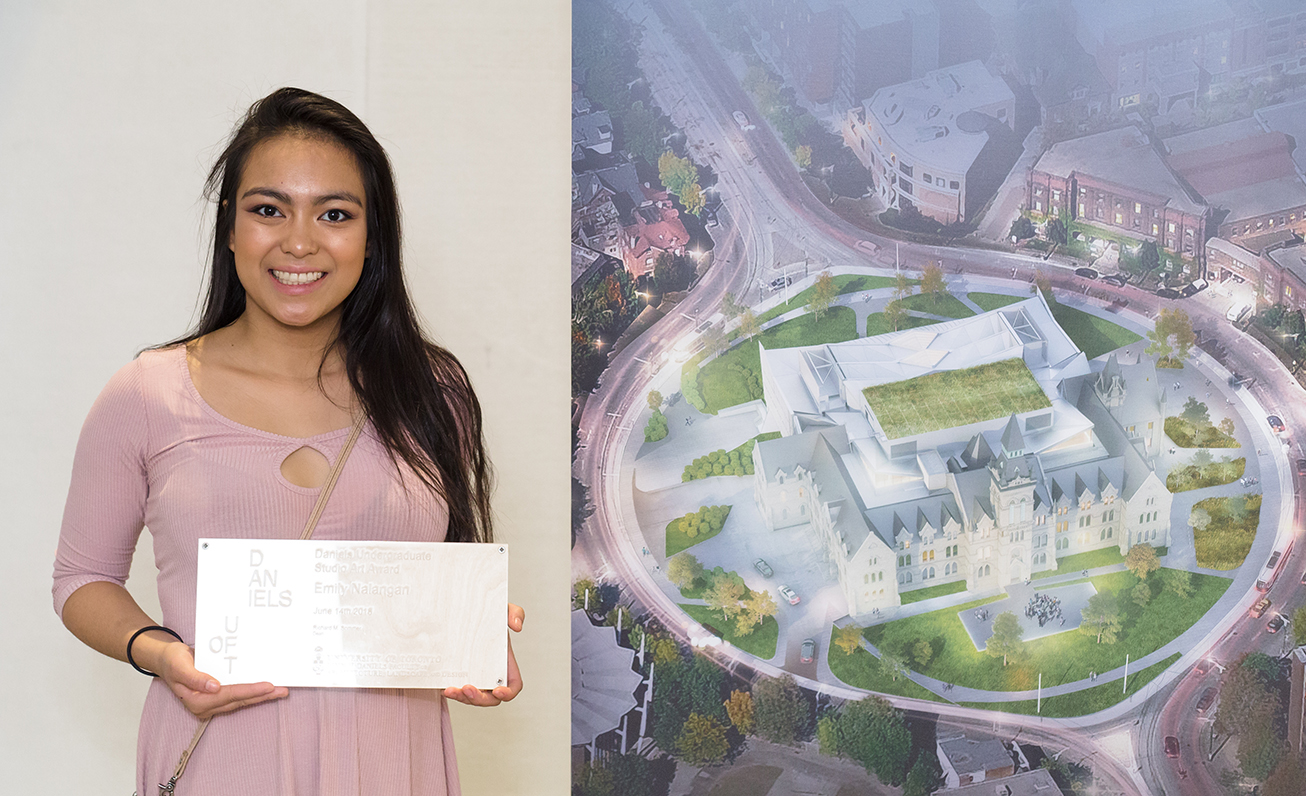 Daniels Undergraduate Studio Art Award
Emily Nalangan (pictured above)  / Qian Zhou
Daniels Undergraduate Technology Award
Taylor James Urbshott
Distinction
Dina Al Masri / George Barcham / Irem Benli / Marienka Bella Bishop-Kovac / Victor Yih-Sheng Chang / Eric Co / Shalice Coutu / Ambra Del Frate / Daniel Dempsey / Bo Fan / Xinting Fan / Cody Foo / Bita Gharadaghi / Zeshen Hu / Julia Anna Johnston / Yunqian Li / Jiawen Lin / Peiyun Liu / Kate Marie Lyne / Richard Riad Mohammed / Soha Sadegi / Veronika Salamun / Christine Song / Jingchu Sun / Ece Ulusoy / Hao Ran Wan / Linru Wang / Ziai Wang / David Warrick / Joyce Szeman Wong / Chuchu Xie / Yixin Yang / Kristen Yue / Meichun Zhu
High Distinction
Connor Edwin Arms / Chaya Bhardwaj / Sean Broadhurst / Nicolas Castaneda Torres / Selina / Margo Chau / Nina Christianson / Adaeze Onyinyechukwu Chukwuma / Yasmine El Sanyoura / Yuan Fang / Najia Fatima / Jenna Li Rei Gauder / Jonathan Patrick Graham / Sierra Lucia Gri / Jessica Ho / Chen Yu Huang / Qiao'Er Jin / Adolphus Yik Chun Lau / Jia Wen Li / Tian Wei Li / Ming Liu / Nian Liu / Xin Liu / Aaron Chung-Lon Lo / Sebastian Lopez / Bryn Martin / Farah Michel / Emily Nalangan / Elif Ayse Ozcelik / Odin William Paas / James Alexander Profiti / Robert Kenneth Raynor / Alexandra Shea Rigby / Adriana Priscilla Sadun / Artin Sahakian / Homa Samiezadeh / Rachel Jeanne Schloss / Dinky Shah / Haocheng Si / Alexandra Jane Spalding / Laura Tibi / Olivia Tjiawi / Taylor James Urbshott / Lisa Kathryn Veregin / Yujie Wang / Kimberley Sonia Wint / Carolyn Wu / Chenglin Zhu  / Clara Ziada
Graduate
Academic Honors Certificate
Yossr Abou Elnour / Jaysen Paul Ariola / Herman Borrego / Maxine Cudlip / Michael DeGirolamo / Darryn Mitchell Guise Doull / Kinan Hewitt / Catherine Beatrice Howell / Vincent Alexander Javet / Marianne Lafontaine-Chicha / Irene Ying-Ju Lai / Meikang Li / Jia Lu / Liusaidh Howorth / Murdoch Macdonald / Lauren Pamela Marshall / Noah Mcgillivray / Kearon William Roy Taylor / Genevieve Simms / Michael Townshend
AIA Henry Adams Medal & Certificate
Kinan Hewitt (pictured top of page)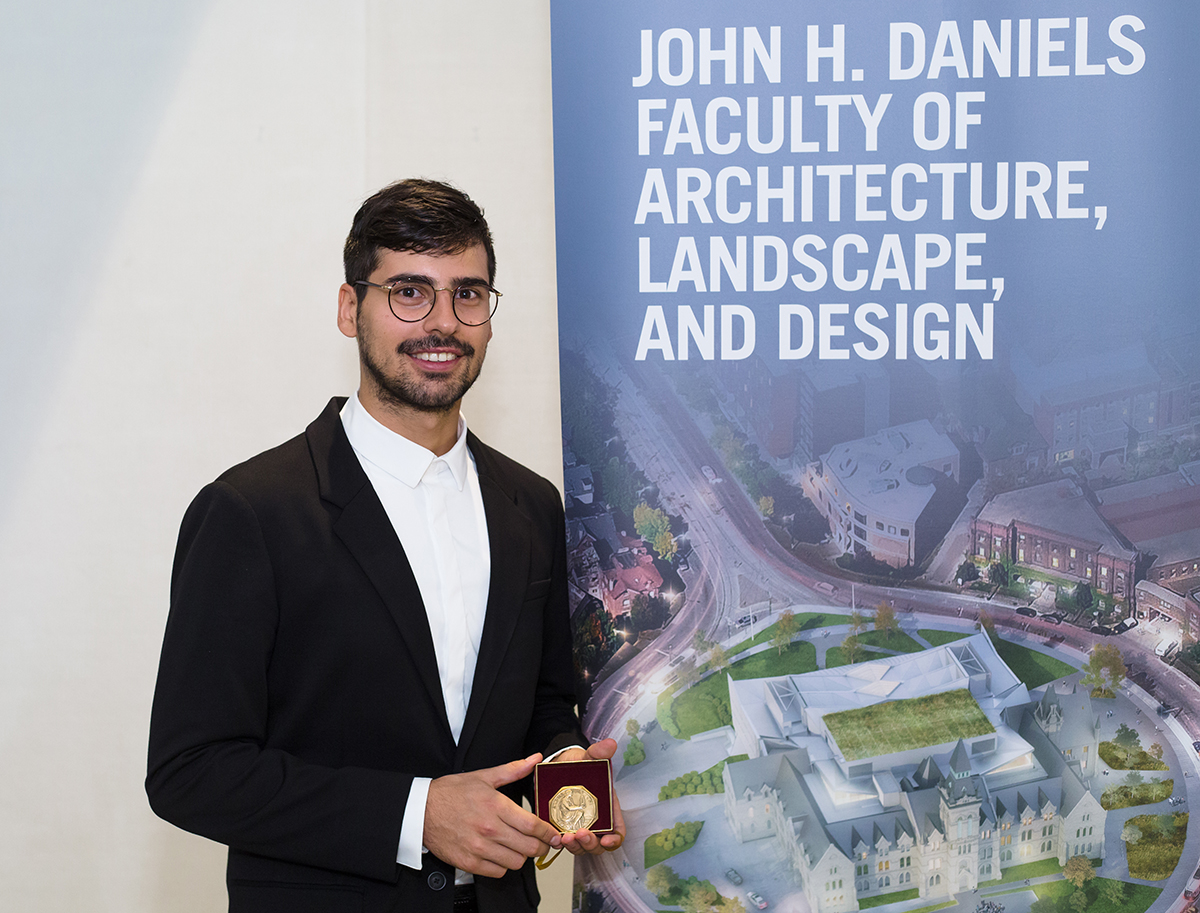 Alpha Rho Chi Medal
Matthew De Santis (pictured above)
ARCC / King Student Medal
Richard Freeman
ASLA Certificate of Honor
Vincent Alexander Javet / Marianne Lafontaine-Chicha
ASLA Certificate of Merit
Meikang Li / Qiwei Song
CSLA Student Award of Merit
Stacey Zonneveld
Faculty Design Prize
Maxine Cudlip / Michael DeGirolamo / Catherine Beatrice Howell
Governor General's Academic Medals Program
Tian Wei Li
Heather M. Reisman Gold Medal in Design
Genevieve Simms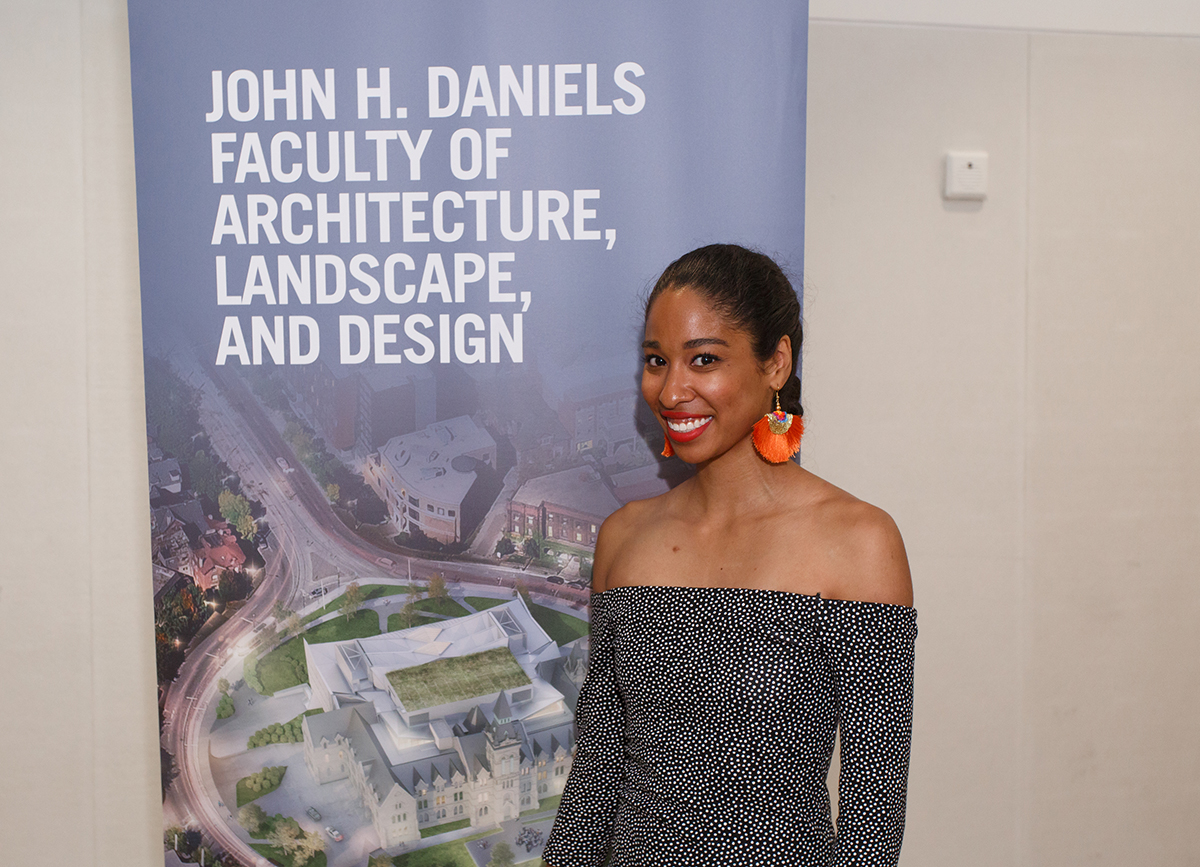 Irving Grossman Prize
Kellie Chin (pictured above)  / Lauren Pamela Marshall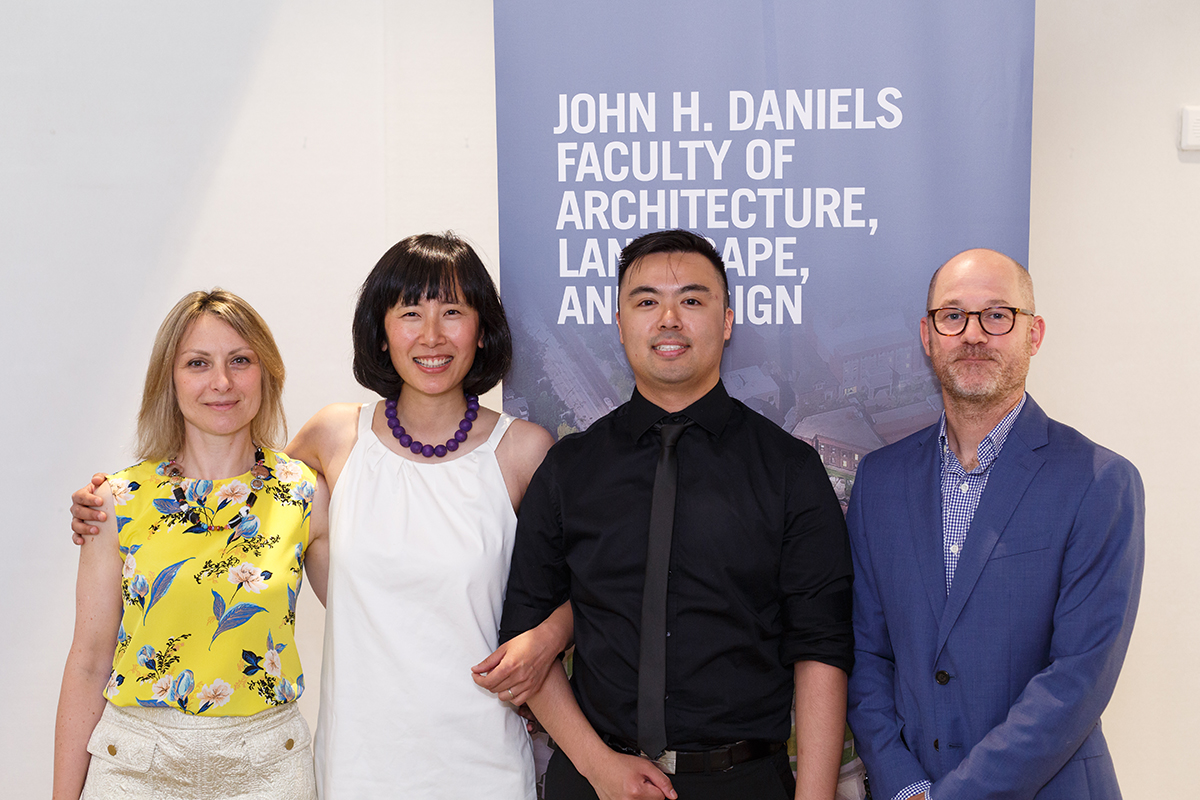 John E. (Jack) Irving Prize
Jaysen Paul Ariola / Jia Lu (pictured above with Associate Professor Liat Margolis and Assistant Professor Pete North)
Kuwabara-Jackman Architecture Thesis Gold Medal
Herman Borrego
OAA Architectural Guild Medal
Kinan Hewitt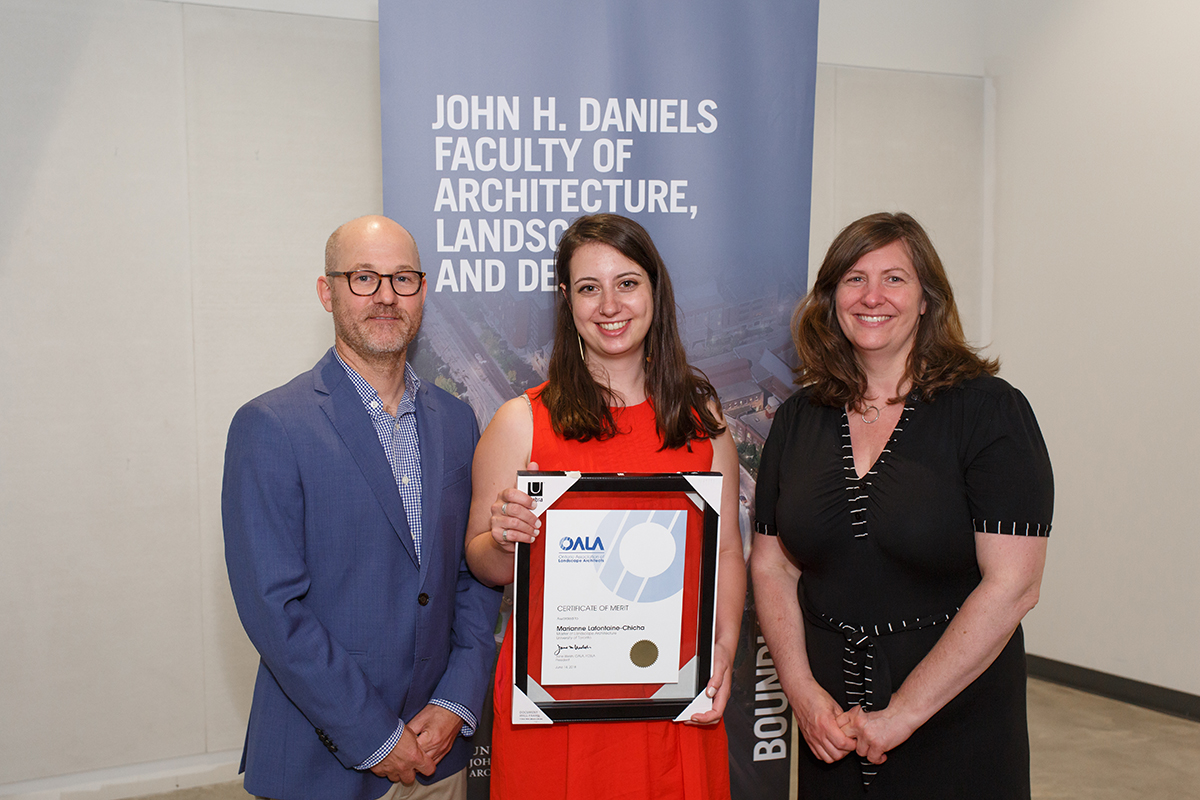 OALA Certificate of Merit
Marianne Lafontaine-Chicha (pictured above with Assistant Professor Pete North and Ingrid Little, Registrar, OALA)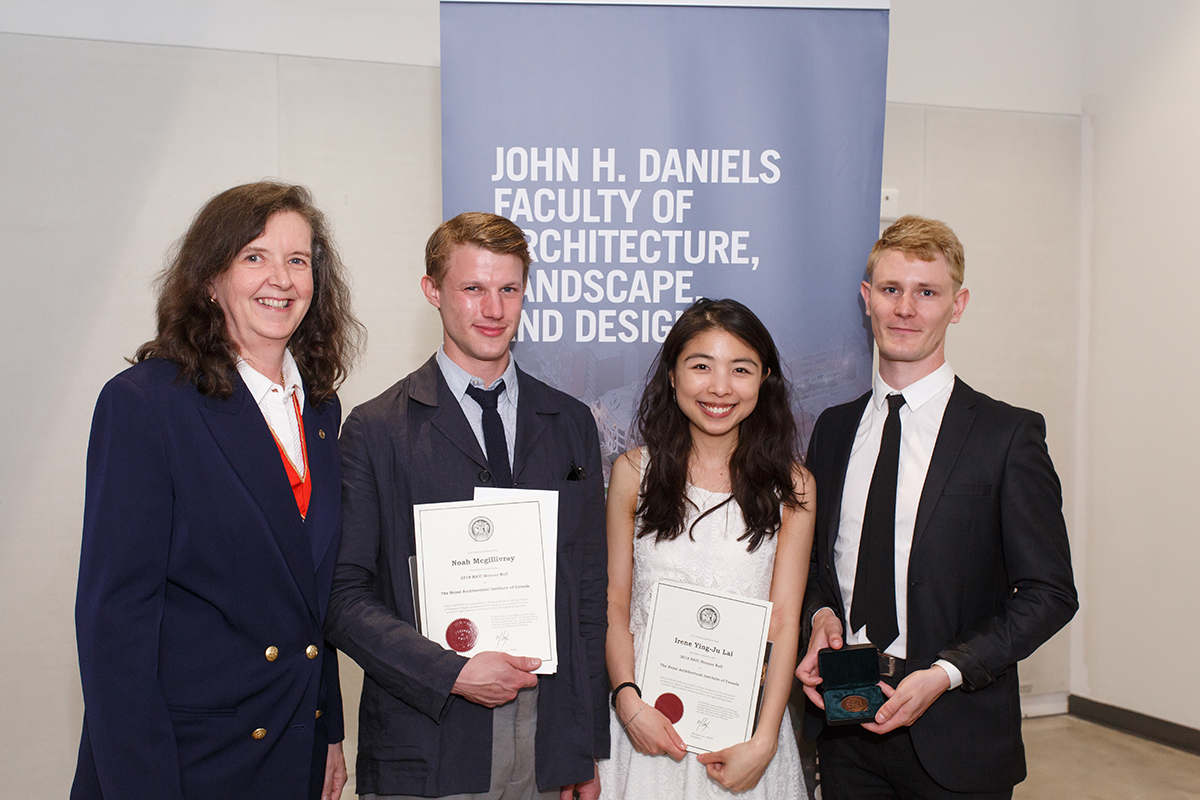 RAIC Honour Roll
Irene Ying-Ju Lai / Liusaidh Howorth Murdoch Macdonald / Noah Mcgillivray / Kearon William Roy Taylor (pictured above with RAIC representative, Barbara Ross. Absent from the photo: Liusaidh Macdonald)
Both Graduate and Undergraduate
Gordon Cressy Student Leadership Award
Marienka Bella Bishop-Kovac / Karima Habib Peermohammad / Naomi Shewchuk / Christine Song