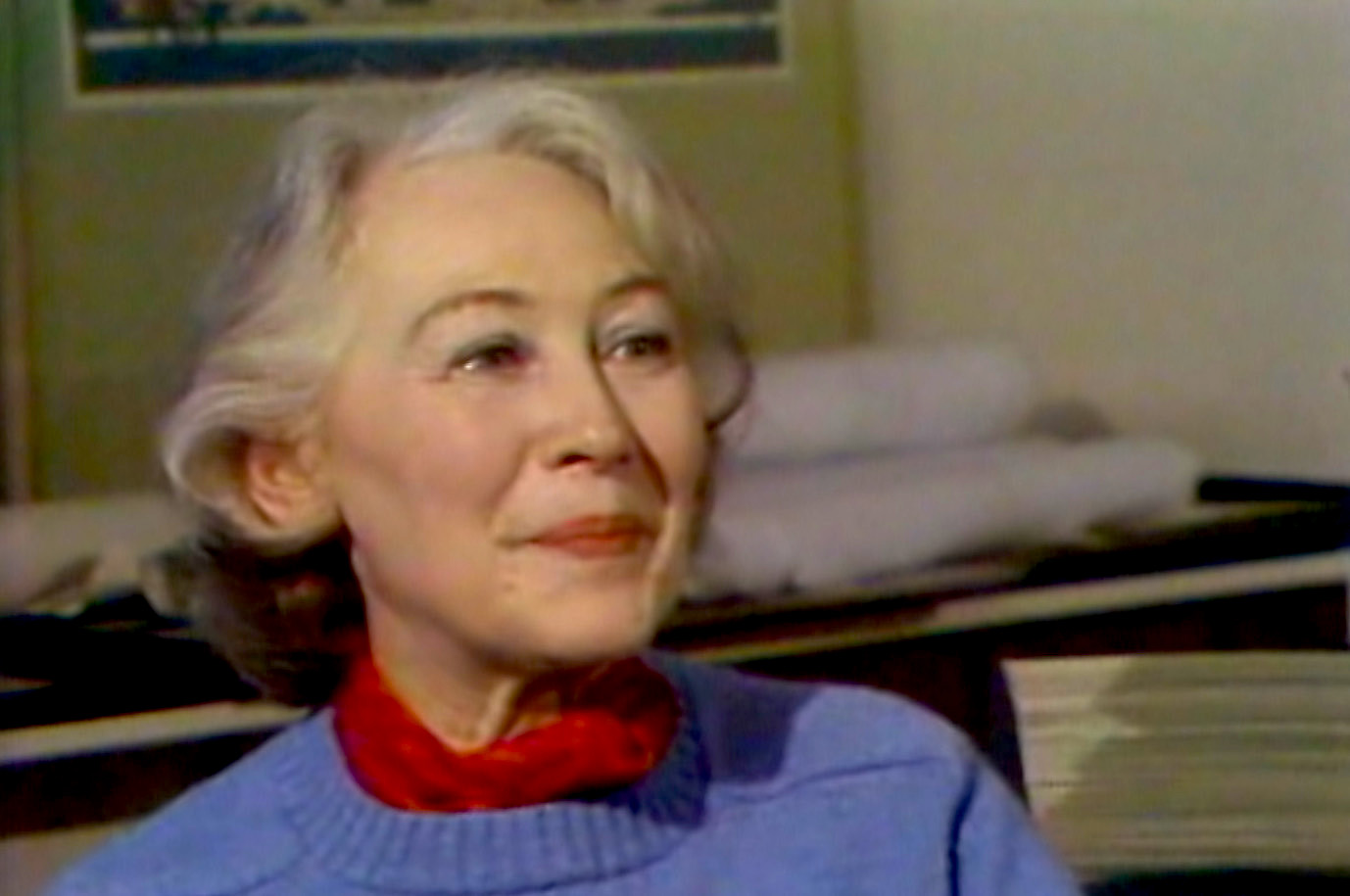 21.10.22 - In memoriam: Former dean Blanche van Ginkel, trailblazing architect, urbanist and educator (1923-2022)
It is with much sadness that the Daniels Faculty has learned of the death of Blanche Lemco van Ginkel, architect, urbanist and the first woman to hold the title of dean at the Faculty.
Born in England in 1923, van Ginkel grew up in Montreal and was educated at McGill University (where she received a professional Bachelor of Architecture degree in 1945) and at Harvard University (where she acquired her Master of City Planning degree in 1950).
After moving to Toronto in the late 1970s, she was appointed Dean of U of T's School of Architecture in 1977. Three years later, the School reassumed administration of the Department of Landscape Architecture to become the Faculty of Architecture and Landscape Architecture. Van Ginkel served as dean of the reconstituted Faculty for two more years. After completing her five-year term as dean, she continued to teach at the Faculty until 1993, leading a number of graduate and undergraduate design studios. 
"Professor van Ginkel was among the first women leaders of architecture institutions in Canada and the U.S. in an era and a discipline largely dominated by men," says Dean Juan Du, who assumed her position in 2021, becoming the Faculty's second woman dean and the only full-time female faculty member at the rank of full Professor in Architecture.
"While we still have a far way to go as a discipline and profession, Blanche paved the way for many of us to follow. She contributed to the design cultures of Montreal and Toronto, and established pioneering initiatives here at the Faculty, such as the Study Abroad programs in Paris and Rome, the first of their kind in Canada. It was this kind of expansive, outward-looking perspective that helped shape the world-class school that we are." 
Reflective of her cosmopolitan, well-travelled nature, van Ginkel's route to Toronto and to the Faculty, where an endowed scholarship — the Professor Blanche Lemco van Ginkel Admission Scholarship — currently exists, was a circuitous one. 
Between and after acquiring her degrees, van Ginkel gained professional experience in Regina (1946), with William Crabtree in London (1947), under Le Corbusier in Paris (1948) and for Mayerovitch and Bernstein in Montreal (1950-51). After living in Philadelphia from 1951 to 1957, she returned to Montreal, where she formed a partnership, van Ginkel Associates, with her husband, H.P.D. (Sandy) van Ginkel, whom she married in 1956. She had been registered as an architect in Quebec since 1952.
It was in Montreal and with Sandy van Ginkel that she achieved what are perhaps her greatest professional accomplishments outside of academia: saving two of the city's urban jewels — Old Montreal and Mount Royal Park — from potentially ruinous development. In the case of the former, a proposed elevated expressway threatened to desecrate the now-beloved historic district, so van Ginkel reportedly went up in a helicopter with her camera to document it from above, bringing home to many through the resulting pictures just how extensive and precious Old Montreal is.
"If  Blanche Lemco van Ginkel had never lived in Montreal," McGill News wrote last year, when she was awarded the Royal Architectural Institute of Canada's Gold Medal, "the city would look very different than it does today — and not in a good way." Over the years, van Ginkel was widely recognized for both her academic achievements and her professional firsts, which included, in addition to serving as the Faculty's first female dean, being one of the first women to teach at the University of Pennsylvania, the first woman to become a Fellow of the RAIC, and the first woman (and first Canadian) to sit as president of the 110-year-old Association of Collegiate Schools of Architecture.
In 2000, she was made a member of the Order of Canada, and in 2018 van Ginkel was one of the four subjects of filmmaker Joseph Hillel's  City Dreamers, a documentary about the trailblazing female architects who had outsized roles in shaping North America's urbanscapes over the past 70 years (the film's three other subjects are Phyllis Lambert, Cornelia Hahn Oberlander and Denise Scott Brown). 
"Blanche was a first in so many ways, as a practitioner and in education," says Laura Miller, Associate Professor of Architecture at the Daniels Faculty and one of the organizers of a 2020 event celebrating van Ginkel's RAIC Gold Medal.
"In working on the event, I learned that, for women architecture students during the time she was Dean, she was the first female teacher and architect they had ever encountered. Blanche was therefore a visible and relatable role model that they could emulate, a source of real inspiration. That she did this with grace and elegance only added to her aura among not only her women students, but many others who were part of that time period at the Faculty."
The event that Professor Miller helped organize in 2020 was called For Her Record, a reference to the 1986 exhibition For the Record, which "Blanche was instrumental" in creating.
"The exhibition identified women graduates of the Faculty from the very first one in 1920 through the 1960s, showing the trajectory of their careers, and documenting their contributions to the built environment through their practices," Professor Miller recalls. "Such an accounting had not happened before, and it painted a picture of the experiences of women architects in Canada — as much a kind of social history as a design documentation."
Van Ginkel, who died in Toronto on October 20, is survived by her two children with Sandy van Ginkel, Brenda and Marc. (Sandy van Ginkel died in 2009.) At her request, no funeral or public service will be held, but donations to the Professor Blanche Lemco van Ginkel Admission Scholarship are welcomed. (To make a donation, click here. For more information, contact Stacey Charles at 416-978-4340 or stacey.charles@daniels.utoronto.ca.)
A celebration of Blanche van Ginkel's life will be held at the Daniels Faculty at a future date. 
Banner image: Former dean Blanche van Ginkel in a still from City Dreamers, Joseph Hillel's 2018 film about pioneering female architects who had outsized impact on North American urban centres throughout much of the 20th Century. In 1960, van Ginkel took to the sky over Montreal in a helicopter (second image) to document why Old Montreal should be kept intact.