20.12.20 - Celebrated Canadian architect Douglas Cardinal announced as 2020-2021 Gehry Chair
The Daniels Faculty of Architecture, Landscape, and Design is pleased to announce that the 2020-21 Frank Gehry International Visiting Chair in Architectural Design is Douglas Cardinal, OC, FRAIC, a renowned Canadian architect known both for his inspiring designs and for his advocacy for the rights and dignity of Indigenous peoples.
Cardinal will give a series of four public lectures, in collaboration with the Daniels Faculty, throughout his appointment as Gehry Chair. They will take place on January 14, February 4, February 25, and March 25.
Because of the COVID-19 pandemic and safety protocols on campus, these events will be held online. Instructions for joining Cardinal's Gehry lectures will be posted on the Daniels Faculty website as soon as they become available.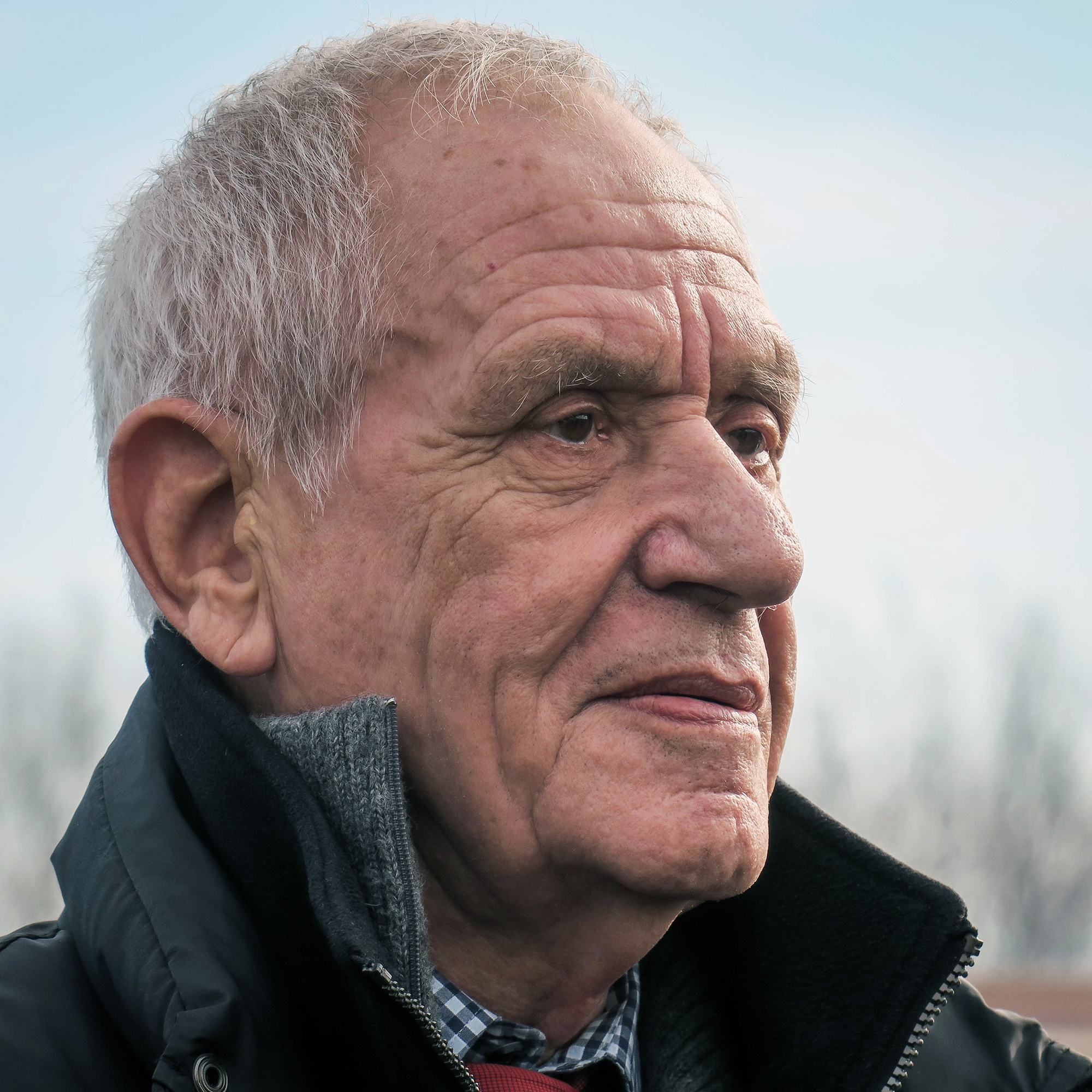 Douglas Cardinal.
Cardinal's career has been an active one. Over a span of more than 50 years, he has completed buildings, master plans, and land use plans throughout Canada and in the United States. He is best known for his institutional commissions, particularly his seminal St. Mary's Church in Red Deer and two of his museums: the Canadian Museum of History, in Gatineau, and the National Museum of the American Indian, in Washington D.C.
He continues to be an influential voice in the architectural discipline. In 2018, he led a team of Indigenous architects and designers who represented Canada at the Venice Architecture Biennale.
"The vicissitudes of Douglas Cardinal's life are one of those larger-than-life tales — from the nurture of home, to the trauma of residential schools, and then perseverance and a precocious commitment to architecture and the evolution of a unique idiom of design," says associate professor Robert Levit. "We are thrilled to have him joining us this year at the Daniels Faculty to share his thoughts on architecture, and to host conversations with our students."
Cardinal is known as the inventor of an architectural style influenced by his prairie upbringing and his Indigenous heritage. Cardinal, who is of Blackfoot and German descent, attended St. Joseph Convent, a residential school in Red Deer, Alberta, before enrolling in the University of British Columbia School of Architecture in 1952. In 1956, Cardinal went to Taliesin West in Arizona with the intention of training under Frank Lloyd Wright and learning from his principles of organic architecture —  but the school offered no accreditation that Canada would recognize at the time. And so Cardinal sought out another school, the University of Texas at Austin, where he pursued his Bachelor of Architecture. It was there that he was introduced by his German-Jewish émigré professor and mentor, Hugo Leipziger-Pearce, to another formative influence: the work of the German expressionist architect Rudolf Steiner. It was also at the University of Texas that Cardinal began his life of political activism, during the early days of the U.S. civil rights movement. He graduated with honours in 1963.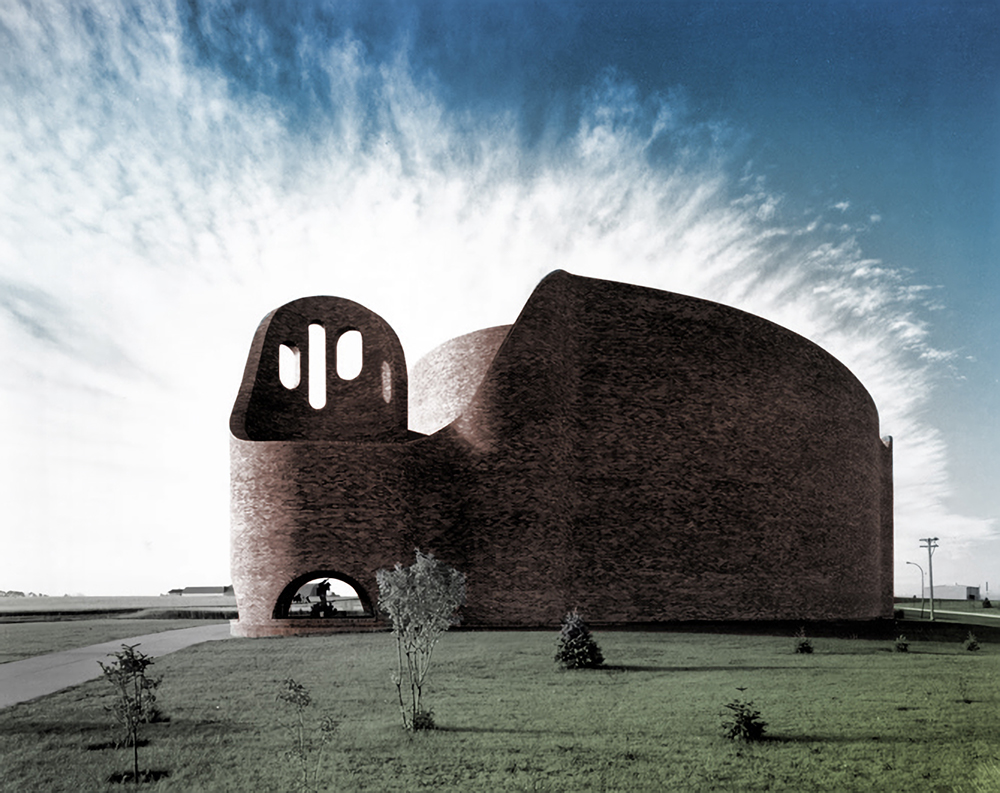 St. Mary's Church.
Soon after founding his practice in 1964, he received a commission that would become one of his signal works: St. Mary's Church, in Red Deer. Cardinal's design for the church was dramatic in its use of curvilinear form, and it was an inaugural event in his commitment to organic architecture. The church represented a synthesis of the unique visions articulated by Father Werner Marx, a progressive priest who had been influenced by the reforms of Vatican II, and Cardinal's own innovative style. The building was one of the first in the world to be designed with the aid of computer software. The values and techniques embodied in the St. Mary's design — the earthy material choices, the careful attention to site and surroundings, and the bold, naturalistic curves — would continue to define Cardinal's work for the rest of his career.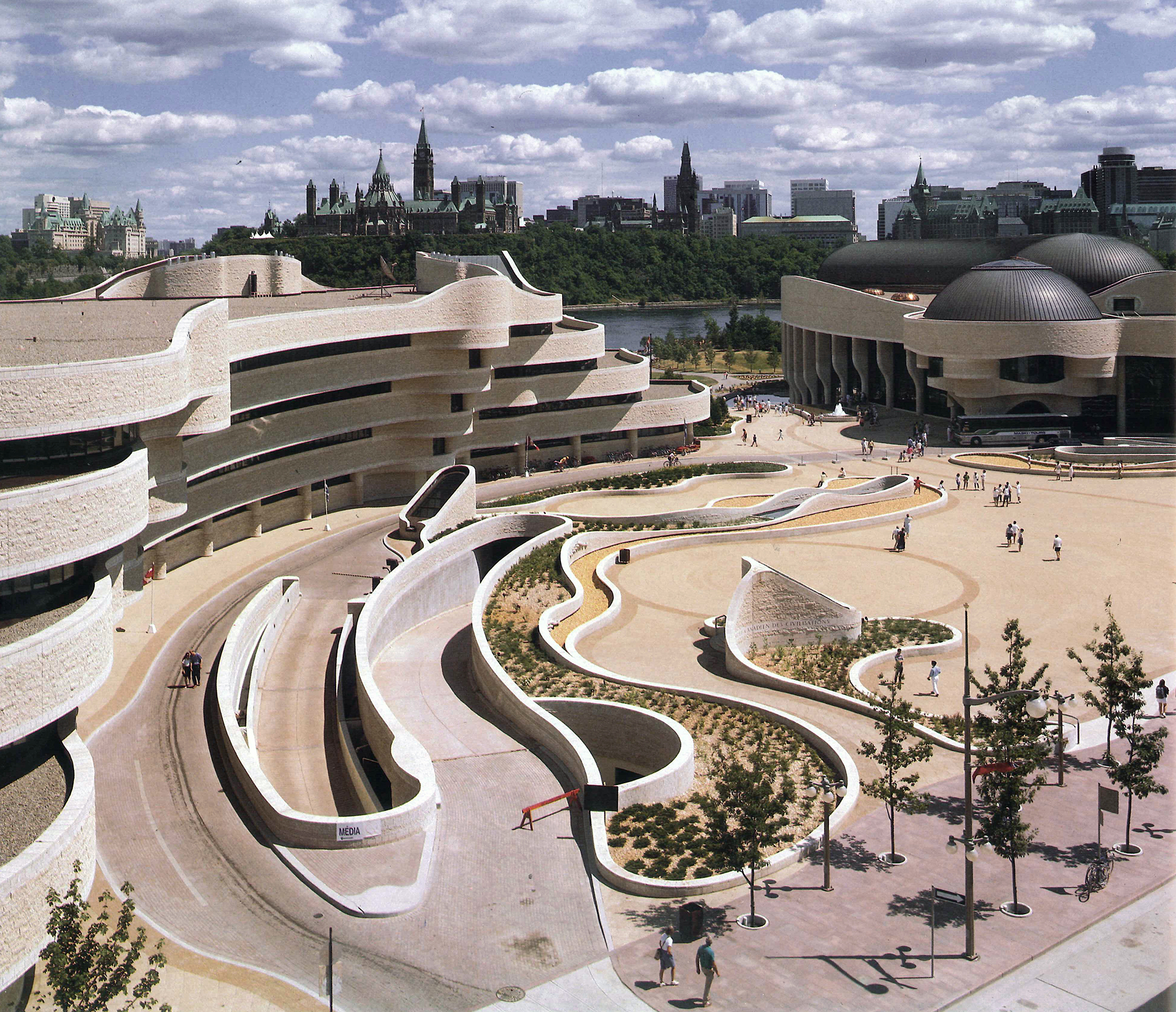 The Canadian Museum of History.
The Canadian Museum of History, completed in 1989 (when it was known as the Canadian Museum of Civilization), is typical of Cardinal's approach, with undulating curves that resemble a rocky landscape. "I asked myself how nature would have carved this form," Cardinal told the Toronto Star in 1988. "So I looked at the forms of nature, especially rocks and the stratification of rocks moulded by glaciers, wind, and water. It evolved from the land. I wanted people to remember that man and nature are related to each other."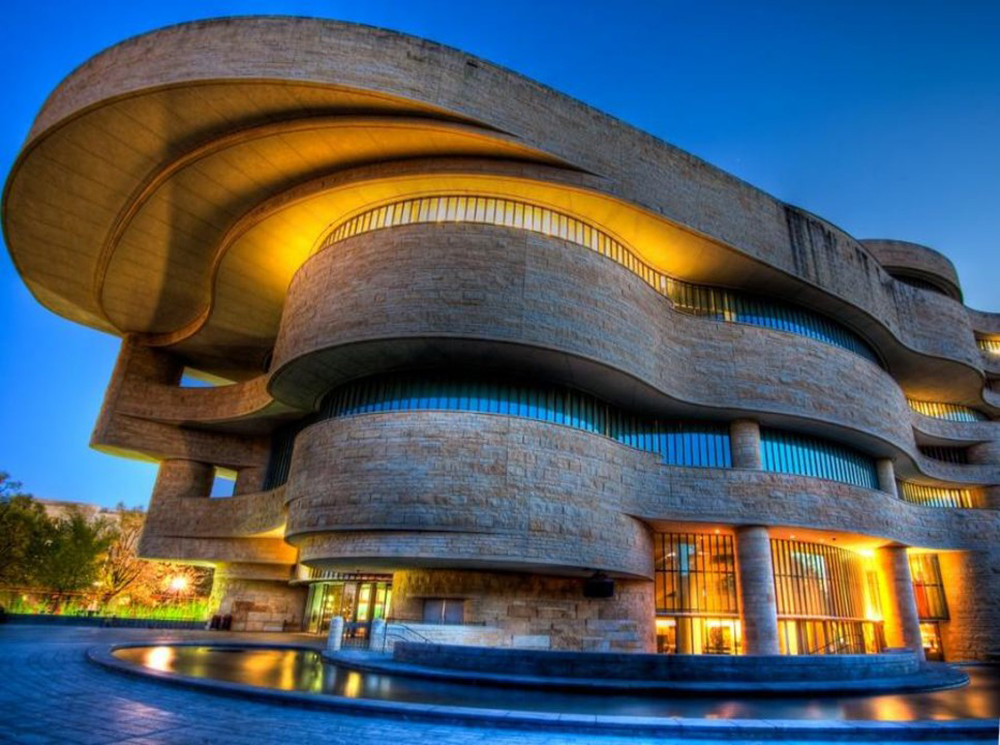 The National Museum of the American Indian. (Image credit: Andrew Weiss Photography)
Cardinal's National Museum of the American Indian, which was inaugurated in 2004, occupies a site on Washington's National Mall, placing it among the most prominent structures in America's capital. The museum won critical praise for its sinuous limestone facade, which pays homage to natural rock formations while at the same time referencing the stone construction typical of D.C.'s public edifices. The museum's monumental east entrance faces the U.S. Capitol Building, just a few hundred paces away. "The [museum] building affects your spirit," architecture critic Benjamin Forgey wrote in the Washington Post. "It is intimidating but also exhilarating."
In addition to his contributions to the field of architecture, Cardinal has been a steadfast advocate for human and Indigenous rights. In 2016, he filed applications with the Ontario Superior Court, the Human Rights Tribunal of Ontario, and the Canadian Human Rights Commission in an attempt to block the Cleveland Indians from displaying their name and logo — both of which had been deemed offensive by Indigenous groups — during appearances in Toronto. (The team retired its "Chief Wahoo" logo from on-field use after the 2018 baseball season, and it recently announced its intention to rename the franchise.)
Cardinal has been a recipient of many awards and honours. He was made an officer of the Order of Canada in 1990; he received the Royal Architectural Institute of Canada's Gold Medal in 1999; and, in 2020, he received an honorary degree from the University of Toronto — the latest of 20 such degrees to be awarded to him by various universities since 1983.
About the Frank Gehry International Visiting Chair in Architectural Design:
Named in honour of Frank O. Gehry, this endowed chair brings a highly recognized international architect to the Daniels Faculty to deliver a public lecture and enrich the student learning experience each year. Heather Reisman, founder of Indigo Books and Music, and 45 other donors contributed $1 million, matched by U of T, to establish the chair in November 2000. It's named for the Toronto-born designer of the Guggenheim Museum in Bilbao, Spain; the Experience Music Project in Seattle; and the Walt Disney Concert Hall in Los Angeles.