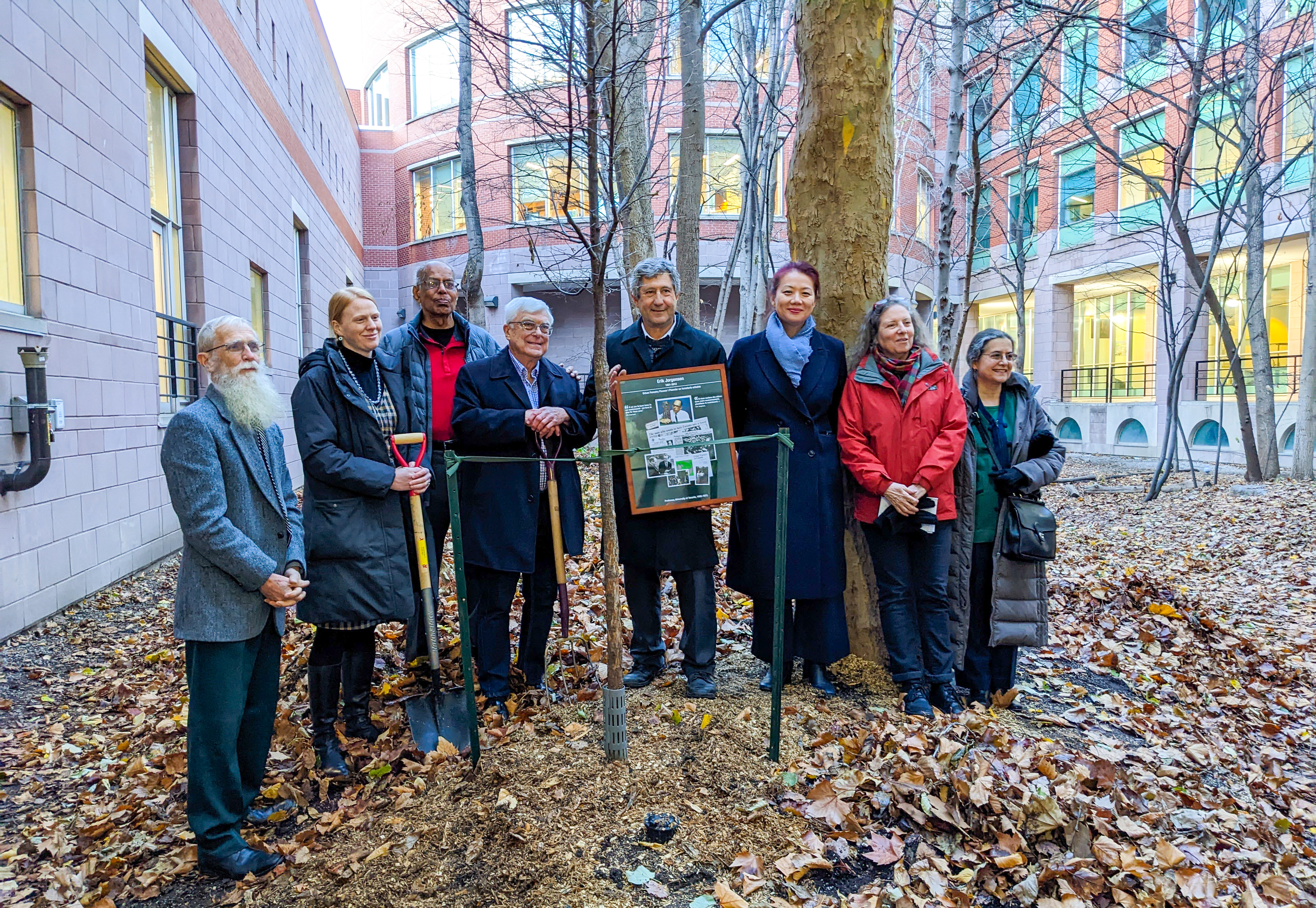 05.12.22 - Forestry commemorates Erik Jorgensen, unveils new Woodwall honourees
A tree planting and additions to Forestry's commemorative Woodwall were on the program when the Daniels Faculty community gathered at the Earth Sciences Centre on November 24 to celebrate past and present forestry achievements. 
The ironwood tree (Ostrya virginiana) was planted in the Carolinian Forest Courtyard in honour of former professor Erik Jorgensen, who founded the University of Toronto's Shade Tree Research Laboratory in the 1960s and is considered the father of urban forestry, a previously unexplored branch of forestry studies that he largely defined and promoted. 
Born in Denmark in 1921, Jorgensen and his colleagues at the Shade Tree Lab were especially instrumental in the study and control of Dutch Elm Disease (DED). Jorgensen passed away in 2012. 
Others honourees on the 24th included a dozen new additions to Forestry's commemorative Woodwall, located inside the Earth Sciences Centre. Initiated in 2007, when Forestry at U of T celebrated its 100th birthday, the Woodwall recognizes illustrious alumni, faculty and staff on an artfully hung array of individual square wood plaques. 
The installation of the 12 new plaques — an initiative supported by Forestry's Class of 1966 and led by alumnus Derek Coleman, who acquired his Bachelor of Science degree in Forestry that year — completes the current display.  
"Our increasing awareness that forestry reserves are key to mitigating climate change," says Dean Juan Du, who attended both events and addressed attendees afterward, "makes forestry knowledge more important than ever. The research and instruction done in forestry at the University of Toronto has been vital in contributing to regional and national practices and policies. Now that our various forestry programs share a home with our programs in architecture, landscape architecture, visual studies and urban design, we have an opportunity to refine our educational and research approaches with a more comprehensive understanding of one environment, the natural alongside the built." 
This perspective resonated with many in attendance, says Forestry Director Sandy Smith, who describes attendees as "a very receptive crowd of urban foresters who have been waiting for this opportunity to build on the beginnings of urban forestry at U o T." 
"It was great to get together in person and to celebrate past achievements in urban forestry," she adds. "Everyone who participated was excited by the new vision for forestry at Daniels shared by the Dean." 
Among those on hand for the planting in the Carolinian Forest Courtyard, a studiously maintained space studded with native trees and shrubs, was Erik Jorgensen's granddaughter, Stoney Baker.  
The names completing the Woodwall include Dr. Smith, Dr. Coleman, Dr. Shashi Kant, Dr. Sally Krigstin, Dr. Jay Malcolm, Deborah Paes, Fred Pinto, Dr. Danijela Puric-Mladenovic, Dr. Mohini Sain, Dr. Sean Thomas, Tony Ung and Amalia Veneziano. 
Image slideshow: 1. Attendees gather in the Earth Sciences Centre after the November 24 tree planting honouring former professor Erik Jorgensen, a pioneer of urban forestry. 2. Forestry Director Sandy Smith and alumnus Derek Coleman (Class of '66) unveil the newest honourees on Forestry's Woodwall, which recognizes illustrious alumni, faculty and staff both past and present. 3. Daniels Faculty Dean Juan Du addresses the gathering after both ceremonies. (Photos by Evan Donohue and George Wang)
Banner image: Erik Jorgensen's granddaughter, Stoney Baker (holding shovel), joined Dean Du (third from right), Forestry Director Smith (second from right) and others for the tree planting ceremony in honour of her grandfather. Jorgensen founded the Shade Tree Research Laboratory at U of T in the 1960s. (Photo by Evan Donohue)