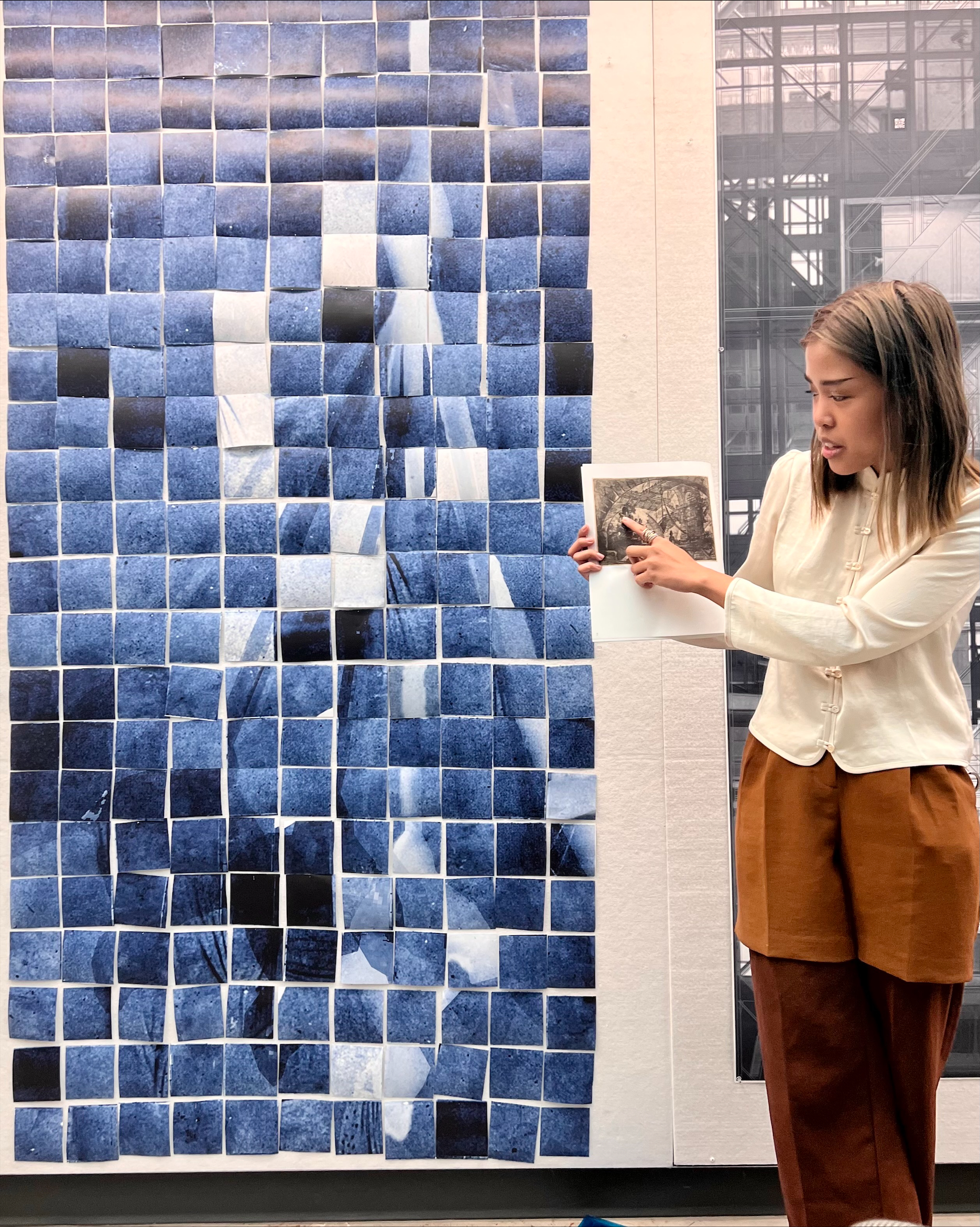 05.12.22 - Daniels Faculty Fall Reviews 2022 (December 5-20, 2022)
Monday, December 5 to Tuesday, December 20
Daniels Faculty Building,
1 Spadina Crescent, Toronto, Ontario 
Throughout December, students in architecture, landscape architecture, urban design, visual studies and forestry will present final projects to their instructors. Students of the Daniels Faculty will also present to guest critics from both academia and the professional community in attendance. 
Staying up to date with COVID-19 vaccinations is strongly encouraged, and UCheck continues to be available for uploading proof of vaccination. Please see the latest University of Toronto COVID-19 FAQS. 
Follow the Daniels Faculty @UofTDaniels on Instagram, and join the conversation using the hashtag #DanielsReviews22.
 
Monday, December 5 | Graduate
Design Studio I
LAN1011Y
9 a.m.–6 p.m. ET
Instructors: Behnaz Assadi (Coordinator), Pete North, Elnaz Sanati
Rooms: 230, 330
Tuesday, December 6 | Graduate
Design Studio I
ARC1011Y
9 a.m.–6 p.m. ET
Instructors: Vivian Lee (Coordinator), Fiona Lim Tung, Miles Gertler, Chris Cornecelli, Julia DiCastri, Carol Moukheiber, Tom Ngo
Rooms: 230, 330, Main Hall (170)
Wednesday, December 7 | Graduate
Intergraded Urbanism Studio
ARC2013Y, LAN2013Y, URD1011Y
9 a.m.–6 p.m. ET
Instructors: Roberto Damiani (Coordinator), Fadi Masoud (Coordinator), Michael Piper (Coordinator), Christos Marcopoulos, Aziza Chaouni, Laurence Holland, Drew Adams, George Baird, Lisa Rapoport, Jon Cummings, Natalia Echeverri, Rob Wright
Rooms: 215, 230, 240, 330
Architectural Design Studio:  Research 1
ARC3020Y
9 a.m.–6 p.m. ET
Instructor: Marina Tabassum
Room: 340
Thursday, December 8 | Graduate
Intergraded Urbanism Studio
ARC2013Y, LAN2013Y, URD1011Y
9 a.m.–6 p.m. ET
Instructors: Roberto Damiani (Coordinator), Fadi Masoud (Coordinator), Michael Piper (Coordinator), Christos Marcopoulos, Aziza Chaouni, Laurence Holland, Drew Adams, George Baird, Lisa Rapoport, Jon Cummings, Natalia Echeverri, Rob Wright
Rooms: 215, 230, 240, 330
Friday, December 9 | Graduate
Design Studio Options
LAN3016Y
9 a.m.–6 p.m. ET
Instructor: Ivan Valin
Room: 230
Design Studio Options
LAN3016Y
9 a.m.–6 p.m. ET
Instructors: Liz Wreford, Rob Wright
Rooms: 330
Tuesday, December 13 | Graduate & Undergraduate
Architectural Design Studio:  Research 1
ARC3020Y
9 a.m.–6 p.m. ET
Instructor: Jeannie Kim
Rooms: 230
Architectural Design Studio:  Research 1
ARC3020Y
9 a.m.–6 p.m. ET
Instructor: Zachary Mollica
Rooms: 330
Architectural Design Studio:  Research 1
ARC3020Y
9 a.m.–6 p.m. ET
Instructor: Brian Boigon
Rooms: 240
Architecture Studio III
ARC361Y1
9 a.m.–6 p.m. ET
Instructors: Petros Babasikas (Coordinator), Shane Williamson, Carol Moukheiber
Rooms: Main Hall (170), 215
Capstone Project in Forest Conservation
FOR3008H
9 a.m.–6 p.m. ET
Instructor: Catherine Edwards
Rooms: 200
Wednesday, December 14 | Graduate & Undergraduate
Architectural Design Studio:  Research 1
ARC3020Y
9 a.m.–6 p.m. ET
Instructor: Petros Babasikas
Rooms: 330
Architectural Design Studio:  Research 1
ARC3020Y
9 a.m.–6 p.m. ET
Instructor: Shane Williamson
Rooms: 230
Architectural Design Studio:  Research 1
ARC3020Y
9 a.m.–6 p.m. ET
Instructor: Laura Miller
Rooms: 315, 340
Architectural Design Studio:  Research 1
ARC3020Y
9 a.m.–6 p.m. ET
Instructor: John Shnier
Rooms: 1st Floor Hallway
Architectural Design Studio:  Research 1
ARC3020Y
9 a.m.–6 p.m. ET
Instructor: Lukas Pauer
Rooms: 240
Architectural Design Studio 7:  Thesis
ARC4018Y
9 a.m.–1 p.m. ET
Instructors: Michael Piper, Miles Gertler, Reza Nik
Rooms: 209, 242
Landscape Architecture Studio III
ARC363Y1
9 a.m.–6 p.m. ET
Instructor: Behnaz Assadi
Room: 215
Technology Studio III
ARC380Y1
9 a.m.–6 p.m. ET
Instructors: Nicholas Hoban (Coordinator), Nathan Bishop
Rooms: Main Hall (170)
Capstone Project in Forest Conservation
FOR3008H
9 a.m.–6 p.m. ET
Instructor: Catherine Edwards
Rooms: 200
Thursday, December 15 | Graduate & Undergraduate
Architectural Design Studio:  Research 1
ARC3020Y
9 a.m.–6 p.m. ET
Instructor: Marc McQuade
Rooms: Graduate Studio
Drawing and Representation I
ARC100H1
9 a.m.–6 p.m. ET
Instructors: James Macgillivray (Coordinator), Brandon Bergem, Saarinen Balagengatharadilak, Sonia Ramundi, Si Fei Mo, Danielle Whitley, Monifa Charles-Dedier, Jeffrey Garcia, Anamarija Korolj, Quan Thai, Ji Hee Kim, Anne Ma, Angela Cho, Kara Verbeek, Andrea Rodriguez Fos, Nicholas Barrette
Rooms: Principal Hall (170), 215, 230, 240, 315, 330, 340
Friday, December 16 | Graduate & Undergraduate 
Thesis 1
ALA4021Y
9 a.m.–12 p.m. ET
Instructor: Mason White
Rooms: 242
Urban Design Studio Options: Density
URD2013YF
9 a.m.–6 p.m. ET
Instructors: Angus Laurie, Lorne Cappe, Mariana Leguia
Rooms: 209
Drawing and Representation II
ARC200H1
9 a.m.–2 p.m. ET
Instructors: Roberto Damiani (Coordinator), Phat Le, Michael Piper, Rez Nik, Matthew DeSantis, Sam Dufaux, David Verbeek, Katy Chey, Simon Rabyniuk, Nova Tayona, Noheir Elgendy, Kara Verbeek
Rooms: Main Hall (170), 215, 230, 240, 315, 330, 340
 
Monday, December 19 | Undergraduate
Design Studio II
ARC201H1
9 a.m.–2 p.m. ET
Instructors: Miles Gertler (Coordinator), Brian Boigon, Jennifer Kudlats, Jamie Lipson, Jeffrey Garcia
Rooms: 170C, 209, 215, 240, 242
Senior Seminar in History and Theory (Research)
ARC456H1
9 a.m.–6 p.m. ET
Instructor: Simon Rabyniuk
Room: 230
Senior Seminar in Design (Research)
ARC461H1
9 a.m.–6 p.m. ET
Instructor: Laura Miller
Room: 330
Senior Seminar in Technology (Research)
ARC486H1
9 a.m.–6 p.m. ET
Instructor: Nicholas Hoban
Rooms: Main Hall (170)
Tuesday, December 20 | Undergraduate
Senior Seminar in History and Theory (Research)
ARC456H1
9 a.m.–6 p.m. ET
Instructor: Simon Rabyniuk
Rooms: 230
Senior Seminar in Design (Research)
ARC461H1
9 a.m.–6 p.m. ET
Instructor: Laura Miller
Rooms: 330
Senior Seminar in Technology (Research)
ARC486H1
9 a.m.–6 p.m. ET
Instructor: Nicholas Hoban
Rooms: Main Hall (170)
 
Banner photo courtesy of GALDSU