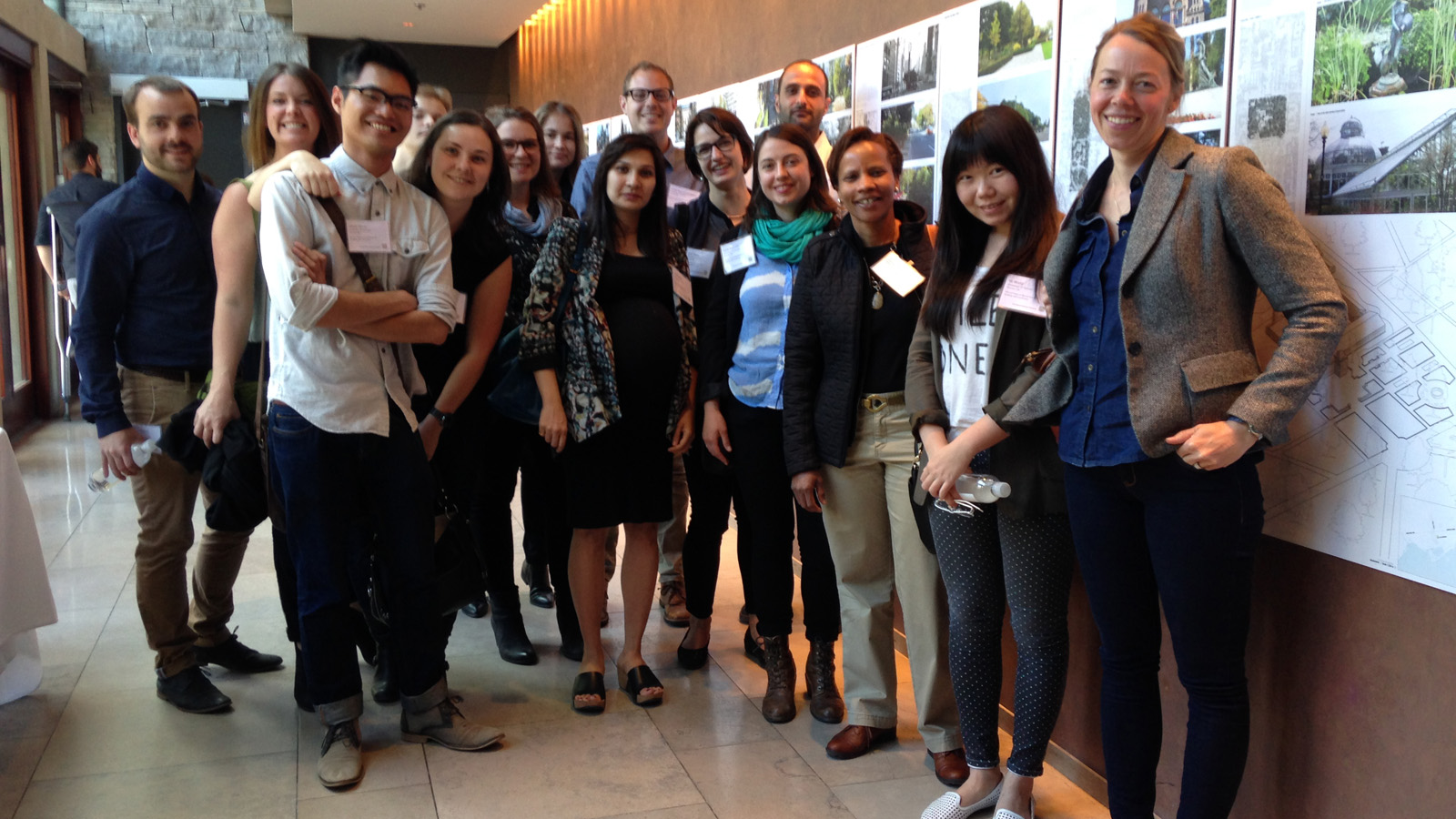 19.06.16 - Alissa North is guest editor of the Summer 2016 edition of Landscapes|Paysages magazine
Director of the Master of Landscape Architecture program Alissa North served as a guest editor of the most recent edition of Landscapes|Paysages magazine – the publication of the Canadian Society of Landscape Architects. The issue focused on the teaching and the practice of landscape architecture, and featured articles by several members and alumni of the Daniels Faculty.
"In this issue, we are particularly interested in those areas where knowledge is flourishing, and especially the exciting and productive interstices between academia and practice," writes North.
Shelley Long (MLA 2015) wrote an article about "hybrid practices" — a strategy used by some practitioners that combines teaching with practice as a way to incorporate theory into their built work and practicality to their theory. The recent graduate, who is now working as a Landscape Designer at Hapa Collaborative in Vancouver, highlighted North Design Office — the firm of Professors Pete North and Alissa North — as an example of a innovative teaching-based practice.
"Whether the project is a residential garden or international competition, Alissa and Peter North of North Design Office seek out such opportunities to further their investigations into regenerative and performative landscape," writes Long. "Both professors at the University of Toronto, the Norths' temporary public art installations experiment with new materials and technologies in a temporary situation for two-to-four years, testing and monitoring them with the intention to apply the principles in future larger public space projects.
Long also described Claude Cormier (BLA 1986) as a designer dedicated to educating clients about good practice, writing, "this type of design leadership through risk-taking is a prevailing attitude at Claude Cormier + Associés (CC+A) in Montreal, where a strong conviction to do only public work and to do something new on every project brings with it the ongoing challenges of getting inventive designs built in low-bid and risk-averse public environments."
In the article titled "Entangled with the Real World," Jordan Lypkie (MLA 2016) profiled the participation of Daniels Faculty Master of Landscape Architecture students in a design charrette at the Evergreen Brickworks.
"For second and third year students from the Daniels Faculty at the University of Toronto, an Evergreen Brickworks design charrette provided a platform for students to make connections with notable practitioners, including many local landscape architects and national and international icons," writes Lypkie. The article explored other design/build opportunities for students, including an elective course taught by Professor Pete North on phytoremediation technologies and regenerative landscapes.
In "Gleaning an Ephemeral Wilderness," MLA candidate Kamila Grigo argued for a closer collaboration between native plant nursery staff and landscape architects.
From the article: 
"Form in native nursery landscapes is typically considered aesthetically irrelevant: people and machines must produce crops as efficiently as possible. Nonetheless, within this industrial farming lies potential for closer collaboration between native nursery professionals and landscape architects, not necessarily to aestheticize, but to uncover new typologies. Our practices can be optimized, not only to jump-start succession at sites further afield, but also to magnify a key characteristic of these nurseries not iterated often enough: namely, that they create habitats for local species."
Assistant Professor Elise Shelley wrote the featured article, "Designing Play," on the nuances of playground design in light of stringent Canadian Standards Association standards that have transformed the playing field since their introduction in the 1980s. "In this context, custom designed play spaces which take advantage of unique site characteristics are unaffordable luxuries," writes Shelley. "Nature is ignored in favour of the tabula rasa, out-of-the catalogue method of playground design."
Michael Good (MLA 2015) was one of four authors – along with Leila Marie Farah, Mark Gorgolewski, and John Han – of the article "Vivarium: A Sky Condo," which describes the team's submission to the NYC Sky Condo idea competition. "The Vivarium proposal, our submission to the NYC Sky Condo competition, demonstrates how humans and bugs can coexist and how the latter can be a source of income, ecological regeneration, beauty and protein."
An article by Robert McIntosh (MLA 2015) and Joanne Proft, explored three university landscapes in various design stages, including the University of Toronto's St. George Campus, the subject of the Landscape of Landmark Quality competition that was launched in 2015. "The proposal [by KPMB Architect, Michael Van Valkenburgh Associates (MVVA), and Urban Strategies] makes simple, bold moves that unveil the landscape's hidden potential, by creating new gathering spaces connected by wide, granite-paced pedestrian walkways, and respecting and building on the rich history throughout the campus," writes McIntosh and Proft. "By opening the door to new ideas, it has shifted the focus back onto engaging landscape and design."