21.03.21 - The Daniels Faculty announces the appointments of three new tenure-track faculty members
After an 18-month search and many interviews with outstanding candidates, the Daniels Faculty is pleased to announce the appointments of three new tenure-track faculty members. Daniel Chung will join the Faculty as an associate professor of building science. Bomani Khemet, who began teaching building science at the Daniels Faculty in 2018 on a limited-term appointment, will now join the Faculty permanently, as an assistant professor. And Zach Blas will join as an assistant professor of visual arts.
"The search committee was struck not only by the candidates' abilities in their respective areas of research and creative practice, but in each case by the possibilities of their participation in the Faculty's multi-disciplinary future in which our diverse programs and disciplines benefit from each other," says Robert Levit, the Daniels Faculty's associate dean, academic. "As individuals, they are outstanding pedagogues who will be able to teach at all levels, addressing the curricular goals of our doctoral, professional masters, and undergraduate programs."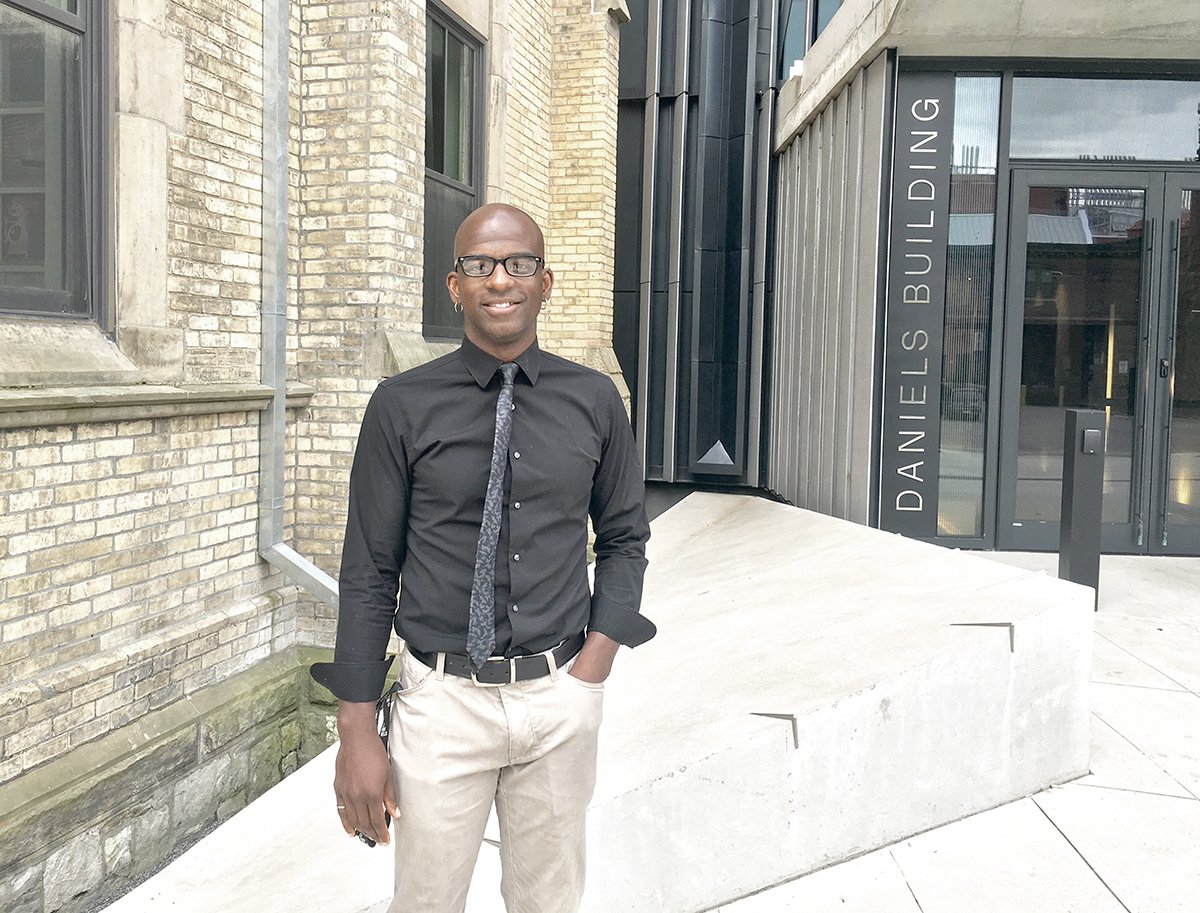 Bomani Khemet
Bomani Khemet began his career as a design engineer. He worked for Texas Instruments, Honeywell Inernational, Siemens, and Dryvit Services Canada before transitioning into higher education in 2012. He holds two patents.
Khemet earned his Master of Engineering from Howard University in 2003, and his Master of Building Science from Ryerson University in 2012. In 2019, he completed his PhD in civil engineering, also at Ryerson. His primary research focuses are building enclosures, airtightness, and ultra-low-energy buildings. The aim of his work is to find new and innovative ways of measuring, documenting, and controlling interior airflow, in order to promote human comfort and energy efficiency in built environments.
Since arriving at the Daniels Faculty, Khemet has conducted extensive research on building envelope performance. In 2018, he performed a large-scale analysis of airtightness in Canadian single-detached homes, using data culled from a Natural Resources Canada survey of over 900,000 properties. The resulting peer-reviewed article was published in Building and Environment.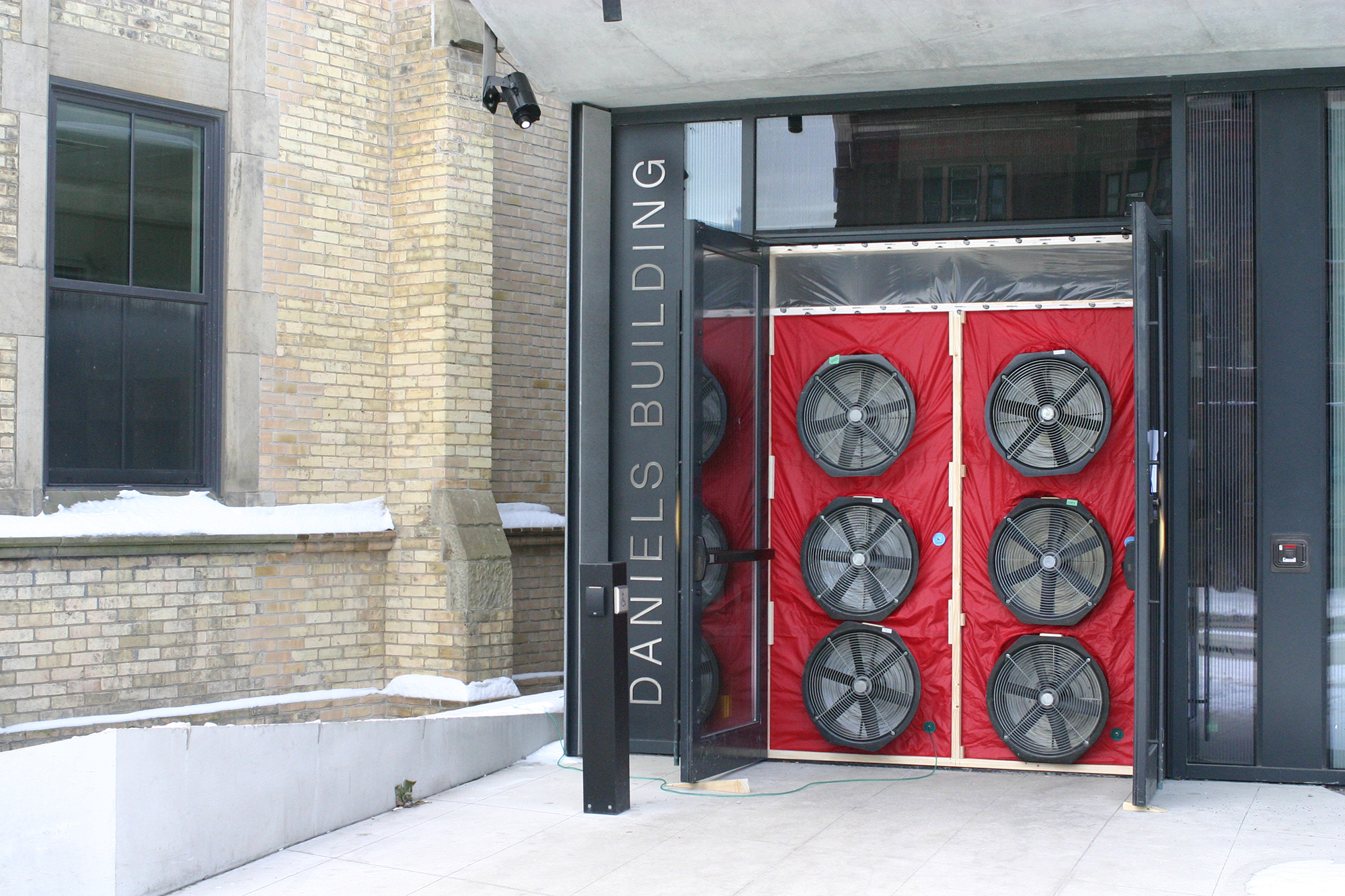 Photo: Sarah Bodri
In recent months, Khemet has turned his critical eye on the Daniels Faculty itself. In 2020 he orchestrated a series of tests on the airtightness on the Daniels Building. By measuring airflow, he was able to determine that the building's southern, heritage wing leaks three times as much air as the new-construction northern wing. He is now investigating the airflow impacts of various heritage restoration approaches. He expects the results to have wide-ranging implications for designers, owners, and contractors that are planning partial and full restorations of large historic buildings.
"Building science has always been an important facet of architecture, but its importance has never been more clear, especially with the pandemic and its implications for the designing of enclosures," Khemet says.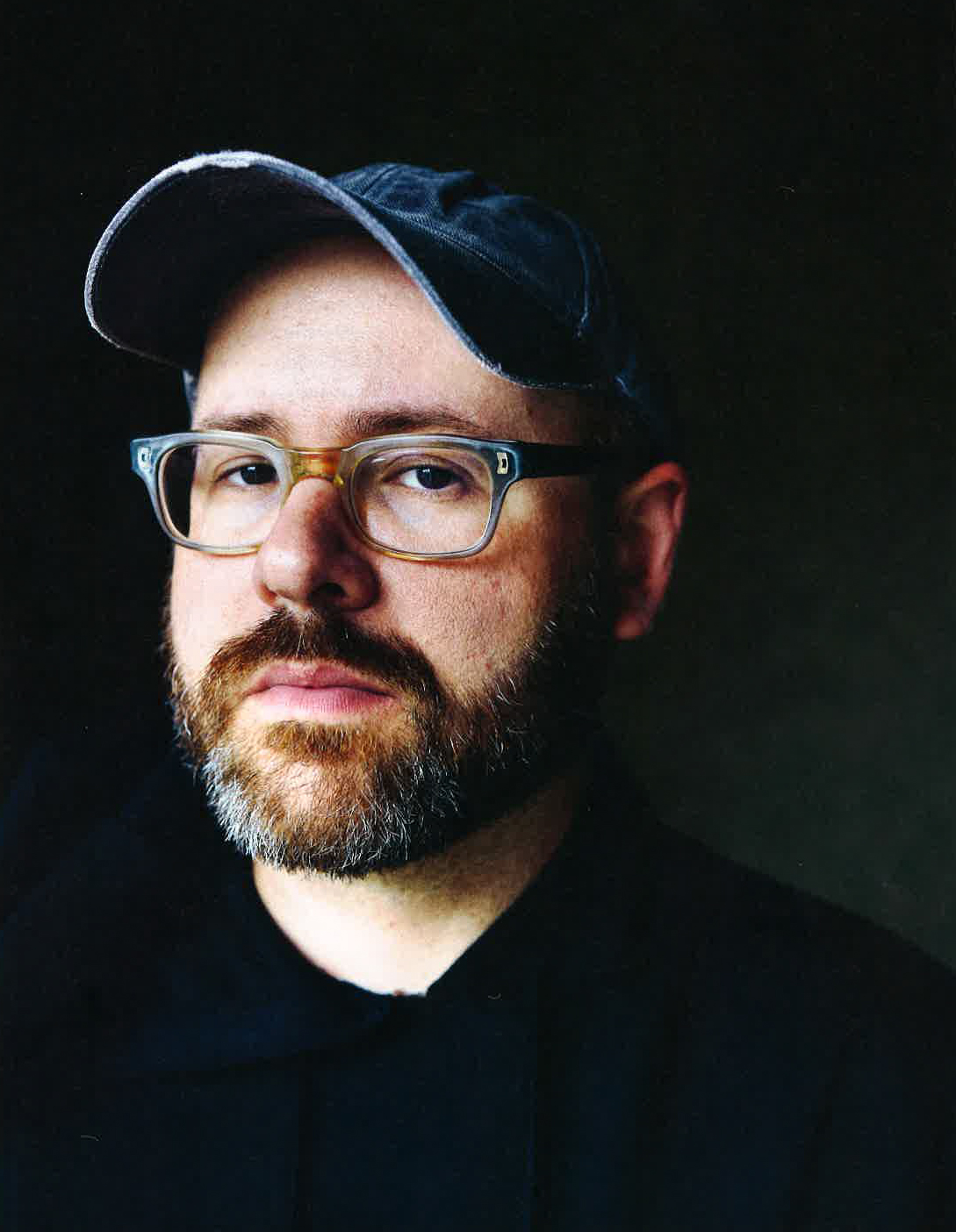 Zach Blas
Zach Blas earned his Master of Fine Art from UCLA in 2008 and his PhD in literature from Duke University in 2014. He spent a year as an assistant professor at SUNY Buffalo's Department of Art before moving to the U.K. to lecture at Goldsmiths, University of London.
In addition to his teaching duties, Blas has maintained a busy research and artistic practice. His work deals with queerness, power, and digital technologies — specifically, the ways digital technologies can be used either to exert social control or resist it.
Facial Weaponization Suite.
His best known work is Facial Weaponization Suite, in which he led a series of workshops in locations around the world. Using aggregated facial data from participants, he created a series of surreal face masks designed to subvert and defeat facial-recognition technologies.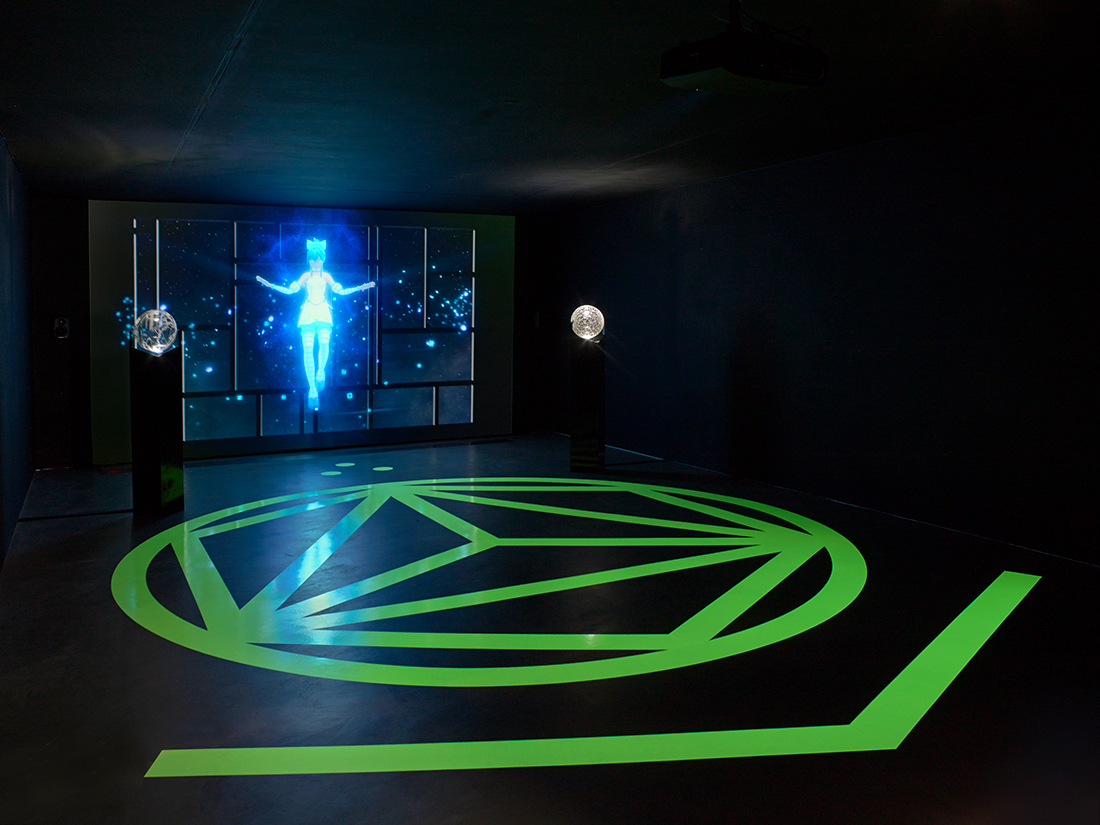 Contra-Internet.
Contra-Internet, a solo exhibition of Blas's work, first mounted at London's Gasworks gallery in 2017, used sculpture and film as means of engaging with the increasingly totalitarian style of capitalism practiced by American tech magnates. A centrepiece of the exhibition was Contra-Internet: Jubilee 2033, a video work in which Ayn Rand and her followers take a psychedelic journey through a devastated future version of Silicon Valley.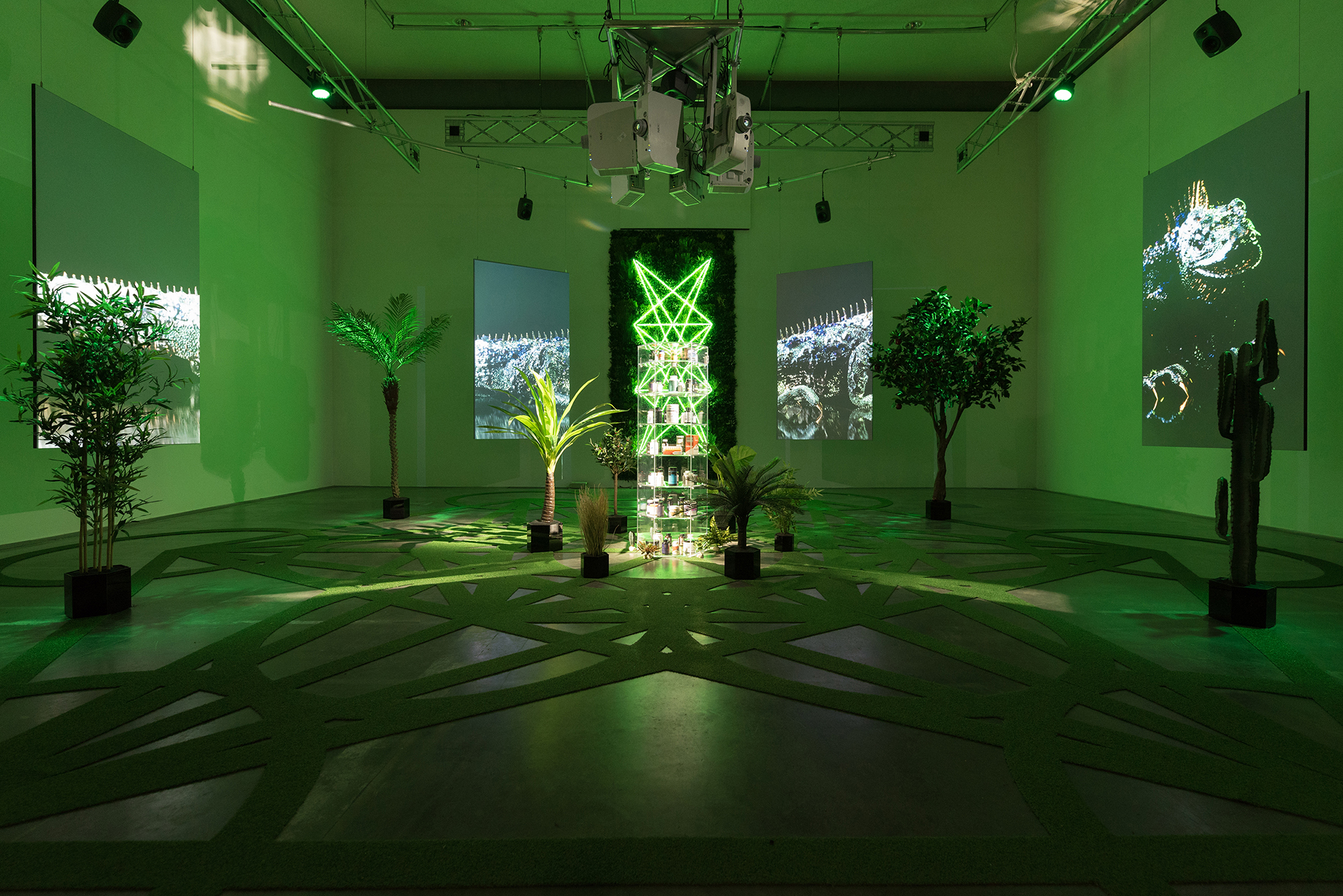 The Doors.
Blas's most recent commission, The Doors, is currently on view at the de Young Museum in San Francisco and the Van Abbemuseum in the Netherlands. The work is an immersive installation. Its centrepiece is a multichannel video, which was produced only partially by Blas. His co-creator was an artificial intelligence that he trained on a diet of psychedelia, ASMR keyboard noises, and Jim Morrison speech samples. The result, a 50-minute video loop, is a complex commentary on the kinship between the modern tech industry and California's 1960s counterculture.
In 2018, Blas was the recipient of a Leadership Fellowship from the United Kingdom Arts and Humanities Research Council. In 2022, his work will appear in the British Art Show, one of the U.K.'s most important touring exhibitions of contemporary art.
"I'm really excited to be able to teach visual art at a research university," Blas says. "Daniels provides a unique opportunity for arts education at the intersections of practice and theory, and I look forward to exploring the connections between visual art, architecture, and design."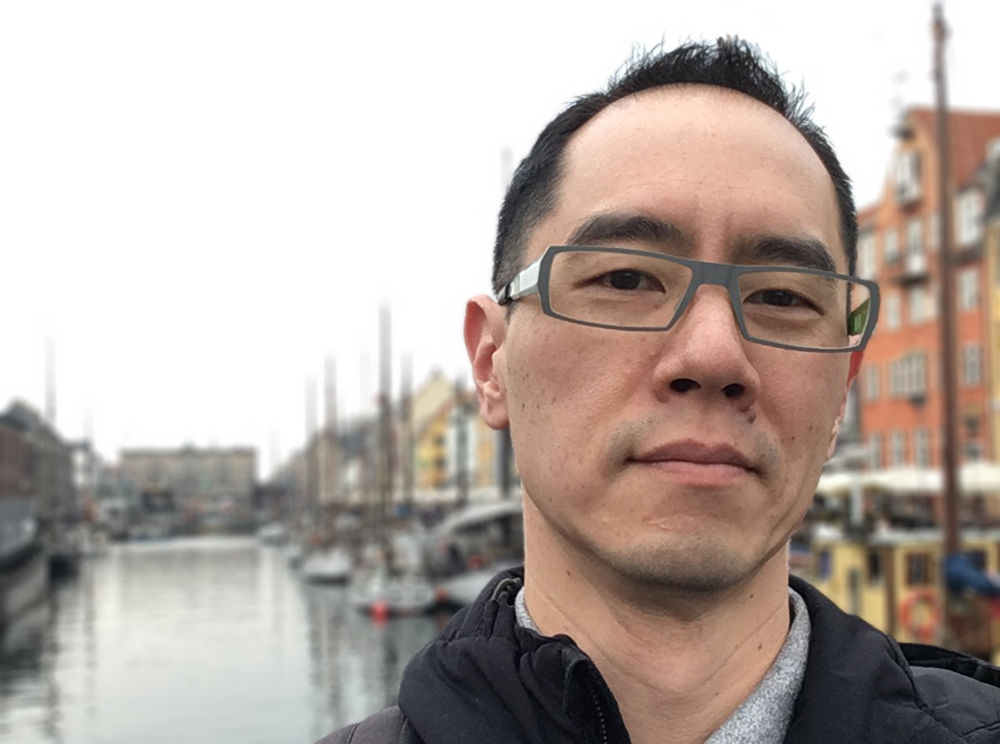 Daniel Chung
Daniel Chung comes to the Daniels Faculty from Drexel University's Westphal College of Media Arts and Design. He began teaching architecture there in 2014, earned his PhD in architectural engineering in 2019, and, in 2020, attained the rank of associate professor. Before he did any of that, he worked in the field. He earned a Master of Architecture at Yale in 2006 and then spent several years as a project architect at MGA Partners.
Chung researches building envelope performance, with a focus on the way moisture moves through materials. Recently, he has been working on methods of using dielectric permittivity sensors — a type of water-sensitive probe ordinarily used to test the moisture content of soil — to measure and track the amount of water present in the facades of buildings. The slender probes might one day be usable as alternatives to more destructive methods of testing for building envelope moisture, like core sampling.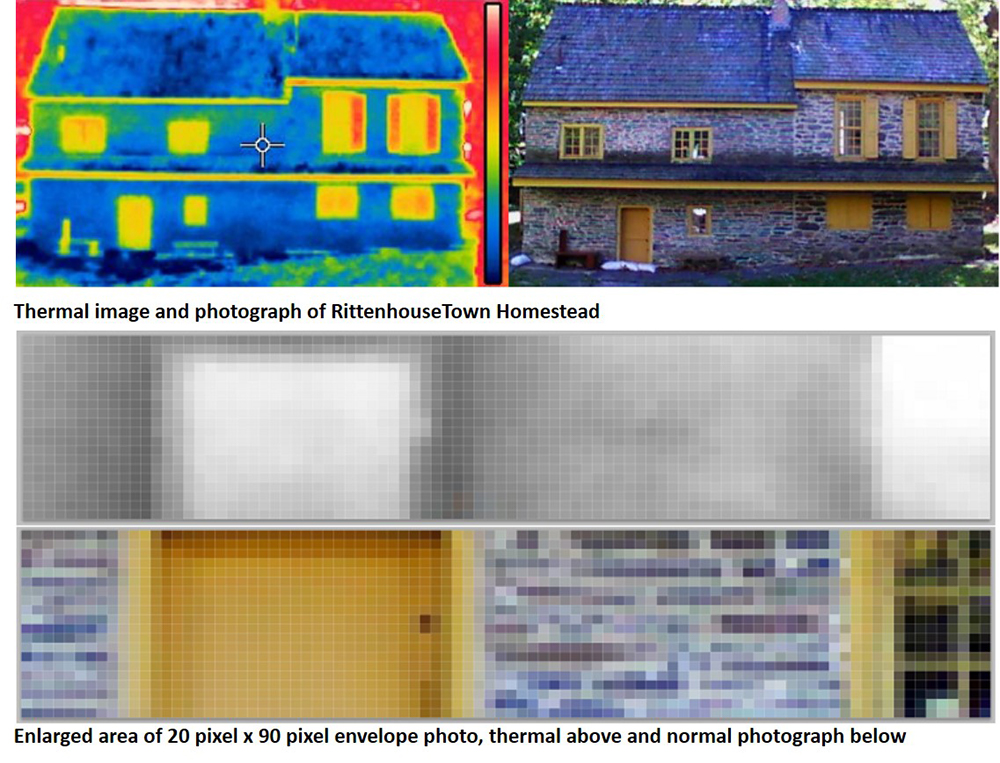 A thermal imaging study of a building envelope.
During his time at Daniels, Chung hopes to use his moisture-sensor research to develop a way of creating a fully self-monitoring building envelope that can automatically adjust its internal properties to keep moisture out.
Chung also works on moisture from a more theoretical angle. In a recent paper he co-authored for Building Simulation, he describes a method of simulating the behaviour of moisture in building envelopes using open-source software. He has also completed statistical studies of building envelope performance, in order to forecast the effects of moisture over time and in different climate conditions. "I'm asking, if the climate is very different in 50 years, do we have a problem with our existing buildings and designs? I don't just look at the worst-case conditions or the best-case conditions. I look at what might happen over a wide distribution of cases," he says.