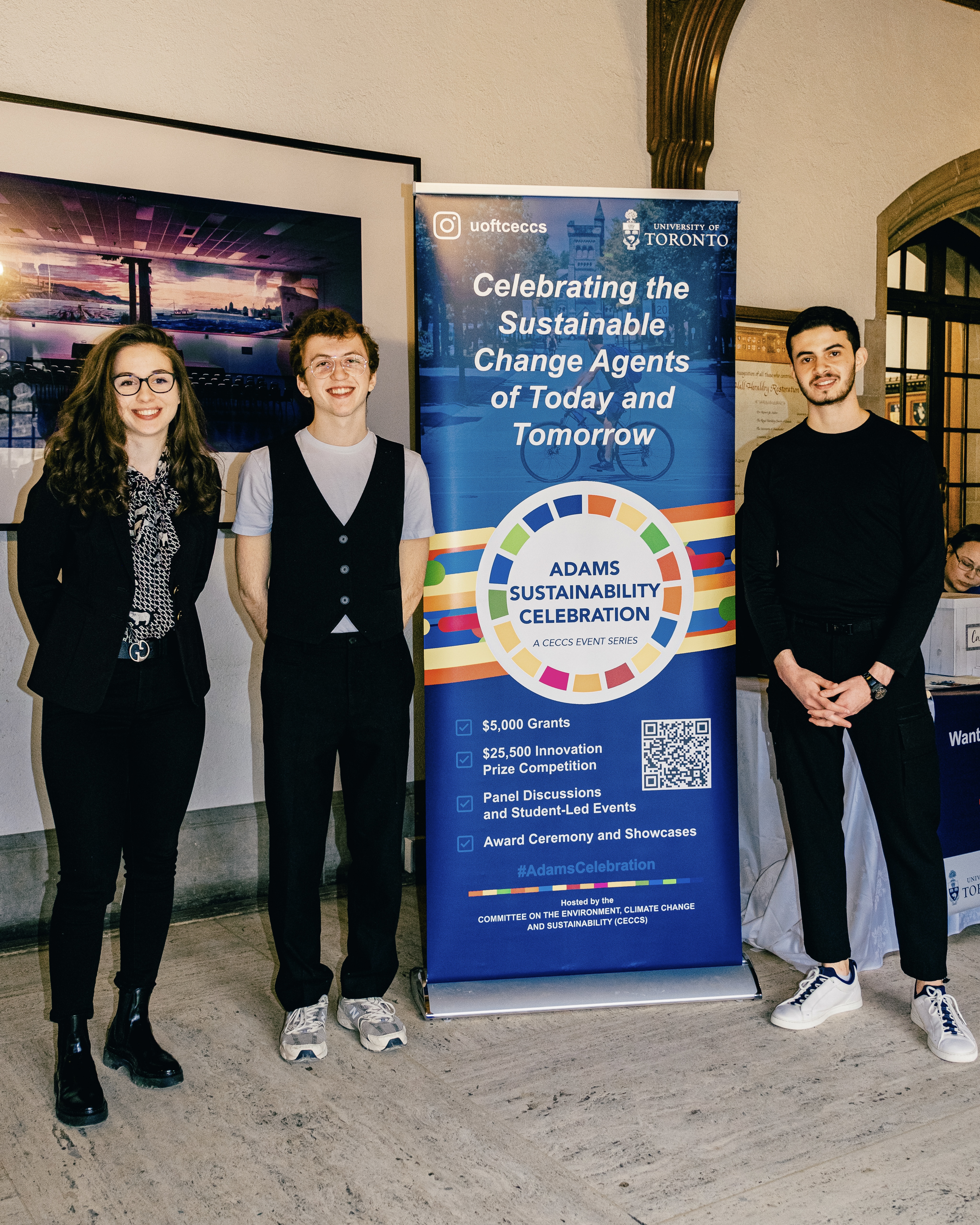 06.04.23 - Daniels Faculty students win Adams Sustainability Grant
A student team from the Daniels Faculty—Dorottya Kiss, Hashem Hashem, Jacob Muller and Orly Sacke—have been awarded a 2022-2023 Adams Sustainability Grant for a trivia game they've developed to foster environmental awareness.
Every year since 2020, the U of T President's Committee on the Environment, Climate Change and Sustainability (CECCS) has provided U of T students with three grants of $5,000 each to advance sustainability on campus. The grants are awarded to current undergraduate or graduate students from any faculty and discipline with a concrete plan promoting sustainability at the University.
The winning proposal from the Daniels Faculty team centres on a trivia game that draws on the United Nations' Sustainable Development Goals (SDGs) to create a new educational tool addressing "both human and environmental wellbeing (instead of simply focusing on reducing environmental damage)."
"Our focus," the team members say, "is on the multidisciplinary path of creation through collaboration, encouraging dialogues around the SDGs."
According to its creators, the game consists of 16 rounds corresponding to the first 16 SDGs and together forming Goal 17. Each round is completed by answering three fact-based and one thought-based discussion question.
"We aim to demonstrate the essence of the SDGs, where each goal has individual importance but can only work when united: a building piece is added after each correct answer, so if one fails the entire structure collapses."
The team will test a pilot version of the game during a Trivia Night this spring, inviting students, staff and faculty from all disciplines to participate. The members will then hold workshops in the summer, "engaging students to fine-tune and create a U of T-wide game collaboratively."
The grant funding, they add, will be used for three purposes: to facilitate events such as the Trivia Night and idea-development workshops; to fabricate the game's pilot, prototype and final versions; and for student honoraria.
A final product is scheduled for unveiling in Fall 2023.
For more details on the Adams Sustainability Grant and the other 2022-2023 winners, click here.
Pictured in banner image from left to right are Dorottya Kiss, Jacob Muller and Hashem Hashem. Photo by Tianlei Wu