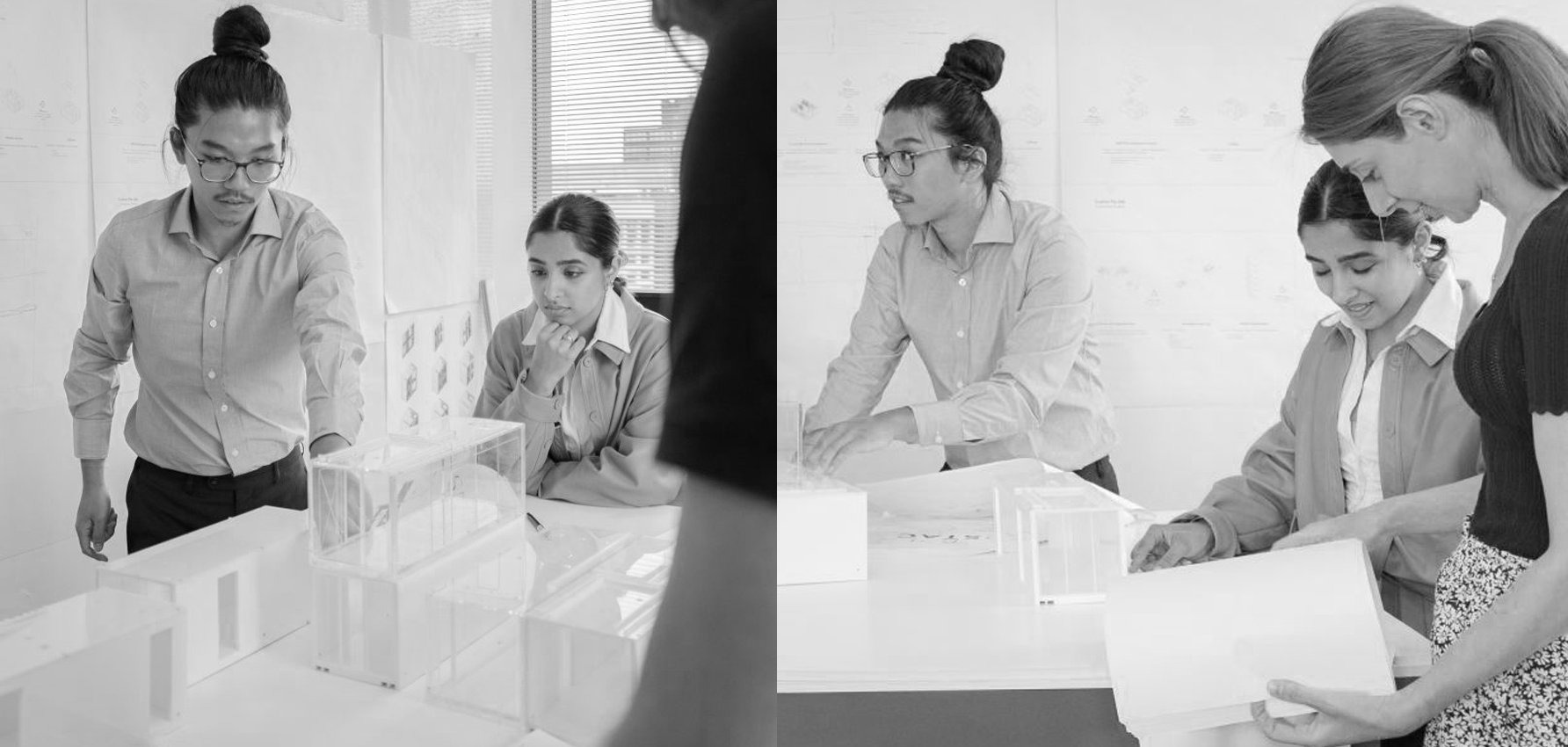 23.02.23 - Design Research Internship Program (DRIP) awarded a LEAF Impact Grant
Associate Professor Pina Petricone's Design Research Internship Program (DRIP) has received a LEAF Impact Grant from the University of Toronto's Office of the Vice-Provost for Innovation in Undergraduate Teaching.
Unique across Canada, the Daniels Faculty's undergraduate Architectural Studies program is rooted in a liberal-arts model that affords its students a depth and range uncommon among pre-professional undergrad programs. Recognizing the particular skillset for research, ideation and representation of the Faculty's BAAS students was the first step in establishing DRIP as a new experiential learning course that partners with design professionals to offer a unique academic internship unburdened by practical requirements.

Images from left: At gh3*, DRIP Internship student Orly Sacke aided in the research and compilation of a "Concept Design Report" for the City of Edmonton; Hariri Pontarini DRIP Internship student Luca Patrick developed axonometric diagrams as a new standard for comparative dynamic drawings of several key HPA projects.
Launched by Petricone last summer, DRIP is designed to provide students with a critical educational experience outside the classroom/studio while undertaking design research projects enriched by the realities of professional practice. It exposes BAAS students to architectural design as a form of scholarly research and in turn exposes the rich community of professional design practitioners to the uniquely skilled students at U of T.
The initial DRIP undertaken last summer involved 13 local practitioners and 15 student interns. Key to the DRIP model is the definition of design research projects by host offices in advance of the internship, as well as a weekly seminar delivered by Petricone that both presents models of design research to students and allows interns to position their work in a larger disciplinary context.

Images from left: Denegri Bessai DRIP Internship student Giacomo D'Andrea developed prototype models to test spatial proportion for active studio projects; at KPMB, DRIP Internship student SongYuan Wang researched and documented performative wall assemblies based on Passive House Standards.

Images from left: LAMAS DRIP Internship student Nur Nuri catalogued available market siding components to then create customized facade configurations with standardized methods; Wayne Swadron Studios DRIP Internship student Joshua Frew analyzed and critically documented a collection of archived projects along parallel threads of architecture, interior design and landscape architecture.
DRIP's first iteration saw internships that ranged broadly across research models. They included the research and design of Farrow Partners' new publication, Constructing Health; analytical tracings and documentation such as those for KPMB, Teeple Architects and LGA/TUF LAB; modeling and diagramming research of the kind for Hariri Pontarini, Denegri Bessai and WZMH; creative and critical cataloguing projects such as those for LAMAS, ZAS Architects and Wayne Swadron Studios; and "proof of concept" re-presentation projects such as those for gh3*, ERA Architects and SvN Architects + Planners.

Images from left: Teeple Architects DRIP Internship student Priscilla Barker critically analyzed the changing status of the artifact and librarian in the 21st-century academic library; at SvN Architects + Planners, DRIP Internship student Gong Xingtian analyzed three structural scenarios for their comparative rates of carbon emissions.
The LEAF Impact Grant will fund the development and advancement of DRIP to allow this unique experiential learning opportunity to go from being available to only a dozen or so top students to being available to a large component of the Architectural Studies program. It will in turn instigate a critical enrichment of the undergraduate curriculum overall, setting a new model for design internships that takes full advantage of the wealth of design practitioners in the city of Toronto and eventually in other parts of the world.
Any practitioners interested in participating in DRIP this coming summer should contact Petricone at p.petricone@daniels.utoronto.ca. Students wishing to apply for the Summer 2023 program may do so before 11:59 p.m. on Monday, March 20 by clicking here.

Images from left: ERA Architects DRIP Internship student Sarah Janelle used QGIS software to identify and document sites of interest for potential intensification; ZAS Architects DRIP Internship student John Wu developed and documented 45 student-centred learning spaces that promote communication, collaboration, critical thinking and creativity.

Images from left: Farrow Partners DRIP Internship students Negar Mashoof and Najwan Farag developed research and graphic standards for the firm's Constructing Health publication; for LGA Architects with TUF LAB, DRIP Internship student Callum Gauthier analyzed and documented typical yellowbelt typologies to define addition and renovation opportunities and techniques for Accessory Dwelling Units.
Banner image: DRIP Internship students Du Jiachen and Melody Ekbatani collaborated at WZMH on SPEEDSTAC, a new prefabricated "building block" for residential integral units that are spliced into place, graft new apartments onto old ones and save whole buildings from demolition. An early concept model of SPEEDSTAC is pictured on the homepage. Images courtesy of WZMH