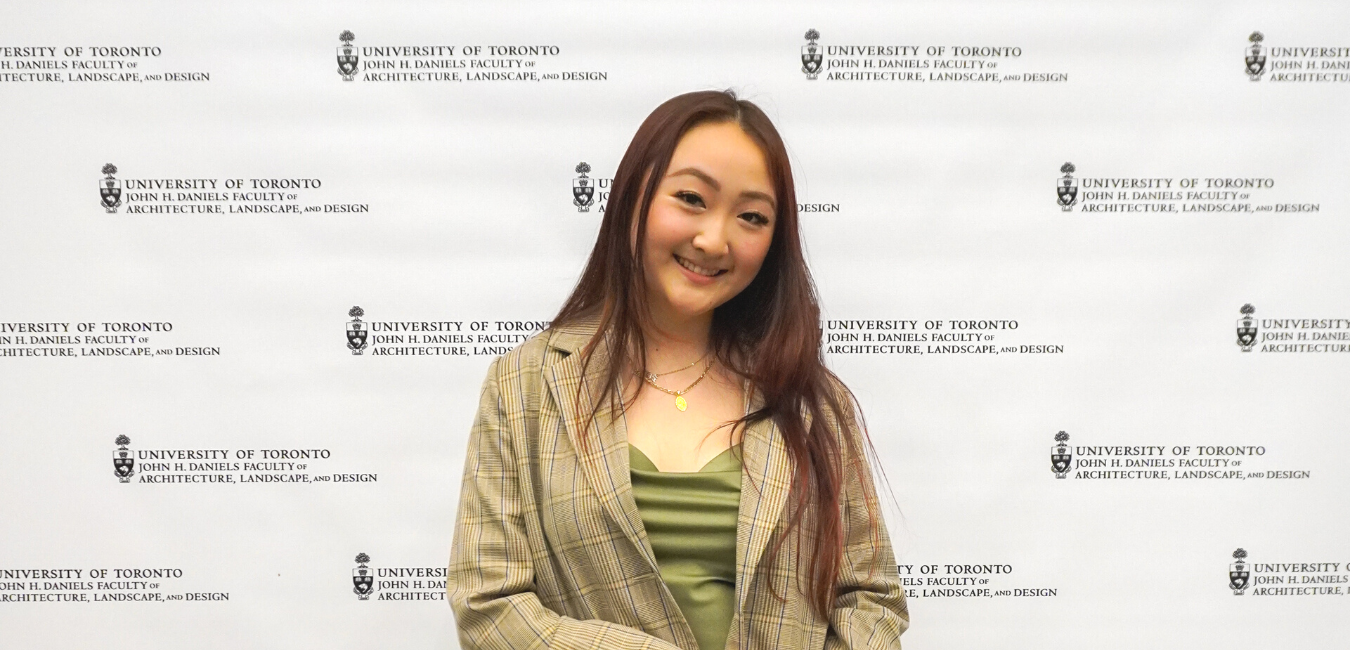 16.06.22 - BAAS graduate Jessie Pan to present her award-winning research at eSim Conference in Ottawa
Newly minted BAAS grad Jessie Pan's research into the use of trees in building simulation has come full circle in a little over a year.
It started in May of 2021 when she won the NSERC Undergraduate Student Research Award to study how better tree modelling could improve building designs. Flash forward 12 months and she will be presenting the fruits of her research, which include a framework for the creation of more dynamic tree models than typically used by designers, at the e-Sim conference in Ottawa on June 22.
"I am excited about the presentation," says Pan, who received her Honours Bachelor of Arts in Architectural Studies degree on June 15. "It is a great honour to be presenting my first paper at my first conference."
Titled Simulating the Impact of Deciduous Trees on Energy, Daylight and Visual Comfort: Impact Analysis and a Practical Framework for Implementation, the peer-reviewed paper that Pan will be presenting at eSim encompasses the research she undertook with Assistant Professor Alstan Jakubiec over the past year.
The current practice in building simulation, she notes, tends to use solid or simplified trees, disregarding their complex and fluctuating effects, especially when it comes deciduous varieties. 
"Deciduous trees are sophisticated due to tree phenology and leaf senescence that impact their foliage density and colour throughout the year," Pan explains. "We created a framework for developing dynamic tree models that integrate temporal schedules of colour change, leaf drop and regrowth, as well as physical measurements of gap fractions."
What she and Jakubiec discovered was that, "when compared to our detailed tree models," there are "significant differences in lighting, heating and cooling loads when using simplified models…or no trees at all."
More sophisticated tree modelling, in short, can quantifiably lead to better, more energy-efficient buildings.
The eSim Building Simulation Conference — organized by Carleton University, National Research Council Canada and Natural Resources Canada — is slated to be held at Carleton on June 22 and 23. The theme this year — the conference's 12th — is Simulating Buildings for the New Normal, with a focus on "using building performance simulation to model and research indoor air quality and other strategies for mitigating risks related to transmission of infectious disease."
Typically, some 200 delegates attend each conference, with more than 75 peer-reviewed papers presented. Pan is scheduled to present hers on the first day of the event.
In addition to receiving the NSERC Undergraduate Student Research Award, Pan also won the 2021 Project StaSIO Summer Challenge, which was focused on the subjects of daylight and glare, for her graphics illustrating her findings.
She created the graphics using Adobe Illustrator, Adobe Photoshop, Excel, Grasshopper/Rhino and Python. The tools used in the simulation analysis were ClimateStudio, Radiance and Python.
The entire project was "my first exposure to academic research and I am very grateful for this experience with Professor Jakubiec," Pan says. "This opportunity has jumpstarted my research interest, skillset and background, and I look forward to applying it all during my future graduate studies."
Banner image: BAAS student Jessie Pan poses for a portrait after receiving an Academic Merit Award during the Daniels Faculty's Graduation and Awards Celebration at 1 Spadina Crescent on June 14. (Photo by Sara Elhawash)