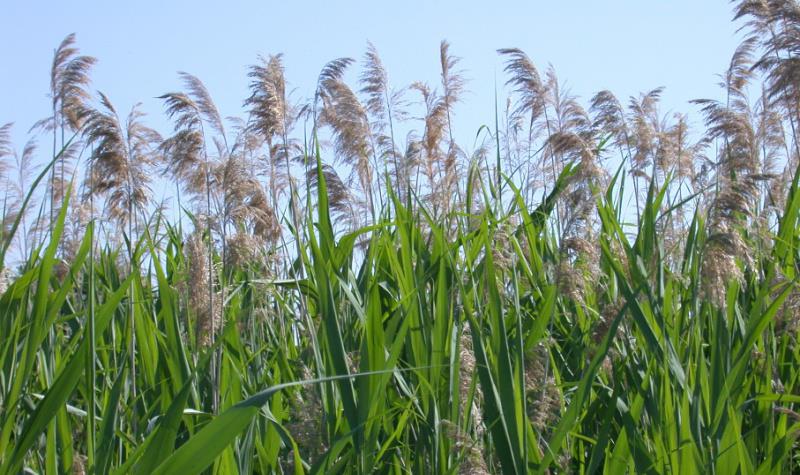 01.08.23 - Forestry fellow Michael McTavish co-creates guide for combating invasive grass
For decades, Phragmites australis (pictured above) has ranked among the worst weeds in Canada, damaging the biodiversity, wetlands and beaches of Ontario, Quebec and elsewhere. 
A new guide, co-developed by researchers at the Daniels Faculty and at Agriculture and Agri-Food Canada (AAFC), aims to combat this destructive invader—a tall, dense grass that was introduced into North America from Europe in the 1800s and is also known as common reed—by offering "a suite of simple, easy-to-use identification tools" designed to distinguish it from vulnerable native species without relying on expensive, specialized lab analyses.
"Given the importance of Phragmites management in Ontario as a conservation concern," says postdoctoral research fellow Michael McTavish of Forestry, "we think this tool would be of great use to land managers and other researchers."
Dr. McTavish is the lead author of the guide, which was recently published in Invasive Plant Science and Management, the online peer-reviewed journal focusing on fundamental and applied research on invasive plants and the management and restoration of invaded non-crop areas.
His co-authors and collaborators include Professor Sandy M. Smith of Forestry and three researchers from AAFC: research scientists Tyler Smith and Robert Bourchier and research technician Subbaiah Mechanda.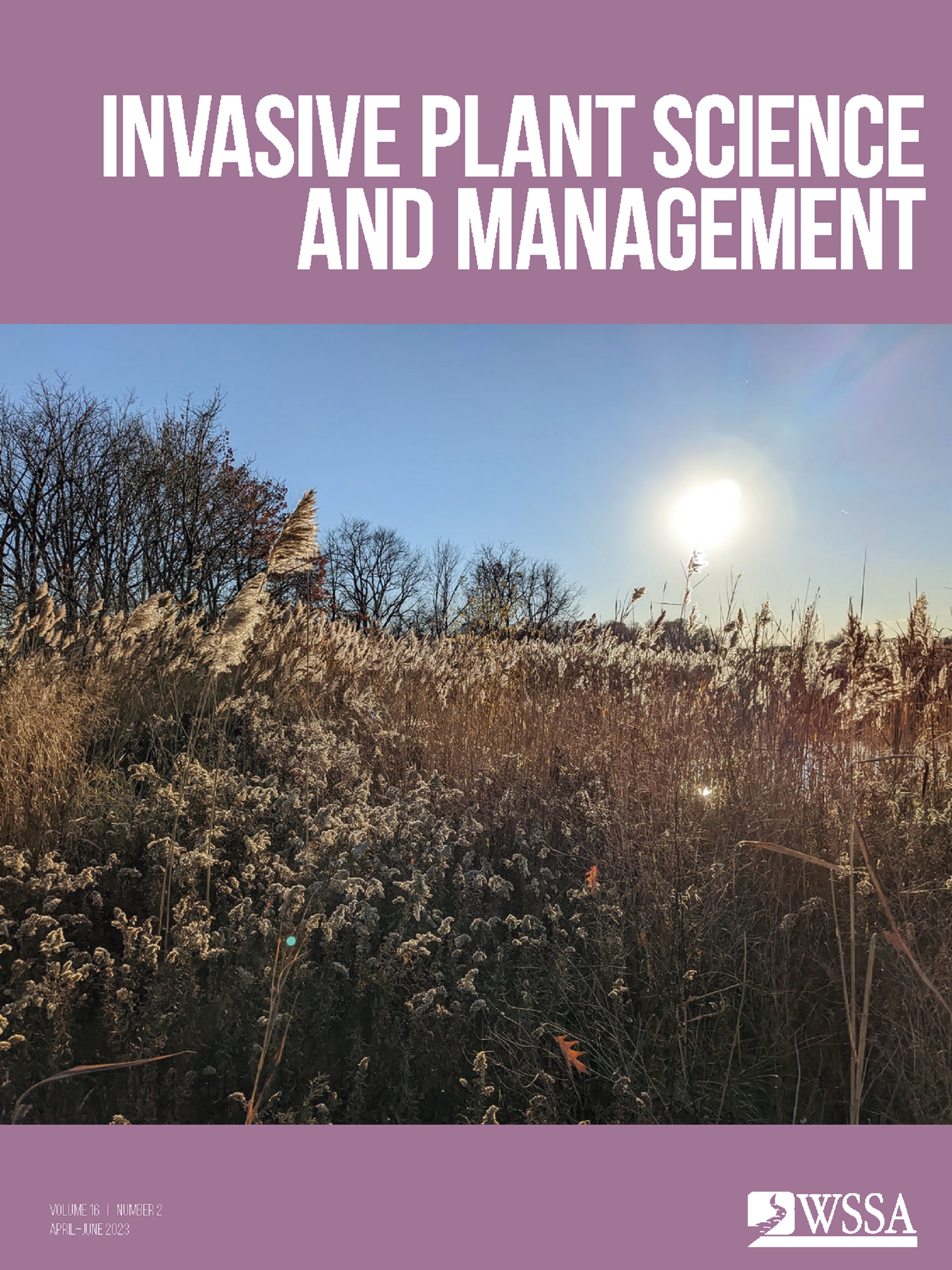 "To effectively manage the invasive introduced subspecies of common reed and avoid misallocating resources," they write, "land managers require practical, reliable tools to differentiate it from the desirable native subspecies. While genetic tools are extremely useful for identification, morphological identification is a valuable complementary tool that is easier [to use], cheaper, available in the field and thus more accessible for many land managers and researchers."
In the course of the team's research, a suite of 22 morphological traits were measured in 21 introduced and 27 native P. australis populations identified by genetic barcoding across southern Ontario. Traits were compared between the subspecies to identify measurements that offered reliable, diagnostic separation. Overall, 21 of the 22 traits differed between the subspecies, with four offering complete separation: the retention of leaf sheaths on dead stems; a categorical assessment of stem colour; the base height of the ligule, excluding the hairy fringe; and a combined measurement of leaf length and lower glume length. 
Additionally, round fungal spots on the stem occurred only on the native subspecies and never on the sampled introduced populations. 
"The high degree of variation observed in traits within and between the subspecies," the researchers conclude, "cautions against a 'common wisdom' approach to identification or automatic interpretation of intermediate traits as indicative of aberrant populations or hybridization."
As an alternative, their "five best traits" checklist offers simple and reliable measurements for identifying native and introduced P. australis. It is most applicable, they note, "for samples collected in the late summer and fall in the Great Lakes region, but can also inform best practices for morphological identification in other regions as well." 
The full guide as well as the research that led to it is detailed in the IPSM report. To read it, click here.
The checklist, however, isn't the only weapon in Dr. McTavish's arsenal against common reed. This past spring, he publicized details about another initiative involving the release of "two old/new adversaries" of P. australis: a pair of European moth species expected to provide effective biological control of the native-choking plant.
"The two European moths, known by their scientific names Lenisa geminipuncta [pictured below] and Archanara neurica, were selected only after extensive safety testing confirmed they were highly specific to invasive Phragmites, meaning that they can only complete their lifecycle on this plant," Dr. McTavish said. "The caterpillars of the two moths feed inside the invasive Phragmites stems, causing the weed to wilt or die. In 2019, the Canadian Food Inspection Agency (CFIA) approved the release of both biocontrol agents in Canada. To date, over 17,000 insects have been released at 13 locations across southern Ontario."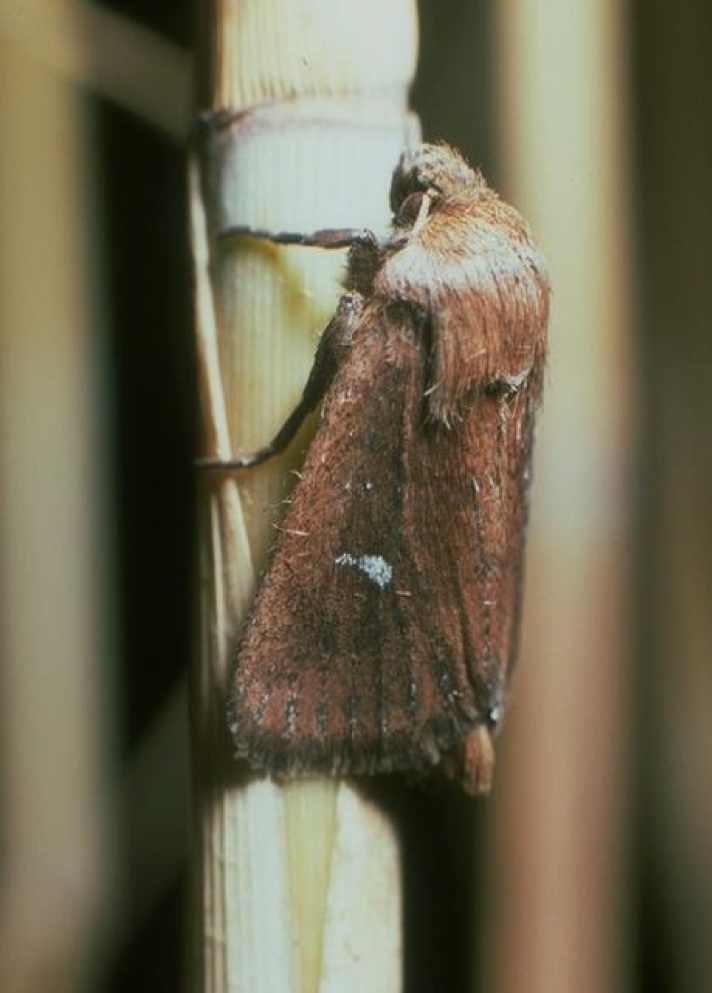 According to Dr. McTavish, "early monitoring at the release sites is very promising for establishment and use of this new tool for Phragmites management. The released insect populations have survived over a year at the release points. They have completed their full lifecycle and are causing visible damage to Phragmites plants at several release locations. The research team is now focused on an intensive laboratory rearing program for the caterpillars and on testing release methods using insect eggs, caterpillars, pupae and adult moths."
The program's ultimate goal, he adds, "is to use these early 'nurse' locations for collection and redistribution of insects to land managers and the public with serious patches of Phragmites. Populations of the insects are still establishing, and initial results are very encouraging. Over time, as the insect populations continue to grow and spread, biological control is expected to become a valuable new component of the integrated management strategy for invasive Phragmites."
This second, insect-based control initiative is based on a research program that began in 1998 as well as critical support from stakeholders including Ducks Unlimited Canada, MITACS, the Ontario Ministry of Natural Resources and Forestry, the Nature Conservancy of Canada, NSERC, the rare Charitable Research Reserve and AAFC.
The research team is an international one led by AAFC and U of T. Other members include collaborators from the University of Waterloo, Ducks Unlimited Canada and the Nature Conservancy of Canada in Canada, Cornell University and the University of Rhode Island in the United States and CABI (the Centre for Agriculture and Bioscience International) in Switzerland. 
Image of Lenisa geminipuncta moth on a stem of invasive Phragmites by Patrick Häfliger.