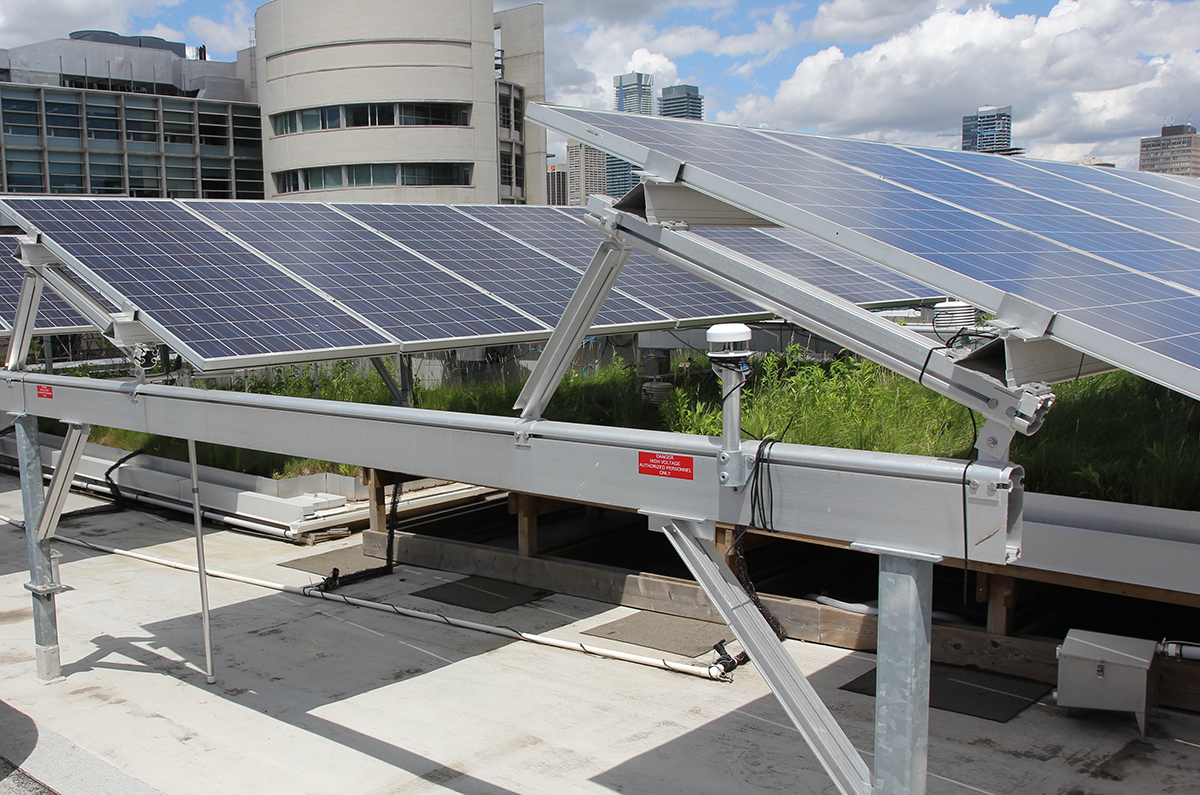 10.02.14 - Can green roofs and solar panels share the same space? GRIT Lab researchers prepare to find out in phase II of green roof study
Green roofs have become a staple of sustainable building design. In cities such as Toronto, architects are even required to include them in their designs, depending on the size of the building. Green roofs help mitigate urban heat island effect, absorb storm water, and improve air quality and energy efficiency, among other benefits.
But what if one wanted to install solar panels as well? Would a solar panel system hinder the performance of a green roof? Or could the two systems work together to enhance the benefits that each provide?
These are some of the questions that researchers at the Daniels Faculty's Green Roof Innovation Testing Laboratory (GRIT Lab) will explore as part of phase II of their research, which is looking at how to maximize the benefits of green roofs and solar technology in urban environments like Toronto. The Lab recently received an Award of Excellence from the American Society of Landscape Architects for its rigorous and comprehensive work.
In January, the GRIT Lab started construction on the installation of new solar photovoltaic panels on the south-east side of roof of 230 College Street. The panels will be installed in conjunction with green roof trays (boxes in which various species of plants will be grown).

 


The metal beams pictured above are part of a racking system that will support the solar panels. Green roof trays will be placed underneath the photovoltaic cells, as shown in the diagram below. One of the things the researchers will test is how the plants in the trays survive when placed underneath the angled panels.
Over the summer, researchers — led by GRIT Lab Director Liat Margolis, an Assistant Professor of Landscape Architecture and the Daniels Faculty, and her co-researchers from U of T's department of Civil Engineering, Professors Brent Sleep and Jennifer Drake — will install a series of sensors to measure energy output as well as wind, temperature, soil moisture and effluent runoff.
Phase II of the study will run for 3 years in collaboration with the University of Toronto's Civil Engineering Department. It is sponsored by NSERC and several industry and academic partners, which include Sky Solar, Schletter, TerraGen Solar, Siplast, Semple Gooder, Bioroof, Tremco, Dh Water Management, and IRC Building Science Group, as well as the University of Toronto Facilities & Services and the Sustainability Office and the John H. Daniels Faculty of Architecture, Landscape, and Design.
For more information, visit: http://grit.daniels.utoronto.ca/