02.03.20 - Daniels students look to Toronto's Parkdale neighbourhood for design inspiration
Near King and Dufferin streets is a pair of crumbling semi-detached houses where nobody has lived for quite some time. The site is an increasingly rare piece of unoccupied space in the west-end Toronto neighbourhood of Parkdale, where waves of gentrification are transforming what used to be a community of affordable-rental apartment towers and rooming houses into the type of place where raw juice bars outnumber laundromats.
In the fall 2019 semester, for the second iteration of his course "Guided Distractions" (ARC465), sessional lecturer Reza Nik tasked his students with studying those abandoned semis, as well as the neighbourhood around them. The class's semester-long assignment was to use the site as inspiration for a diverse series of creative projects.
Nik became interested in Parkdale last year, when he was working at an architectural firm with offices in the neighbourhood. He got to know some local nonprofits that were working to ensure low-income members of the Parkdale community weren't excluded from the area's increasing prosperity — like the Parkdale Neighbourhood Land Trust, which is involved in buying and preserving old rooming houses that might otherwise be demolished or converted into single-family dwellings.
"I really wanted to learn from that," Nik says. "I wanted to see how designers can look at the community as an important aspect of the architectural process. My criticism is that generally the community and the people get abstracted. We focus so much on the building itself and the site. As architects and designers, we often choose to be apolitical, or believe it's possible to be."
Nik asked his students to engage in a series of creative experiments. First, they made one-minute short films about the site. The following week, they all wrote poems. Then they made drawings and sculptures before refining all that experimental work into their final design projects.
Students aimed to explore the neighbourhood's issues creatively. The resulting work comments incisively on Parkdale's situation, but without any pretence that design alone can solve all of the intractable problems that come along with economic and social change in a neighbourhood.
Nik was pleased with the results. "I was trying to take the pressure off of design being the thing that will solve everything," he says. "We were learning to think about design as a powerful tool that lets you reflect on and view things through a different lens. And through that process you may be able to find an answer to some issue that's happening."
Here are a few projects from the fall 2019 iteration of Guided Distractions.
(For more images of ARC465 coursework, visit the Guided Distractions Instagram, or buy the book.)
---
Made by: Emily Lawrason, Pablo Espinal Henao, Christian Paez Diaz, Lucas Siemucha, and George Wang
The image shows a collection of commonplace items from Parkdale — stop signs, barbecues, dumplings, cats — hovering protectively over the area's street grid. "If gentrification and development happens with Parkdale, these important pieces are above it all, so they're not getting destroyed," Nik says. "This piece was taking the concept of everyday objects and putting them above the ongoing issues surrounding gentrification."
---
Made by: Andrea Sanchez, Vanessa Parodi Silva, Justin Morandin, Jamie Latimer, and Patricia Castaneda Prieto
"This group was dealing with sound and nature," Nik says. "This piece was an experiment in physically expressing the relationships at play between built form, nature, and sound in Parkdale. The white plexiglas forms are about showing sound waves. The concrete is the site, and the green is nature, growing sporadically." (The "concrete" is actually a lightweight material that the students painted.)
---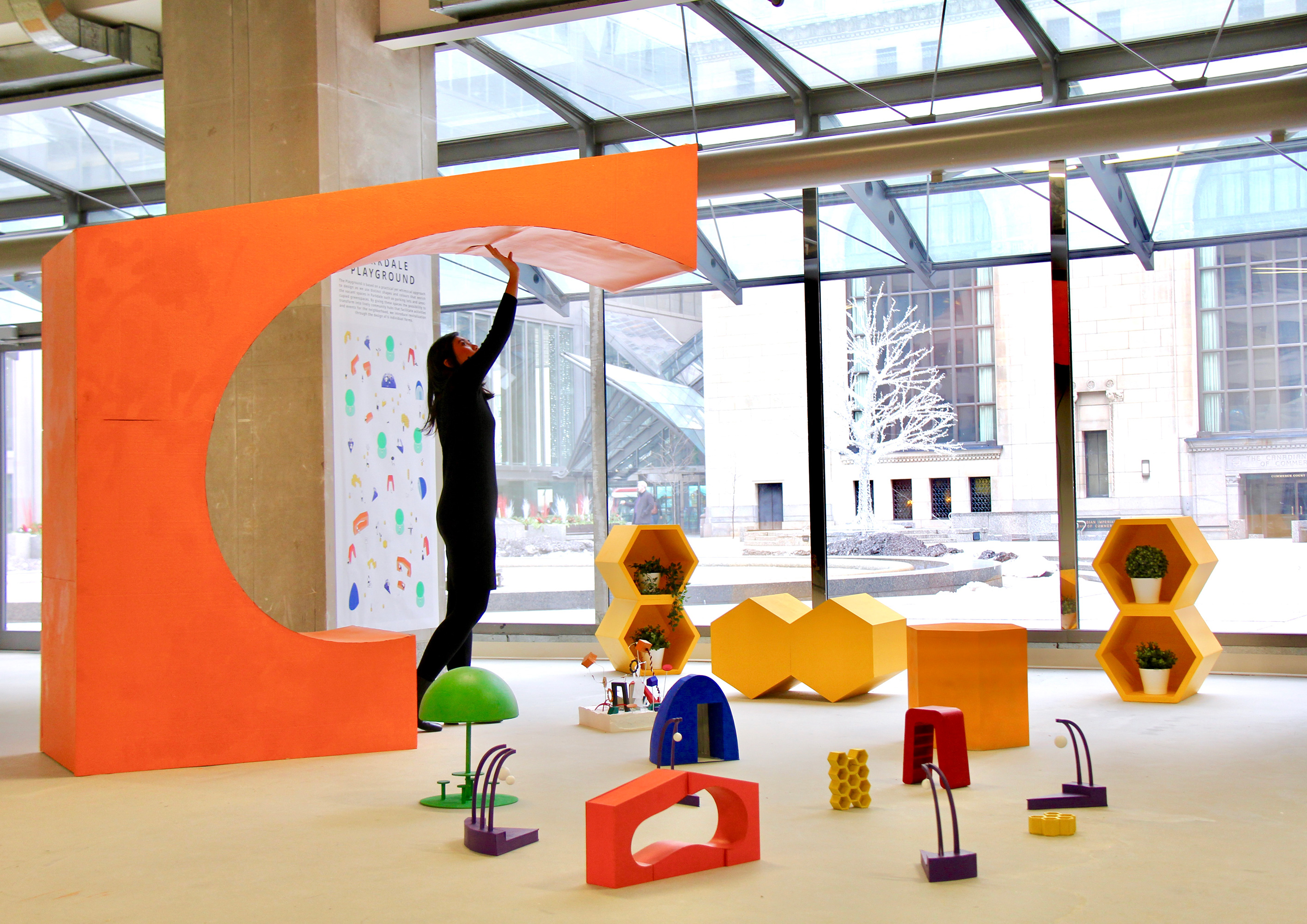 Made by: Elizabeth Liao, Angela Gou, Jill Lee, and Larissa Ho
For their final project, this group of students produced a line of unusual, brightly coloured playground equipment intended to address a shortage of community gathering spaces in Parkdale. They built a 1:1 scale model of one of their designs, an orange lounger with a curvy profile. The other structures on display here are reduced-scale models. There's a picnic area that the students called an "ogre's hut" (green), a "novel arch" public bookshelf (red), a "potty pod" public washroom (blue), and some "slice theatre" public performance stages (purple).
"This was one of the projects that really followed through on the group's previous experiments," Nik says. "The end result was something that could be practical. And it was playful. They really had the community in mind throughout the whole process."
---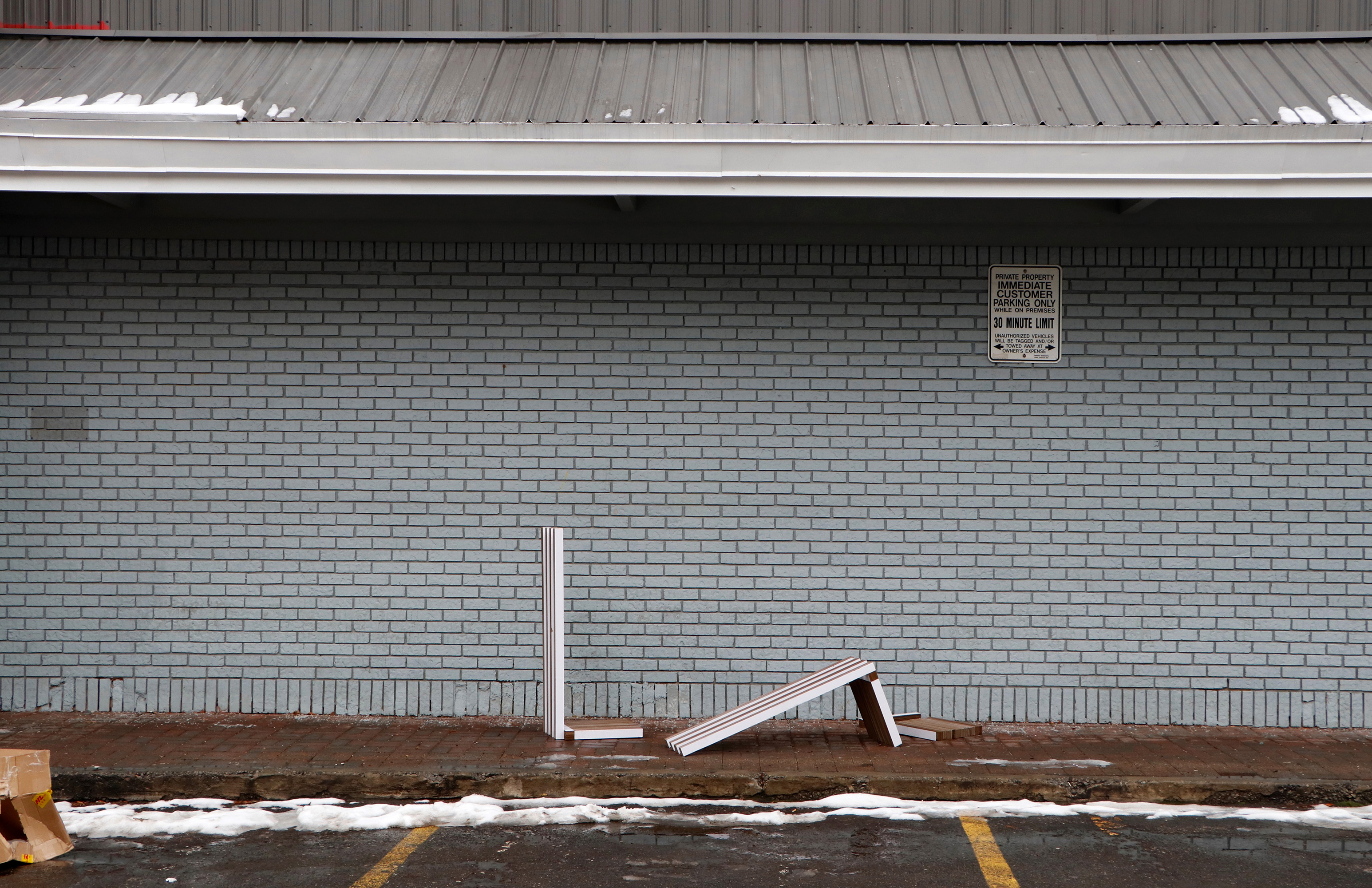 Made by: Jasper Chen, Eric Espinosa, Gabrielle Lamanna, and Jennille Neal
This group created a bench, but not an ordinary one. The design had three separate pieces — two cardboard seats and a concrete support block — that would only function as a bench if assembled in a particular way. The piece was intended to symbolize the way Parkdale's community holds the neighbourhood together. "This was one of the most effective conceptual projects," Nik says. "The bench is only functional if it comes together. They were one of the only groups who took their design out to the site. And they photographed it beautifully."