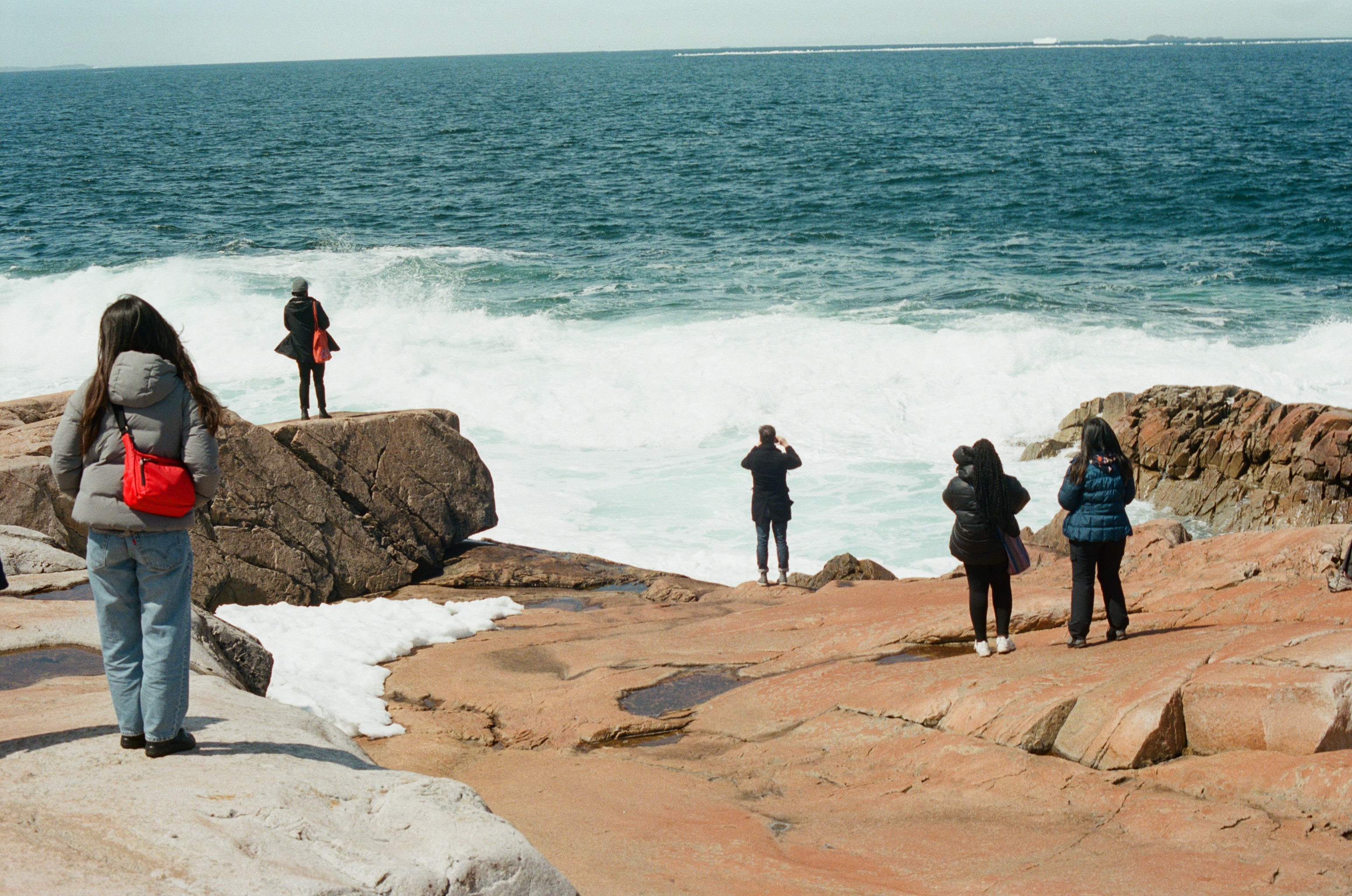 31.10.23 - Studies Abroad: Exploring art and community on Fogo Island
Last spring Assistant Professor Gareth Long and eight undergraduate Daniels Faculty students traveled by air, land and sea to Fogo Island. Known as an island off an island, Fogo Island is an outport community: a remote coastal settlement unique to the province of Newfoundland and Labrador.
"For many students this is a completely new and foreign landscape in which to find themselves," says Long. "Though still in Canada, it couldn't be more different to the experience of being in Toronto."
The trip was the first of its kind in the visual studies program at the Daniels Faculty, and one that Long hopes to recreate in the future. Over the course of 10 days, students experienced the island through a series of seminars, fieldwork and visits with both artists-in-residence and locals.
In partnership with Fogo Island Arts, the students were introduced to an institution created with the conviction that art and artists have the capacity to instigate social change and offer new perspectives on issues of contemporary concern. Founded as an artists' residency program, Fogo Island Arts is part of Shorefast, a registered Canadian charity with the mission to build economic and cultural resilience on Fogo Island, making it possible for local communities to thrive in the global economy. The Fogo Island Inn, designed by architect Todd Saunders, is also a Shorefast initiative and has become a globally recognizable travel destination while helping to secure a resilient economic future for Fogo Island.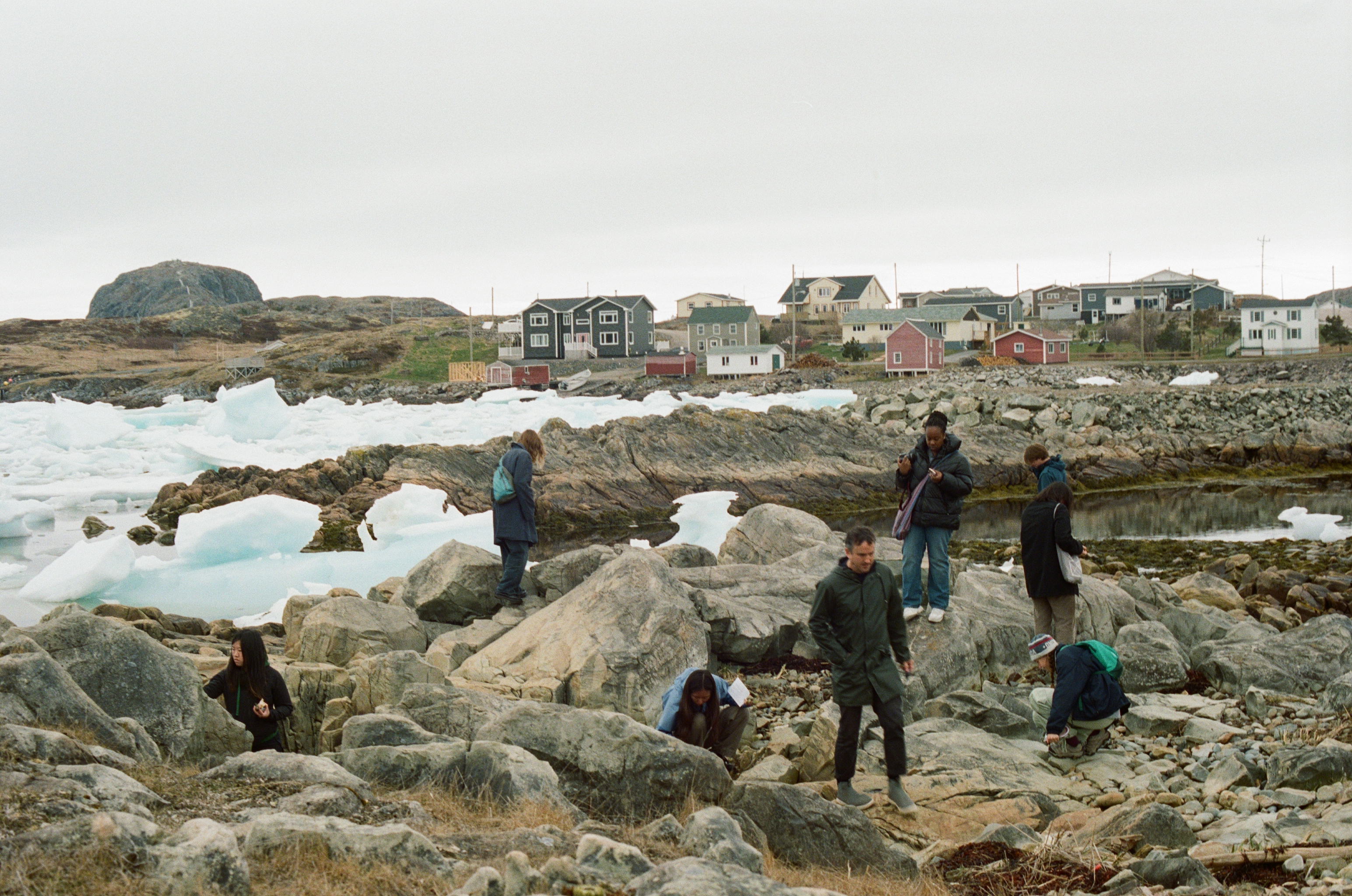 "The visual studies students were invited in to not just witness, but become a part of this larger story, this larger social enterprise that has, since its inception, had art at the centre of its mission," says Long. "Though it is highly specific to Fogo Island, it resonates with countless other places in the world."
For Satyam Mistry, a fourth-year architecture and visual studies student, Fogo Island's reputation as an international art hub, "encouraged me to pursue the chance to visit a place I otherwise could not imagine having the opportunity to do so on my own."
Here's a snapshot of the trip's itinerary:
Visits with international artists like Liam Gillick, Cooking Sections, Maria Lisogoroskaya (of Assemble) and Armand Yervent Tufenkian
Tours of the Fogo Island Inn and the four artist studios, plus visits to the Fogo Island Workshops, the Fogo Island Clay Studios, SaltFire Pottery studio, Peggy White's guitar studio and the JK Contemporary Art Gallery
Student presentations on the Fogo Island Arts' monographs
Discussions of public artworks on the island Liam Gillick's "A Variability Quantifier: The Fogo Island Red Weather Station," and "The Great Auk" by Todd McGrain
Shared meals with locals, hikes to sites such as Brimstone Head (one of the four corners of the "Flat Earth") and participation in a rug hooking workshop (more than once)
"It was really shocking getting to the island and immediately being hit with so many things to do," says Olive Wei, a fourth-year student in visual studies. "After the 10 days it felt as if we had left the island with our to-do list barely halfway done. Everything about the island, the landscape, people and history all invite you back to stay longer and longer," added Wei, who did stay on after the course for a six-week summer internship on the island.
While the syllabus was full of opportunities to experience what Fogo Island is known for, Long says the emphasis in this course was on communal learning, collaboration and the shared testing of ideas. "I hope some found that being together, thinking together, experiencing this newness together, was the most enriching part and that this might lead to new ways of working and being together in the future. That hospitality takes many forms. That the remote doesn't have to be remote."
These takeaways ring true in the experiences of the students. "As the trip progressed it became clear to me how much dialogue and learning could be generated simply from the act of being together as a cohort with both my peers and instructors," says Mistry.
Throughout their time on Fogo Island, students were asked what knowledge they would be able to bring back from the island—how can one take the island off of the island? This question formed the basis of the exhibition, Sediments, that the group produced on their return to Toronto.
"As the question silently lingered throughout the trip and plagued our minds, we had reached our last day and did not get closer to an answer. It was after our departure we had realized we were taking the island within us," Wei wrote in the exhibition statement. "Sediments attempts to honour the depth of knowledge and history embodied on Fogo Island."
The presented works investigated attachment to place, remembering, documentation, and intimacy—and a feeling of home about a place one may not have been yet. "The best way one can take the island off the island is through sharing stories of the people, life, and togetherness one experiences while they're there," Wei says. "The trip is unique to everyone which lends itself to feeling like a personal, intimate memory."
Sediments, an exhibition of visual studies work from Summer Studies Abroad: Fogo Island, was on view in the North Borden Building in September 2023. Featuring work from Auden Tura, Chloe Chukwunyelum, David Zolya, Ella Spitzer-Stephan, Gareth Long, Joy Li, Mia Coschignano, Olive Wei, Rahul Sehjipaul—the Daniels Faculty's digital fabrication technologist, who supported the group on their trip—and Satyam Mistry. 
All images in this story are courtesy Satyam Mistry.