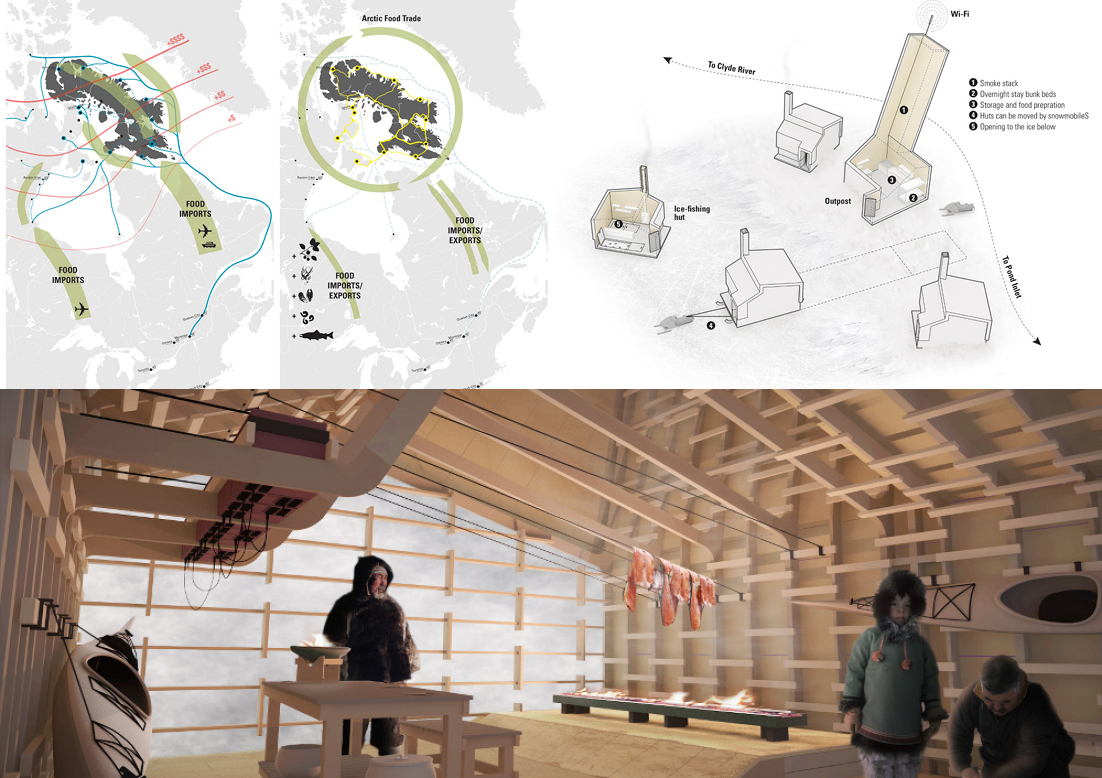 18.12.12 - Mason White and Lateral Office win the Arctic Inspiration Prize
On December 13, Mason White — Assistant Professor at the John H. Daniels Faculty of Architecture, Landscape, and Design — and his colleagues at the design practice Lateral Office became the inaugural recipients of the Arctic Inspiration Prize.
Lateral Office includes White's partner Lola Sheppard (Associate Professor, University of Waterloo) as well as Daniels Faculty graduates Matthew Spremulli and Ali Fard (M.Arch 2011). The ceremony took place in Vancouver, and was organized by ArcticNet, a network of scientists focused on the Canadian North.
Winning this award was no small feat for the architecture firm. Non-governmental organizations, health professionals, scientists, and cultural leaders from across the country were considered for the honour. Lateral Office was selected by a high-profile jury that included former Governor General Michaëlle Jean, CBC news anchor and correspondent Peter Mansbridge, Nobel Peace Prize nominee and Inuit activist Sheila Watt-Cloutier, and Jane Glassco Arctic Fellow Kyla Kakfwi-Scott. White and his research team will use the $360,000 it received from the award to continue to pilot prototype structures in the hamlets of Rankin Inlet and Sanikiluaq in Nunavut.
White first developed an interest in the Arctic when Lateral Office entered a design competition in Iceland in 2007. The firm was shortlisted and invited to participate in the second stage. After travelling there, the team became interested in architecture that responded to Iceland's specific environmental and cultural challenges.
"Then we thought: Why aren't we working closer to home?" says White. "There are architects working in Nunavut, but there were no architects doing research or experimental design work there."
Since then, White and his team have developed a number of research projects in Canada's northern territories, from Ice Road Truck Stops to Health Hangars. In the last year and a half, White has travelled to all eight circumpolar counties to study the role architecture can play in addressing the challenges faced by arctic communities. In 2010, he took a group of graduate students from the Daniels Faculty to Nunavut as part of a studio course that explored reconceiving Iqaluit's public realm to better accommodate snowmobiles.
The project that has garnered the most attention, however, is Arctic Food Network: a series of contemporary cabins designed by Lateral Office that support traditional hunting, fishing, and gathering practices in a way that engages local Inuit youth (The average age in Nunavut is 25.)
In recent decades, the traditional Inuit diet, centered on hunting and fishing, has been replaced by manufactured food imported from the south. The result has been an increase in obesity and diabetes rates and the loss of traditional knowledge and culture. 
The Arctic Food Network 's cabins have been designed to accommodate food preparation, food storage, and lodging. Since roads and highways are next-to-nonexistent, materials to build the cabins were designed to be transported on the back of a sled and easily assembled on site. Each site will be strategically placed near food sources and at intervals that can be traveled by snowmobile.
White and his team have created kits so that members of the community can practice assembling models of the cabins and provide their feedback. They are also developing prototypes to test how a small network of cabins will perform in real-life conditions. Lateral Office has worked on this initiative with Nunavut's Arctic College, hunters and trappers associations, and Nunavut Tunngavik Inc.
For more information on the Arctic Food Network, visit Lateral Office's website.  Background on the Arctic Inspiration Awards — including a video featuring an interview with White — can be found here.