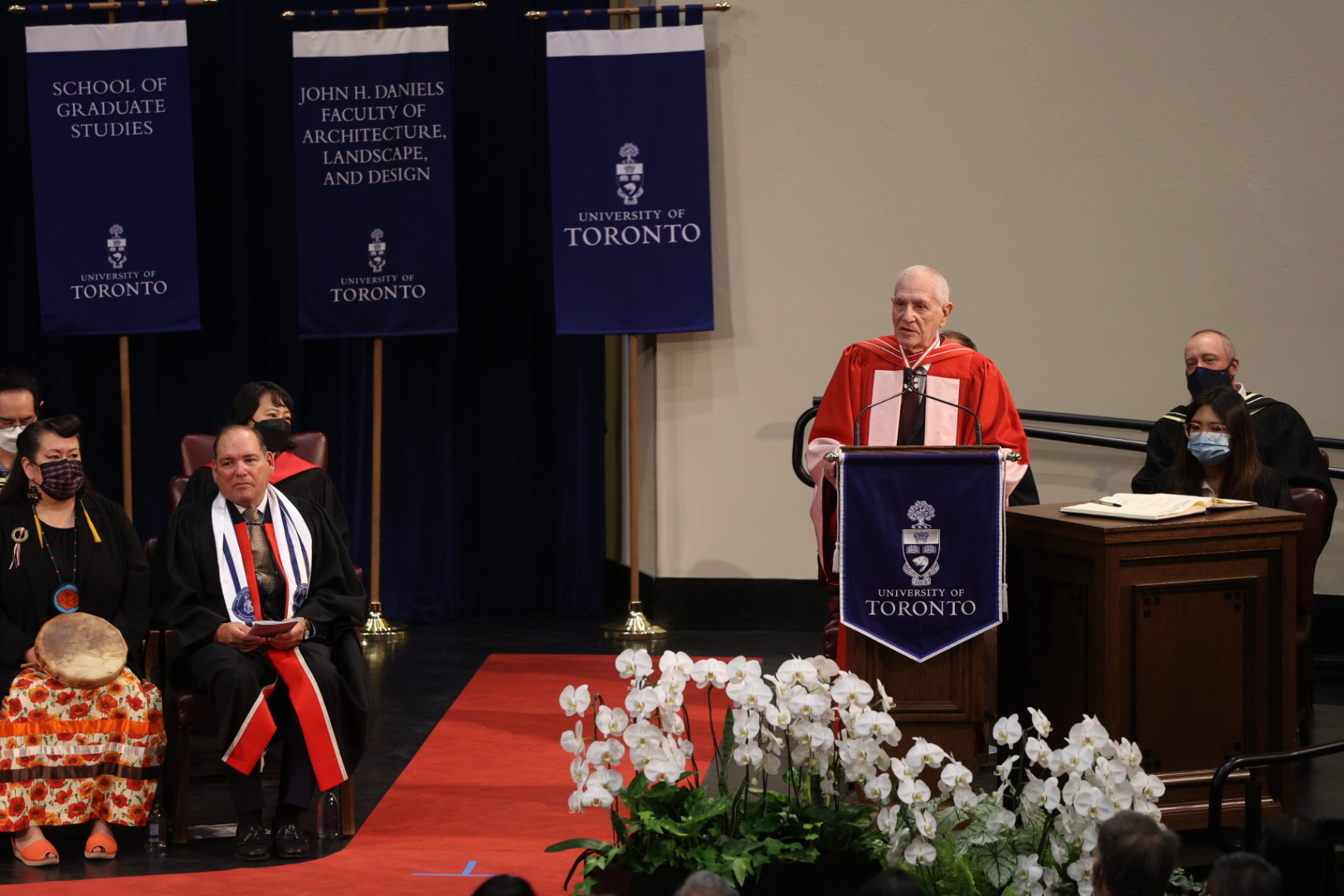 14.06.22 - Douglas Cardinal receives honorary doctorate during 2022 Convocation
Acclaimed architect Douglas Cardinal, who served as the Daniels Faculty's Frank O. Gehry Chair in 2020/21, has been awarded an Honorary Doctor of Laws degree by the University of Toronto. 
Known for his longtime commitment to sustainable design and for such landmark buildings as the Canadian Museum of History, the 88-year-old received his degree during the spring Convocation ceremony for Daniels Faculty students. 
"I feel so honoured to be here," Cardinal told the assembly in Convocation Hall on the morning of June 15, adding that he was also representing the Elders "who have taught me to live in harmony with the land and with each other." 
Born in Calgary to a father of Blackfoot heritage and a German/Métis mother, Cardinal is one of the world's most prominent Indigenous architects, although he didn't fully embrace his Indigenous heritage until he was a young man and has eschewed describing his work simply as "Indigenous architecture." 
"I never thought of expressing myself as an Indigenous architect," Cardinal once told CBC Radio. "I thought of expressing myself as an organic architect that emphasized the beauty and vitality and richness of nature." 
In addition to the Canadian Museum of History in Gatineau, Cardinal's body of work includes a number of iconic structures, from St. Mary's Church in Red Deer, Alberta (designed very early in his career, it was featured on a Canada Post stamp in 2007) to the National Museum of the American Indian in Washington, D.C. (completed between 1993 and 1998). 
In 2020/21, he served as the Frank O. Gehry International Visiting Chair in Architectural Design, an endowed chair that brings an internationally recognized architect to the Daniels Faculty each year. This spring, Cardinal returned to Daniels to serve as a reviewer and advisor during final thesis presentations. 
Over his long career, Cardinal has been the recipient of numerous awards, including the Governor General's Award for Visual and Media Arts, a Gold Medal from the Royal Architectural Institute of Canada, and a National Aboriginal Achievement Award. 
In 2018, he led a team of Indigenous architects and designers who represented Canada at the Venice Architecture Biennale, and he continues to design residential, institutional and industrial buildings. 
Cardinal has also been an influential voice for the dignity of Indigenous Peoples. 
With files from a U of T News story by Scott Anderson
Banner image: Honorary degree recipient Douglas Cardinal addresses the Daniels Faculty's Class of 2022 at Convocation Hall on June 15. (Photo by Harry Choi)
Watch Douglas Cardinal's speech at Convocation Hall: