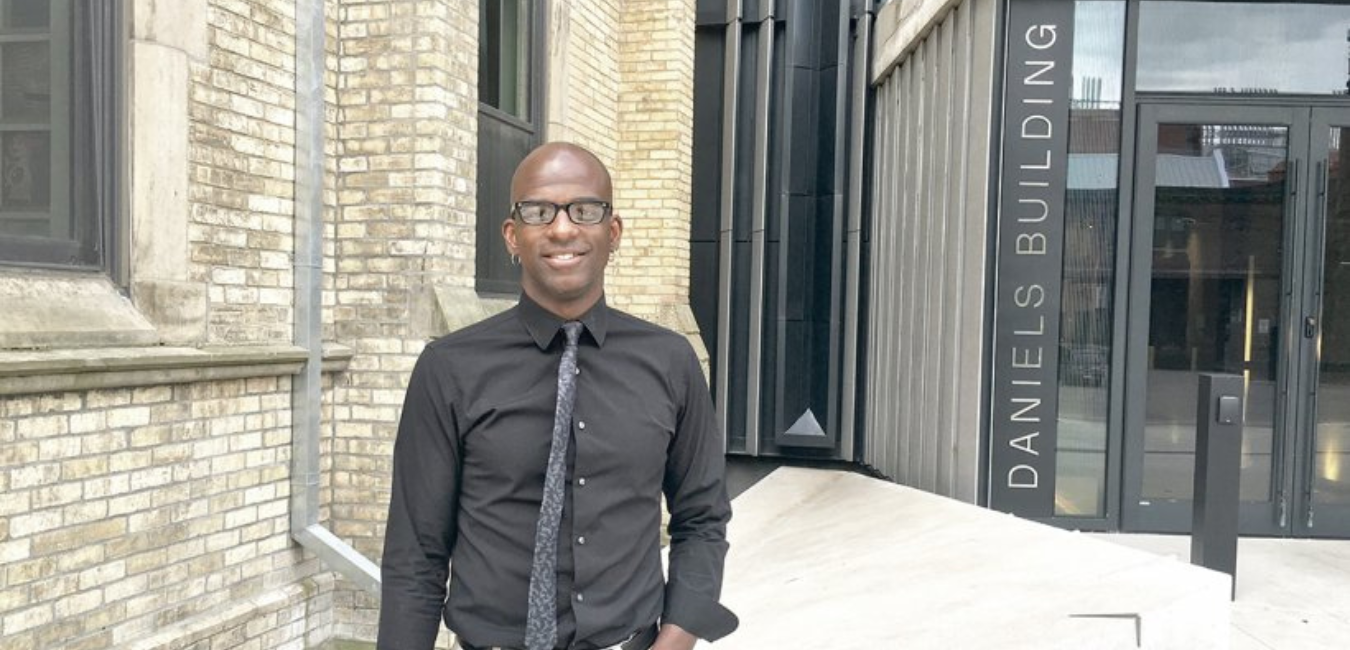 15.06.22 - Bomani Khemet is this year's Mayflower Research Fund recipient
Assistant professor Bomani Khemet is the 2022 beneficiary of the Mayflower Research Fund, the research endowment established four years ago at the Daniels Faculty. 
An expert in building science and HVAC systems, Khemet will direct his grant, totalling $10,000, into his research on improving fresh-air circulation in multi-unit buildings, an issue that has taken on extra resonance in the wake of the COVID-19 pandemic. 
Khemet's specific area of focus is the feasibility in Canada of skip-stop and single-loaded corridors, designs that give building occupants greater control over indoor air quality. 
"As a new faculty member, this financial assistance helps me jumpstart my research exploration into how building air movement in the form of natural ventilation can impact various aspects of occupant comfort and building operations," he says. 
"The first step of the research is to (1) create a comprehensive design catalogue of existing buildings using single-loaded and skip-stop treatments, and (2) understand the design barriers, financial barriers and regulatory barriers to implementing these design strategies in a Canadian context." 
The Mayflower Research Fund was established by a generous donor in 2018 to encourage and stimulate research in the fields of architecture, landscape architecture and urban design, and allows for collaboration with other areas of the University when deemed appropriate. Since then, $10,000 has been given annually to three assistant professors in the John H. Daniels Faculty of Architecture, Landscape, and Design: Fadi Masoud, Maria Yablonina and Alstan Jakubiec. Any faculty member with a full-time appointment at Daniels is eligible to apply.  
Khemet, who began teaching building science at Daniels in 2018, became a permanent member of the school as a tenured assistant professor in 2021. In addition to teaching building science and HVAC courses to undergraduate and graduate architecture students, he has conducted a number of groundbreaking studies during his time at the Faculty, including a large-scale analysis of airtightness in Canadian single-detached homes (his data was culled from a Natural Resources Canada survey of over 900,000 properties) and another on the airtightness of the Daniels Building at 1 Spadina Crescent itself. 
Khemet's newly funded research into skip-stop and single-loaded corridors — a response to the fact that most of Canada's mid- and high-rise residential buildings "use double-loaded corridor floor plans [that] prevent effective natural ventilation" — is in keeping with his interests in air quality, building performance and resilient design.  
The corridor designs he aims to catalogue and promote have also been cited as effective ways of combating the transmission of airborne viruses such as SARS and COVID-19.  
"Skip-stop and single-loaded designs are highly recommended as best practice for multi-unit residential buildings primarily due to the placement of operable windows on opposing facades," Khemet said in his funding proposal. "Unfortunately, there is precious little information on the implementation of skip-stop and single-loaded corridors in multi-unit housing for Canadian climates." 
Khemet's research, which will be conducted with co-investigator Marianne Touchie, an assistant professor at U of T of civil engineering and of mechanical and industrial engineering, aims to remedy that. 

U of T's Marianne Touchie
In addition to creating a record of Canadian buildings that utilize skip-stop and single-loaded corridor designs and to cataloging any barriers to their incorporation, the research team aims to disseminate its findings through a variety of media, including public lectures, trade publications and academic journals.  
Two research assistants — Master of Architecture students — will be engaged to work on the project, in Fall 2022 and Fall 2023 respectively.  
Khemet and Touchie plan to have the research completed by 2024. 
Banner image: Assistant professor Bomani Khemet, who joined the Daniels Faculty in 2018, will apply his Mayflower Research Fund grant to researching how certain corridor designs might improve air circulation and quality in Canadian multi-unit buildings.