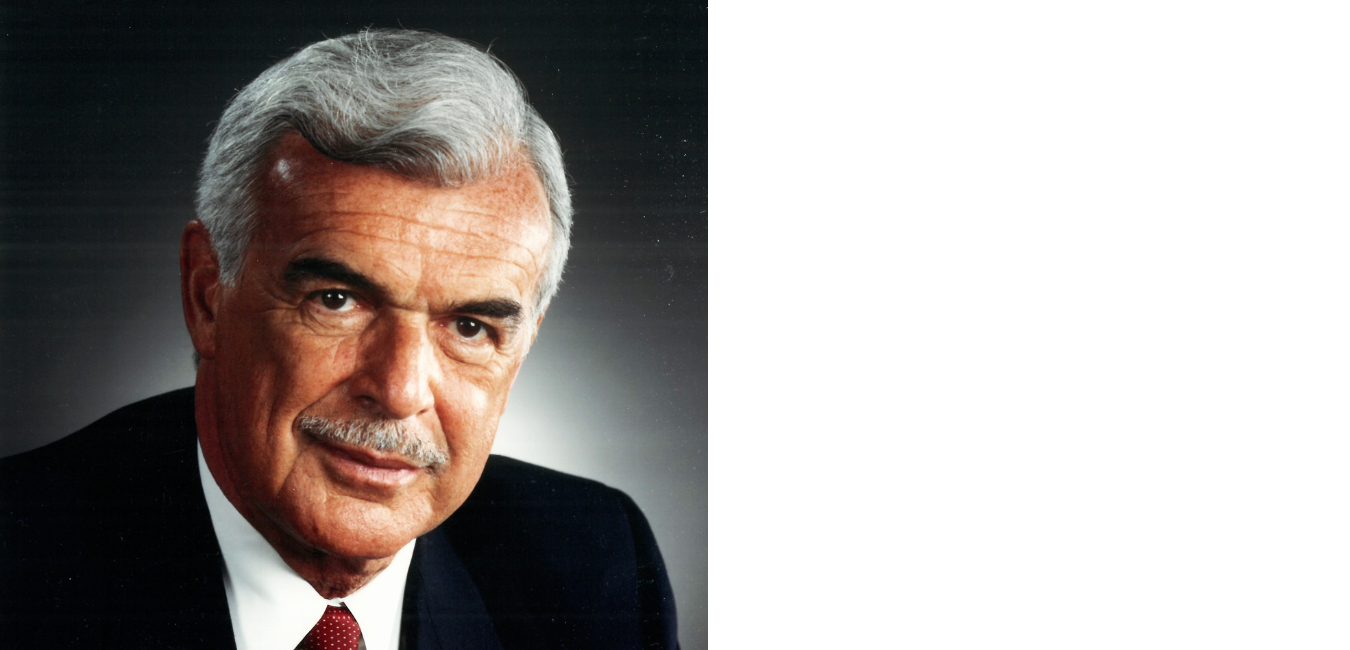 26.10.22 - Remembering John H. Daniels, alumnus and benefactor (1926-2022)
It is with sadness, respect and tremendous gratitude that the Daniels Faculty reflects on the recent death and extraordinary life of alumnus and benefactor John H. Daniels (BArch, 1950; Hon LLD, 2011), who passed away on Saturday, October 22. 
An architect, developer, philanthropist and civic leader, Daniels had an immeasurable impact on the city of Toronto, on the University of Toronto, and on the Faculty, which has been forever transformed by the magnanimity and vision that he and his wife, Myrna Daniels, displayed over many years.
"The legacy of Mr. Daniels' life will be felt for a very long time," says Dean Juan Du. "His commitment to lifting communities around him, his dedication to excellence, and his optimism for the future are values that inspire and drive our school. John and Myrna's generosity has contributed not only to the creation of the Faculty's dynamic world-class hub at 1 Spadina Crescent, but to the lives and futures of the many who have passed and will pass through it. Our thoughts are with John and Myrna's families, friends, and colleagues, and with the many people whose lives he has touched."
Born in Poland in 1926, John H. Daniels immigrated to Canada when he was 12 years old, escaping Nazi oppression on the cusp of World War II. He later graduated from Toronto's Central Technical School, addressing the rights and responsibilities of Canadian citizenship in the speech he made as class valedictorian. In 1949, while a student in the architecture program at the University of Toronto, he made his first foray into real estate development by co-founding Modern Age Construction. Though only intended as a summer building project to raise tuition money before he graduated in 1950, the work demonstrated Daniels' entrepreneurial capacities and established the tenor of his future career. 
As CEO of the Cadillac Fairview Development Corporation, he later helped build such impressive properties as the Eaton Centre in Toronto and the Erin Mills community in Mississauga. In 1983, Daniels left Cadillac Fairview to start The Daniels Corporation, a company that would quickly become synonymous with vibrant communities, affordable housing, social infrastructure and architectural innovation. Responsible for countless Canadian residential developments, The Daniels Corporation also worked closely with government agencies to create thousands of not-for-profit rental units and to lower market barriers for first-time homebuyers. Among its many noteworthy projects, the company was instrumental in revitalizing the Regent Park neighbourhood, transforming it from a failed public housing estate into a vital, growing community at the centre of Toronto.
Beyond Daniels' work as a developer, he was also a remarkable Toronto philanthropist. Together with Myrna, he invested in a broad number of causes and gave significantly to cultural, healthcare and academic institutions, changing the city for the better at every step.  
John and Myrna Daniels' gifts to the Daniels Faculty through their Foundation are unprecedented, totalling more than $30 million and resulting in its gateway building at 1 Spadina Crescent, a host of new scholarships, and an expanded global reputation. 
In 2008, John and Myrna Daniels gave the University of Toronto a $14-million gift, the largest private donation ever given to a Canadian architecture school. In recognition, the Faculty was officially named the  John H. Daniels Faculty of Architecture, Landscape, and Design. The $14 million was designated to the capital renewal and expansion of the school (at that time located on College Street) and created an endowment and award program named The John and Myrna Daniels Scholars.
Gift to 1 Spadina Crescent Building Project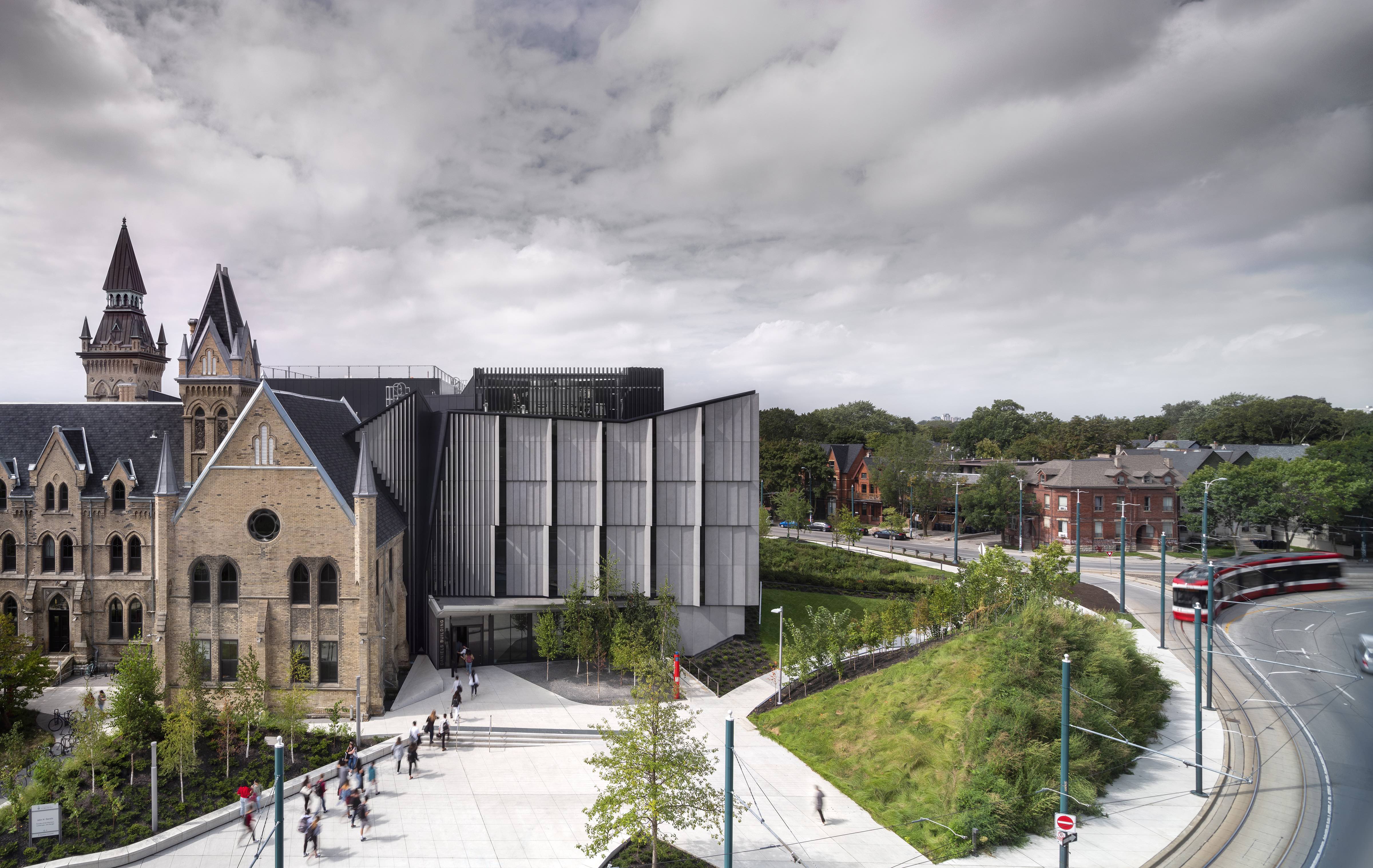 The revitalized 1 Spadina Crescent site, to which John and Myrna Daniels contributed $10 million through their Foundation, opened in 2017.
In 2013, John and Myrna Daniels donated an additional $10 million through their Foundation to revitalize and expand an existing landmark building at 1 Spadina Crescent. Daniels Building, the Faculty's new home, opened in November of 2017. Heralded in The Globe and Mail as "one of the best buildings in Canada of the past decade," it has been awarded 30 international awards for its design so far. 
"John would joke that his favourite hobby was pouring concrete, an allusion to the more than 300 buildings he created during his lifetime," says Richard Sommer, former dean of the Faculty and director of the Global Cities Institute. "In our case, John asked a deceptively simple question: How could he and Myrna help us make our school one of the best in the world, and in the process raise the prospects for young people from a broad section of society wanting to study architecture. The answer was Daniels Building, which speaks to John's passion for architecture and cities. Together with the John and Myrna Daniels Scholars award fund and other financial-aid programs they support, they have created a unique place at 1 Spadina Crescent as well as the endowments that sustain many students who study there." 
Former University of Toronto president David Naylor (standing in opening photo) joins John and Myrna Daniels for the design reveal of the future Daniels Building at 1 Spadina Crescent in June 2013. Mr. and Mrs. Daniels (in second photo) at the official opening of the Daniels Building in November 2017. U of T president Meric Gertler (at right in third photo) and Professor Ronald Daniels, president of Johns Hopkins University, take part with Mr. and Mrs. Daniels in the ribbon cutting ceremony at the Daniels Building opening.
The John and Myrna Daniels Scholars
To date, the endowment has provided 287 individual awards to 128 graduate students, many of whom are the first in their families to access post-secondary education.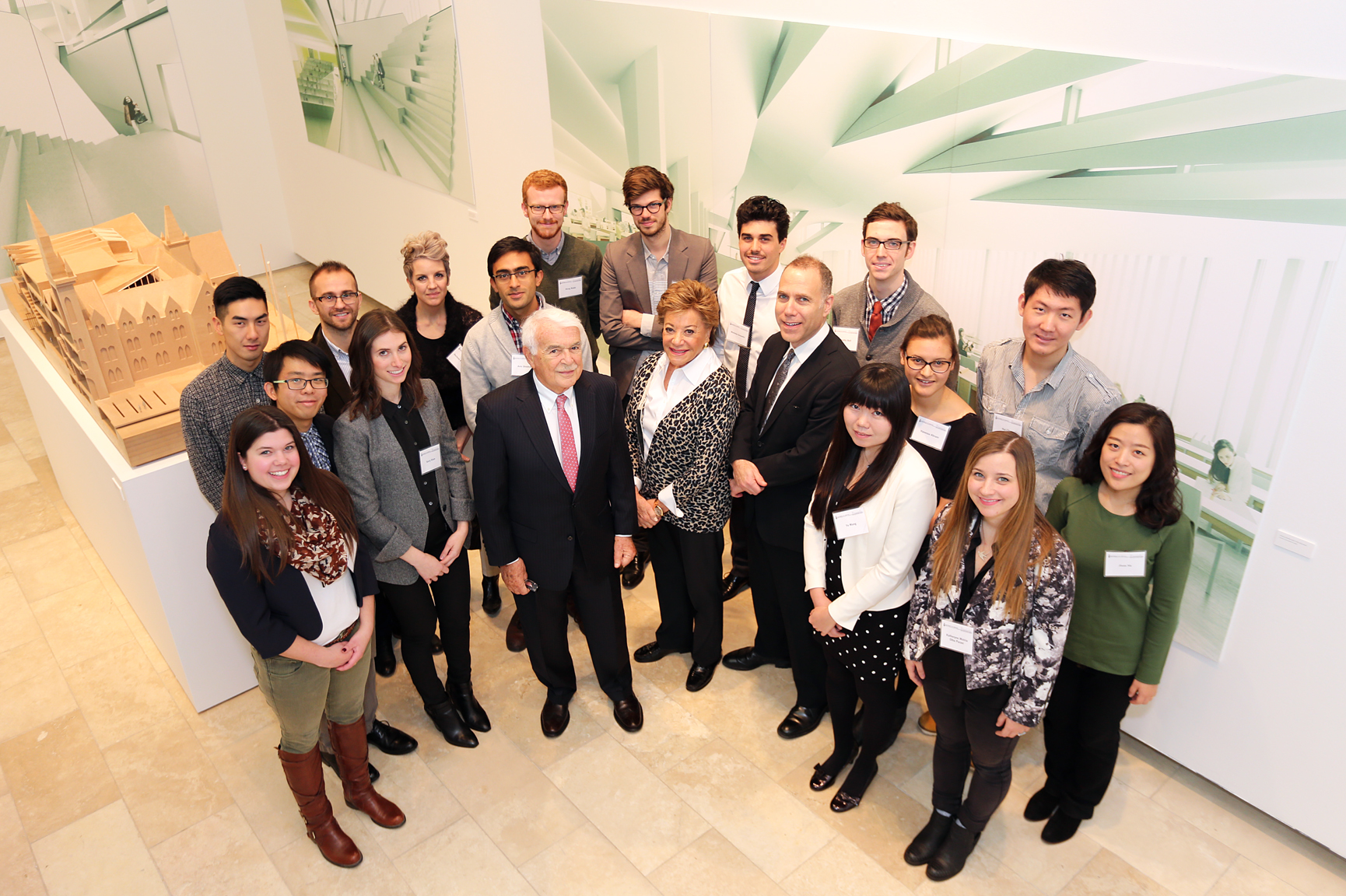 John and Myrna Daniels pose with former Daniels Faculty dean Richard Sommer and a group of John and Myrna Daniels Scholars. (Photo by Yvonne Bambrick)
In 2013, John and Myrna Daniels Scholar Nicholas Gosselin addressed Mr. and Mrs. Daniels at a luncheon, noting: "You are influential city builders in Toronto and beyond. However, you also shape cities indirectly — through the unbelievable support you provide the University of Toronto and future professionals. Toronto is going through incredible change and, consequently, behaves as a laboratory for students to experiment with different ideas and concepts. Unfortunately, not all students can support themselves to participate in this endeavour. Your generous donation to U of T makes a world of difference for students and has personally made graduate school a possibility for me — thank you."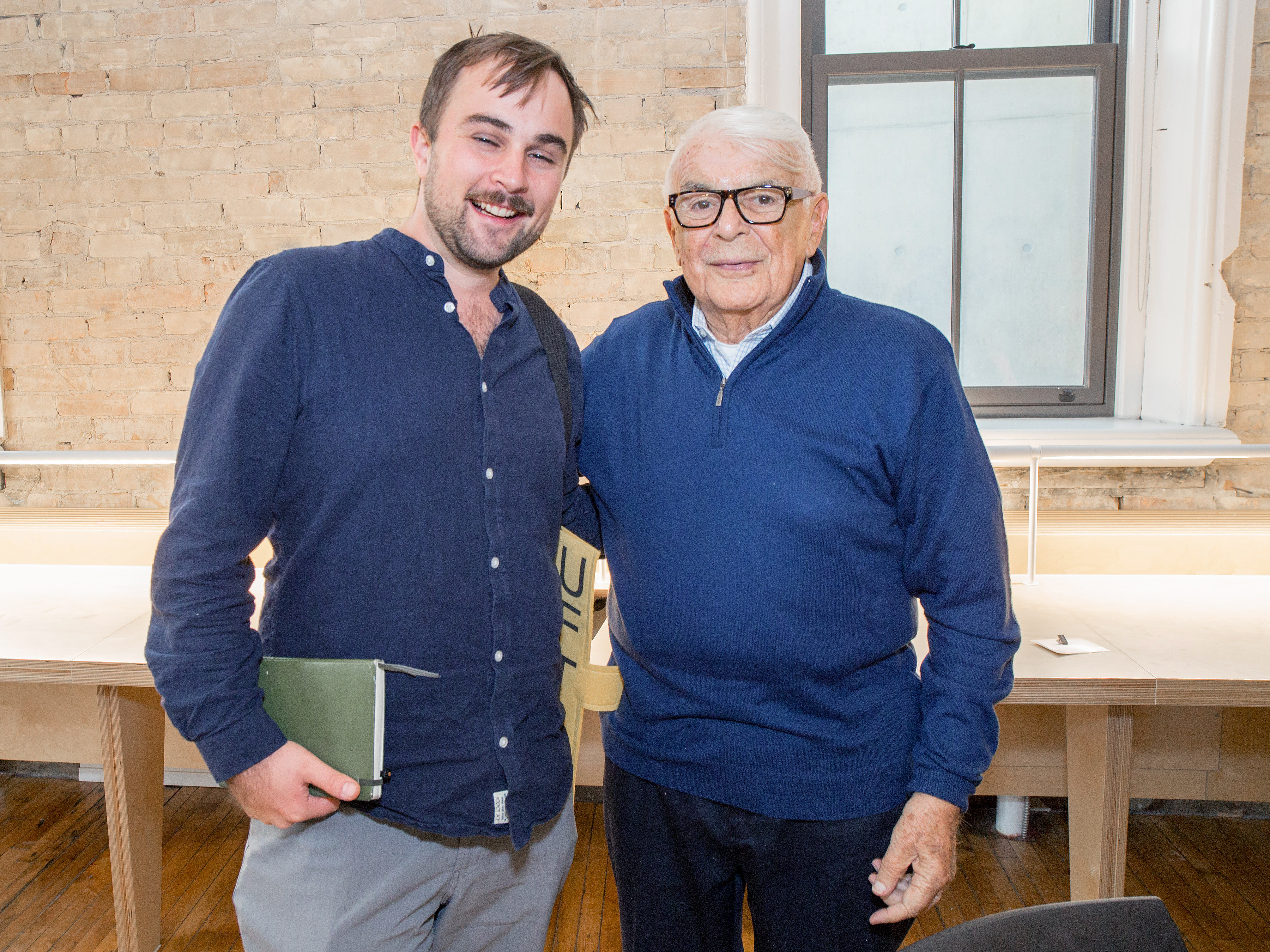 John and Myrna Daniels Scholar Devin Tepleski with Mr. Daniels.
In 2016, Scholar Devin Tepleski spoke about the impact of John and Myrna Daniels' support at a celebration at the school, saying: "What excites me most about my studies in landscape architecture is the opportunity to work on solutions — answers to the questions I've been asking for the last five years since finishing an undergraduate degree in anthropology. What makes places matter to the people who live there? What is worth protecting?
"I have been extremely lucky to be able to travel with my work, firstly to Ghana, where I worked as an ethnohistorian and documentarian with communities displaced by a hydroelectric dam. From there I went on to spend four years working with Cree and Dene communities in northern Alberta and on a marine use study with Salish nations of southern Vancouver Island. I got to interview everyone from the wisest elder to the youngest schoolchild about what matters to them about the places they live.
"Such opportunities have continued in no small part due to the generosity of the Daniels. Over the course of the last year, it is clear to me that John and Myrna have been asking these same questions about the importance of community and place. We could all learn a lot from the answers they have no doubt reached over their years of community service and philanthropy. I am inspired by their genuine curiosity in others and commitment to making a difference in Toronto. I thank them wholeheartedly for all that they have done for me and those around me."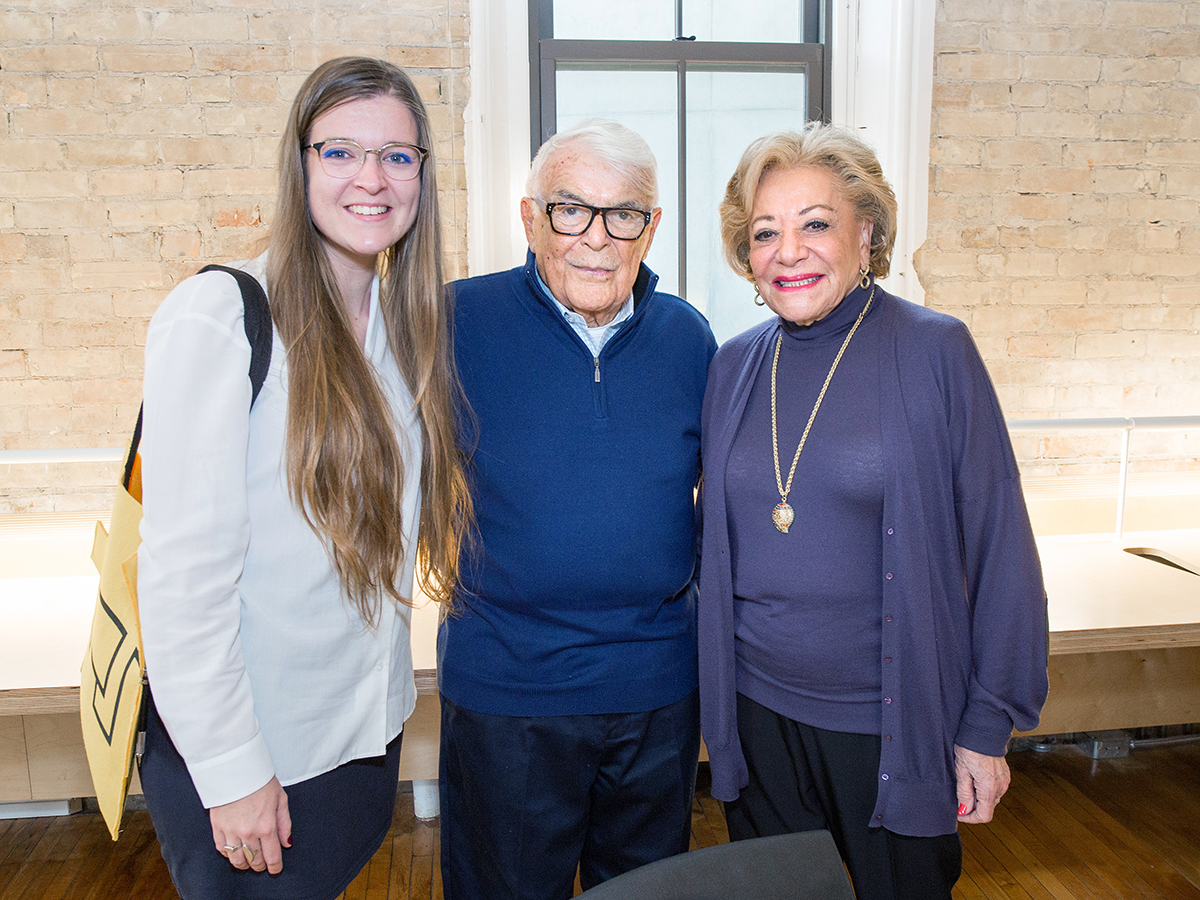 Mr. and Mrs. Daniels with John and Myrna Daniels Scholar Bahia Marks.
At an event in honour of John and Myrna Daniels in 2018, Scholar Bahia Marks thanked them for bringing everyone together and spoke about the opportunities she had had as an undergraduate in the U.S. and then as a Master of Architecture student at the Daniels Faculty: "When you are in the trenches of people's lives in the projects of Brooklyn, you can see how the design of the projects and housing affects the lives of families and young people. You begin to see the direct impact of design on people's lives. It is this search for justice that led me to pursue architecture and choose the Daniels Faculty. In my research, I was really looking for a school that would allow me to learn the skills, attitudes and qualities of an architect, the role of housing in society, and about empowering youth to contribute to the betterment of their neighbourhoods." 
The John and Myrna Daniels Foundation Opportunity Awards
In April 2018, the couple gave an additional $6 million, establishing The John and Myrna Daniels Foundation Opportunity Awards, an endowment prioritizing the financial need of undergraduate and graduate students within the Faculty.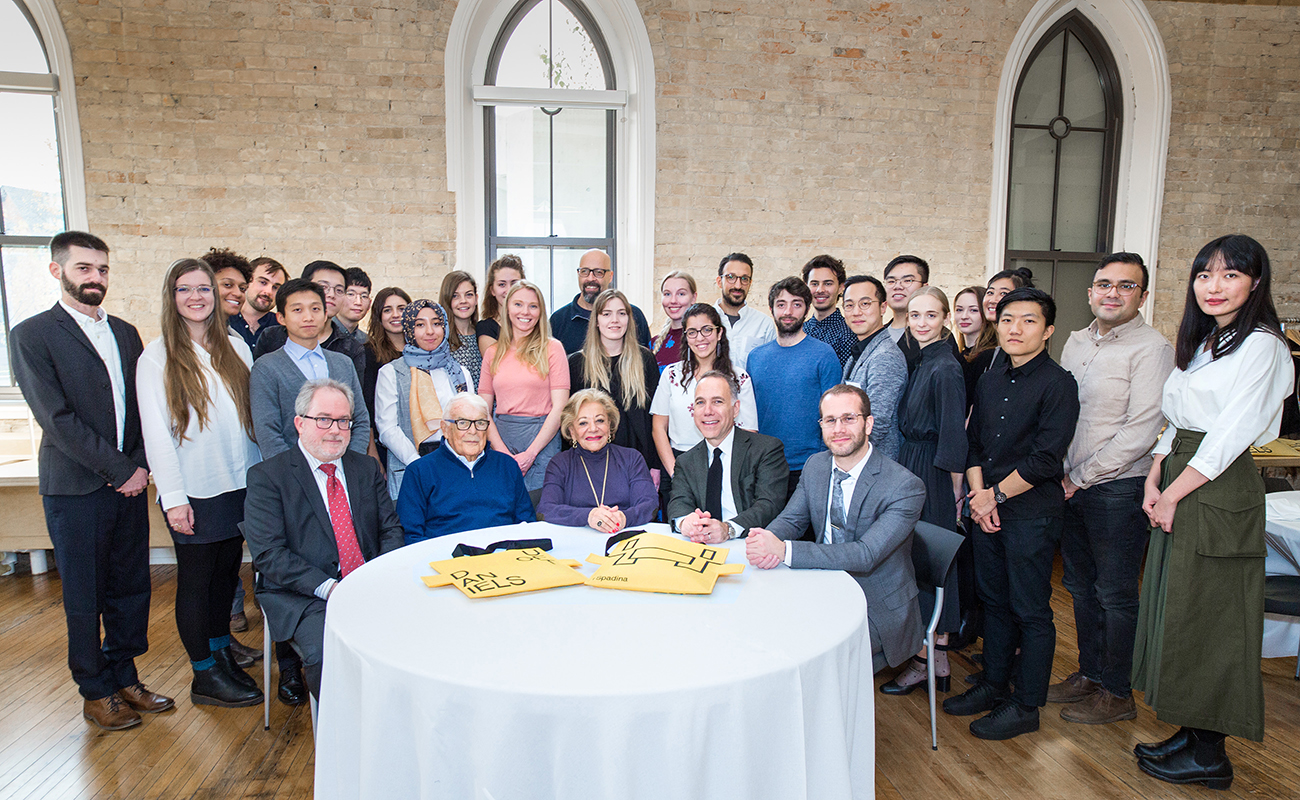 On November 12, 2018, Mr. and Mrs. Daniels were hosted by University and Faculty leadership at a luncheon recognizing graduate-student beneficiaries of the John and Myrna Daniels Scholars award program.
"In a way, John Daniels never left his alma mater," says David Palmer, U of T's Vice-President, Advancement. "His giving at U of T was strongly tied to a desire for future generations of students to enjoy the education he had, to make Canada a global leader, and to share in his vision for sustainable, innovative architecture that is accessible to all. For that, we will be forever grateful."