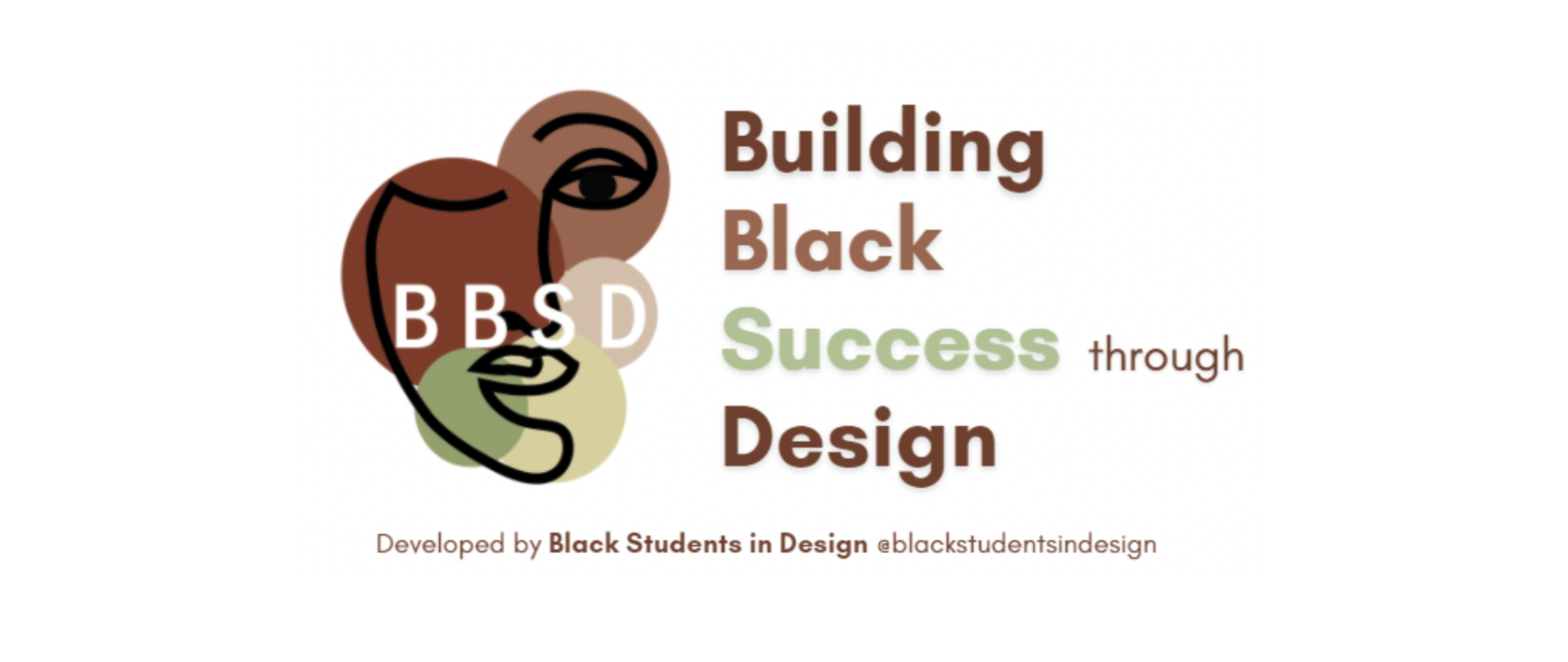 Building Black Success Through Design
The Building Black Success Through Design (BBSD) program provides participants the opportunity to participate in a design competition. This program is for Black high school students who are interested in Architecture and Design. Participants in this program will work with Black Architecture and Design students who will act as mentors, guiding them through a series of workshops that reflect each step of the design competition.  
The workshops will help participants create a sketchbook of drawings and designs, digital drawings, a 3D digital model, a physical model as well as 2 written components. Their work will be presented in a final showcase that will be attended by industry professionals. Outstanding submissions will receive awards and compensation.  The BBSD creates community and connections with Black students interested in design.  This program is designed by Black Students in Design (BSD) and supported by the Daniels Faculty.
If you missed our Information Session, watch it below: 
About the Design Competition
The BBSD Design Competition celebrates the work created during the BBSD Mentorship program. The design competition aims to showcase the work of participants of the BBSD mentorship program. The BBSD program serves to engage young Black Designers in the fields of architecture and design to create submissions for the competition.  The BBSD Design competition showcases the outstanding design achievement and emerging talent of young designers that have come through our program.  Awards will be issued at the final showcase of the BBSD Design Competition.
The BBSD Mentorship program is a 10-week mentorship program. Participants will attend weekly lectures and participate in workshops and activities with their mentors. The program is now fully online. 
WEEK 1: Orientation  
Saturday, January 15 (10am – 2pm)
WEEK 2: Architecture/Design Practices
Thursday, January 20 (5 - 6pm) 
Saturday, January 22 (10am - 2pm) 
WEEK 3: Architecture/Design Tools 
Thursday, January 27  (5 - 6 pm)
Saturday, January 29 (10am - 2pm)
WEEK 4: Careers in Architecture and Design 
Thursday, February 3  (5 - 6 pm) 
Saturday, February 5 (10am - 2pm) 
WEEK 5: Architecture/Design Tools
Thursday, February 8  (5 - 6 pm) 
Saturday, February 12 (10am - 2pm)  
WEEK 6: Introduction to Academic Success 
Thursday, February 17  (5 - 6 pm)
Saturday, February 19 (10am - 2pm) 
WEEK 7: Model Making 
Thursday, February 24  (5 - 6 pm) 
Saturday, February 26 (10am - 2pm) 
WEEK 8: Competition Prep  
Thursday, March 3  (5 - 6 pm) 
Saturday, March 5 (10am - 2pm)
WEEK 9: March Break *No BBSD Program 
WEEK 10: Final Showcase
Eligibility & Registration
DEADLINE FOR SUBMISSION: January 10, 2022
This program is free and for Black High School students who are interested in Architecture and Design.
To apply to this program, applicants will be required to submit the following:
Applicant information form
A short paragraph (250 words max) explaining your interest in this program and why you want to participate in this mentorship program. 
Self-reporting grades form. This should include your grade 10 results for English, and 4 other courses of your choosing. 
In determining admissibility, this program reserves the right to take into account grades in specific subjects and other aspects of the student's academic record.
After registration, successful applicants will be invited to a zoom interview.
Registration is now open! Register HERE
Black Students in Design is a student group within the Daniels Architecture Faculty at University of Toronto that aims to;
Create community by connecting Black students
Encourage Black Students to pursue careers in professional design.
Address racial issues within academia and the design industry
Promote equity and diversity within the school
Start conversations about Anti-Black Racism within Architecture and Design
Clara James, Founder and President  
My name is Clara James, and I am the founder of Black Students in Design. As a recent graduate of the Daniels Undergraduate  Architecture program, I felt the need to create a space for Black students to feel safe, welcome, and inspired to continue their post-secondary education in architecture and design. It has been a year since I created this club and, in that time, we have hosted social and educational events specifically for our Black students at Daniels. I am really excited for our upcoming student program because it will begin to expose more students to architecture and design and hopefully encourage more Black professionals in the industry.  
Renée Powell-Hines, VP and Graphic Designer 
My name is Renée Powell-Hines, and I recently received my Honours Bachelor of Arts degree in Architectural studies from the University of Toronto. I am currently working full time and applying to go back to school for my master's in architecture. When Clara approached me with her idea to start a club and create a safe, welcoming space for Black students, I was immediately onboard. Seeing how much BSD has changed and grown has made me really excited for our future projects, including creating this mentorship program to make BSD even more inclusive! 
Rayah Flash, Events Coordinator 
My name is Rayah Flash, and I am currently in my second year of the undergraduate Architectural and Urban Studies program at Daniels. I am interested in getting involved with the Black community in design.  
Tomi Bamigbade, Events Coordinator 
My name is Tomi Bamigbade, and I am in my first year at the University of Toronto. My major is architecture. I joined BSD to have the opportunity help black students get more involved in design. I am excited for the future because there are changes being made to help more people of color grow in this field. 
Vienna Holdip, Social Media Coordinator  
My name is Vienna Holdip, and I am in my final year at the University of Toronto with a major in Architectural Studies and minor in Visual Studies. This year I have also had the pleasure of joining the BSD team as the Social Media Coordinator. Being part of this group presents the opportunity to provide knowledge in the world of design and provide support to not only inspire but to contribute to black success. I find passion in the idea that a community defining Black visibility in the discipline of architecture is flourishing in the home of Daniels and with hope will give rise to more people of colour in this field. 
This program is supported by the Access Program University Funds (APUF) and the Daniels Faculty Office of External Relations and Outreach.
 For more information about the program please contact: blackstudentsatdaniels@gmail.com