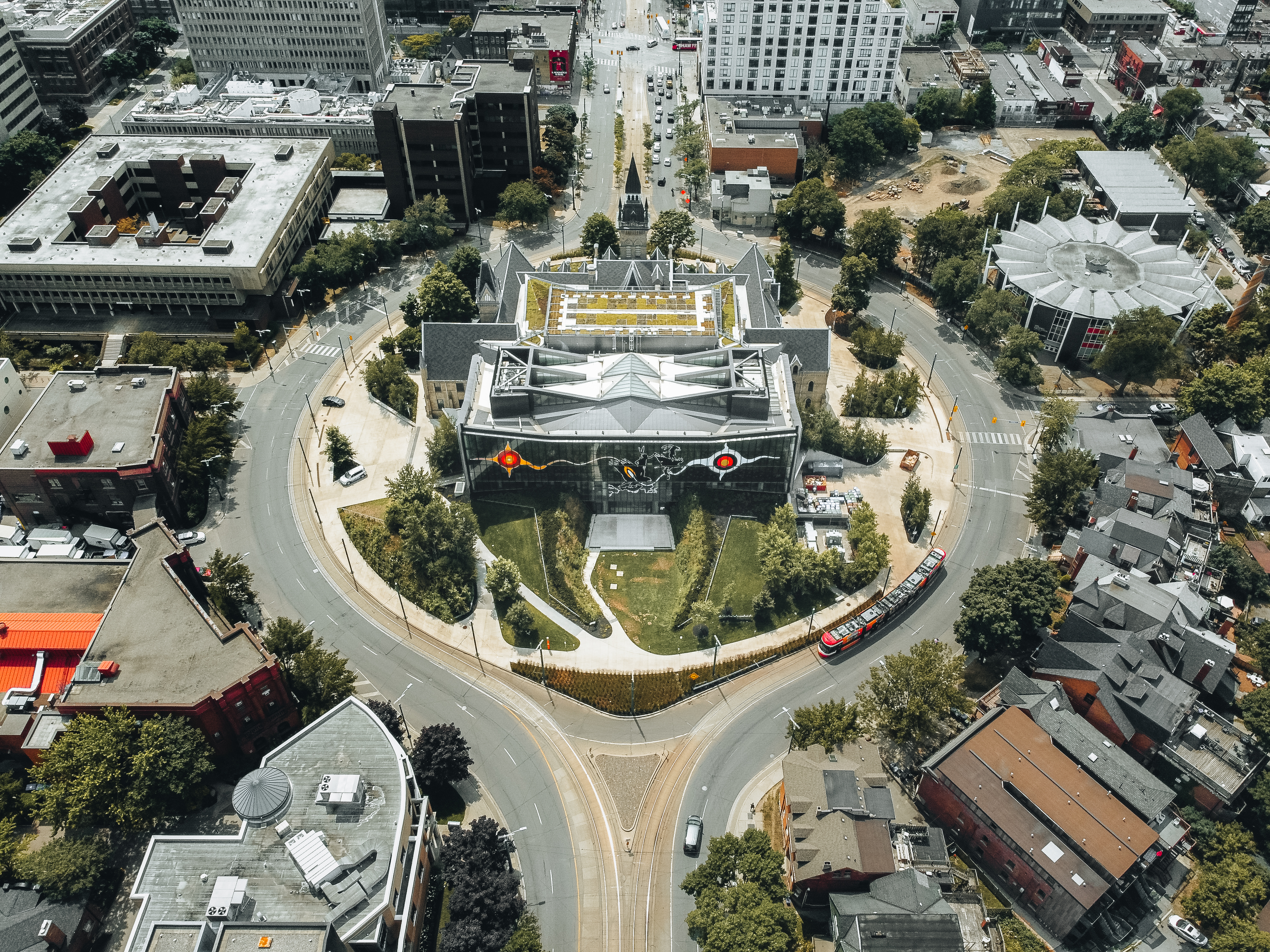 Daniels Mural Project
We wish to acknowledge this land on which the University of Toronto operates. For thousands of years, it has been the traditional land of the Huron-Wendat, the Seneca, and the Mississaugas of the Credit. Today, this meeting place is still the home to many Indigenous peoples from across Turtle Island and we are grateful to have the opportunity to work on this land with Indigenous community members. We encourage everyone to learn the Indigenous history of the land that we call home. We are grateful to all those that came before us. 
The Daniels Mural Project was part of U of T's response to the Truth and Reconciliation Commission's report, Answering the Call: Wecheehetowin. It responded specifically to Call to Action No. 2, a strategy for the funding and placement of more Indigenous public art across all three campuses in close consultation with local Indigenous communities.
The temporary mural by Que Rock, who is a member of Nipissing First Nation, honoured the 215 children whose unmarked graves were discovered at a former residential school site in Kamloops, B.C., as well as the graves that continue to be discovered across Turtle Island. The work depicted a sun on the left side of the facade; representing the Seven Grandfather Teachings of humility, courage, honesty, wisdom, truth, respect and love, it flows to the right side and a figure of Grandmother Moon, representing the connection to Turtle Island, the water nation and Mother Earth. At the mural's centre, children are carried by eagles to the spirit world; the eagles carry fish for the healing journey.
"The mural project is an important step in our continuous process toward collectively answering the calls of Truth and Reconciliation as a University, as a Faculty and as individuals," said Professor Juan Du, Dean of the Daniels Faculty. "Que Rock's artwork will be a visible reminder that every child matters, and that there is much work to be done in the path to healing. The Daniels Faculty seeks to promote dialogue and to generate better understanding of previously overlooked histories and cultures. We look forward to using the north facade of the Daniels Building as a platform for further education and programming this year." 
Proposals were received through an open call issued by the Daniels Faculty in collaboration with team members below. The submissions were reviewed by the Indigenous Advisory Panel, comprised of a group of Indigenous Daniels community members including James Bird, Melissa Deleary, Jaime Kearns, Robin Rice and Brenda Wastasecoot. Many thanks to the Advisory Panel for its guidance and service.
"My goal is to portray the teachings of my ancestors, sacred geometry and the Laws of Nature in all my art forms. The goal for the Daniels Mural Project is a visual healing experience."
Que Rock is an artist from Nipissing First Nation. He started life learning teaching ceremonies through visual healing art forms. Painting, dancing, leatherwork and storytelling were taught to him through traditional Anishnaabe and Odawa ways. His mentors encouraged him to be creative and to not let anything go to waste. As a graffiti artist, Que Rock's work has matured from quickly executed pieces into large street-art projects and works on canvas. Using Anishnaabe teachings and different artistic methods, he focuses on unique painting styles and techniques that create smooth transitions of colour, blending abstract form with realism and expressionism.
 
Que Rock's art is informed both by Anishnaabe culture and the interactions of daily urban life. His love of nature and animals is prominent in his work because of its deep meaning and connection to life. Que Rock refers to his style as "making the woodlands dance." He has collaborated with many artists on projects of all scales, from graphic books to videos to murals around the world.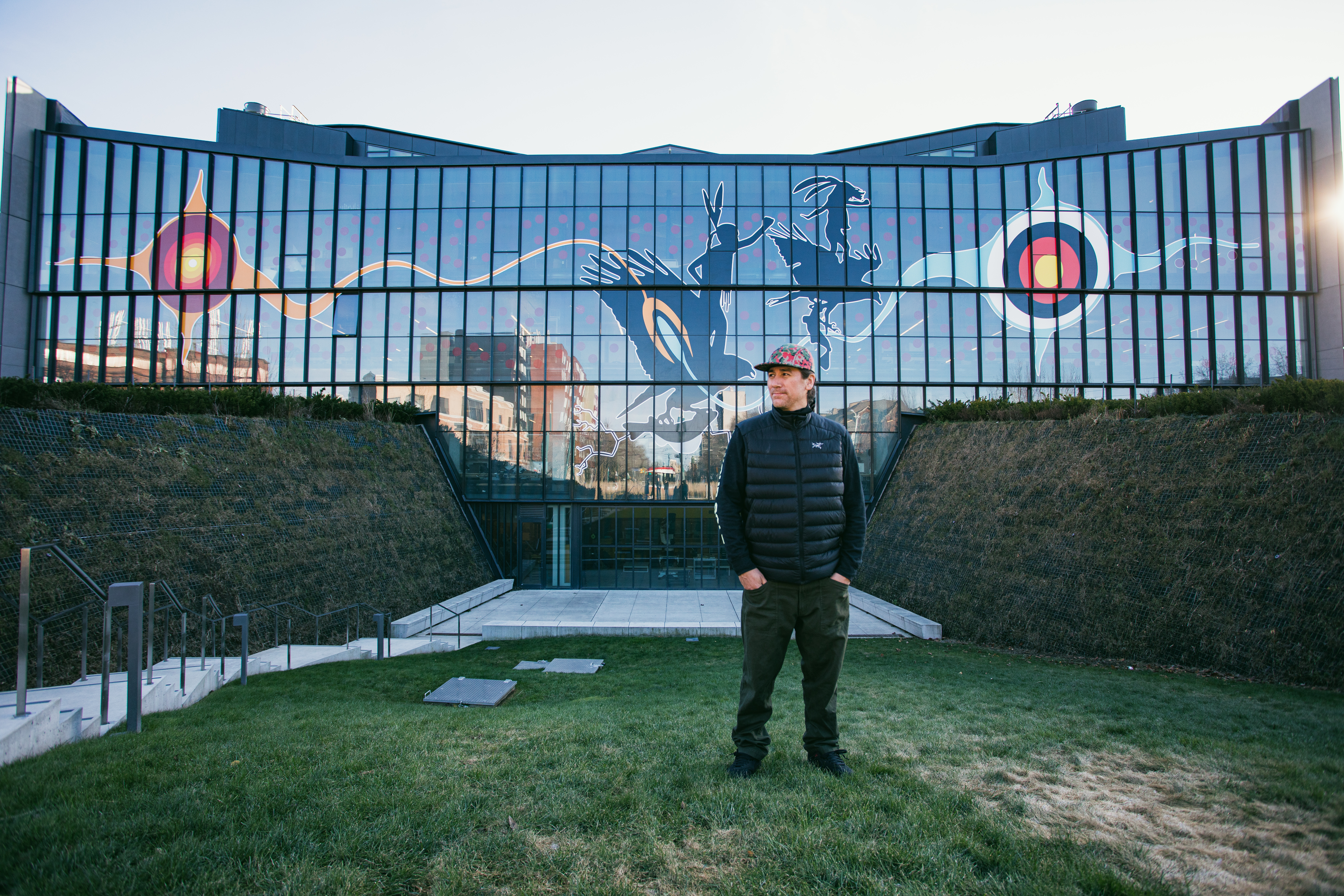 The land of 1 Spadina Crescent has been the home and an important trail of the Mississaugas of the Credit, the Anishinaabe, the Chippewa, the Haudenosaunee and the Wendat peoples. Spadina is synonymous with Ishpadinaa, meaning "a place on a hill" in Anishinaabe.
1 Spadina Crescent, now the Daniels Building, was built originally to house Knox College - a Presbyterian theological school that was run by the Presbyterian Church of Canada, who ran 11 of the 130 residential schools in Canada. We will share this deeper history of the site as we receive the information from validated sources.  
You can engage with Toronto's significant Indigenous history and presence through the Driftscape app, for free on Apple and Android devices.
The Indigenous mural project at the Daniels Building was guided by Elder Whabagoon, an Ojibway Elder who sits with the Loon Clan. She is a member of the Lac Seul First Nation, a Keeper of the Sacred Pipes and a 60s Scoop survivor. Elder Whabagoon was the inaugural First Peoples Leadership Advisor to the Dean at the Daniels Faculty.
The Daniels Art Directive (DAD) is a student-led group that spearheads exhibitions, workshops and community projects. The first mural curated by DAD on the Daniels Building, Support Black Designers, was installed from October 2020 to May 2021. Daniels Faculty staff members Aidan Cowling and Nene Brode supported the project.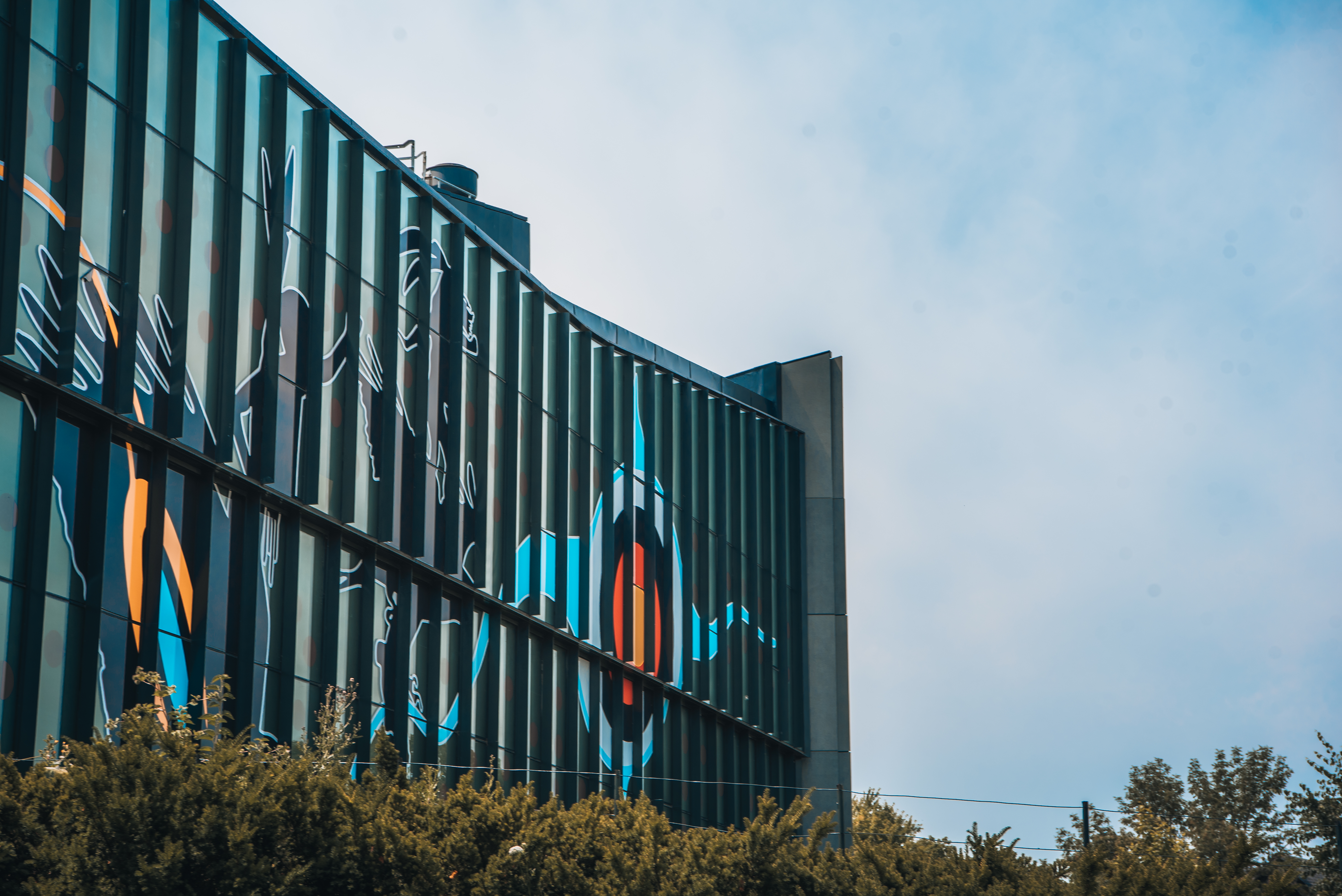 StreetARToronto (StART)
An initiative of the City of Toronto's Transportation Services Division, StreetARToronto (StART) is a suite of innovative programs designed to showcase, celebrate and support street, mural and graffiti artists and art throughout Toronto. StART programs and projects are rooted in a set of values that demonstrate the positive and powerful impacts of diversity and inclusion, foster community engagement and civic pride, add colour and vitality to neighbourhoods, encourage active transportation, showcase Toronto artists and contribute to their skills development, mentor emerging talent and create opportunities for positive engagement among residents, business owners and operators, artists and arts organizations. 
Postsecondary Education Fund for Aboriginal Learners
The Daniels Mural Project and Treaties Recognition Week program are supported through funding received from the University of Toronto Postsecondary Education Fund for Aboriginal Learners. 
Thank you to Shannon Simpson and Melissa Deleary from the Office of Indigenous Initiatives for their incredible support.
Acknowledgments
This project was the result of conversations and collaborations with students, faculty, staff and the community. In addition to those mentioned above, we would like to acknowledge and thank:
Community members: Dr. Heidi Bohaker, Jill Carter, John Croutch, Jon Johnson, Perry McLeod-Shabogesic, Mariah Meawasige (@Makoose), Karl Shay, Nathan Tidridge ImagineNATIVE: Melissa Johns, Niki Little, Teineisha Richards, Kaitlynn Tomaselli
Daniels faculty and staff: Maxim Batourine, Hannah Brokenshire, Sara Elhawash, Amy-Catherine George, Lily Jeon, Naveed Khan, Jeannie Kim, Melissa Montgomery, Jason Nguyen, Joseph Rogal, Mark Teo DAD students: Robin Boehlen, Kha Den De, Aliya Karmali, Sydney Kinzel, Christina Lin, Janet Ma, Michelle Ng, Sanjana Patel, Ava Pouralborz, Isha Sharma, Supriya Saha, Collin Tatton
StreetARToronto Staff members: Catherine Campbell, Jason Campbell, Michael Hutchinson, Carolyn Taylor The
Made2Measure SignWorks Installation Team: Lady Castulo, Curtiss Randolph, Geoff Taylor, Laura Taylor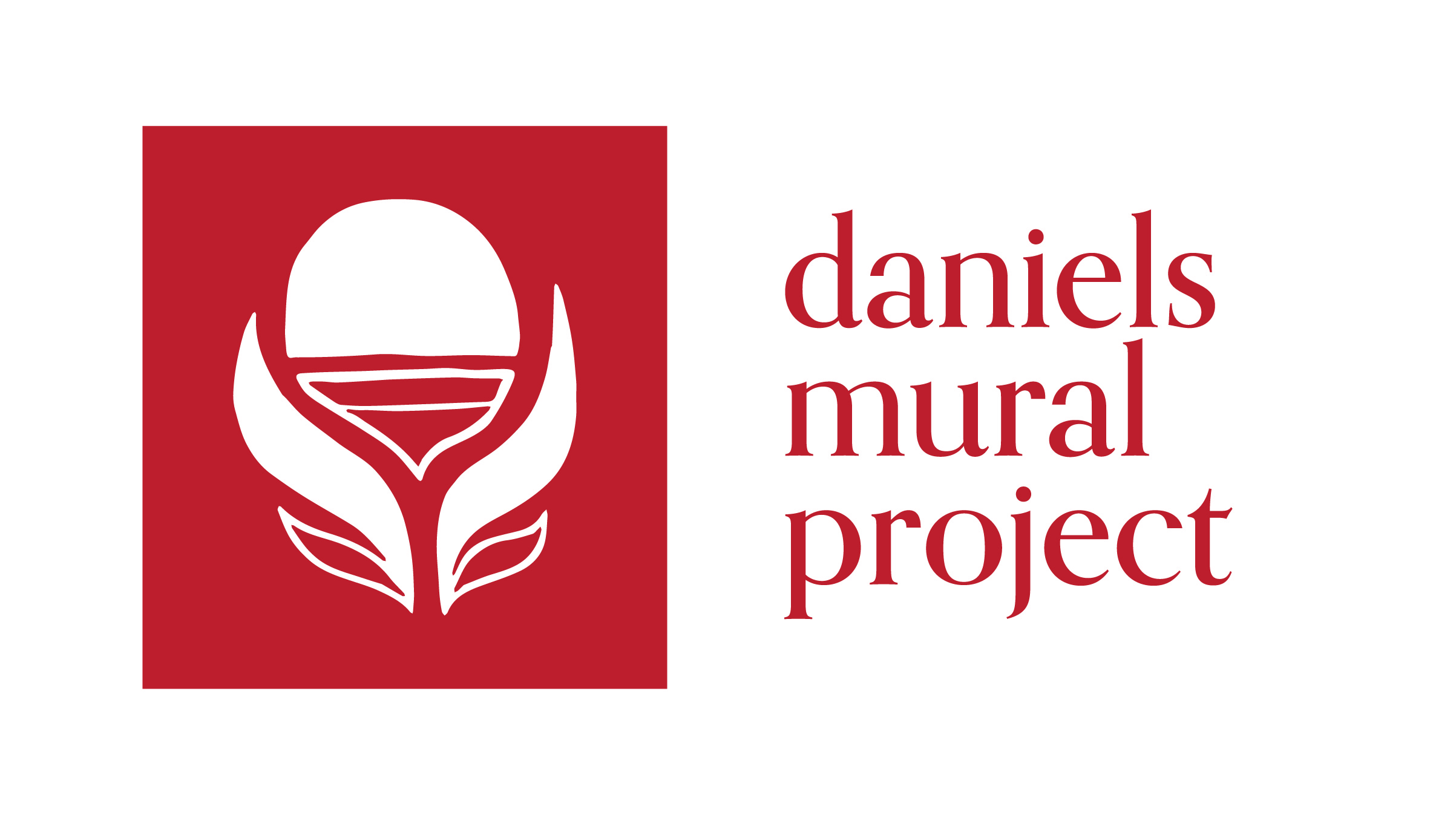 The Daniels Mural Project graphic identity is designed by Mariah Meawasige (@Makoose). Borrowing its shape from the Daniels Building and the surrounding roadways, this concept sees two shapes come together to nourish a new space of conversation, ideas, etc. The bottom shapes are gently holding, but not clutching, onto something that will eventually grow larger.