Master of Urban Design (post-professional)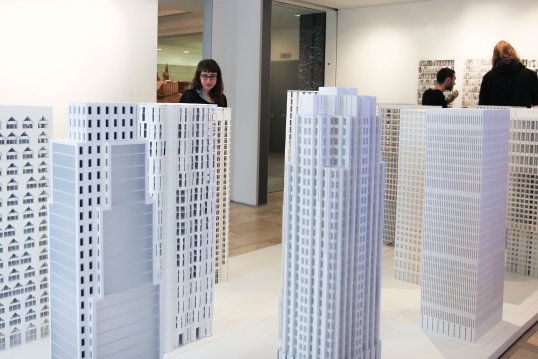 Description
The Master of Urban Design (MUD) program prepares architects and landscape architects for design-based research and professional practice at the urban and regional scales. Please click here for a diagram of the degree requirements.
The MUD curriculum capitalizes on the wealth of resources at the University of Toronto to establish interdisciplinary and inter-professional collaboration, initiating forms of research and practice that are suited to the breadth of urban design. The program also draws on the largest pool of expertise and talent in Canada by involving leading figures of the Toronto urban design community in teaching, external reviews, and special events.
The MUD program is committed to design as a primary medium of operation and research, in a broad intellectual framework that includes geography, environmental studies, social sciences, media studies, economics, and engineering. It aims for responsible and creative design in the context of the post-metropolis, with attention to new paradigms of urbanization, global economic restructuring, and information technology. The program emphasizes a coherent intellectual approach that is committed to analysis and critique and seeks to become the central Canadian forum for advanced research, design innovation, scholarship, criticism, and debate in urban design.
The Master of Urban Design is a two-year post-professional program open to those with a professional degree in architecture (BArch, MArch) or landscape architecture (BLA, MLA) — and to others such as those with degrees in Urban Planning who have demonstrated design ability and experience — with a final year average of at least mid-B from the University of Toronto or its equivalent from a recognized university.
More information on admissions is available on our Graduate Admissions page.
Requirements
Students are required to take a total of 10 credits which are normally expected to be completed in two years. Of the total credits required, 7.0 are in core courses and 3.0 are in electives, 2.0 of which must be from the History, Theory, Criticism category. Generally courses will be delivered in the Fall and Winter terms.
Curriculum
Term 1
URD 1011Y: Urban Design Studio
URD 1031H: Urban History Theory Criticism
URD 1021H: Urban Design Computation
URD1041H: Introduction to Urban Design Theory and Practice
Term 2
URD 1012Y: Urban Design Studio Options
URD 1044H/PLA 1655H: Urban Design and Development
Elective
Elective
Term 3
URD 2013Y: Urban Design Studio Options
URD 2014H: Thesis Research and Preparation
Elective
Elective
Term 4
URD 2041H / PLA 1651H: Planning and Real Estate Development
URD 2015Y: Urban Design Studio Thesis
Elective