Master of Urban Design (post-professional)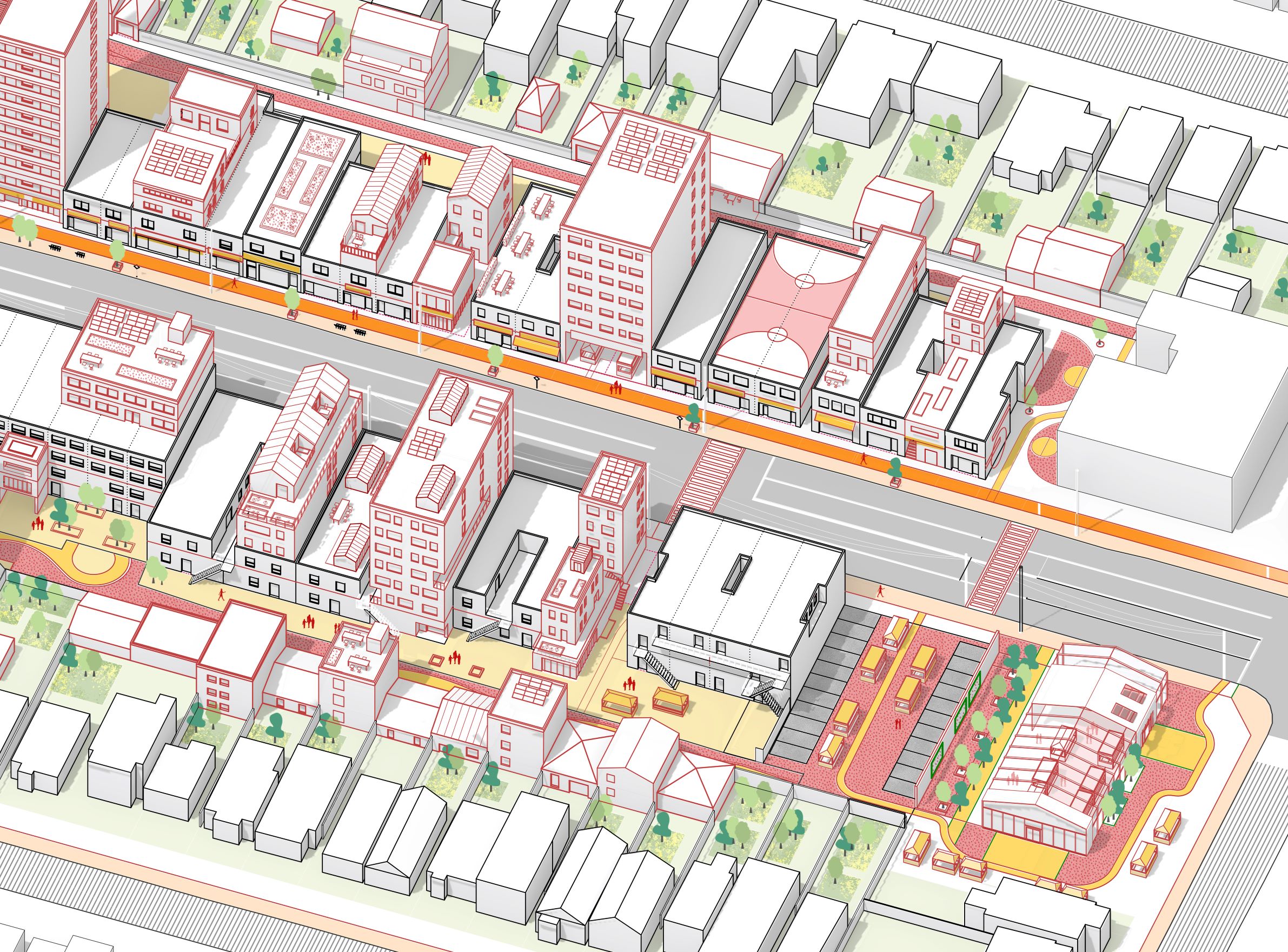 The Master of Urban Design (MUD) program foregrounds equity in the built environment, exploring practice-based design knowledge as a medium for engaging the social and ecological challenges produced by global urbanization. The program leverages the progressive potential of the Canadian context and the rapid growth of the Greater Toronto Area as a space to explore these challenges as they come to bear on the future of North American urban regions.
While focused on design as a medium of practice and research, the program builds connections to urban planning — and more broadly to the social and environmental sciences — to explore speculative design thinking as a lens to reimagine the policies, infrastructures, and economies that govern city building today.
To this end, it engages real-world issues and partners with local institutions to facilitate knowledge exchange with design practitioners, decision makers, and advocates who actively shape the city. For example, we are excited to partner with the Toronto District School Board as a means to introduce MUD students with communities who are often underrepresented in more official planning and design processes. We have also partnered with an urban design office in a regional municipality to explore pressing social and ecological issues. Our studios sequence is coordinated with city planning offices in the region, non-profits, and advocates in order for students to apply experimental thinking to problems on the ground. With the central location of the Daniels Faculty in the city of Toronto, the urban design program seeks to become a broadcast point for design practice as an agent of progressive urban change.
The Master of Urban Design is a two-year post-professional program open to students with a professional degree in architecture (BArch, MArch) or landscape architecture (BLA, MLA) — and to others with degrees in related fields who have demonstrated design ability and experience — with a final year average of at least mid-B from the University of Toronto or its equivalent from a recognized university.
Students are required to take a total of 10 credits which are normally expected to be completed in two years. Of the total credits required, 7.0 are in core courses and 3.0 are in electives, 2.0 of which must be from the History, Theory, Criticism category. Generally, courses will be delivered in the Fall and Winter terms. Please click here for a diagram of the degree requirements.
Term 1
URD 1021H: Urban Design Computation (intensive two-week course in late August)
URD 1011Y: Urban Design Studio
URD 1031H: Urban History Theory Criticism
URD1041H: Introduction to Urban Design Theory and Practice
Term 2
URD 1012Y: Urban Design Studio Options
URD 1044H/PLA 1655H: Urban Design and Development
Elective
Elective
Term 3
URD 2013Y: Urban Design Studio Options
URD 2014H: Thesis Research and Preparation
Elective
Elective
Term 4
URD 2041H / PLA 1651H: Planning and Real Estate Development
URD 2015Y: Urban Design Studio Thesis
Elective
Header image credit: Micro Density: Growth and Preservation Through Small Fabric Infill, 2021, designed by Yutong Zhao.