Jamie Latimer, "Wetland Rehabilitation at MOMA, Rio de Janeiro"
Each student in Landscape Architecture 3 was assigned one of nine different iconic gardens from around the world. After studying their gardens, they produced detailed proposals for each site's transformation over a period of decades. Jamie's site was the garden beside Rio de Janeiro's Museu de Arte Moderna.
The museum garden was originally designed in the mid-20th century by Roberto Brule Marx. "His whole approach was to create this didactic landscape of Brazilian heritage," Jamie says. "The idea was to showcase Brazilian landscape and show the value and diversity and beauty of it. And that was to bring about a greater appreciation of the Brazilian landscape, which was suppressed during colonial times, when what was considered beautiful were all of the European invasive species."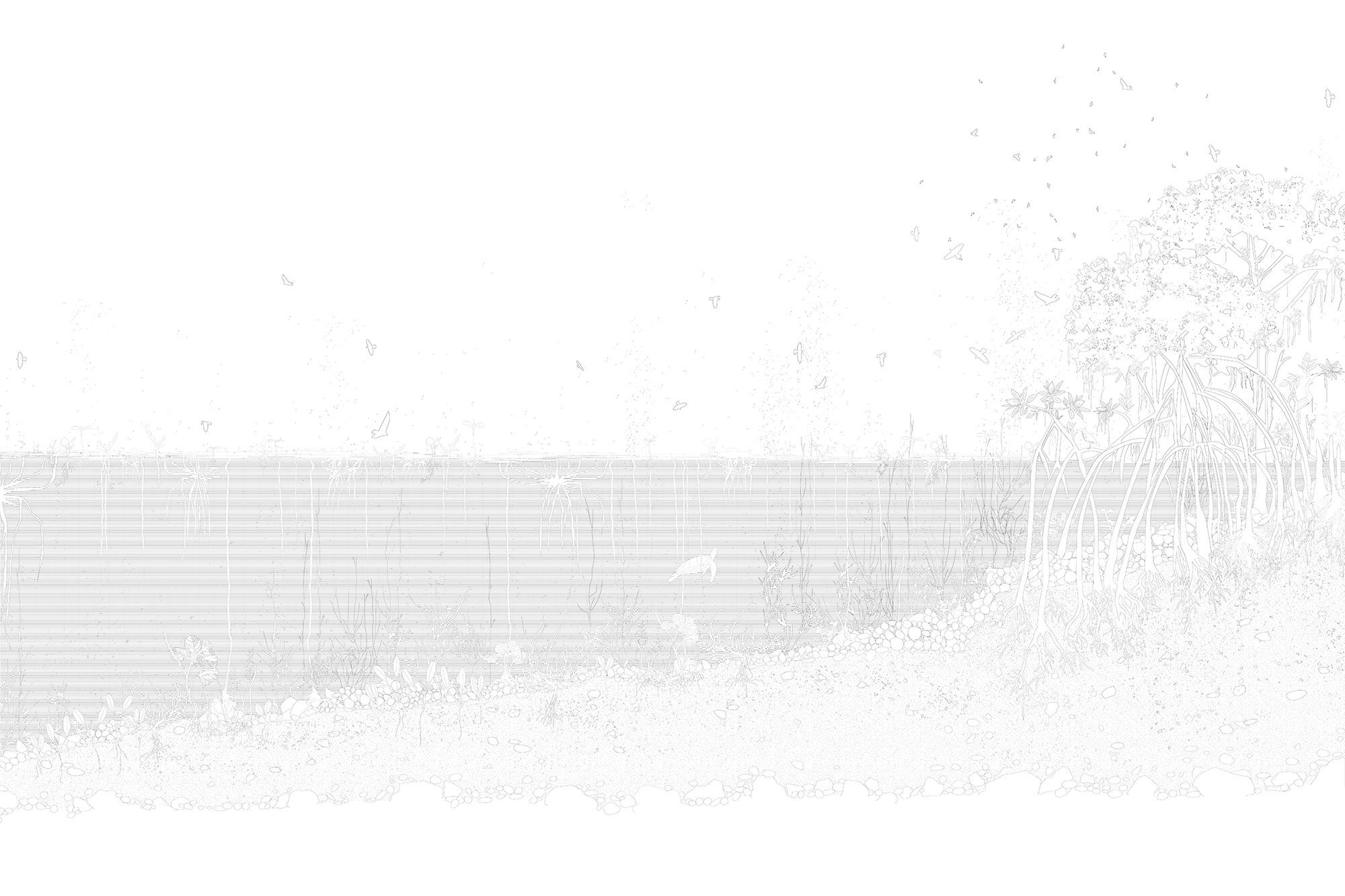 Drawing of a mangrove-lined coast. (Click here to view a larger version.)
Jamie was interested in finding a way to continue that approach. For inspiration, he looked just beyond the garden, to the adjacent shoreline of Guanabara Bay. After some historical research, he discovered that the bay was once lined with a coastal mangrove ecosystem, most of which was later subsumed by the city. "I wanted to continue Roberto Brule Marx's emphasis on creating a didactic landscape by showing the value, beauty, biodiversity, and resiliency of these mangrove wetlands," Jamie says.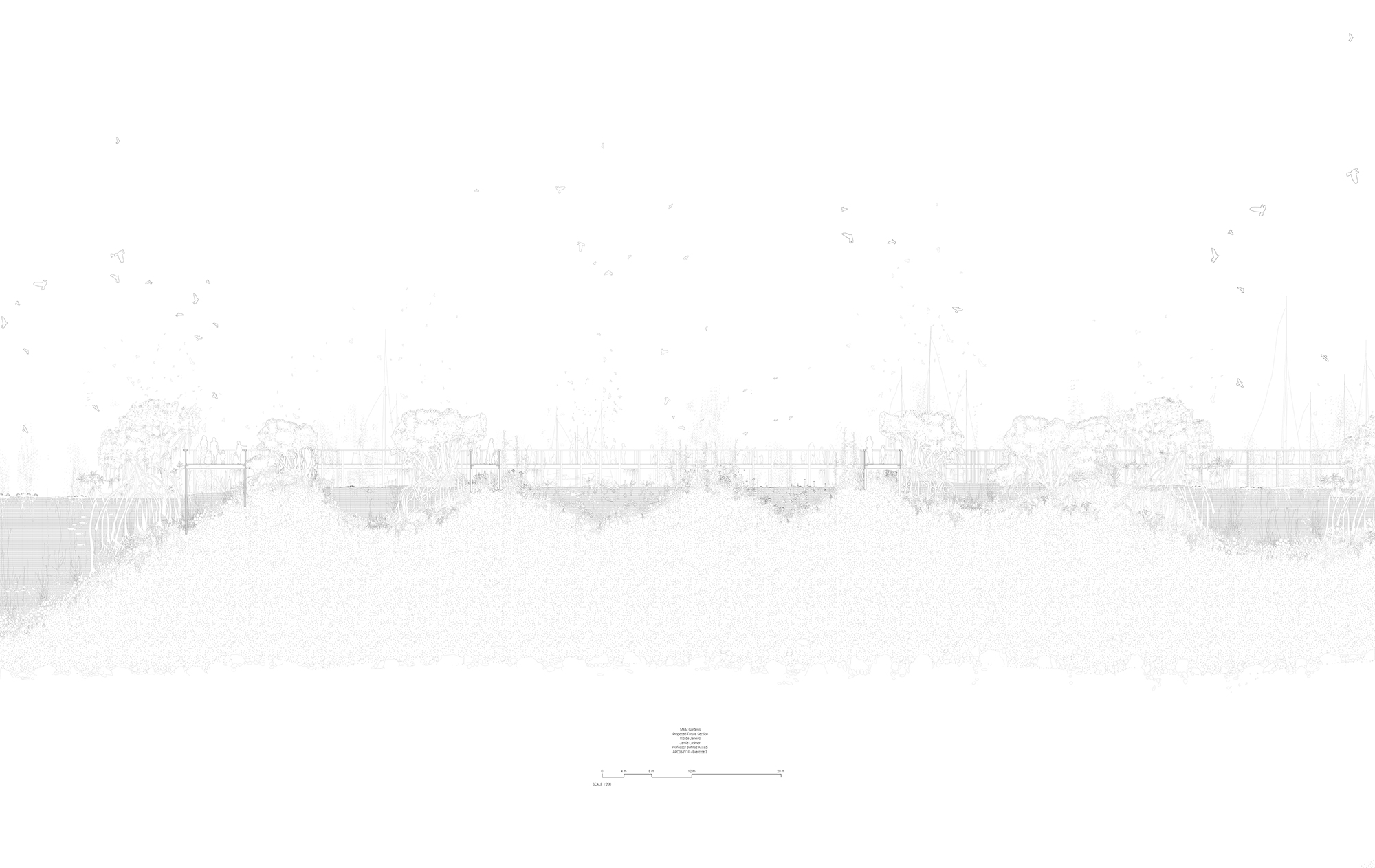 Section view of Jamie's water gardens. (Click here to view a larger version.)
Jamie designed a shoreline addition to the museum garden that wouldn't require the existing garden to be reconfigured. His design creates an archipelago of water gardens along the curvature of the waterfront. Shallow pools would be excavated and flooded, so that they could act as aquatic garden beds. With that done, native species would slowly be reintroduced, starting with grey mangroves and other hardy plants. The early plantings would clean and filter the bay's waters, setting the stage for the reintroduction of other, more delicate native plant species. "I'm establishing a coastal aquatic landscape that operates as an archive of the local marine ecology," Jamie says.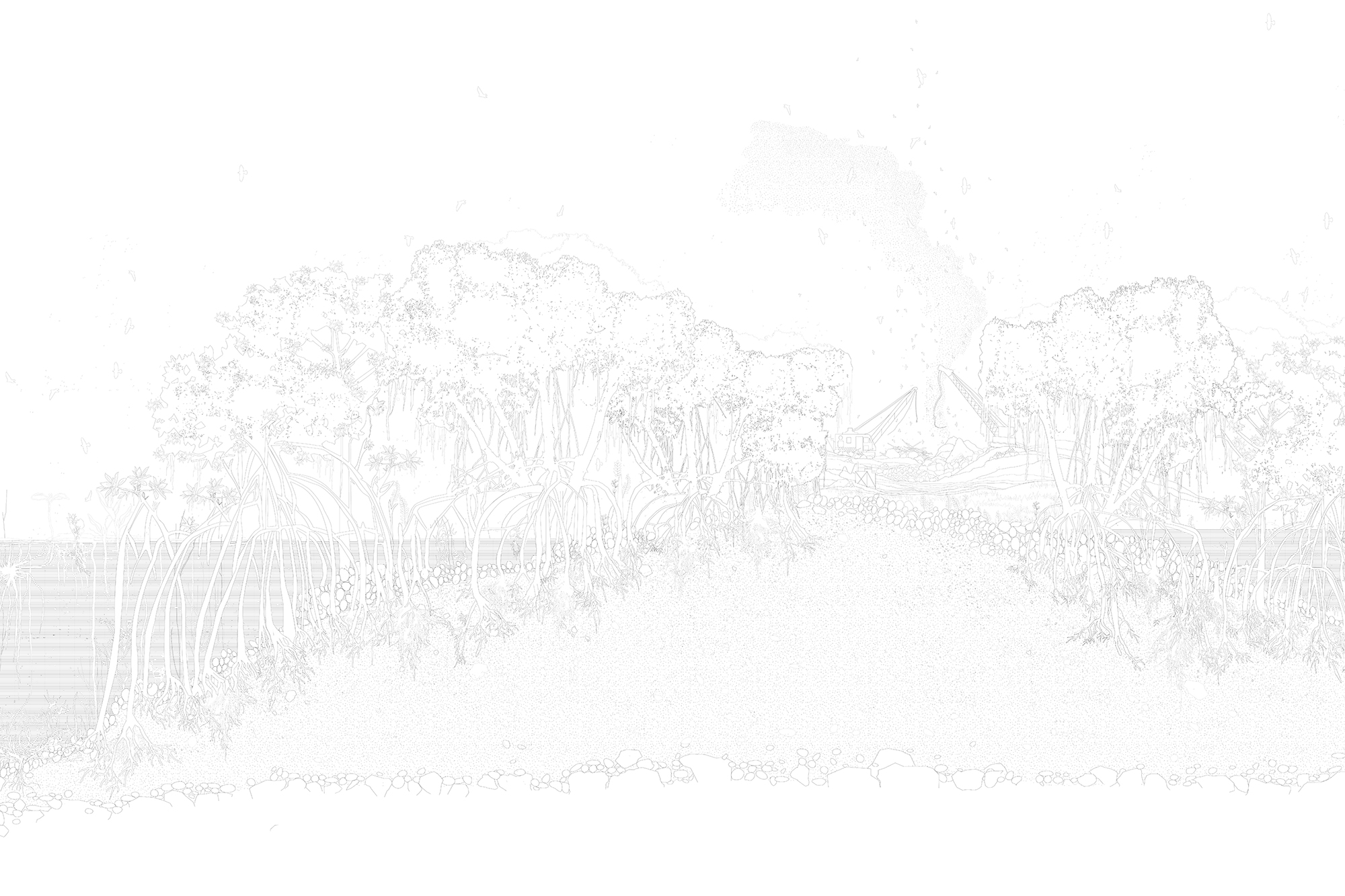 Perspective drawing showing a water garden being excavated. (Click here to view a larger version.)
In the final phase of the overhaul, Jamie would open his gardens to visitors. His plan includes a new viewing centre, located in a section of Brule's original garden. Visitors to the centre would be able to peruse reading material and exhibitions that would help them understand the significance of the plant life all around them.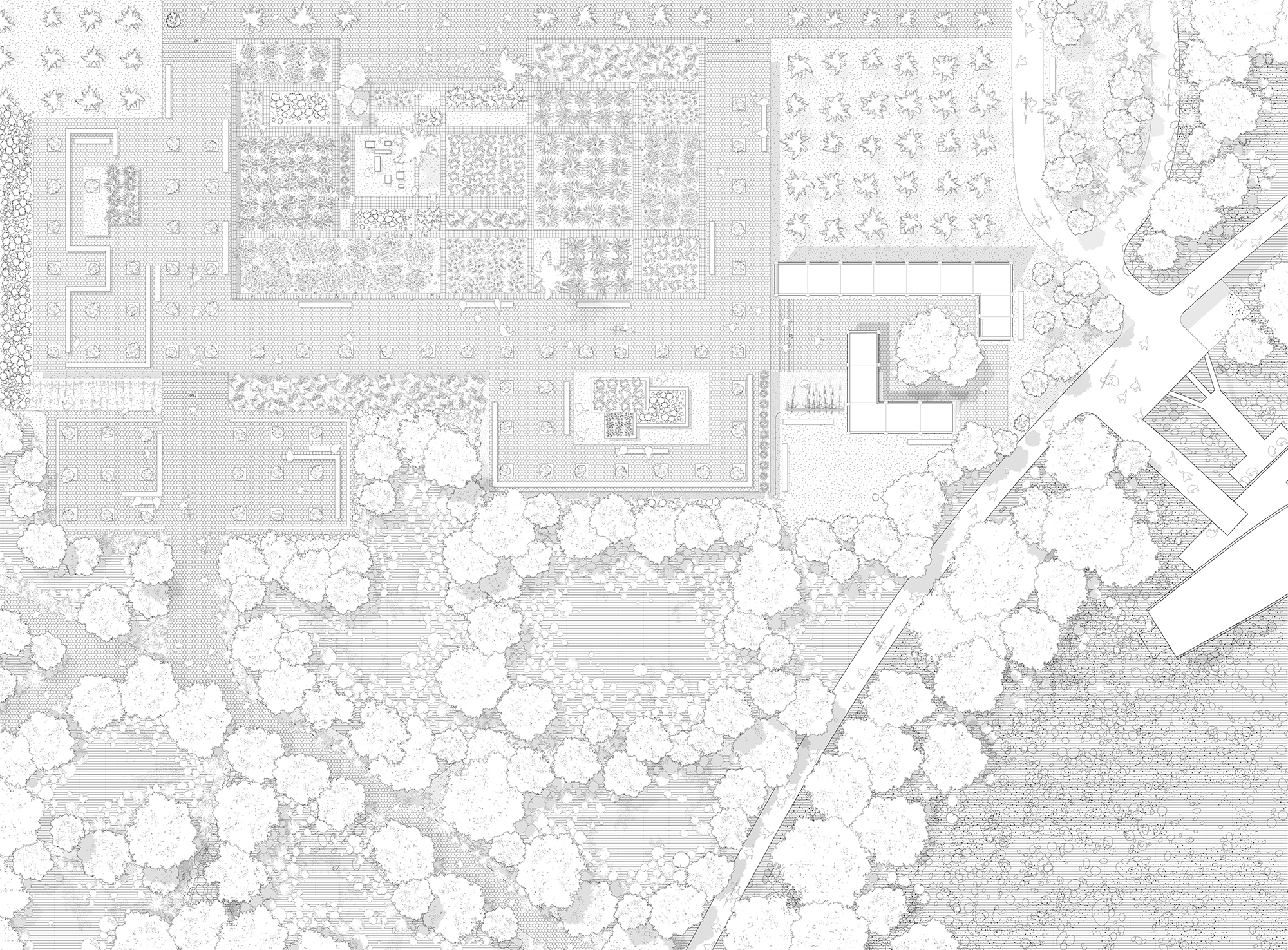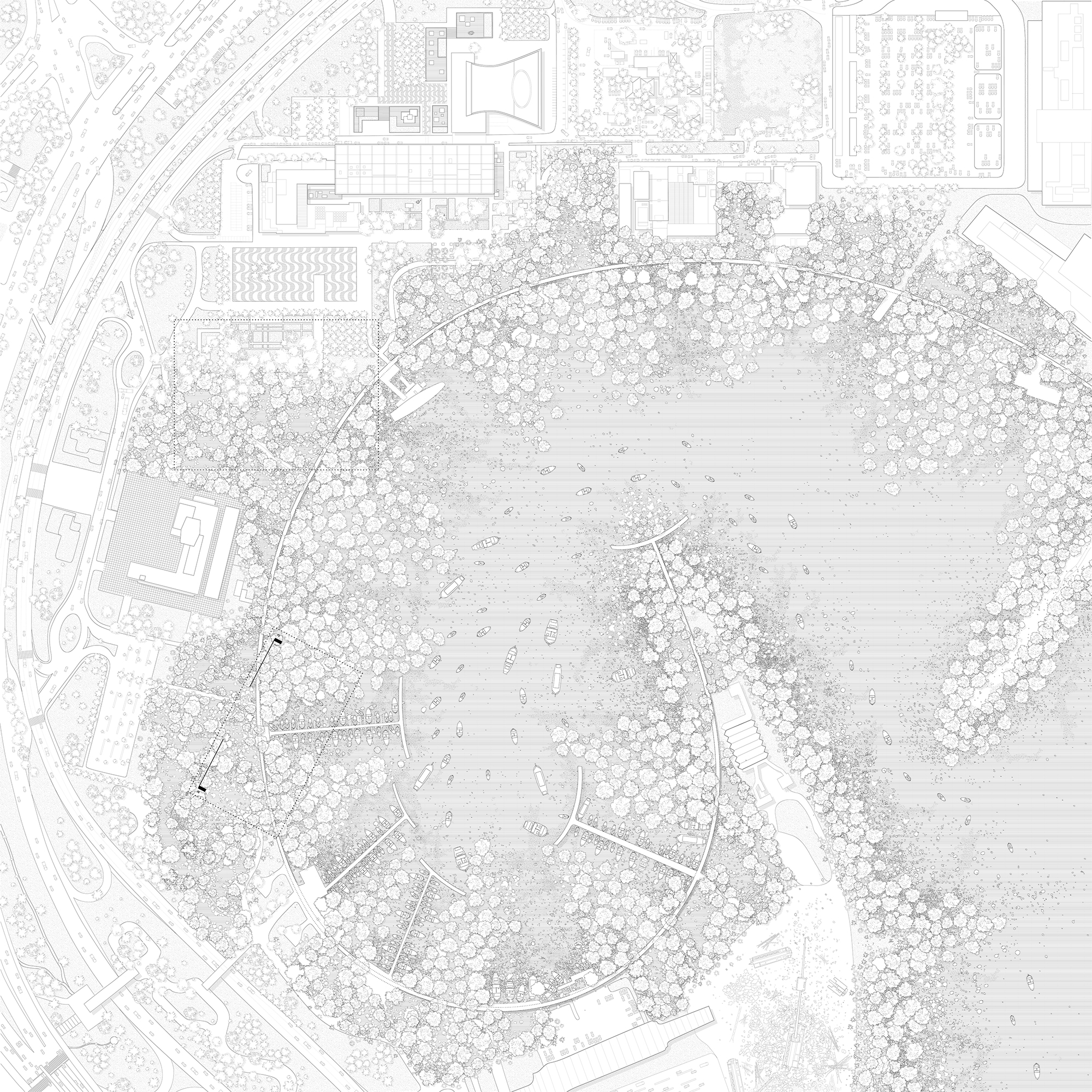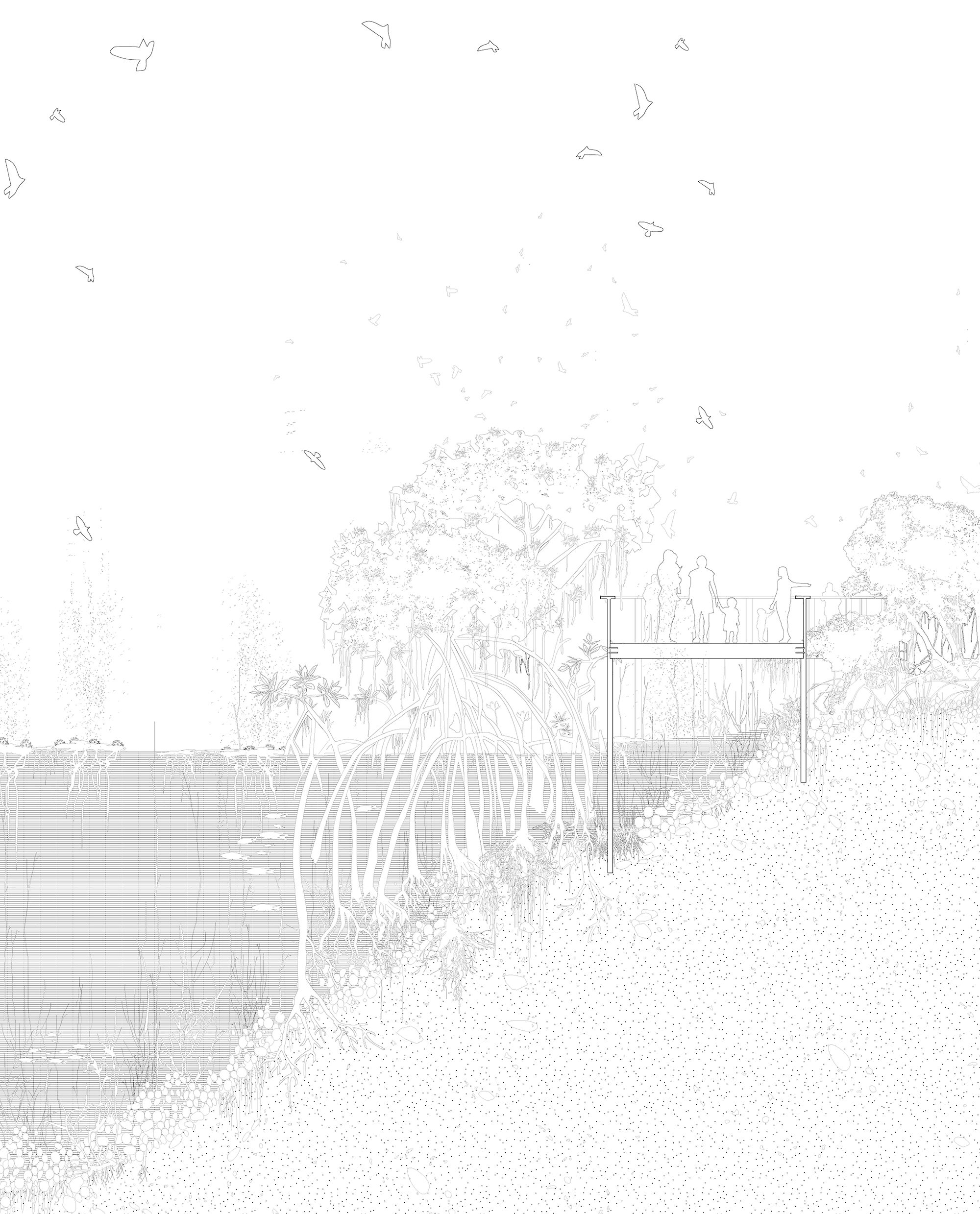 Top: A site plan, showing Jamie's viewing centre. Middle: A site plan showing the waterfront, with the boardwalk following the shoreline. Bottom: Section drawing of the boardwalk.
The viewing centre would be linked to a boardwalk that would curve around the entire museum waterfront. The elevated walkway would allow visitors to view the water gardens from a safe vantage point, where their footsteps couldn't disturb the delicate miniature ecosystems below. "It's one large gesture that I thought would be the least invasive and most experiential way for visitors to engage with the park," Jamie says.
Instructor: Behnaz Assadi