For further information regarding Computing & Audio Visual Support, please follow any of the links below:
The Daniels Faculty's IT department provides support to Daniels students, faculty, and staff Monday to Friday, between 9:00am and 5:00pm. The team supports a variety of issues, including account activation, e-mail, wireless access, connecting to our network and printing.
To receive assistance from IT staff, one must first create a ticket. Tickets are tracked to ensure your questions are answered in a timely manner, and to monitor ongoing issues so that we can continue to improve our service.
How do I get IT Support?
Create a ticket via one or the following methods:
1. E-mail: it.help@daniels.utoronto.ca
OR 
2. Use our Online Ticket System: https://daniels.help.utoronto.ca (Requires Login)
Instructions on how to create a ticket using the Online Ticket System:
This is what you should see.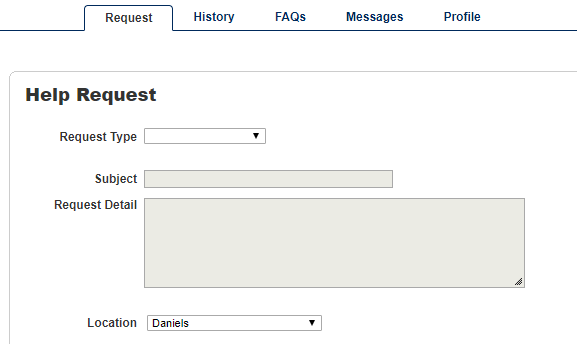 Next to Request Type, select "Daniels" from the drop down menu.  Once "Daniels" is chosen, other drop down menus will appear. Select the Request Subtype (e.g. Wireless, Wireless Connectivity).

Enter the Subject for which you require help.
Request Detail: provide information about your problem.

Location: select "Daniels".
Click "Save".
Make sure to Logout after you are done.

Once you have submitted the ticket, someone from our department will be happy to assist you.
What information should I include in the ticket?
Before we can help you, we will need to know basic information about your computer (e.g. is it a Mac or a PC?) as well as the specific events related to the error or problem. A complete and accurate description of the problem, will help our technicians provide better support. Questions we will need you to answer include:
What platform are you using? Mac OS X? Windows XP? Linux?
Type of Internet Service? Dial-up? High Speed?  Wireless?
Type of Browser? Safari? Firefox? Chrome? Internet Explorer? and version.
Your contact information: Is it your cell, home, or work phone number? Please ensure your e-mail and any other contact information is correct.
We need YOUR HELP to troubleshoot the problem:
It is imporant to report problems as accurately and promptly as possible.
Ensure you have read any necessary documentation where applicable, i.e. manuals, quick notes, or online resources.
Use the help pages on this website. Google Searches on any problem may also be helpful for more seasoned users.
Visit the troubleshooting guides listed within the Daniels Computing Resource Page, such as wireless setup, getting connected using vpn and/or login checklists to help eliminate and troubleshoot your problem. These have been created because they are the MOST COMMON solutions.
Ask your peers within your class. Since most courses at Daniels are about building community, it is highly encouraged that peers help each other. Most online environments here at Daniels have a place (conference, forum or view) to post technical questions.
What is the cost?
There is no cost for support services, but there is a fee for renting laptops.
Hours and Location                                                       
Technology Services Office
Room 177, One Spadina Crescent
Regular Hours:      Mon - Fri 9:00am - 5:00pm
Summer Hours:     Mon - Fri 9:00am - 4:30pm