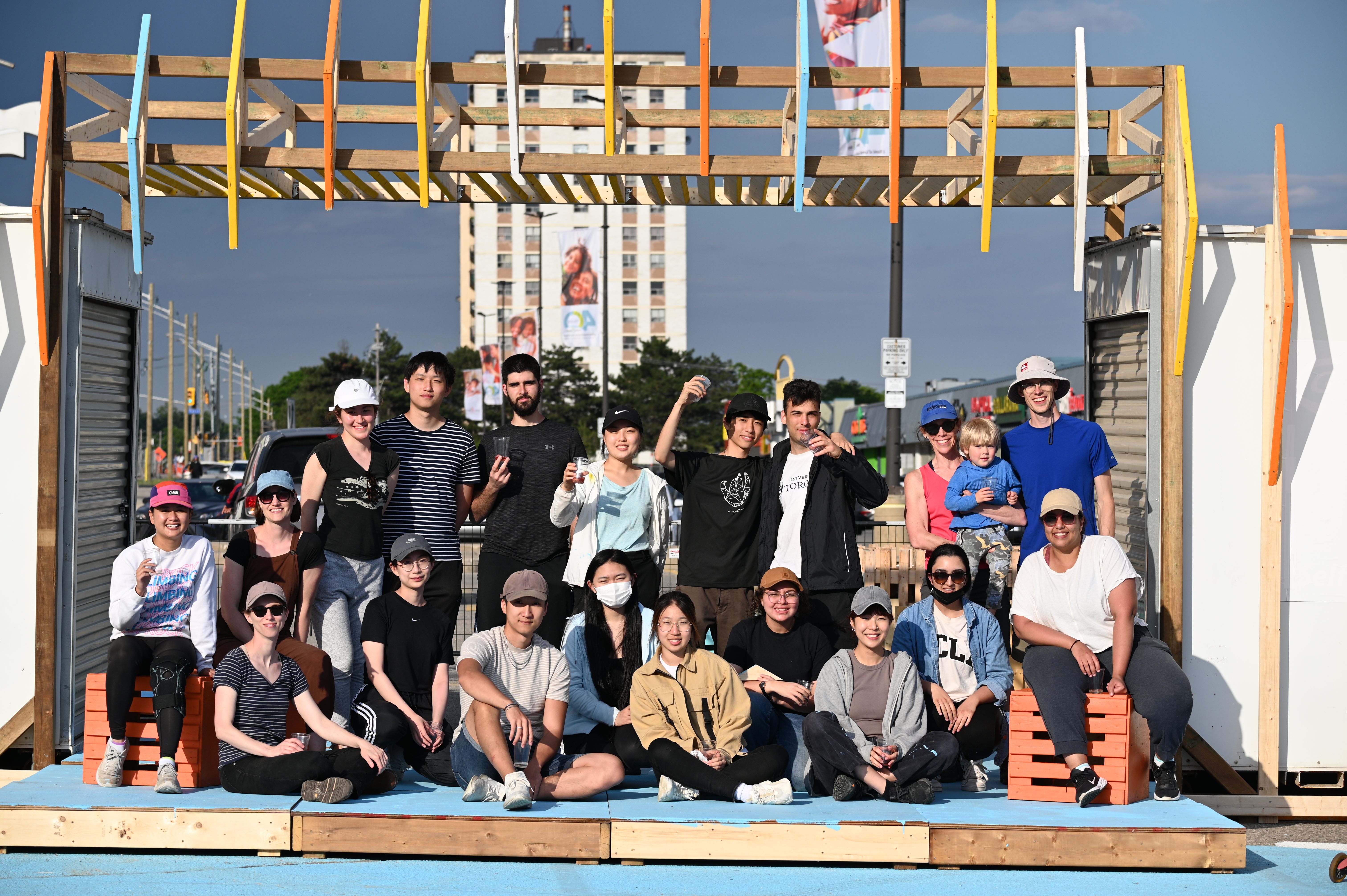 09.06.22 - From cars to community: Daniels Faculty architecture students transform a shopping mall parking lot into a welcoming public space
How do you transform a standard shopping-plaza parking lot into a thriving community space that people actually want to be in?  
In late spring, students enrolled in the Design Build Studio architecture course called Corner Commons pondered just that, designing and then building two shade pavilions and a stage canopy in an area outside Toronto's Jane Finch Mall. 
Architect, urban designer and Daniels Faculty alumnus Clint Langevin co-led the course alongside Amy Norris, an architect at Diamond Schmitt Architects, as a social-purpose exercise with the Jane Finch Community and Family Centre. The result was Corner Commons, a temporary informal gathering space that transformed a portion of the Jane Finch Mall into a multifaceted public resource that the community will be using all summer long. 
Among the interventions that the students made on the site were a new focal point for visitors, a substantial shaded area where residents could gather and relax, and a flexible space for performances and other community-led programming.   
"These studios are an incredible learning experience for everyone involved," says Langevin, an architect at Perkins&Will. "For the students, it is often the first time they encounter the real challenges and rewards of designing a built project for an actual client, who they meet, present to and receive honest feedback from." 
"For us," adds Norris, "it is hugely energizing to jump into this wild sea of ideas and perform the balancing act of guiding the group toward something that is achievable within our timeframe and budget but retains their design aspirations for the project. The design week alone is super satisfying, but the real magic is the week of turning the lines on paper into an occupiable public space with our own hands.  
"There are too many personal and professional lessons learned to list, but watching the development of everyone's skills, knowledge and confidence over that week and ultimately their pride in building a unique public space for the community is hugely rewarding." 
With the Mall's support, the Jane Finch Community and Family Centre will be hosting a wide range of activities and events in the space this summer, with local artists, resident leaders, grassroots groups and various community organizations from the neighbourhood participating.  
The Corner Commons project was awarded a 2022 National Urban Design Award of Excellence by the Royal Architectural Institute of Canada (RAIC), which called it the product of "an exceptional community-driven process." 
"It is clear," one jury member wrote, "that the community came together under the banner of this initiative. Because of this ownership in process and purpose, the result is a space for the community and by the community. With enough infrastructure to sponsor a wide diversity of programming, from community gardens to performance spaces to spaces for protestation, it is truly the hallmark of authentic public space." 
 
Additional studio and site support was provided by Jonathan Wong and Perkins&Will staff. To learn more about the course, visit this web page.  
Photos by Urban Designer, Eunice Wong of Perkins&Will.