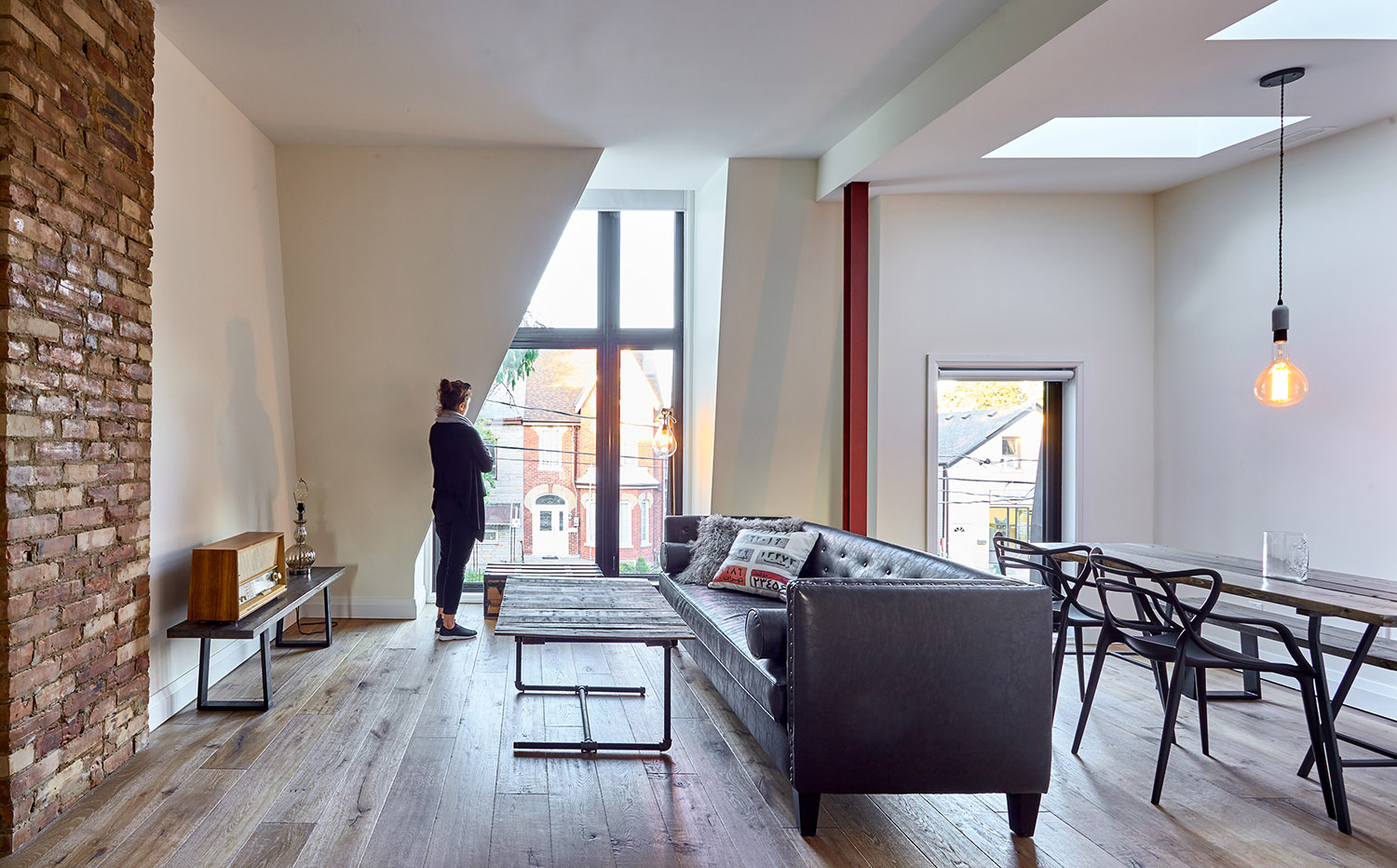 10.07.16 - Ja Architecture Studio creates "abstract, urbane" design for Queen Street house
A residential design completed by Ja Architecture Studio — the office of Daniels Faculty alumni Nima Javidi (MUD 2005), Behnaz Assadi (MLA 2008), and Hanieh Rezaei (MUD 2004) — was recently given favourable review by The Globe and Mail.
From the Ja Studio Blog:
"Split-Semi is a renovation project on Dovercourt road that transforms the original semi-detached house into two units with a walk-out basement. The facade of thebuilding has been removed and replaced with an architectural relief. A landscapeintervention creates multiple zones in the front yard of the house that allows a more efficient use of the frontage as well as a livelier streetscape. The design of the facade addresses the original fold on the mansard roof while a modern bay window opens up the project onto the street."
The house was bought by developer Laleh Rouhani of Luloo Boutique Homes — a family-run remodeling business — with the intention to separate the building into short-term AirBnB rental units. This property was one of the first steps in Luloo's long-term ambition to create a boutique hotel, Rouhani told Toronto Metro News in an interview earlier this year.
Located steps away from Queen Street's bustling corridor, the house attracts visitors with its proximity to one of world's "15 coolest neighbourhoods," according to Vogue Magazine, and its "abstract, urbane" façade, as described by John Bently Mays for The Globe and Mail.
"The subdued, sombre tone of the copper cladding is a close match, as far as colour goes, for the elderly, reddish-brown brick fabric round about," writes Mays. "The geometry is not timid about its poetic, radical pedigree – it is a leaf on Le Corbusier's tree – but neither does it brag about its lineage in the company of the blue-collar Victorians up and down the street."