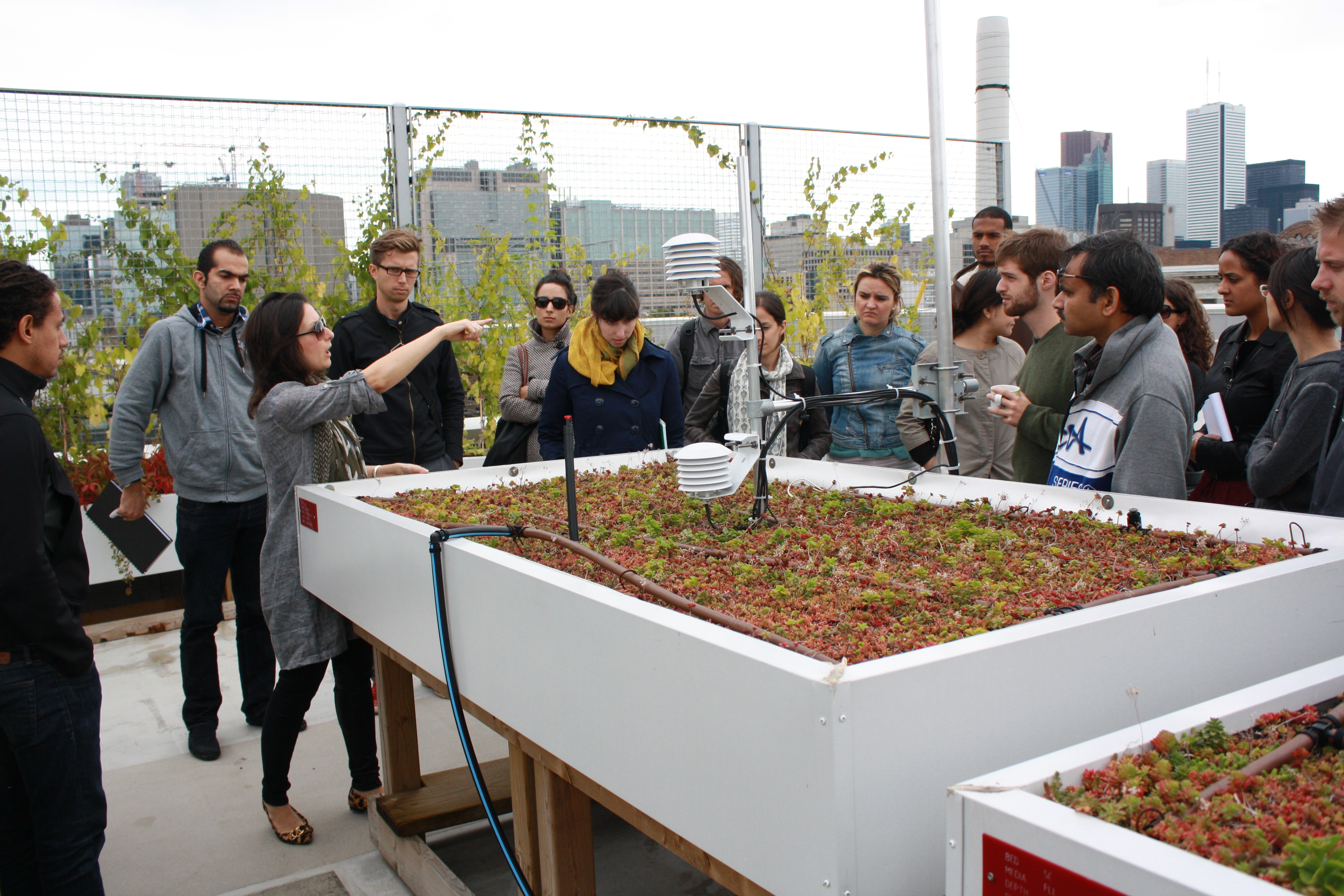 01.02.17 - Making green roofs greener: Liat Margolis shares research results from the GRIT Lab
Associate Professor Liat Margolis reported findings from the past seven years of research at the Daniels Faculty's Green Roof Innovation Testing Laboratory (GRIT Lab) in an article written for the most recent issue of Ground Landscape Architect Quarterly. 
The GRIT Lab is located on the rooftop of 230 College Street in Toronto. Established in 2010, the  state-of-the-art facility is the only one of its kind for testing the environmental performance associated with green roofs, green walls and solar photovoltaic technologies in Canada.
"It is essential that design guidelines and performance benchmarks emerge from an understanding of the local environment," writes Margolis. "In other words, empirical research and post-construction evaluation undertaken in distinct climate and ecological regions will help to generate the quantitative data necessary to develop more nuanced and locally relevant policies and practices."
Margolis and the interdisciplinarey team of researchs that work at the GRIT Lab found that in some situations, different variables — such as plant and soil type, irrigation practices, and soil depth — provided nuanced outcomes that would benefit different situations. For example, Sedum plants were more hardy than the grass and herbaceous plantings; however, the grass and herbaceous plantings provided a more welcoming environment for native wild bee populations.
Margolis cites examples like this to illustrate the importance of continuing the investigation of green roof performance metrics. Says Margolis, "many options exist and have yet to be developed for growing media, plant communities, and irrigation techniques."
For the full article and more articles from the Winter 2016 issue, visit the Ground magazine website.
Announcing the Committee on the Environment, Climate Change, and Sustainability
Margolis is among the members of U of T's new Committee on the Environment, Climate Change, and Sustainability. The creation of this Committee was one of the key recommendations in the Administrative Response to the Report of the President's Advisory Committee on Divestment from Fossil Fuels. Its mandate is to identify ways to advance the University's contribution to meeting the challenge of climate change and sustainability, with a particular focus on research and innovation, teaching, and University operations.