05.09.18 - Artist Gareth Long Travels with Two Donkeys in Toronto's Don Valley
Visitors to Toronto's Lower Don Valley trail this past June may have found artist and Daniels Faculty Lecturer Gareth Long out for a stroll with a pair of donkeys. Part of a public commission, entitled Travels with Two Donkeys, each outing created an unexpected prompt for conversation with passers-by, who were invited to join Long and the Donkeys on their walk. The artwork was a catalyst for a new social situation set within the changing public landscapes of Toronto.
 
Culturally speaking, donkeys have a long history as a motif in art and literature, typically representing stupidity, the "ass" or the fool; but they are also often included to represent moments of metamorphosis. In some of the oldest donkey stories – The Golden Ass by Apuleius, Lucius, or the Ass by Lucian, and that of Bottom from A Midsummer Night's Dream – this "beast of burden" is frequently depicted as undergoing a process of transformation, changing itself, as well as the people and environments around it.
 
Such shifts have strong allegorical parallels with the Don Valley. The modern (and colonial) history of the Don Valley is one of industry and labour, and over the past century the Valley has been transformed, over-industrialized, and neglected. In this public work, Long layered these two narratives.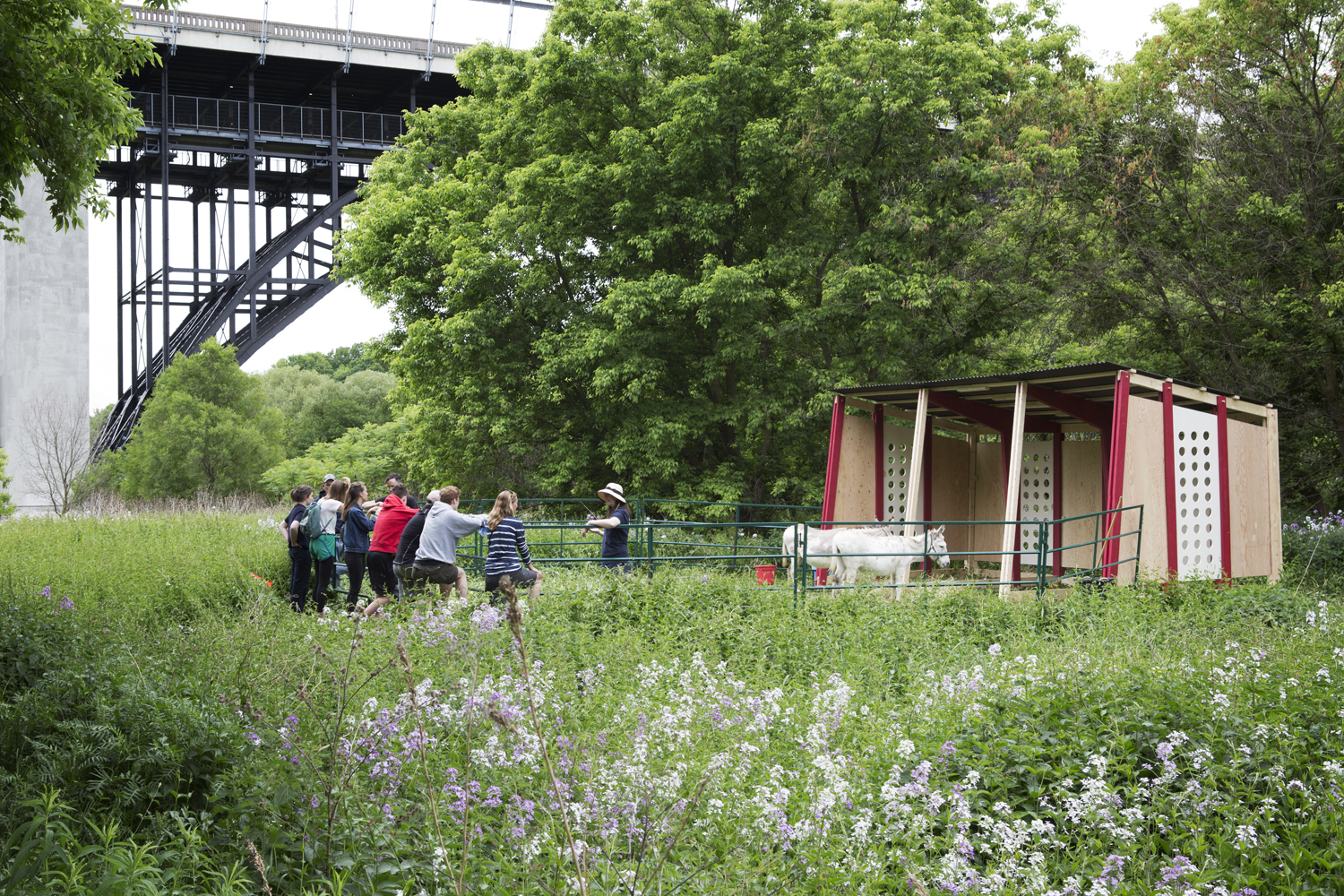 Images, above by Claire Harvie
Long has introduced the motif of the donkey in many of his previous works as well — each time as a way of engaging with methods of education and the processes of learning. Through quiet, communal explorations of the Don Valley every Saturday, the learning from Travels with Two Donkeys was manifold: It raised awareness of the vital work of The Donkey Sanctuary of Canada; it fostered dialogue around the ongoing transformations of the Valley; and the project's emphasis on empathy, care, and ecological awareness acted as an antidote to a frenetic urban environment.
 
Each Saturday, the donkeys temporarily resided in a shed installed in the Don Valley. The shed, designed by Long, was inspired by a modular schoolhouse design by mid twentieth-century French designer and architect, Jean Prouvé. His temporary, demountable architecture was produced as a solution to the housing crises of his day and espoused an underlying social and political consciousness in how they were designed and built. Long extended these principles to present-day Toronto, building the structure using materials that resonate with both the past and present of the Don Valley and the vernacular materials of the farm, while introducing the schoolhouse as a site of education and conversation – a reversal of the usual connotation of the donkey and a surprising discovery in the heart of the Don Valley. Afterwards, the shelter was donated to the project's partner, The Donkey Sanctuary of Canada.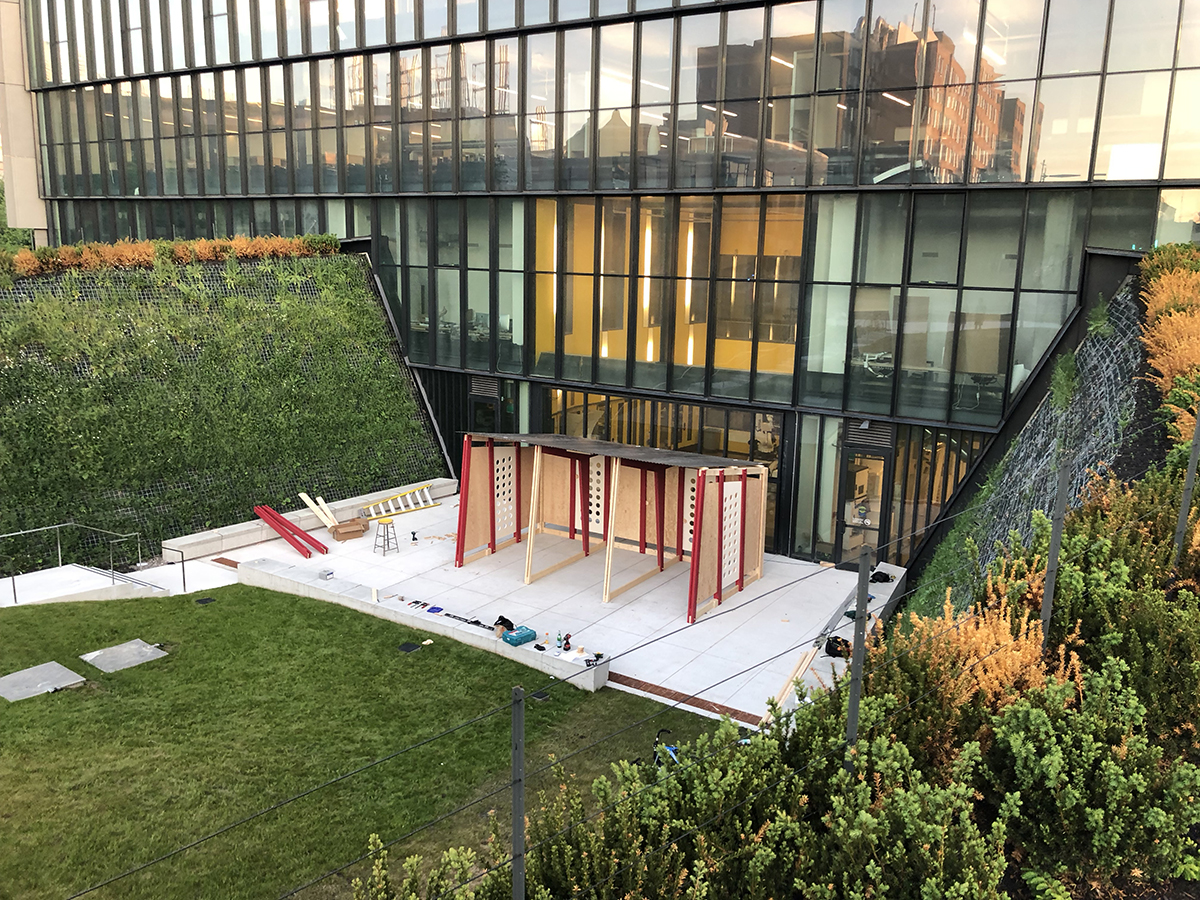 The shed was designed and built in collaboration with artist and architect Christian Kliegel, and was fabricated at 1 Spadina with the assistance of Daniels students: Hoda Mashhadi Farahani, Thomas Buckland, and Dennis Fischman. Buckland and Fischman also helped with the installation each Saturday.
 
This project was made possible with the support of the Toronto Arts Council, and with Gareth Long's support from the Canada Council for the Arts.
About the Donkey Sancturary of Canada
Since 1992, The Donkey Sanctuary of Canada has been a refuge for donkeys, mules and hinnies who have been neglected or abused, or who can no longer be cared for by their owners. At the Sanctuary, the animals are provided a welcome and often life-saving peaceful haven after years of suffering and neglect.
 
As the Sanctuary's website states:
One of the questions we regularly get, from visitors, from people in conversation, indeed, even from our friends and family, is: why donkeys? We provide a simple answer to this question - 'Because it's necessary'. It is necessary because, as one of our staff members puts it, the donkey is the forgotten equine, too often a subject of ridicule, and too often as well considered disposable at the end of its working life. […] We provide a sanctuary for these animals, where they may live out their lives naturally, in peace, and without obligation to humans. Because we believe in the value of animal life, and because in particular at our Sanctuary - we believe in the value of the lives of the no-longer-forgotten equine. That is why donkeys.
 
Artist Biography 
Gareth Long holds a BA in Visual Studies and Classical Civilizations from the University of Toronto and an MFA from Yale University. Long has held solo exhibitions at Kunsthalle Wien, Austria; Kate Werble Gallery, New York; Michael Benevento,  Los  Angeles; TORRI, Paris; Super Dakota, Brussels; Susan Hobbs Gallery, Toronto; SpazioA, Pistoia; Oakville Galleries, Oakville; the Southern Alberta Art Gallery, Lethbridge; Galerie Bernhard, Zürich. His work has been shown at galleries and  institutions such as MoMA PS1, Long Island City; The Hessel Museum of Art at Bard College, Annandale-on-Hudson; Museum of Contemporary Art Denver, Denver; Musée d'art contemporain de Montréal, Montreal;  Artists Space, New York; Casey Kaplan Gallery, New York; Flat Time House, London; Drawing Room, London; Spike Island, Bristol; Wiels, Brussels; Salzburger Kunstverein, Salzburg; Badischer Kunstverein, Karlsruhe; and Witte de With, Rotterdam.
A version of this text by Kari Cwynar, was also published on The Don River Valley Park website.