Centre for Design + Health Innovation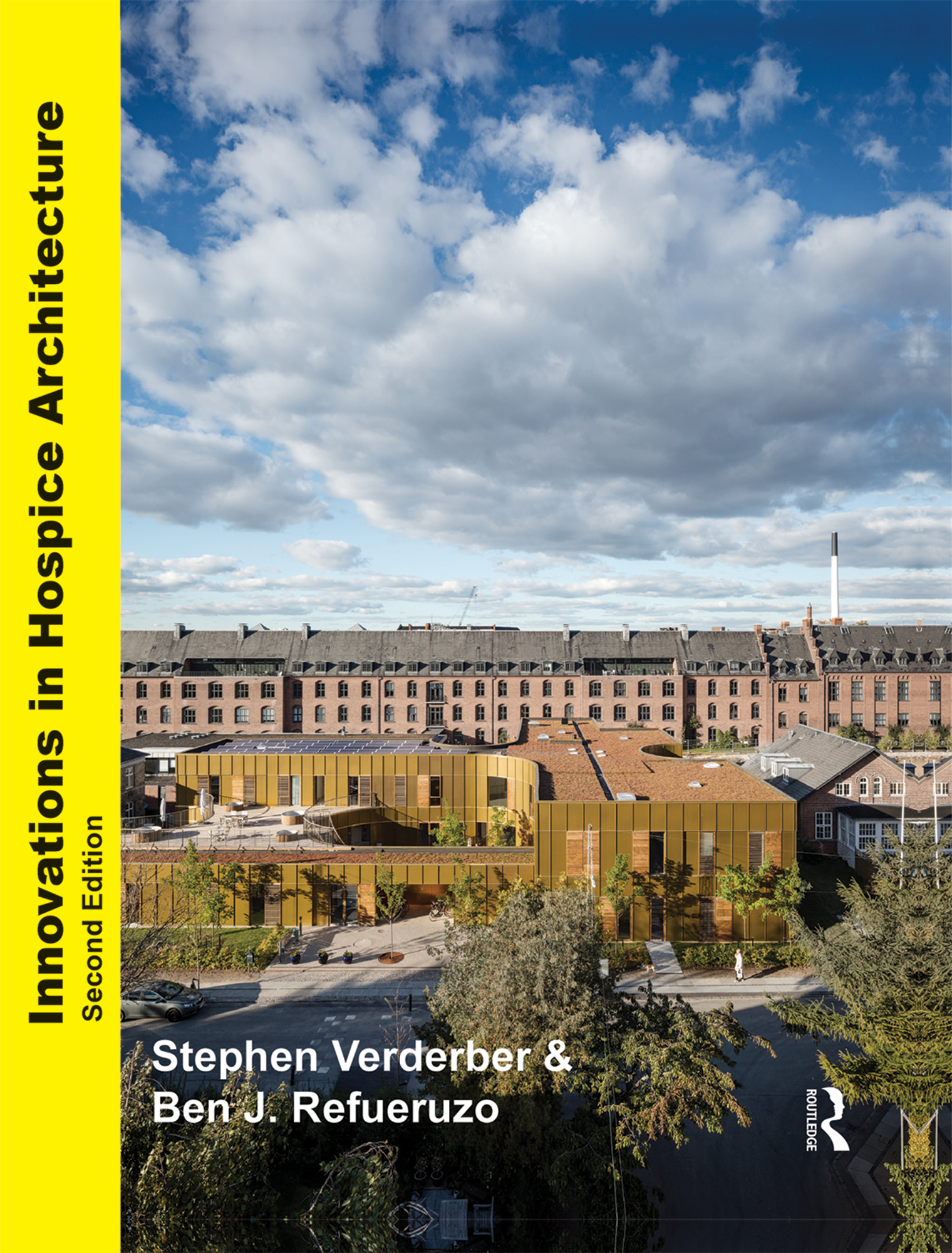 A Centre for Design + Health Innovation team led by Professor Stephen Verderber is currently collaborating with the World Health Organization (WHO) on its Initiate2 project to design and build a rapidly deployable infectious disease control facility for global implementation. [PDF]
In May 2023, a Centre research team led by Dr. Stephen Verderber published the 47-page peer-reviewed article " Residential Environments for Older Persons: A Comprehensive Literature Review (2005-2022)" in Health Environments Research & Design Journal. This is the most extensive review, to date, on the evidence-based relationship between elders' housing, well-being, and the built environment. [PDF]
The book Innovations in Hospice Architecture, Second Edition, was released by Routledge in 2020.
"Indigenous Ecohumanist Architecture for Health in Canada's Far North" was recently published in Health Environments Research & Design Journal, 13(4), 210-224. [PDF]
The Centre co-sponsored a report in 2021 to the Ontario Ministry of  Long-Term Care, "Reimagining Eldercare in a Post-COVID Ontario," advocating for facility design reform in the context of Covid-19. [PDF]
The Centre released its first White Paper, "Pandemical Healthcare Architecture and Social Responsibility—Covid-19 and Beyond" in 2021.
A research team led by Professor Stephen Verderber won the Wilbur H Tusler, Jr. Health Design Research Prize for 2022. The associated publication is titled: Intensive Care Built Environments: A Comprehensive Literature Review--2005-2020 (PDF).​​ This article was published in 2021 in Health Environments Research & Design Journal, 21(4), 368-415.  
"Creating, Testing and Evaluating Immersive Virtual ICU-CCU Built Environments" was presented at the 2022 European Healthcare Design Conference, in London UK, co-authored by Stephen Verderber, with Christopher Parshuram, MD, ChB, D.Phil. and Seth Gray, MD, of SickKids hospital in Toronto. [PDF]
The White Paper, "Reimagining Long-Term Care Architecture in Post-Pandemic Ontario--and Beyond," was released in June 2022. This report was co-sponsored by Jacobs Canada and the Ontario Association of Architects (OAA).
What we do
There is an accumulating body of empirical evidence in support of how the built environment can have a profound therapeutic effect on human health and well-being. The disciplines of architecture, landscape architecture, and urban design are being called upon to exert a more pronounced role in health care and public policy, and in reimagining ecologically attuned built environments contributing to greater human health and well-being for the betterment of society.
The Centre for Design + Health Innovation directly addresses this challenge. Its focus and reach are local, national, and international. The Centre draws upon the University of Toronto's traditional disciplinary strengths in the health sciences, public health, engineering, and the social sciences and humanities to explore alternative paradigms for improving human and ecological — ecohumanist — outcomes. The Centre examines the impact of therapeutic architectural, environmental, and urban design in direct relation to the quality of patient care, delivery of health care services, and human health. It promotes built outcomes with principal focus on fostering design excellence. The Centre is closely affiliated with the Daniels Faculty's MArch and PhD program focus areas in design and health, in order to enhance the education of the next generation of design professionals and evidence-based researchers.
A second aim is to engage in research-based design scholarship and community outreach, in collaboration with architectural firms, philanthropic foundations, and grassroots advocacy organizations. The Centre is well positioned to collaborate across a range of initiatives, simultaneously functioning as a home base for post-doctoral fellows in residence and mid-career professionals on sabbatical from professional and academic organizations.
Principal research areas
Public policy and health care design excellence
Public policies that shape the built environment for health care have a profound impact on the lives of millions. In Canada, the P3 (Public/Private Partnership) process is standard for the delivery of health care facilities; it is, however, a procedure in constant need of refinement and updating to meet the rapidly changing needs of a growing society. To this end, ongoing, systematic appraisals of a wide spectrum of current polices are needed. Through best practice analysis, the Centre aims to answer questions such as: Why does Ontario currently have the fewest beds per 1,000 population in all of Canada, and among the fewest in the entire developed world, and what are the built environment consequences of this growing problem?
Urbanization, climate change, and health care design excellence
The world's population is increasing dramatically, with coastal regions experiencing the most rapid rates of urbanization. Coastal cities are particularly susceptible to the impacts of hyper-intensive hurricanes, typhoons, and coastal flooding. Concomitantly, the impact of droughts and groundwater depletion is causing an unprecedented wave of forest wildfires, including at the urban/wildland interface. These factors, coupled with human-induced deforestation and habitat destruction, pose grave threats to the design, construction, and effective administration of therapeutic and ecologically resilient (ecohumanist) health care buildings and landscapes. How can we improve the knowledge base and performance of architects and allied designers so that they can be effective early responders in the aftermath of disaster?
Medically underserved constituencies, health outcomes, and design excellence
The poor, the aged, youth, and the physically and mentally disabled are susceptible to insufficiently supportive and counter-therapeutic built environments. This condition particularly applies to the plight of indigenous populations and communities. The need is acute for compassionate policies and designed built environments for health care promoting healthful, active lifestyles and contributing to significantly higher levels of community health. Concomitantly, how can health care design contribute to higher quality of life among indigenous and other medically underserved populations? In light of the need to construct a new generation of long-term care facilities in North America, why is evidence-based research and design accorded relatively low status in organizational decision-making?
The three core focus areas are illustrated in Figure 1.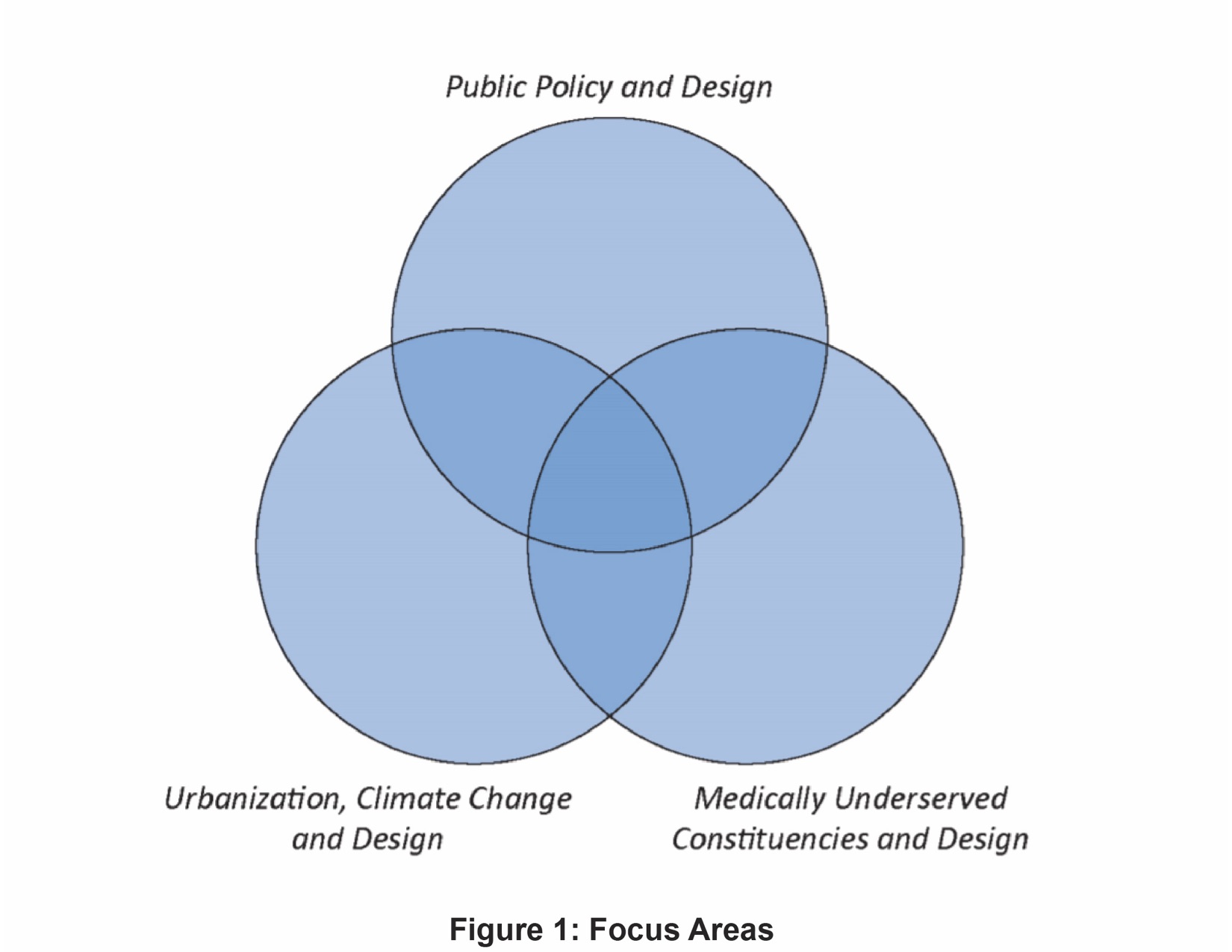 Who we are
Dr. Stephen Verderber is the director of the Centre for Design + Health Innovation, as well as a scholar, researcher, practitioner, and registered architect whose specialization is architecture, design therapeutics, and health. He is a professor at both the John H. Daniels Faculty of Architecture, Landscape, and Design and the Dalla Lana School of Public Health at the University of Toronto, a rare interdisciplinary appointment. Verderber is a co-founder of R-2ARCH/Los Angeles and New Orleans, and was engaged in pro bono community service work in post-Hurricane Katrina New Orleans. He has received numerous design and research awards and has lectured internationally. He holds a doctorate in architecture from the University of Michigan. Verderber has previously taught at Tulane University and Clemson University, and has been a guest design critic at numerous other universities. The American Institute of Architects AIA Education Honor Award program has recognized him for his interdisciplinary seminar courses. In 2005, he was the sole recipient of the Distinguished Professor Medal, bestowed by the Association of Collegiate Schools of Architecture (ACSA). Prior to assuming the role of the Centre's founding director, Verderber served the Daniels Faculty as associate dean for research (2014-2017).
Affiliate research institutes, centres, and academic programs
American Institute of Architects/ACSA Design & Health Research Consortium
Canadian Centre for Healthcare Facilities (CCHF)
Center for Health Design, Concord, California, USA
Center for Health Systems & Design, Texas A&M University, USA
Global University Programs in Healthcare Architecture (GUPHA)
Graduate Program in Architecture + Health, Clemson University, USA, and Clemson's Daniels Center for Building Research and Urban Studies, Genoa, Italy
Institute of Health Policy, Management and Evaluation/Dalla Lana School of Public Health, University of Toronto
New Zealand Health Design Council
The Canadian Institute—Healthcare Infrastructure
Union of International Architects/Public Health Group (UIA/PHG), Canada Chapter
Contact us
For all inquiries, email Dr. Stephen Verderber.
Find out more
Centre for Design + Health Innovation mission statement
Selected research and design publications by Stephen Verderber
White Paper, February 2021: Pandemical Healthcare Architecture and Social Responsibility — COVID-19 and Beyond
White Paper, June 2022: Reimagining Long-Term Care Architecture in Post-Pandemic — Ontario and Beyond