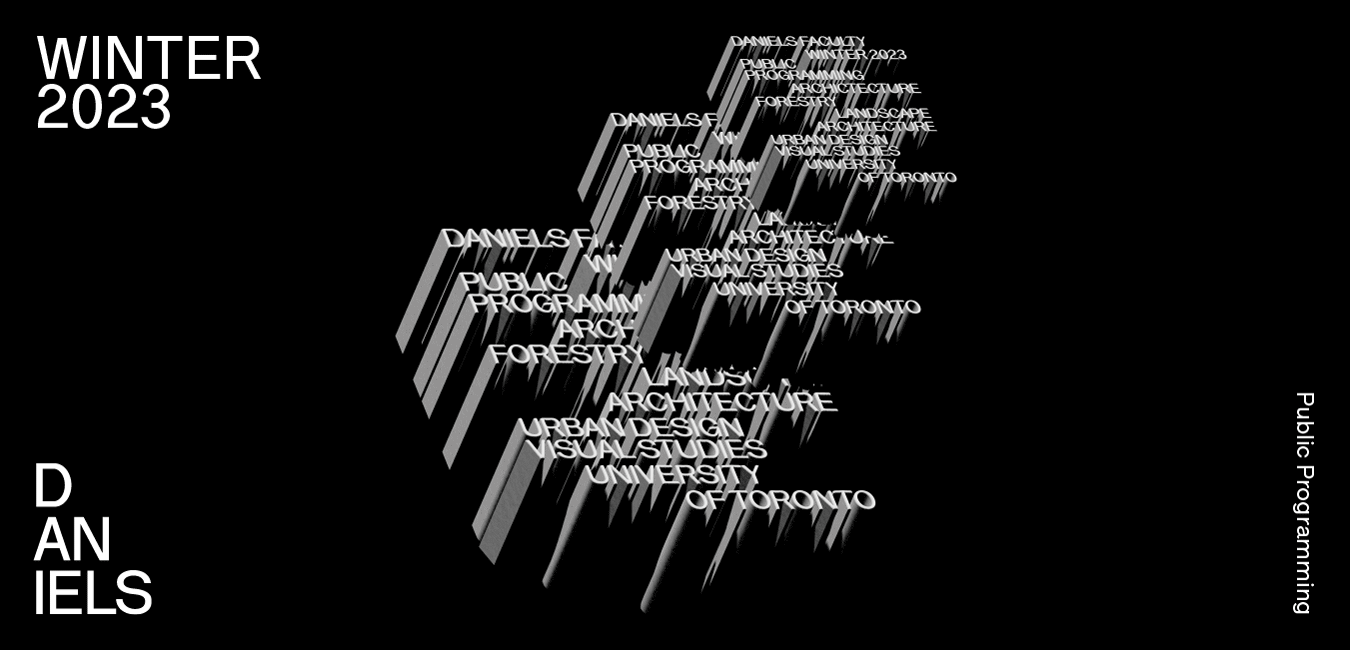 09.01.23 - The Daniels Faculty's Winter 2023 Public Program
The John H. Daniels Faculty of Architecture, Landscape, and Design at the University of Toronto is excited to present its Winter 2023 Public Program.  
Through a series of exhibitions, lectures, book talks, panel discussions and symposia, we aim to foster dialogue and knowledge exchange among our local and international communities on important social, political and environmental challenges confronting our disciplines and the world today.  
Our Public Program this semester addresses a range of pertinent issues concerning the natural and built environments, including design and social justice, urbanization and housing, art and media, and ecology and landscape resilience. 
All events are free and open to the public. All lectures will be held in the Main Hall of the Daniels Building unless otherwise stated. Register in advance and check the calendar for up-to-date details at daniels.utoronto.ca/events.  
January 26, 6:30 p.m. ET 
Housing Multitudes Lecture: Freedom Schools for Accountable Architecture 
Featuring Jae Shin and Damon Rich (HECTOR) 
Moderated by Richard Sommer (Daniels Faculty, University of Toronto) 
 
February 1, 6:30 p.m. ET 
Designing Black Spaces with Community Accountability  
Featuring Tura Cousins Wilson (Studio of Contemporary Architecture), Jessica Kirk (Wildseed Centre for Art and Activism) and Jessica Hines (Black Urbanism Toronto) 
Moderated by Anne-Marie Armstrong (Daniels Faculty, University of Toronto) 
 
February 7, 12:30 p.m. ET  
Understanding and Predicting the Changing Environment in the Coming Decades 
Featuring Brian Leung (Department of Biology, McGill University)  
Moderated by Patrick James (Daniels Faculty, University of Toronto) 
February 9, 6:30 p.m. ET 
Book Launch—Innate Terrain: Canadian Landscape Architecture  
By Alissa North (Daniels Faculty, University of Toronto) 
February 14, 6:30 p.m. ET 
Exhibition Opening—Recent Work by Marina Tabassum Architects (MTA)  
Curated by Marina Tabassum, 2022-2023 Frank Gehry International Visiting Chair in Architectural Design (Daniels Faculty, University of Toronto) 
February 16, 6:30 p.m. ET 
George Baird Lecture: Becoming Frank Gehry  
Featuring Jean-Louis Cohen (The Institute of Fine Arts, New York University) 
Moderated by Jason Nguyen (Daniels Faculty, University of Toronto)  
March 2, 6:30 p.m. ET 
Michael Hough/OALA Visiting Critic in Landscape Architecture Lecture: What Would Cornelia Do? 
Featuring Julie Bargmann (School of Architecture, University of Virginia) 
Moderated by Elise Shelley (Daniels Faculty, University of Toronto) 
March 7, 6:30 p.m. ET 
Phyllis Lambert: Observation Is a Constant That Underlies All Approaches 
Featuring Phyllis Lambert (Canadian Centre for Architecture) 
Moderated by Juan Du (Daniels Faculty, University of Toronto) 
March 14, 12:30 p.m. ET 
Civic Urbanism Without Borders 
Featuring Jeffery Hou (College of Built Environments, University of Washington)  
In collaboration with the Global Taiwan Studies Initiative at the Asian Institute, Munk School of Global Affairs and Public Policy, University of Toronto 
March 16, 6:30 p.m. ET 
Exhibition Opening—Resolutions for the Antarctic: International Stations & the Antarctic Data Space
Curated by UNLESS and featuring works by International Collaborators  
March 30, 6:30 p.m. ET 
Ruinophilia 
Featuring Lyndon Neri (Neri&Hu Design and Research Office) 
Moderated by Juan Du (Daniels Faculty, University of Toronto)