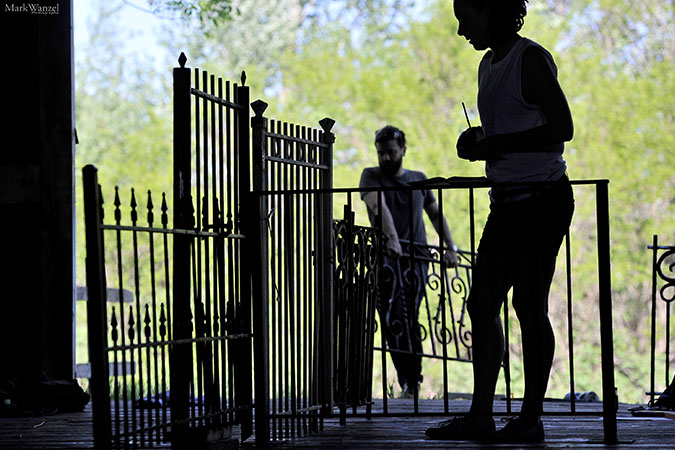 03.10.16 - Jennifer Davis co-designs Barrie's first commissioned public art sculpture
Alumna and Sessional Lecturer Jennifer Davis (MArch 2011) recently unveiled Dividers Made into a Juncture in a ceremony at the Barrie Public Library's Downtown branch with partner Jon Sasaki. The sculpture-bike rack is made of six different metal fences, artistically reconfigured to accommodate eight bicycles.
"Fences often serve to delineate private property and are inherently antisocial; in both concrete and psychological ways they fragment neighbourhoods and compartmentalize people from one another," writes the City of Barrie. "The Sasaki/Davis vision is to create a meeting point, a place where people can gather and interact."
Davis and Sasaki's proposal for the sculpture-bike rack was selected through the Barrie Public Art Committee's first juried national public art competition. It is currently installed in front of the Downtown branch of the Barrie Public Library at 60 Worsley Street.
Davis is the co-founder of Rear View (Projects) along with fellow alumna Su-Ying Lee (MVS 2011). Earlier this year, Rear View (Projects) received a 2016 Grant from the Graham Foundation for Advanced Studies in the Fine Arts for their exhibition titled How to Make Space, which featured work by Tings Chak (MArch 2014). The exhibition explored temporary structures built by women in Hong Kong as gestures of female spatial agency. Other artists featured in the exhibition include Stephanie Comilang, Devora Neumark, and Rowena Yin-Fan Chan.