28.08.18 - Inaugural summer program engages Indigenous youth in architecture, landscape architecture, and urban design
This summer, a team of local Indigenous youth came together at both the Daniels Faculty at the University of Toronto and Toronto and Region Conservation Authority (TRCA)'s Bolton Camp to learn about design, filmmaking, and ecological conservation combined with traditional teachings of the land.
 
The inaugural program provided the youth with summer employment and an opportunity to contribute design ideas for the revitalization of the Bolton Camp, a 254-acre site 40 kilometres north of the city at the headwaters of the Humber River, which once provided a summer getaway for low income children.
The summer program grew out of a grant that Associate Professor Liat Margolis, director of the Daniels Faculty's Master of Landscape Architecture program; Sessional Lecturer Sheila Boudreau, Senior Landscape Architect at TRCA; and Fred Martin of the Native Canadian Centre of Toronto (NCCT) received this year to explore a participatory model that includes the voice of Indigenous youth in the development and design of green infrastructure.
The Bolton Camp presented an ideal opportunity to build on this initiative. TRCA purchased the property, which had long been abandoned, in 2011, with the goal of bringing it back to life as a cultural hub. ERA Architects and Levitt Goodman Architects are currently involved in the master planning of the site. Ideas developed and presented by the youth — Miles Dziedzic, Aron McVean, Ella Kelly, and Avery Hill — will help inform future planning.
 
The pilot initiative was collaboratively developed by the organizers — including Elder Whabagoon, the Daniels Faculty, the Great Lakes WaterworksWater Allies coordinated by Principal Bonnie McElhinny at the U of T's New College, TRCA, and the NCCT — and provided them with an opportunity to connect youth with Elders and knowledge keepers and expose them to new education and career paths in the fields of architecture, landscape architecture, film, Indigenous studies, and environmental conservation.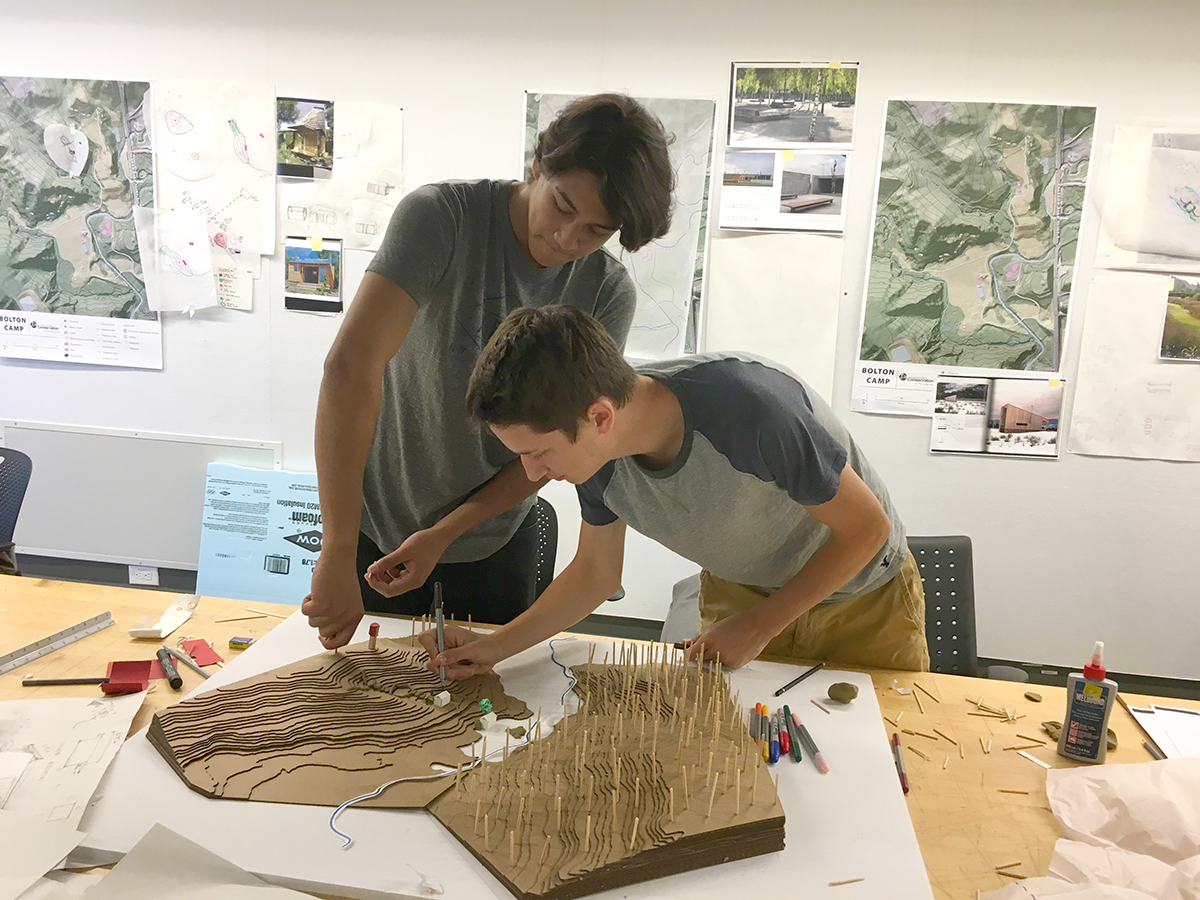 The youth had the opportunity to meet regularly with Elder Whabagoon throughout the program. Daniels Faculty Master of Landscape Architecture student Aaron Hernandez and Master of Urban Design student Dalia Gebran worked closely with the highschool students to guide them through the steps involved in designing for buildings and landscapes. The program challenged thel students to plan a retrofit of two existing cabins and their surrounding landscape, and engage in storytelling through short films.
As TRCA interns, the students were introduced to a range of field work, including stream restoration, benthic and water quality testing, and bee surveying, organized by Lucia Piccinni, Senior Program Manager of Bolton Camp. A remarkable group of mentors (see list below) generously contributed to the program with guest lectures and design reviews, guided site visits to sustainable urban and landscape projects, a First Story tour, and field trips to Kayanase native nursery and the office of Two Row Architect at Six Nations of the Grand River Territory.
The youth compiled their individual ideas for the site into a single plan that included new trees, a bike path, a rain garden, an accessible boardwalk that leads to the water tower, a tipi and sweat lodge, and a turtle-shaped medicine garden surrounding a fire pit. Ideas for the cabins included a clever way of connecting interior space with the surrounding landscape to provide additional programmable area and gathering space, while preserving the heritage structure of the iconic cabins.
On August 16, the youth met at the Daniels Faculty to present their designs for the site, as well as short films they created about the project with the guidance of filmmaker, Jamie Whitecrow. Together with Elder Whabagoon, they also unveiled a name for the new program: Healing of a Flooded Valley, or Nikibii Dawadinna Giigwag (Flooded Valley Healing) in Anishinaabemowin (Manitoulin dialect).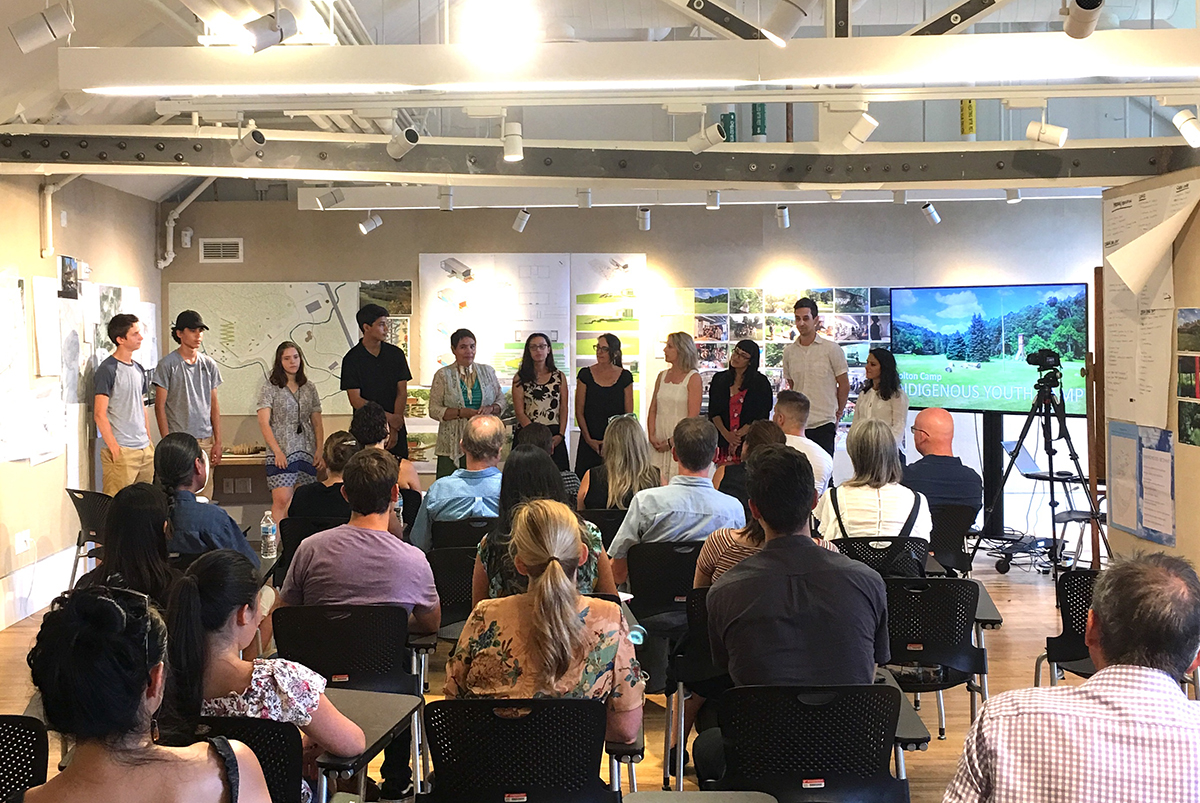 Pictured standing in the photo above (left to right): interns Miles Dziedzic, Aron McVean, Ella Kelly, and Avery Hill; Elder Whabagoon; Lucia Piccinni (Senior Program Manager, Bolton Camp), Sheila Boudreau, TRCA; Associate Professor Liat Margolis, filmmaker and artist Jamie Whitecrow; Aaron Hernandez, and Dalia Gebran.
Special thanks to supporting institutions and mentors: LACF, Dean Richard Sommer (Daniels Faculty), Dean Robert Wright (Faculty of Forestry), Principal Bonnie McElhinny, (New College), Cal Brook (Brook McIlroy), Doug Webber, Mark Palmer, Andrew Palmer (Greenland Consulting Engineers), Urban Watershed Group, Matthew Hickey (Two Row Architect), Terence Radford (Trophic Design), Danny Bartman, Joe Loreto  (Levitt Goodman Architects), Trina Moyen and Shak Gobert (Bell & Bernard), James Bird (UofT),  Kahentakeron Tyrone Deer (Kayanase Nursery), Michael Etherington, Yvonne Battista (DTAH), Heather Broadbent (Bolton Historical Society), Heather Campbell, Janice Quieta (ERA Architects), Emily Rondel, Christine Furtado, Amanda Yip, Kate Goodale, Jennifer Ouimette, Eric Bender, Elizabeth Wren, Colin Love, Chris Bialek, and Stephanie Perish (TRCA), Nick Reid (Ryerson Urban Water), David Atkinson (Ryerson), Alex Gill (Ryerson Social Ventures Zone), Kristina Hausmanis, Ruthanne Henry (City of Toronto), Marcia McVean (TDSB), Olivia Magalhaes, Marc Ryan (Public Work).