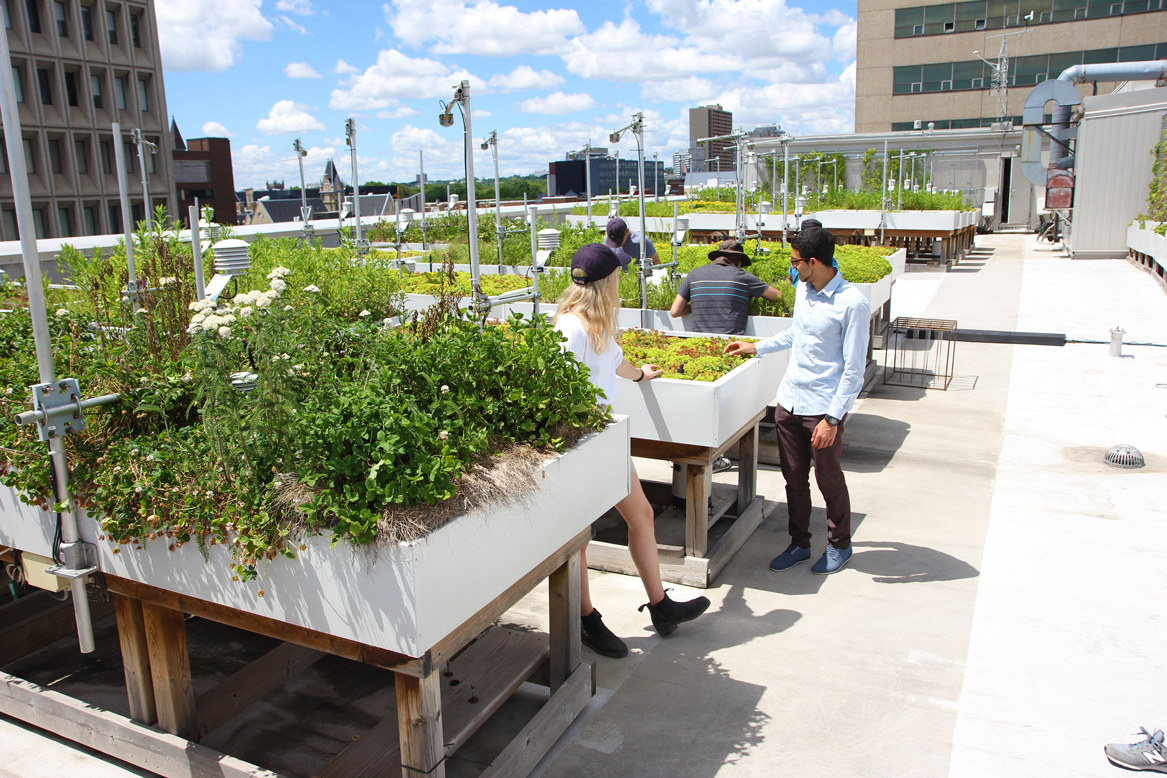 18.07.17 - Q&A: Catherine Howell and Hadi El-Shayeb, student lab managers & research assistants at the GRIT Lab
The Daniels Faculty's former building at 230 College Street is now being renovated to become the home of U of T's student union — but the its Green Roof Innovation Testing Laboratory on the rooftop, remains in full swing. We spoke to Master of Landscape Architecture students Catherine Howell and Hadi El-Shayeb about their experience working at the GRIT Lab this summer and the plans to launch a second site on the roof of the Faculty's new home at One Spadina Crescent.
How did you become involved with the GRIT Lab?
Catherine: The GRIT Lab was one of the main drivers for me to come to Daniels. I did my undergraduate degree in health studies at Queen's and when figuring out what to do next, I saw the GRIT Lab website and thought, "this is so cool!" It was an interesting facet of landscape architecture and architecture that I had never heard of before. I had it in the back of my head that I wanted to help out in some way. I had Liat Margolis as a professor in first year, and she was very inspiring. The opportunity to work alongside Liat, while playing an active role in the green infrastructure movement, has made for an extremely engaging summer thus far.  
Hadi: I'll be starting the Master of Landscape Architecture program in September. I did my undergraduate degree in Planning at the University of Waterloo, and a lot of my research was on climate change adaptation. I also worked for the Ministry of Environment and Climate Change as a Policy Intern on renewable energies, and attended the COP22 Marrakech the UN Climate Change Summit that happened in Morocco last November. The GRIT Lab was very interesting to me because green roofs are an opportunity to adapt to climate change. I messaged a few professors, including Liat, and thankfully she responded to me and added me onto the project. I have always been interested in landscape architecture and its role in ecological design. I'm really interested in environmental and climate change adaptation. GRIT Lab is a subset of that.
What are your responsibilities at the Lab?
C: We're the "nine to fivers," the Lab Managers and Research Assistants, so we have to be surface-level experts in everything, from electrical wiring to coding to sensors. The GRIT Lab is a system: it includes physical inputs, such as sunlight and water; the sensors that monitor factors such as rainfall, soil moisture, and water retention; a computer; and then the production of infographics that demonstrate these processes. We have to understand all levels of that process. We also have to help coordinate a number of people who are doing research here, including undergraduate, masters, and PHD engineering students. We need to make sure they're happy with the data being collected, troubleshoot broken sensors, and so on. We're also working on articles for publication that summarize GRIT Lab research so that it is understandable to the general public.
Sedum planting | Photo by Josie Harrison
And what has some of that research found?
C: I'm writing about green roof hydrology and how green roofs hold onto water. Right now, it's understood that they can absorb up to 50% of stormwater, but actually with the right combination of plants and soil they can hold onto 70-80%, which is huge. Especially in cities like Toronto where we now have the Green Roof Bylaw, you can really maximize the benefits of your green roof if you know the right combinations. It can function as a low impact development option: if you have enough green roof coverage on your building then you might not have to install any ground water storm management infrastructure like swales or cisterns to meet the wet weather flow standards.
H: One of the articles I'm writing is on growing media, its effect on different performances, and how selecting different media can have different benefits. For example, both mineral-based and compost-based growing media are popular in Canada and Southern Ontario. It is believed that compost-based media compacts and loses organic content over time, but our studies show that it doesn't actually do that, and, additionally, it can absorb about three times more water than mineral-based meda.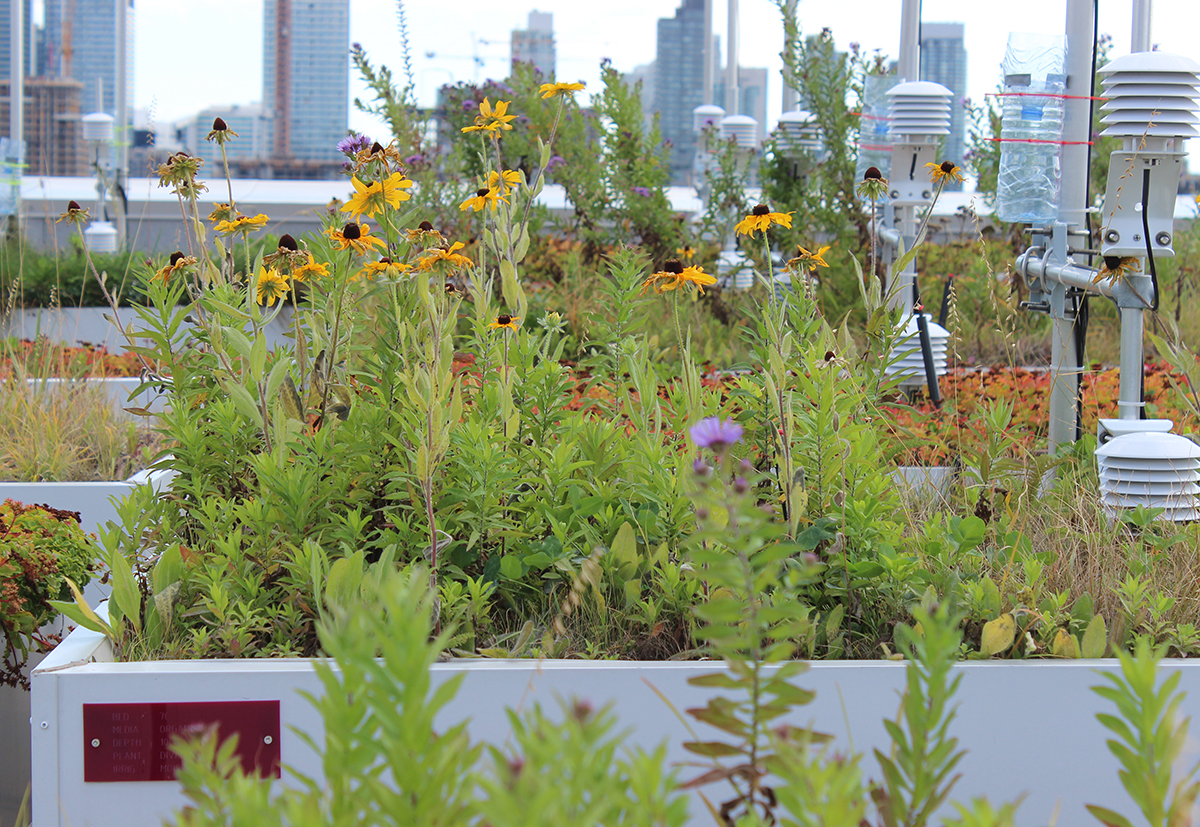 meadow planting | Photo by Josie Harrison
C: I'm also writing about bees and Sedum versus meadow planting. Right now there is a big push to promote native pollinators in Ontario. It has been shown that native plants attract more native bees, but Sedum, which is not native to this region, is the preferred green roof planting type. It goes to show that we have to carefully consider plant selection on green roofs if we want to promote biodiversity. With more and more greenroofs being built, the plants we choose could have a regional impact on ecological diversity.
What have you learned from your experience working at the GRIT Lab so far?
H: Seeing the technical components put into this green infrastructure has been a big thing for me. The importance of data collection and the nitty gritty details has been eye-opening. I've learned that there is a strong need to collect all the data to improve our systems.
C: I was surprised by how varied green roofs can be, and how the variables (planting type, depth, soil, irrigation type) can have different outcomes. I thought it would be pretty simple, like you can spread out a mat of Sedum and call it a day. But not all green roofs are created equal and you need to figure out the location, the size, and what you want your main objective to be to design one properly. Consciously designing green roofs is incredibly important for maximum effectiveness.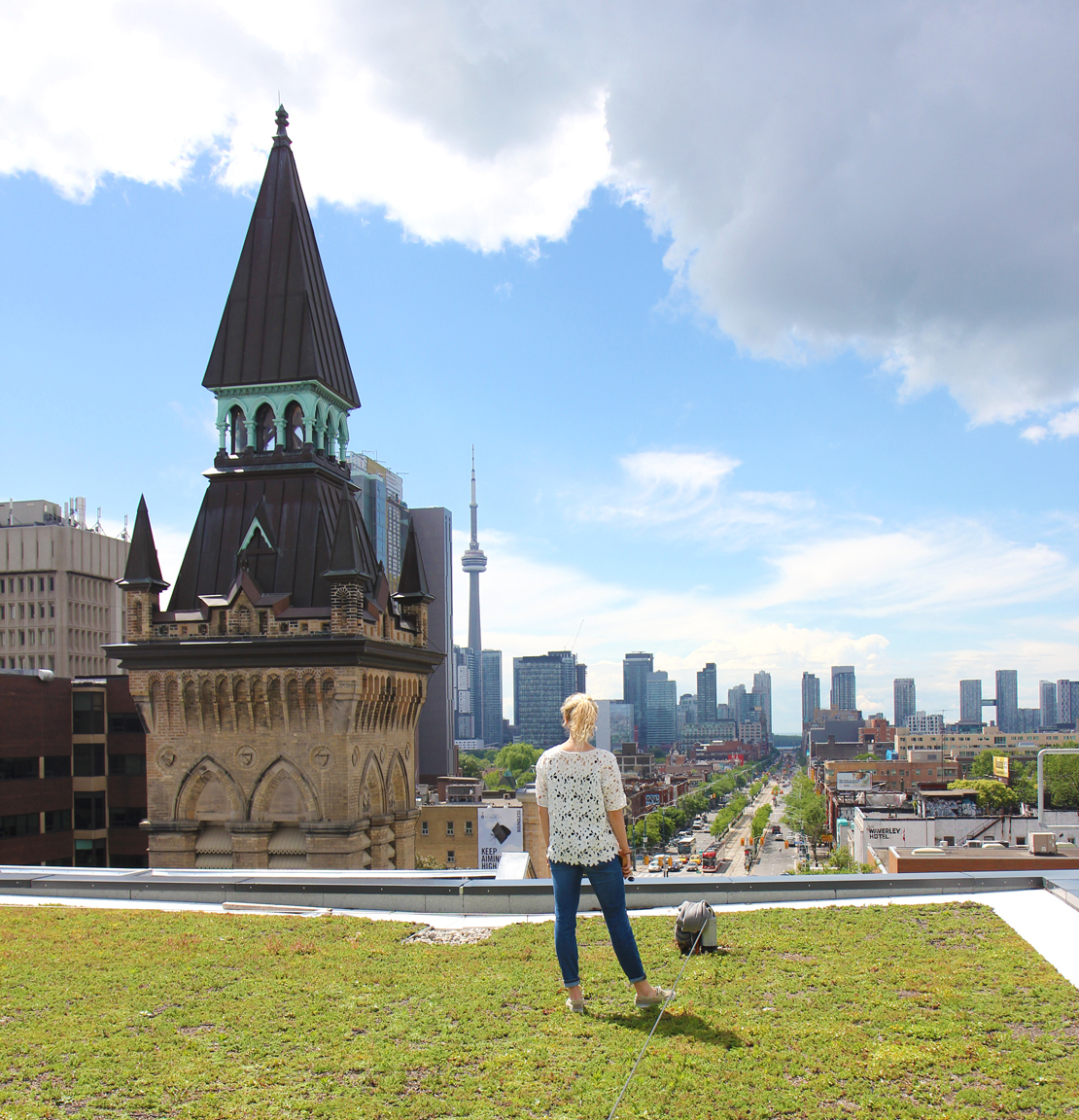 Catherine Howell looking south down Spadina Avenue from the roof of One Spadina. PhD student Omar Bawab is helping develop plans for a second site of the GRIT Lab over the summer | Photo by Josie Harrison
How will the GRIT Lab expand its research at One Spadina?
C: There is a giant cistern underneath One Spadina that holds all the rainwater that falls on the property. They want to use the grey water from the cistern to irrigate the green roof. We need to test the quality of that water and how it will affect the various plants on the roof. There will be quite a lot of urban contaminants, including salt from de-icing the walkways. I'm curious to see the results from that, whether the water will need to be treated or not.
H: Omar Bawab is an international PhD student here on a global exchange program, to help develop the plans for the green roof testing beds at One Spadina. He has a lot of experience with green roofs and particularly connected cisterns for water collection, which is the main purpose for building this roof. Catherine and I will be helping him draft the visual representation for the project.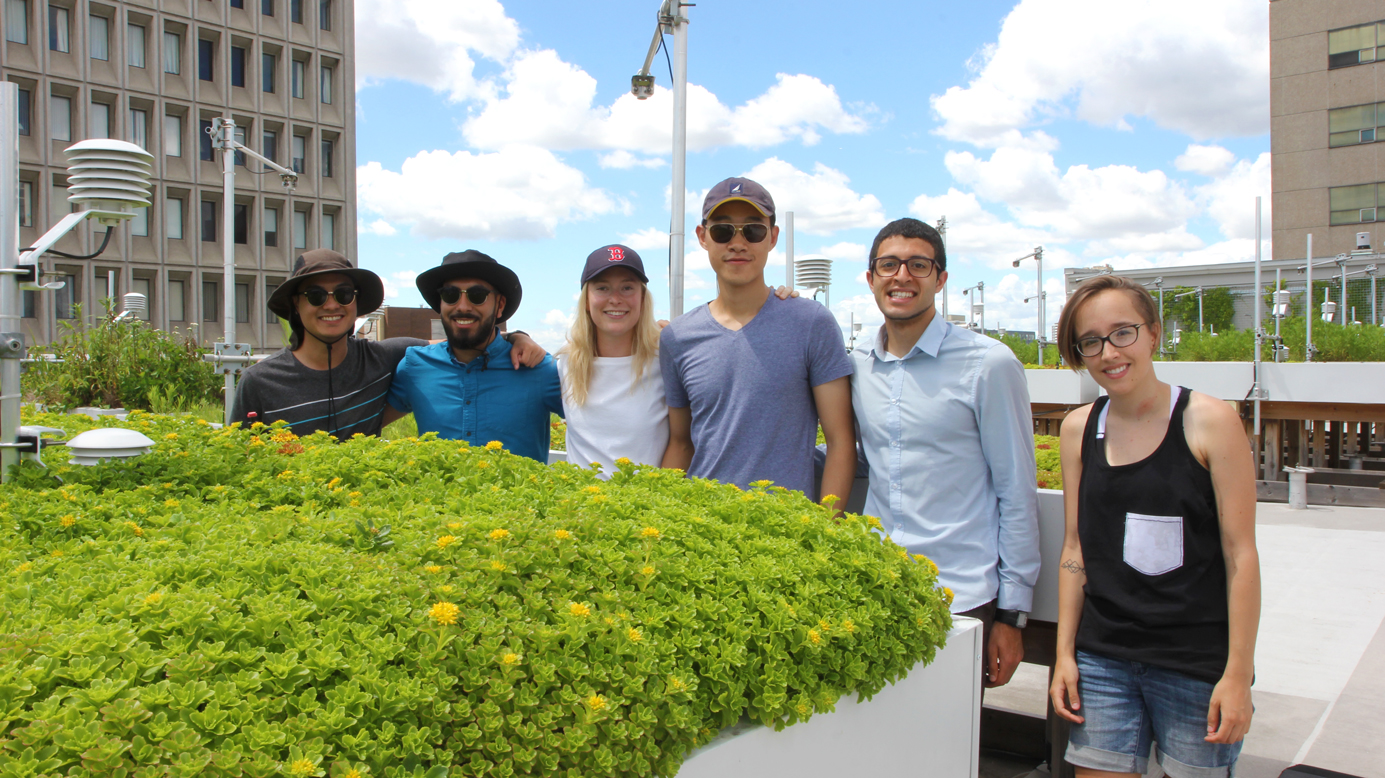 GRIT Lab student researchers, from left to right: Redwan Baba & Diego Domingo, undergraduate students, Civil Engineering; Catherine Howell, MLA; Eric Wang, undergraduate student, Civil Engineering; Hadi El-Shayeb, MLA; Marisa Fryer, graduate student, Civil Engineering | Photo by Josie Harrison
How do you think your experience this summer will influence your future research or ambitions?
H: One thing I'm finding really interesting is linking the local scale action at the GRIT Lab to global scale policies. We have these huge ambitions to bring down emissions and stop the global average temperature from increasing, but how do we do that at a local scale? I'm interested in the role that landscape architecture can play in this.
C: Learning so much about green roofs as a summer job has really piqued my interest in them. As a landscape architect, I would love green roofs to be a big part of my practice when I start working in the field.